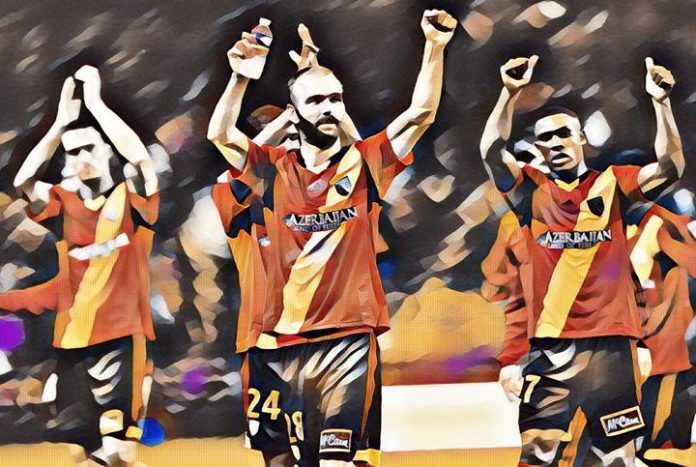 We're in October but things are looking quite similar. We start the month with the news that Nicholas Douchez is out for a couple of weeks which means Pacheco is back in between the sticks for now.
The first game with Pacheco back in goal came against EA Guimgamp, but despite them being in 6th place, we were favourites for the game. Also returning to the side after his suspension was Mulumbu in the defensive mid role of the 4-1-4-1.
Ligue 1's starting to look pretty decent now with us climbing the table. Our 3rd 1-0 win of the season came after controlling most of the game before bringing on Kermit Erasmus late on and switching to a 4-4-2 which luckily paid off as he combined with Diony to win the game for us. However, after everyone else had their games we'd drop down to 11th.
Next on our hit list was PSG. With them being champions and top of the league at the moment you'd think I'd be a bit more fearful of them but this looks like the best time to play them. Having played in midweek after a 0-0 draw with Montpellier there could be some tired legs and minds in the camp which we would be able to take advantage of, so why not go for the win.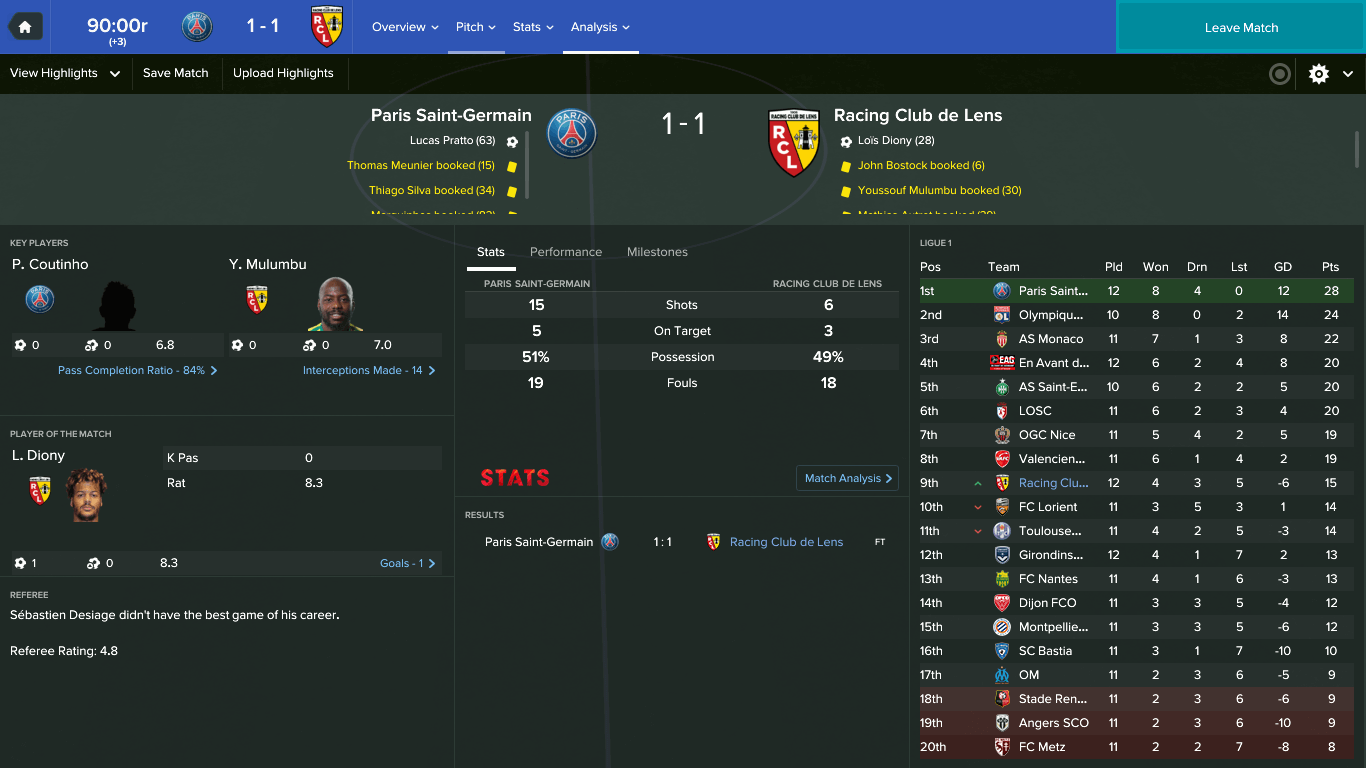 Somehow we actually looked the better team for the majority of the game. Kenny Lala showed some of his form from last season as he got up the pitch to assist Diony's 7th goal of the season, a shot which went straight into the top bin. The champions did get back into the game after making all their subs just before a corner which then resulted in a goal so it wasn't as good a day as I once thought it would be. But at least we put in a respectable performance against such a good outfit.
One negative to come from the game though was that my right winger Dorian Klonaridis, who was loaned out when I took the job last season, is now injured for three weeks. Since the move to 4-1-4-1 he's been key to the setup and we don't really have great backup in that position but we should be able to get by.
Coming towards the end of the month we had our first cup game of the season against Metz who are bottom of Ligue 1 at the moment. For the game, I made changes in every outfield position as well as moving to 4-4-2 to get Cristian and Bilal Bari some game time since Diony and Erasmus have been keeping them out of the team.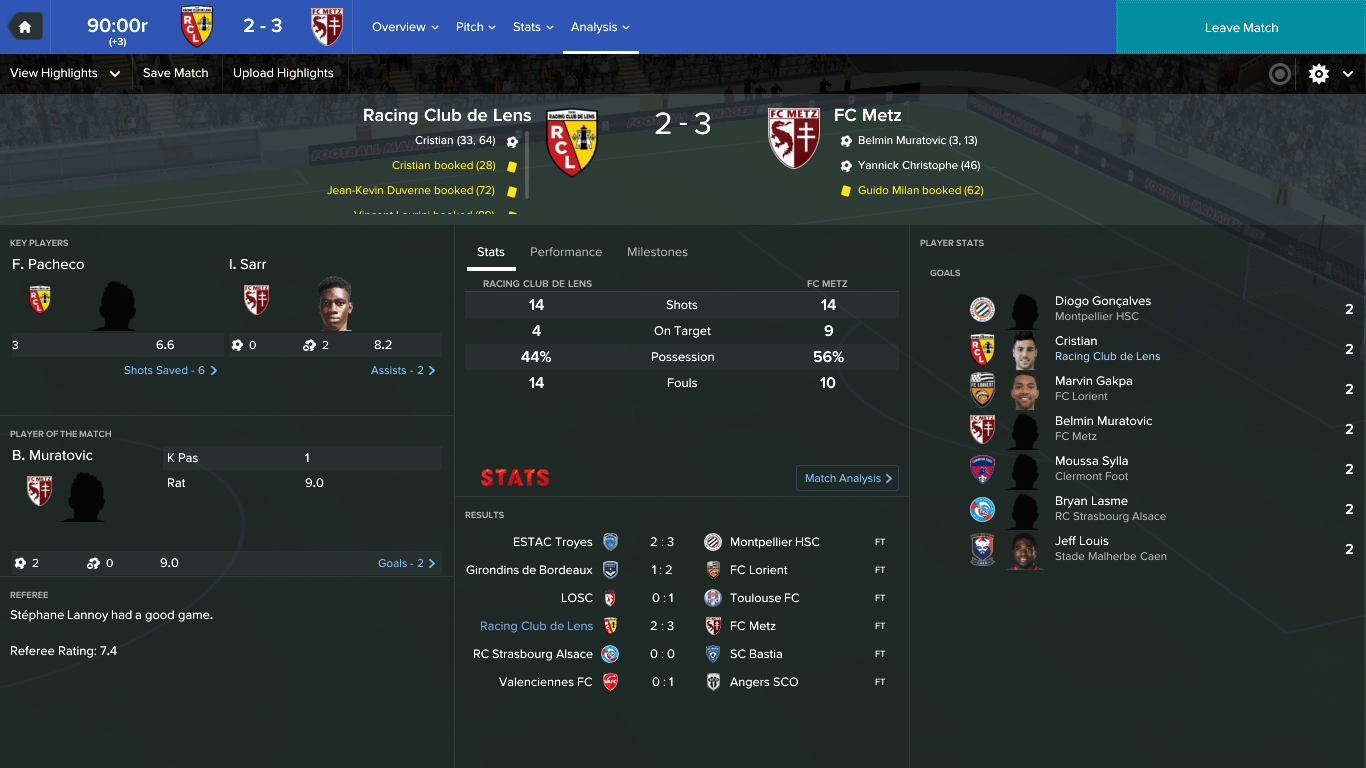 So errr yeah that didn't quite go to plan. It was clear throughout the game that I shouldn't have made so many changes as the team just didn't seem on it. We're out of the Coupe de la Ligue but Cristian and Bari did play quite well picking up a couple of goals and assists respectively.
For the last game of the month we returned to the normal line up with Lois Diony spearheading a 4-1-4-1. We're playing a managerless Nice side who are currently in 8th place having lost their last game to Montpellier 2-1. We had another setback just before kick off though as our left winger Matthias Autret picked up a calf strain, leaving me threadbare on the wings.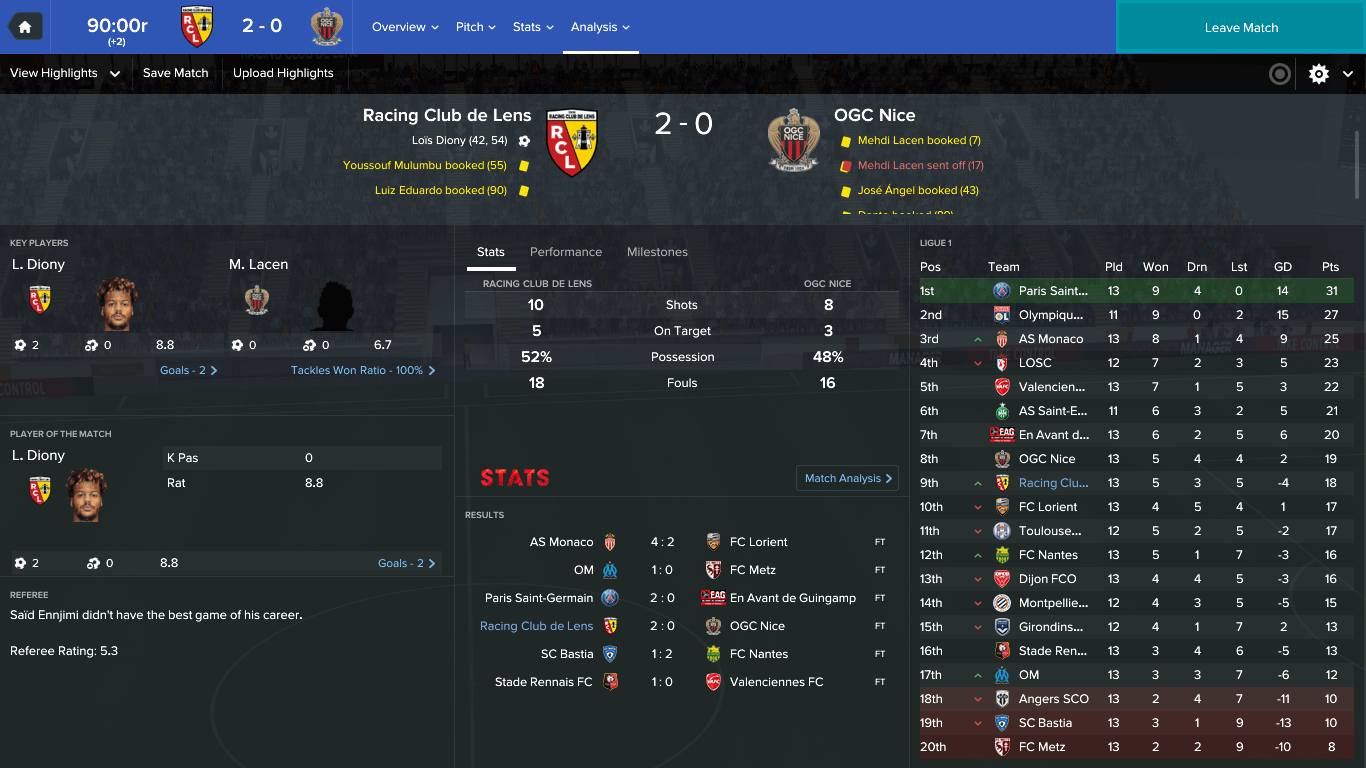 Luckily the lack of quality on the wings didn't matter too much as Lala shot up from right back to deliver a great cross for Diony to head back across goal to open the scoring like he has done so often this season. We were without doubt helped by their red card which gave our new striker the space to double the scoring with a volley from just outside the box. That brace took Diony up to 8 goals for the season, the same as one Alexandre Lacazette who is paired with him as the league's top scorer. His performances this month also saw him pick up the Player of the Month award, not that bad for £4m.
As we grow further into the season we're looking even more promising now, reaching the top half of the table. Who knows, maybe if this form continues we can keep shooting up the table, we'll see if that actually happens in November though.