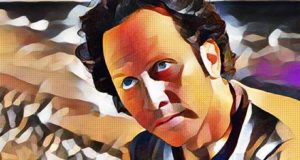 There's eight games to go until the end of the Bundesliga season and I can't fault my players, even if we've slipped four points behind Bayern Munich in the title race. Overall, we're overachieving and the gap I'm looking at isn't between us and the top, it's between us and third-place.
We're currently 11 points clear of Leipzig, whom we play in a few weeks, and I want to secure Champions League football as quickly as possible. The title race is a secondary thought, if we're still in it come the end of April I'll maybe put more attention on it.
For now though my focus is very much on the next game against Schalke, the only side who've defeated us in the league this season, and I'm already working on preparing my squad for European football next year- Kevin Wimmer is joining on a free transfer and a young Brazilian called Gabriel Biteco is also on his way.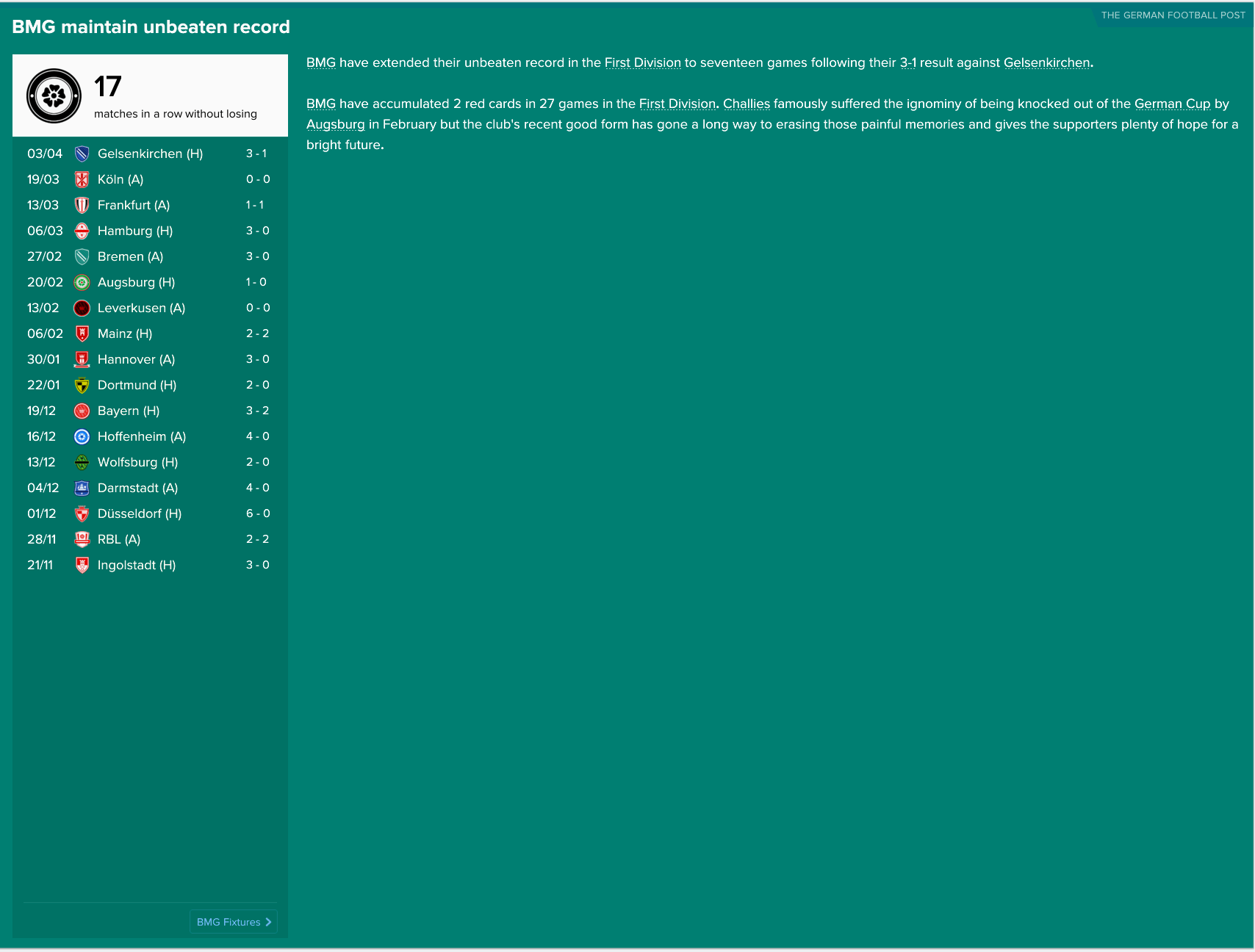 Victory against my former employers extends our unbeaten run to 17 games, just two shy of the club's all-time record, and I've also been informed that Munir's 16th assist of the season is a league record in the Bundesliga. He's proved to be the best purchase of my career to date.
Our fine run continues with a 5-2 win over Ingolstadt, already setting a club-record for the highest total of points for a season, but we're denied another piece of history after we lose 2-1 to Leipzig. We can't afford to lose our heads though and there's five games left for us to achieve our objectives.
A win over Dusseldorf sees us return to form and we then beat Darmstadt, though we remain five points behind Bayern and the title seems out of our reach. A 1-1 draw with Wolfsburg ends the slim hopes of toppling Ancelotti's side, so our final two games a relatively meaningless. We end our campaign by beating Hoffenheim and then lose to Bayern.

Overall I'm very pleased with the season we've had but I'm under no illusions that my squad needs to improve for the Champions League next season. Therefore, I've adopted a cut-throat approach; players need to be top-quality now or have the potential to be in the future, which may mean waving goodbye to some names.
I finish second in both Manager of the Year awards and Munir achieves the same in the player's awards. Patrick Hermann, Yann Sommer and Leonardo Capezzi are all named in the Bundesliga team of the season, where I'm extremely surprised not to see my Spanish sensation again.
My summer business begins by handing Pedro Pereira a new deal and I'm also signing Marcos Alonso for around £1.5m to provide competition to Iago on the left. Djibril Sow is on his way to Frankfurt and Jese Rodriguez may return to Spain, as I need to raise funds having been handed just £10m for the summer window.
I'm then greeted by the news that from 2022 there will only be three Champions Cup spots available, making my job a lot harder. It's start to feel like Football Manager is ganging up on me and I'm dreading the official opening of the window, as I'm sure bigger sides will look to raid my squad.
July 1st sees Kevin Wimmer, Gabriel Biteco and Marcos Alonso to my squad and I'm in negotiations for a few more. I try to sign Ivan Rakitic but he wants £300k-a-week, so I move for Serge Gnabry on-loan instead, I have no chance of being able to afford his valuation of £40m, but the snake rejects us.
I want Jeff-Reine Adelaide to bolster my wide options but I also need a central defender and I have a deal ready to go for Monterrey's Cesar Montes as soon as they've signed a replacement. My issues is I can't currently afford both and the board are being tight.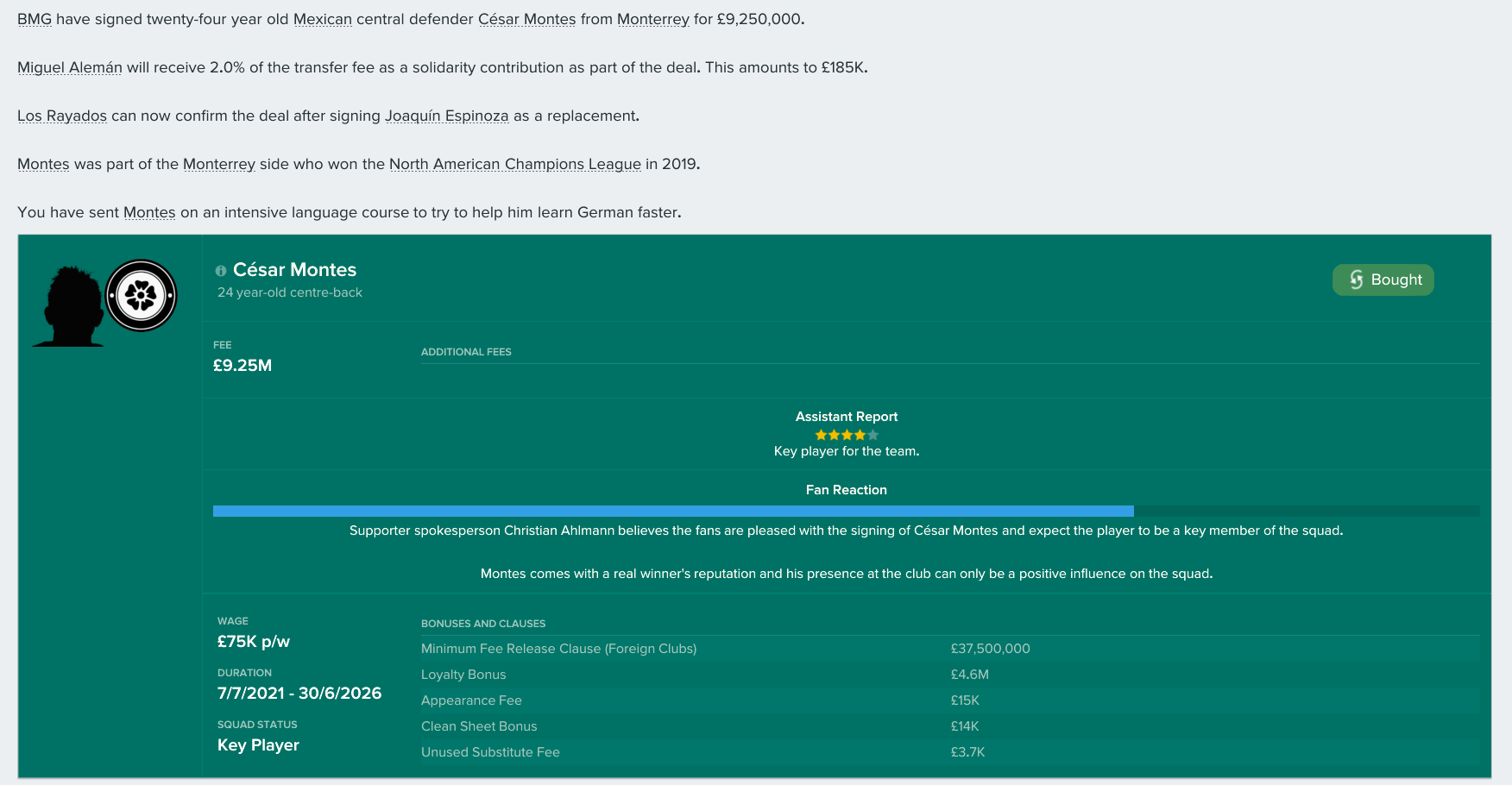 The need for a defender is more pressing though, so I'll try to scrounge money together for Reine-Adelaide later. I may come to regret rejecting Angel Di Maria and Marco Reus though, who were both available on a free transfer. In the end, I manage to adjust my budget.
With five new signings, ranging from key-players to talented youngsters, my work in the transfer market is done. Inevitably though, I know that means someone will kick-off and want to leave, or Bayern will unsettle one of my players. I've played far too much Football Manager to be comfortable too early.
I make it through August unharmed in the transfer front, even signing Aaron Ramsey on-loan, but Patrick Hermann is ruled-out for the next 3-4 months. That's a big loss, huge in fact, and I'm scratching my head on what to do with the new season right around the corner.