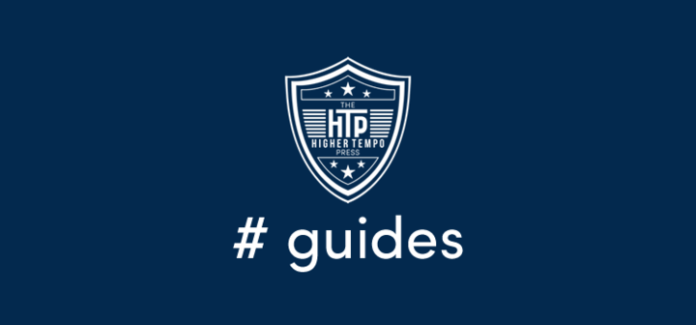 Welcome to Exploring Newgens: an article series on finding the best youth prospects across the globe for your FM17/FM18 team. From Scotland to Australia, Korea to Nigeria, and Peru to Canada, there are plenty of players generated in-game with the potential to make a difference in your squad. Join Alex Dieker as he guides you through each continent, analyzing the benefits of scouting certain areas, clubs, and players.
To begin – travel with us through the scorching deserts, beautiful jungles, and magnificent coastlines of Africa. The second-largest continent on Earth, both by land area and population, is home to people of various religious beliefs, ethnicities, and political rule. African nations have yet to triumph in a World Cup, but that hasn't stopped many large clubs from making use of their talented players. The emergence of the likes of Pierre-Emerick Aubameyang and Sadio Mané prove that Africa is still a powerhouse of talent after Samuel Eto'o, Didier Drogba, and Jay-Jay Okocha graced our TV screens.
---
The Nations
Africa is home to 57 possible nations and territories to scout, but how many of them are actually useful? If you play on the default database, South Africa is the only country that can possibly be loaded. Many of the other nations have youth intakes of only two or three clubs – most even less.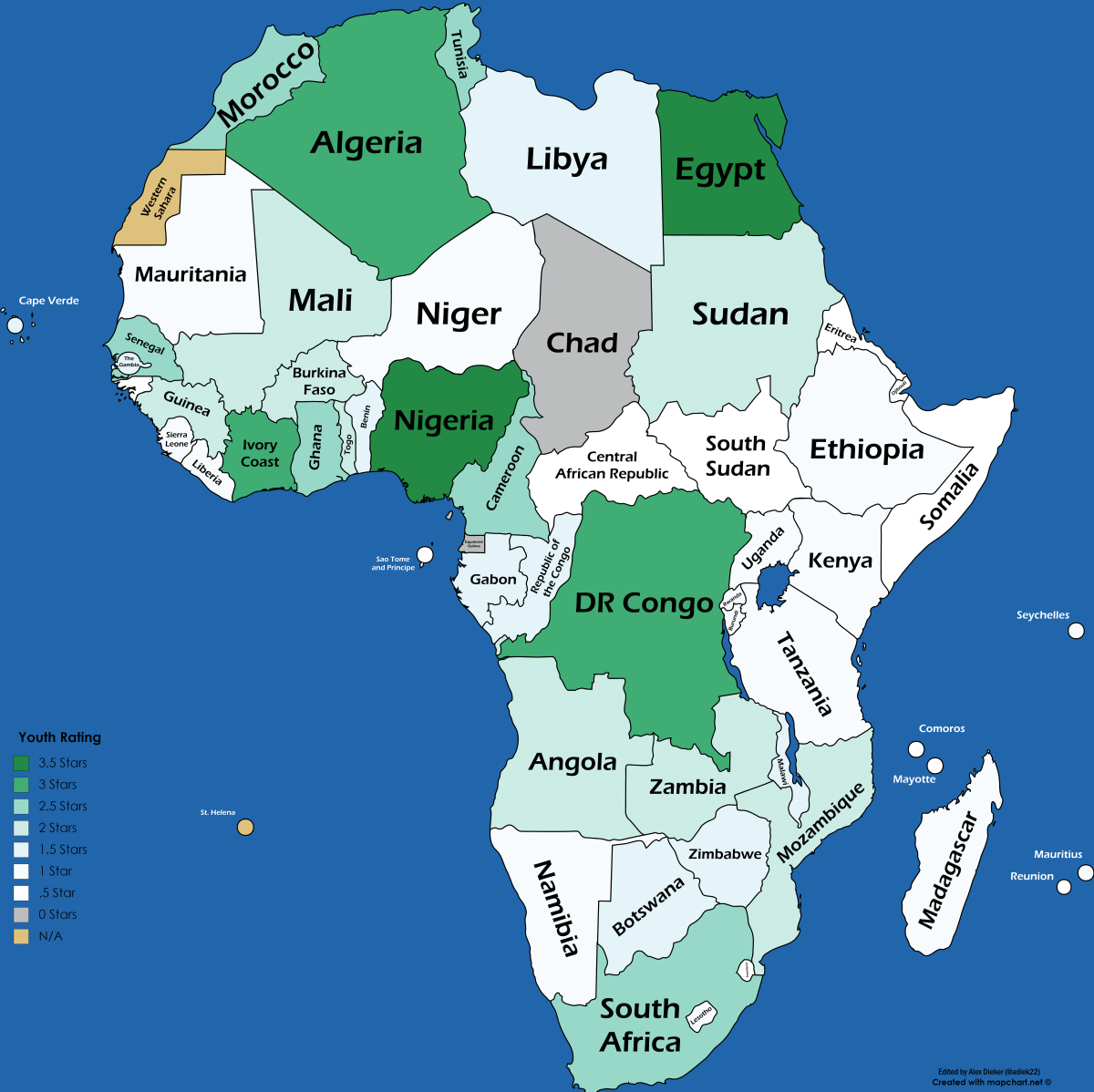 By looking at the map I've created, what can we see? For one, Egpyt and Nigeria are the Holy Grail for newgens, while Algeria, the Ivory Coast, and the Democratic Republic of the Congo aren't far behind. Note that while these countries will produce quality youngsters, they only possess 3 to 3.5 stars out of a possible five (for comparison, Brazil is the best at 4.5). That being said, the low cost of doing business makes these countries very appealing for those on the prowl for a profit.
Eastern Africa is definitely not a hotbed for talent. Southern Africa can be worth your time, especially if South Africa is an active league in your save. I've seen others uncover gems in Mozambique, Angola, and even Zimbabwe. In the West, Nigeria is the best of the bunch. That's not to diminish the great players found in Cameroon, Ghana, the Ivory Coast, and Senegal, though. Even Mali and Guinea have brought forth top prospects in the past.
However, if you're looking for the crème de la crème of African talent – go for North Africa! Not only does Egypt produce (from my experience) the best newgens from the continent, but Algeria, Morocco, and Tunisia also have lots to offer. For example, check out FM Samo's wonderkid Tunisian midfielder on his blog series, "No one oikes us…". Overall, there's so much talent ready to be uncovered in the world's second-biggest continent.
---
The Teams
For continents like Europe or South America, ones rich with talent across the land, it's simple to set up a scouting assignment to scour the regions for the next big talent. In Africa, that strategy probably won't get you far. It's laborious work to find quality teenagers in Africa; going through the youth intake lists is the best way.
You should begin your search for African newgens once your game reaches October 3. That is when every African nation has its youth intake, except for South Africa (March). Depending on the size of your game, there may be a lot or not very many names on the list. If you manage a large club with a relatively bolstered scouting network, I may suggest simply selecting all of the players (CTRL + A), right clicking, and requesting an initial scouting report – no specific length.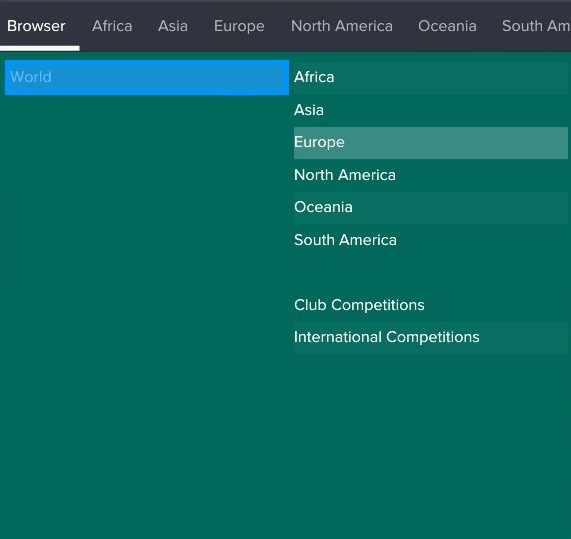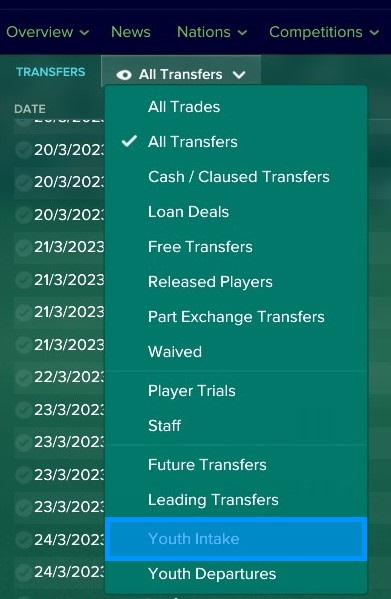 What this will do is send very basic reports to your inbox in the next couple of days. The quality of player will be immediately noticeable. What I do is move up the list of reports quickly until I see a player with at least three stars of current ability (this is personal choice). Then, I check the player's attributes and have him scouted fully if I feel I may ever want him in my team. I find that this is the most efficient and effective way to sort through every player from the youth intakes.
But Alex, I don't have enough scouts to do that! I'm glad you said that. If you don't want to spend time scouting players that probably aren't good enough to make an impact in your Europe-beating side, I've compiled a list of the clubs most likely to produce top-class youngsters. Let's look at the elite youth academies first.
Five African clubs were named in Passion4FM's 105 Best Youth Academy Clubs in FM17. While this list took into account training facilities as well as the factors that determine youth intakes, I believe it to be a solid starting point.
104) ASEC Mimosas (The Ivory Coast)
97) ES Sahel (Tunisia)
71) SuperSport United (South Africa)
60) ES Tunis (Tunisia)
29) Ajax Cape Town (South Africa)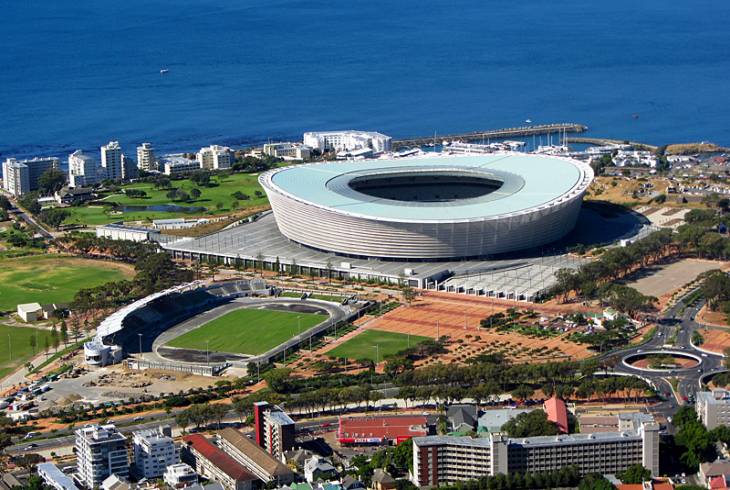 These clubs are known for producing top-tier talent and should certainly be the first names you look for on that list of newgens. However, if you remember back to the map of the best nations for developing youth, you'll know that the best nations don't even have clubs on this list. Here is a rough list I've compiled of other African clubs that produce a quality player or two.
Nigeria
GEE LEC Academy, Enugu Rangers*, Heartland*, Enyimba, Kano Pillars, Akwa United, Shooting Stars
DR Congo
TP Mazembe, Vita Club, FC Lupopo, DC Motema Pembe
Egypt
Zamalek, Al-Ahly*, Ismaily, Wadi Degla FC, Arab Contractors, ENPPI Club
Algeria
ES Sétif*, USM Alger, USM El Harrach, ASO Chlef, WA Tlemcen
Ivory Coast
AFAD Djékanou, Académie JMG, Stella
Morocco
Wydad Casablanca, Raja Casablanca, OC Khouribga, FAR Rabat, MAS Fès
Tunisia
Club Africain*, CS Sfax, CA Bizerte, AS Marsa, Stade Tunisien
Senegal
ASPIRE International*, Diambars FC, Génération Foot, Centre Africain
Ghana
Asante Kotoko, Ashanti Gold, Hearts of Oak*, All Stars, RTD Academy
Cameroon
Coton Sport, KSA, Union Dovala, Brasseries
South Africa
Kaizer Chiefs, Sundowns*, Wits*, Orlando Pirates, Platinum Stars, Cape Town City, Chippa United, Jomo Cosmos, Polokwane City
A * denotes a club of which I feel has the ability to produce exceptional newgens.
---
In Conclusion
Africa is often seen as a footballing wasteland due to the generally low quality of teams and leagues, but truth be told there is plenty of talent ready to be picked up across the continent. From the big cities of Nigeria and Egypt to the rural academies of the Ivory Coast and South Africa, there's certainly plenty of nations and teams with the structure to produce quality newgens. As a bonus, these players are often available at cut-rate prices.
Depending on your squad, it may or may not be beneficial to attempt a scouting endeavor in Africa. However, any club with at least five or six scouts should at least consider sending one (possibly with high adaptability) on scouting missions in Africa. Often times the best results will be found from scouting after the youth intake.
Happy exploring!
[For future updates, follow me on Twitter @adiek22.]
---
Sources:
Passion4FM. "Ranking: Best Youth Academy Clubs in Football Manager 2017 • Passion4FM."Passion4FM, 7 Mar. 2017, www.passion4fm.com/football-manager-2017-best-youth-academy-clubs/.
Passion4FM. "Football Manager Scouting Regions & Nations Youth Rating • Passion4FM."Passion4FM, 19 Jan. 2017, www.passion4fm.com/football-manager-scouting-regions-nations-youth-rating/.