Greetings! It's the summer of 2003 and in a time long before Andy Murray was making Scotland proud, Scottish sports fans are still clinging to the fact that this bunch of idiots were World Cup runners up in 2002. However, we're now passing 12 months since that happened and our form has started to deteriorate. Our qualification for Euro 2004 is definitely in the balance, and with a huge game away in Northern Ireland to prepare for, I should stop wasting time with this intro and get back into training. Here's the table as we reach August 2003
I know you're dying to know, has anything of note happened since we defeated Poland back in June? Well, we're only going to bloody host Euro 2008 (with Wales). That'll kill this blog as there'll be no qualifying, but that's a story for another day.

In much less exciting news, World Cup holders Italy won the Confederations Cup. They are an unstoppable force so far. On a more relevant point, Kiegan Parker got a big move to Celtic, which can only help his development, whilst Stephen McPhee has handed in a transfer request at Port Vale. Mark Kerr has recovered from injury but is yet to play for Roma this season, though it is mid-August when the squad is named and the Italian season hasn't had chance to get underway. Only one new cap inclusion, and that's this fellow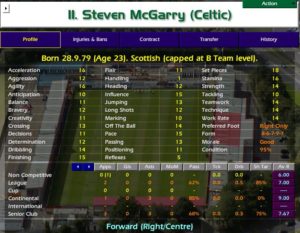 If he's good enough to be in Celtic's team, I should probably take a look at him. Maybe not in Northern Ireland but hopefully the Malta game will be a more relaxing affair.
Here's the side I'm putting out in Belfast. It has to be considered my strongest team really, it's been my go to 11 for a while.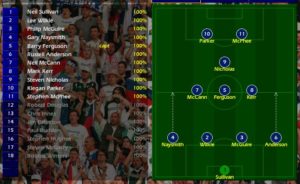 Northern Ireland, who really need a win to keep any hopes alive, have gone with the following: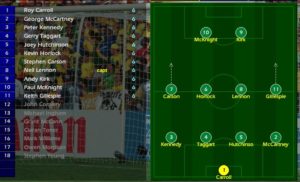 It's a big game because if we win this, I'm fairly sure we'll beat Malta and it will set up the final Hampden showdown with Spain.
I needn't have worried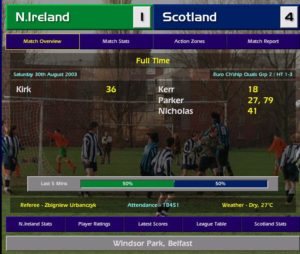 Good ref name. Kerr calmed us down after some early nerves, Parker showed why he got his move to Celtic and Nicholas smashed in a volley to settle us down after Kirk threatened to ruin the day. The ratings reflect our dominance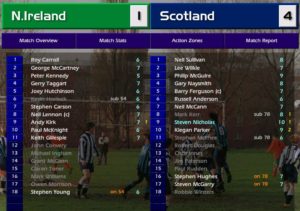 It was on the verge of being the perfect day, but Spain steal a 90th minute winner in Poland to stay top.
We're guaranteed a playoff place, which is wonderful news. There's 6 players one yellow card away from a ban so they'll all sit out the Malta game. That means no Kerr, Ferguson, Anderson or McGuire but I think we'll have enough. I'll have Kerr and Ferguson on the bench just in case.
Malta stick with 442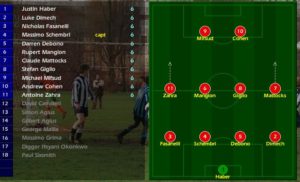 It's a typically one sided game but our finishing lets us down a bit. We get the win but it's not as emphatic as I'd hoped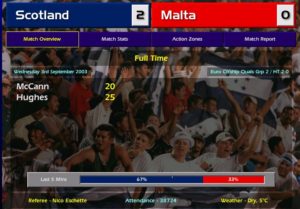 Mind you, I know its Scotland but 5 degrees in September is freezing. Still, the job is a good one and we're taking it to the final round of fixtures. I do like that one of Malta's subs is called Digger though, I can get on board with that.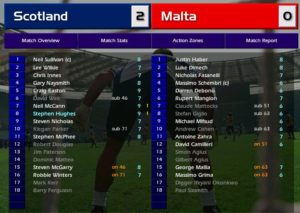 Malta's keeper was pretty good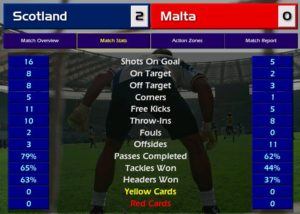 Unfortunately, Raul's first half hat trick helped Spain to a 4-1 win over Northern Ireland so they are in the driving seat, a draw will do them at Hampden.

We seem to have found ourselves top of the 2nd placed teams table, which I guess means a draw could see us through top of that. Who knows!?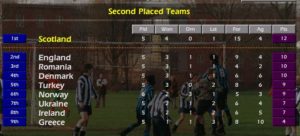 So that's it for another update, a remarkable two games, with 6 points and 6 goals. If only Spain hadn't scored that late winner in Krakow…
Join me next time as we go head to head with Spain at Hampden Park for a spot at Euro 2004. Now that's a big game.