The Inevitable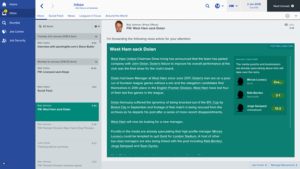 Yes, it is over. I was told of my sacking while continuing on the 1st of January, as the bar that told me my next opponent changed to tell me of available jobs.
I finished my reign with a pitiful 8 points, and I have no one to blame except myself, the players, and Nigel Farage.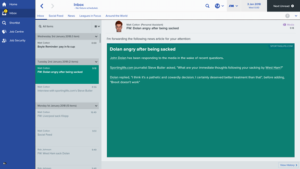 In truth, I could have signed better British players, certainly better defenders. But there is only a limited budget, and revamping an entire team is difficult, particularly with such a small pool of players to pick from.
I feel let down by Ashley Williams, whose consistent errors gave away cheap points in the early stages. Carroll's injury caused us problems that we failed to recover from, and the high-quality players like Barkley and Rodriguez just didn't do enough.
The appointment of David Wagner shows the board's intention to move away from the Brexit strategy, as the continental style seeps back into the club.
Interestingly, West Ham only made one signing in January, right-back Jonas Svensson. This baffled me, because I'm almost certain that right-back was the only position on the pitch that we didn't struggle in.
The Successor
Continuing through the months to see how The Hammers got on without me, it is clear that their new setup improved things slightly.
While January was definitely more of the same in East London, failing to pick up any wins. However, February proved more successful for them.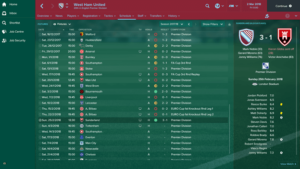 West Ham managed two wins in February, as many as I managed in my whole stint at the club. But there are two significantly more interesting things at play.
The 3-1 win over Sunderland saw the first goal for Gerard Moreno, the striker I couldn't give away the previous summer. The Spaniard opened his account for West Ham, and keep an eye out for him later.
More importantly, my Europa League legacy was left in tatters by new man Wagner. Disgracefully failing to even score over two legs against Athletic Bilbao (who were eventually knocked out by Man Utd), our European conquest was brushed aside.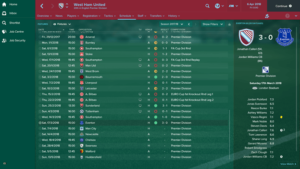 March saw even better form for West Ham, with wins against Everton and Southampton. These were courtesy of three goals from Argentine Jonathan Callieri over the course of the month.
Look, I'm not bitter, but obviously it would have been an easier job with Callieri and Moreno leading the line. Both men have 15 finishing and an array of 15+ attacking attributes, but I'm afraid that in the world of Brexit, West Ham might not have the luxury of such talented strikers.
Ok, maybe I am bitter, as I see West Ham, despite their 5 wins under Wagner, remain in 20th. Even though they beat teams like Swansea and Everton, they still managed silly losses to Newcastle and Huddersfield.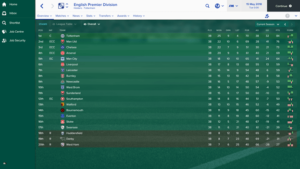 By the end of the season, West Ham were relegated. Of course, I will take the blame, the tactics were not quite right in some (most) games, and the signings could have been more shrewd.
However, this was the starting line-up used by Wagner when he was winning games. 4 non-British players there, which indicates the confidence that managers have in foreign players, over British counterparts.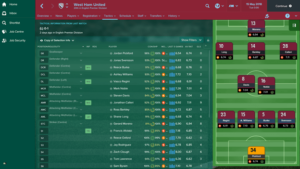 A Successful Experiment?
I think this experiment raises more questions than it answers. Besides the top dogs of English football, such as Kane, Alli and Rashford, what British players are actually of top-half Premier League quality?
Looking at the recent international fixtures (in real life) from earlier this month, the British sides laboured to victories over the likes of Malta, Slovakia and Moldova, and The Republic of Ireland picked up just one point against Georgia and Serbia.
This isn't me making excuses by the way, but this experiment demonstrates the need that Premier League teams have for foreign players.
There has been a lot of talk in recent years about how the number of foreign players is damaging the England team. While this may be true, think of the effects it has on the other British nations. In the 1990's, players like Paul McGrath, John Hartson and Ryan Giggs played at the top level of the league, alongside countless English players.
Now, there are no Scottish or Northern Irish players in the top 7 of the Premier League, a few Welshmen, Everton have a selection of Irish players, and that's it. This demonstrates the effect that the importation of foreign players has had, not on the England team, but on the rest of the UK.
While me getting sacked for being 20th doesn't demonstrate that at all, it does show how difficult it is to find genuine quality from the home nations, without an unlimited budget.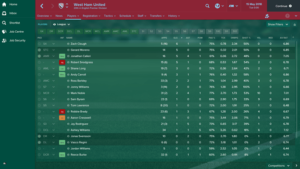 As I mentioned, the use of Moreno and Callieri turned things around for Wagner's side. They popped up with 10 goals between them, a quarter of the total league goals scored by West Ham, in only 14 and 16 games respectively.
While Andy Carroll would have likely contributed more had he been fit, the gulf in consistency between the British attackers and the Non-Brits is telling.
So, the series is ended. West Ham have been ejected to the Championship once more. On the plus side, they have definitely got a Championship quality side, even with various transfers in and out.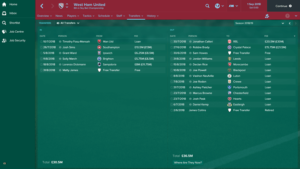 While this was an unsuccessful exercise in showcasing my Football Manager ability, it was an interesting experiment to really see how much British quality there is for an aspiring football manager to choose from. Particularly when they have no other choice.