Final Countdown
So, this was to be the biggest December in West Ham's history. Rock bottom and the board on my back, the requirement was simple. By the end of the month, if the board didn't feel more confident in my management of the team, I would be sacked.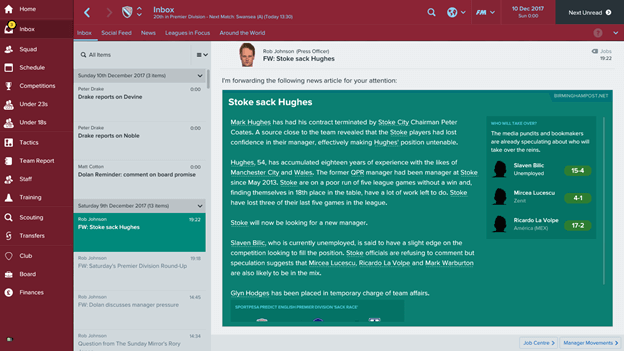 It should be noted, I am not the first to go! How much must Hughes have annoyed his employers for him to be sacked before me, I do not know. Still, that makes no difference to our season, we still have games to win.
First up, a tough away game in Wales, against mid-table Swansea. I went for a flat 4-4-2, to utilise the power of Carroll and the pace of Long. Coming off the back of a good win in Europe can only help, but the loss of Aaron Cresswell would hurt any side.
Turns out, the loss of Cresswell hurt us incredibly, as a simple cross in from the right-wing was buried by Baston. Turns out Matt Doherty isn't good enough at left back, but we were stuck with him in that position now.
The next game was up against Chelsea, another tough fixture, and despite a brave performance we succumbed to the superior quality of the opposition. Write off.
By this point, the media and fans were getting on my back about Doherty. Of course, as soon as the vital Carroll returns, another irreplaceable player is lost, in Cresswell.
New Blood
Still, we had to turn our attention to 7th placed Watford. Despite their high league position, I felt the home advantage could land us in good stead. I thought this could be the opportunity to give Ronan Doyle, a 15 finishing, 4.5 star rated regen, his first start.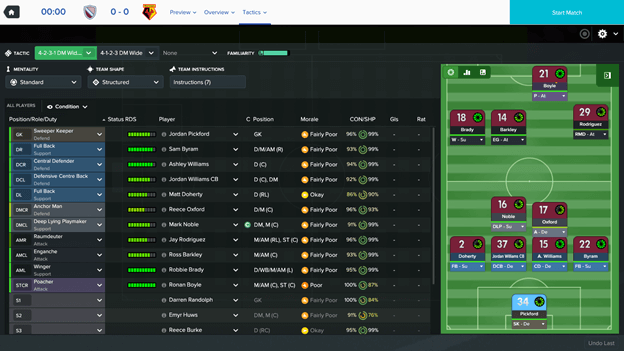 Unfortunately, a display from Daryl Janmaat, of all people, totally outwitted Doherty, resulting in early goals from Deeney and Isaac Success. Despite a late rally, we could not grab an equaliser, and we lost our third game on the bounce by one goal.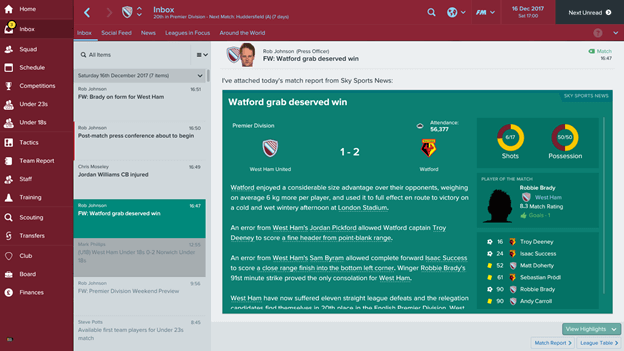 What was clear, however, was a definite improvement in the side after switching to a fluid team shape. Keeping this philosophy going into the next game, Huddersfield away, I thought that a more combined team shape would give us more attacking flair.
That didn't happen, and another defensive horror how resulted in yet another defeat by just one goal. Things were starting to get ugly, and if we couldn't beat the next team, I didn't deserve to keep my job.
Final Roll of the Dice
Derby were the visitors in our first game of the season, when we were unbeaten and we were flying high. What a long time ago that was. But, after a superb free-kick from the returning Bobby Snodgrass and a fine strike from Barkley, we were 2-0 up at half time. Total control.
Screw Brexit.
The next fixture was barely of any importance. If we can't hold a two-goal lead over 19th placed Derby, how could we possibly beat Arsenal? The board will come to a decision on my performance on the 1st of January. On that day, we face Burnley.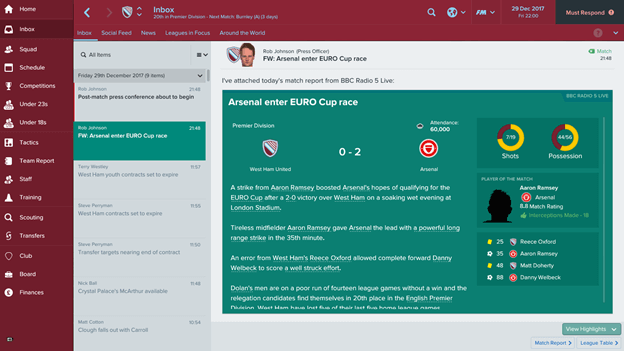 We will be going into that game off the back of a 2-0 loss to Arsenal, which I'm not too disheartened by. But I'm unsure if the board will make their decision before the game or after? Will it make any difference, I'm not sure.
While I'm not going to give up hope unless the sacking comes in, it would appear that a team consisting of entirely British players simply cannot compete in the Premier League.
Despite some of the most sought-after young players such as Barkley and Rodriguez, and Premier League stalwarts Carroll and Noble, every game they are outclassed by the opposition.
Next week we will see the board's judgement, and will possibly see our game against Burnley. Regardless of my career, we will follow the progress of the British-filled side over the remainder of the season, to see if it's the players or the manager causing the problems.