Conceding Goals for Fun
So far, things haven't been going well in the league for the Brexit side. I'm almost certain that the only reason I still have a job is because of our unbeaten form in Europe.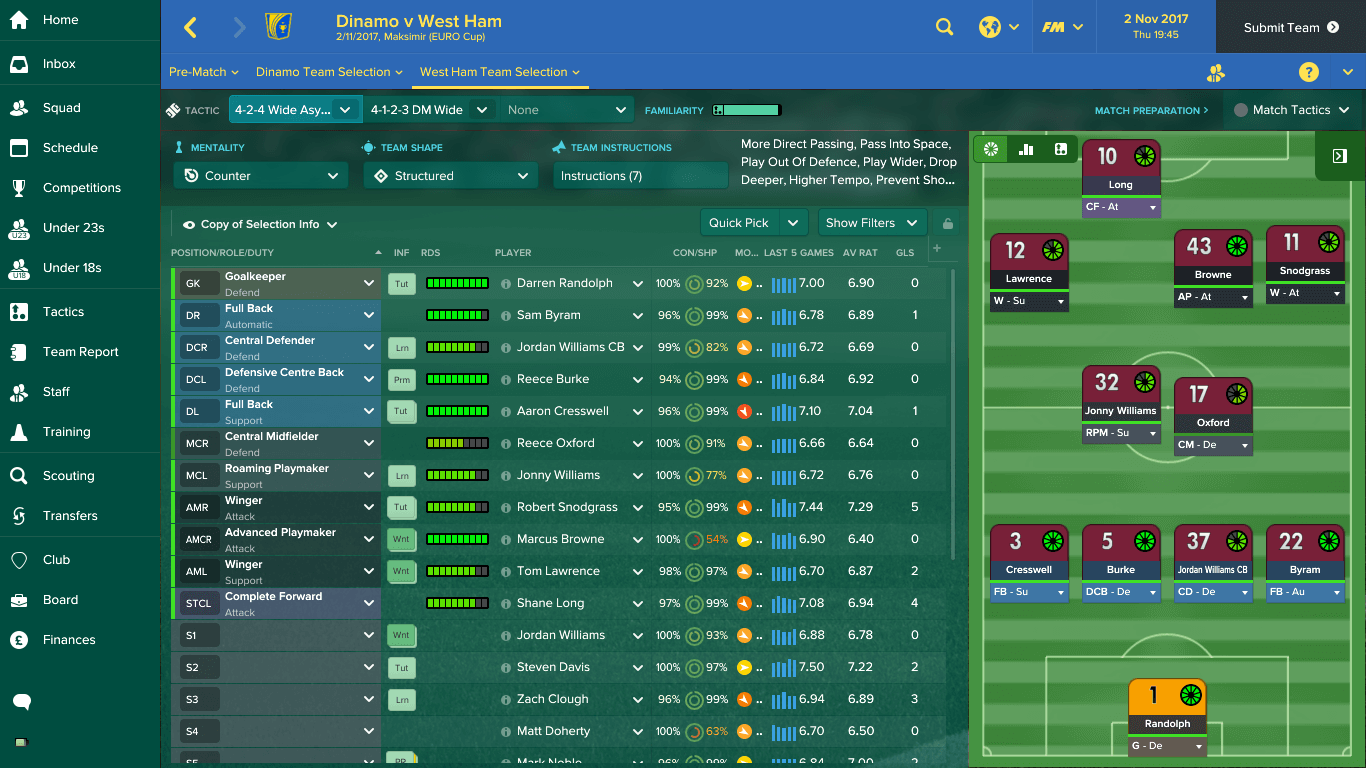 Kicking off November, the first game is away at Dinamo. Resting some first team players was on my mind, to see if a bit of squad rotation could improve our defensive woes.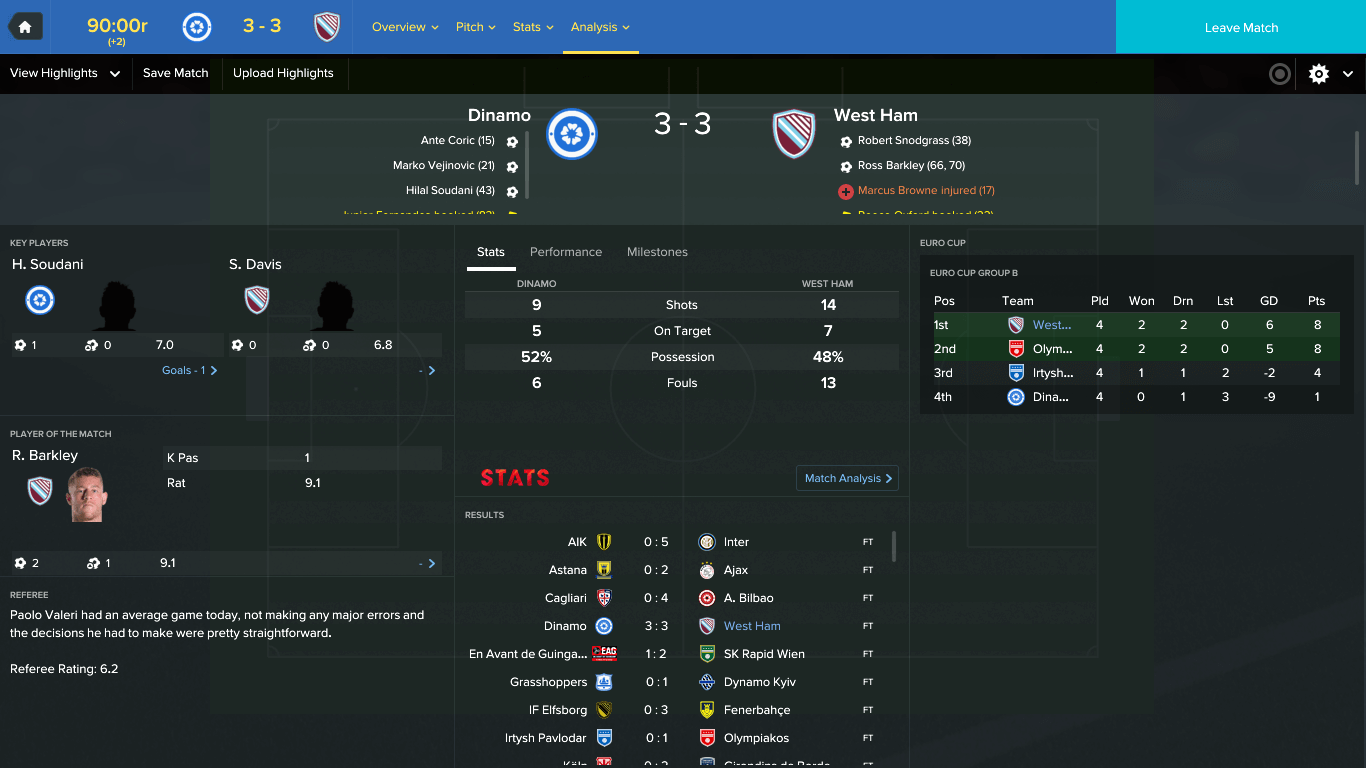 It couldn't. Had it not been for the switch of Ross Barkley for Marcus Browne due to a first half injury, we would no longer be unbeaten in Europe.
That meant we went into another tough league game, this time Everton away, without the momentum that I would have liked. We gave the Toffees a good performance, but another late penalty doomed us to lie 20th.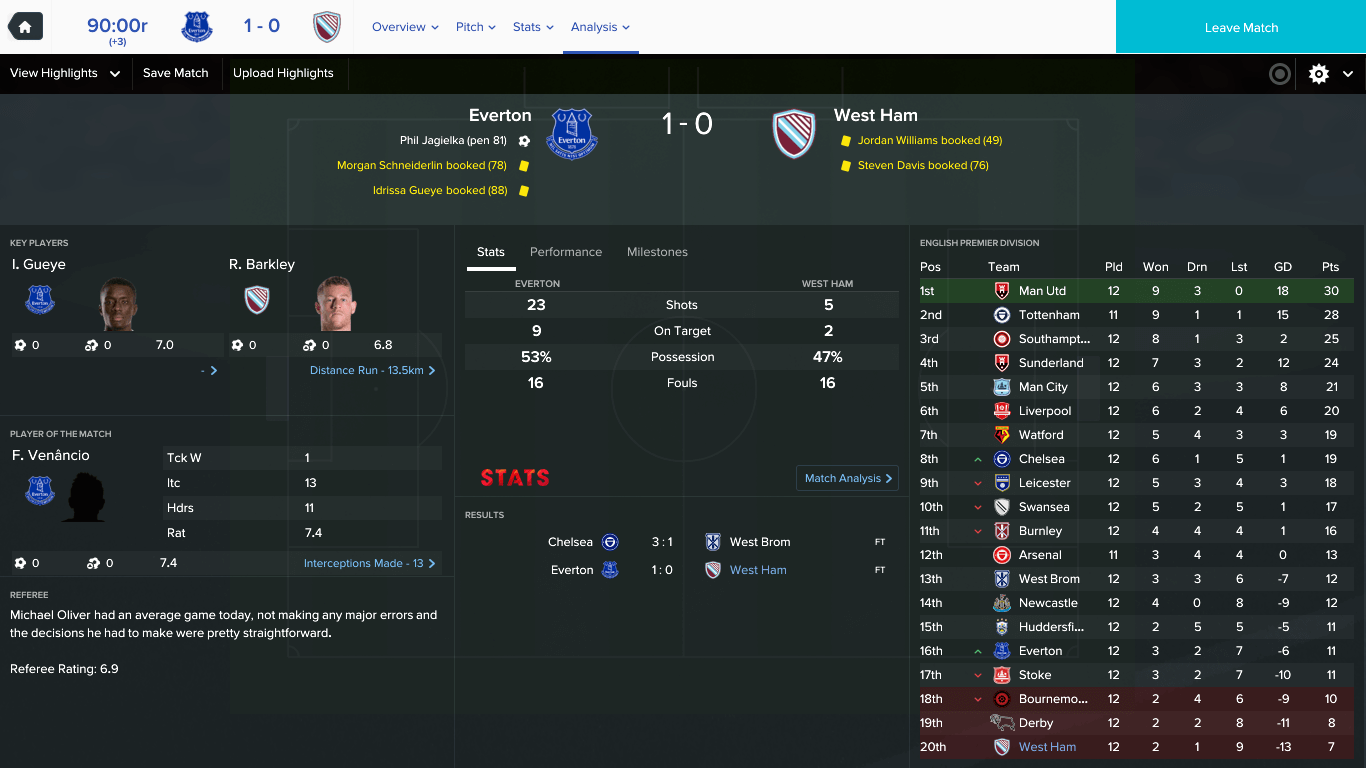 Trouble at Home
Next up was a home game, finally, but against 3rd placed Southampton, who were flying high. As a result, I opted for a more stable formation. Not overly defensive, but could control the midfield.
Unfortunately, we lost 2-1, despite an equaliser from Jay Rodriguez. Southampton had just too much for us, as the league form continued to plummet. It appeared that we could not even salvage a draw in a league game, as the defence continued to show weakness.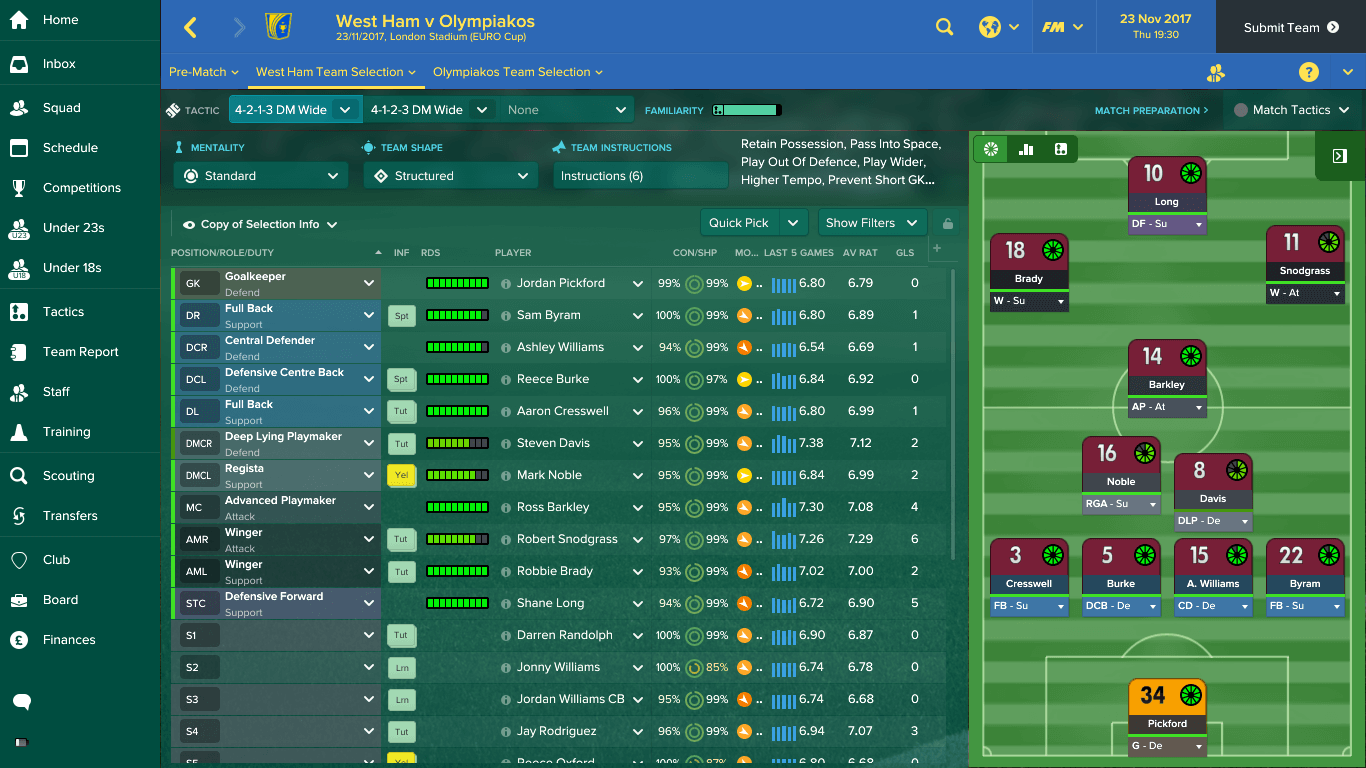 This led to us to our final home game in the Europa League, against rivals for top of the group, Olympiakos. I settled with a solid defensive formation. Rather than sitting deep and soaking pressure, the two CDM playmakers would block inside forwards for the opposition, and supply the attack.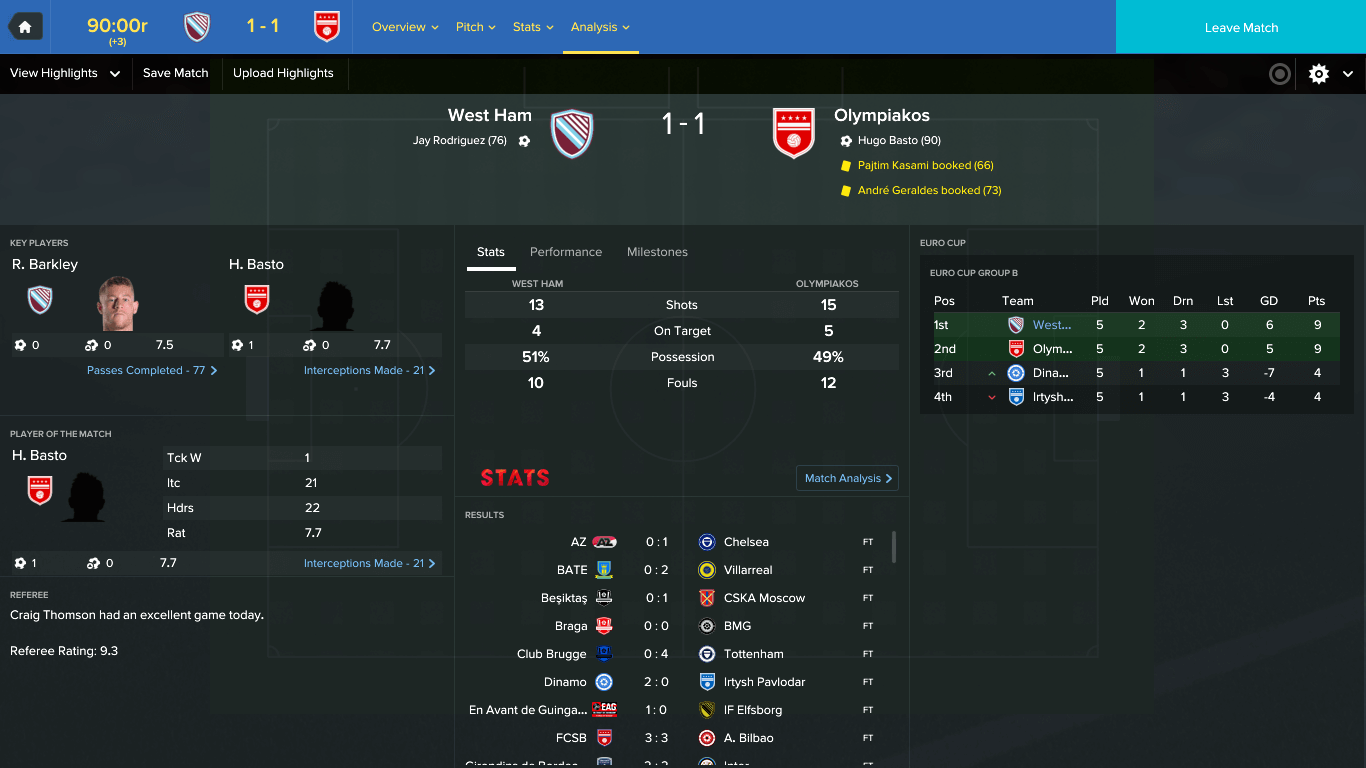 The plan worked perfectly, forcing wingers out wide so they couldn't play their normal game. If it hadn't been for yet another late equaliser, we'd have actually won a game.
I was hyper-aware of the fact that too many late goals were being conceded from winning positions. I considered that perhaps the team was sitting too deep in the latter stages, encouraging the opposition to attack. But this goal came straight from an opposition counter-attack, in which we were guilty of doing just the opposite.
As per usual, we could not defend the resulting corner, and the game was drawn. However, we remained top of the group, already qualified. Our final group game was to be against Irtish Pavlodar, which we surely could not lose.
Off the back of an almost winning display against the Greeks in London, we turned our attention to the arrival of Newcastle. Not struggling as much as us, but not pulling up many trees either. Newcastle lacked quality in attacking areas, so the game plan again pushed the team wide, to nullify the opposition.
This didn't happen. It's clear that we are playing too defensively, with two CDM's. However, too often, such as in that Europa League game against Dinamo, goals were conceded from rockets from the edge of the box.
The Return of Andy
CDM's act as a shield for the back four, and should block those shots. However, it seems that even when we do block long range efforts, and prevent crosses, and halt the through balls, we still manage to lose either from a set piece or penalty.
Far be it from me to blame luck, but we've certainly been on the end of a lot of it.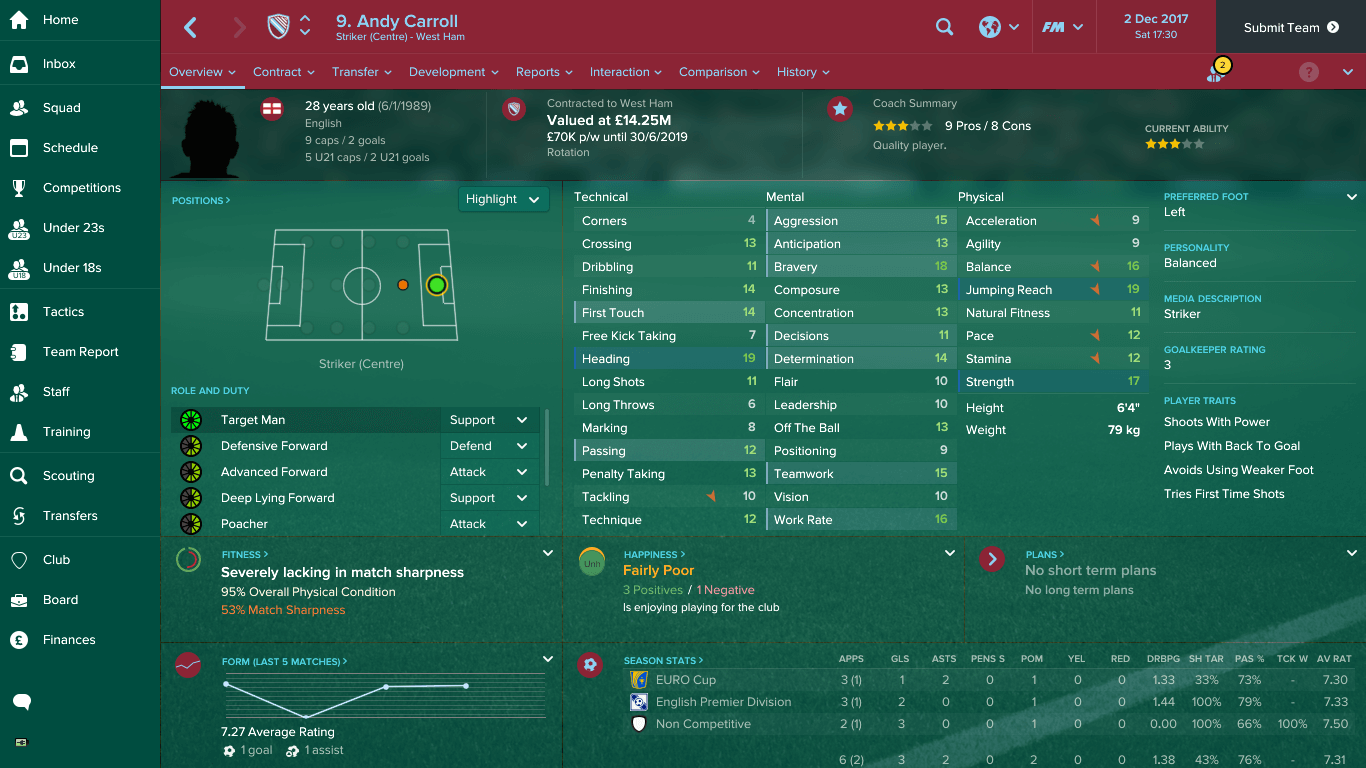 With a game against Man City on the horizon, that luck looked certain to change. Carroll was one of our most important players before his injury, so we can only hope his return signals a turn of the tide.
Not risking starting the target man so soon after his return, I opted for a midfield-heavy formation to block the strong Man City CAMs. Inverted wing-backs were used to force the attack wide. The only man in the box for City would be Aguero, and our centre-backs should be able to stop him in the air.
It sounds laughable, but this was by far and away our strongest performance in months. Hit the post multiple times, and had two goals narrowly disallowed for offside. The conceded goals were simply down to the sheer quality of a Greizman-Aguero-Jesus attack.
More importantly, we were now 6 points from safety, and the board handily reminded me.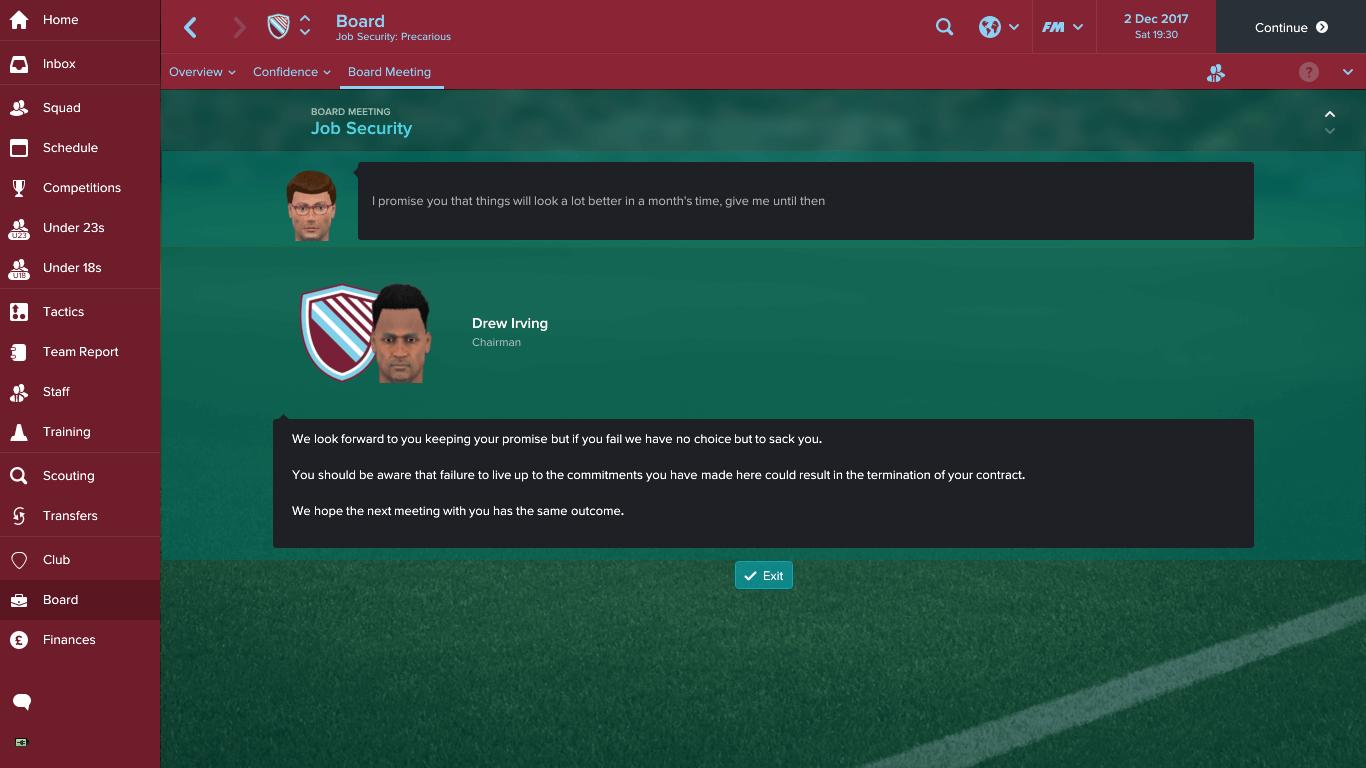 I'm surprised it didn't happen sooner, but it now means we have until the final week of December to convince the board that the club is not in tatters. Europa League won't cut it anymore, and nice performances aren't good enough. We need real results and points on the board.
To prove to myself that things can change, I decided to play the final group game of the Europa League. Starting Andy Carroll was risky, considering his injury proneness, but the plan was that no matter what the scoreline, he would be replaced at half-time.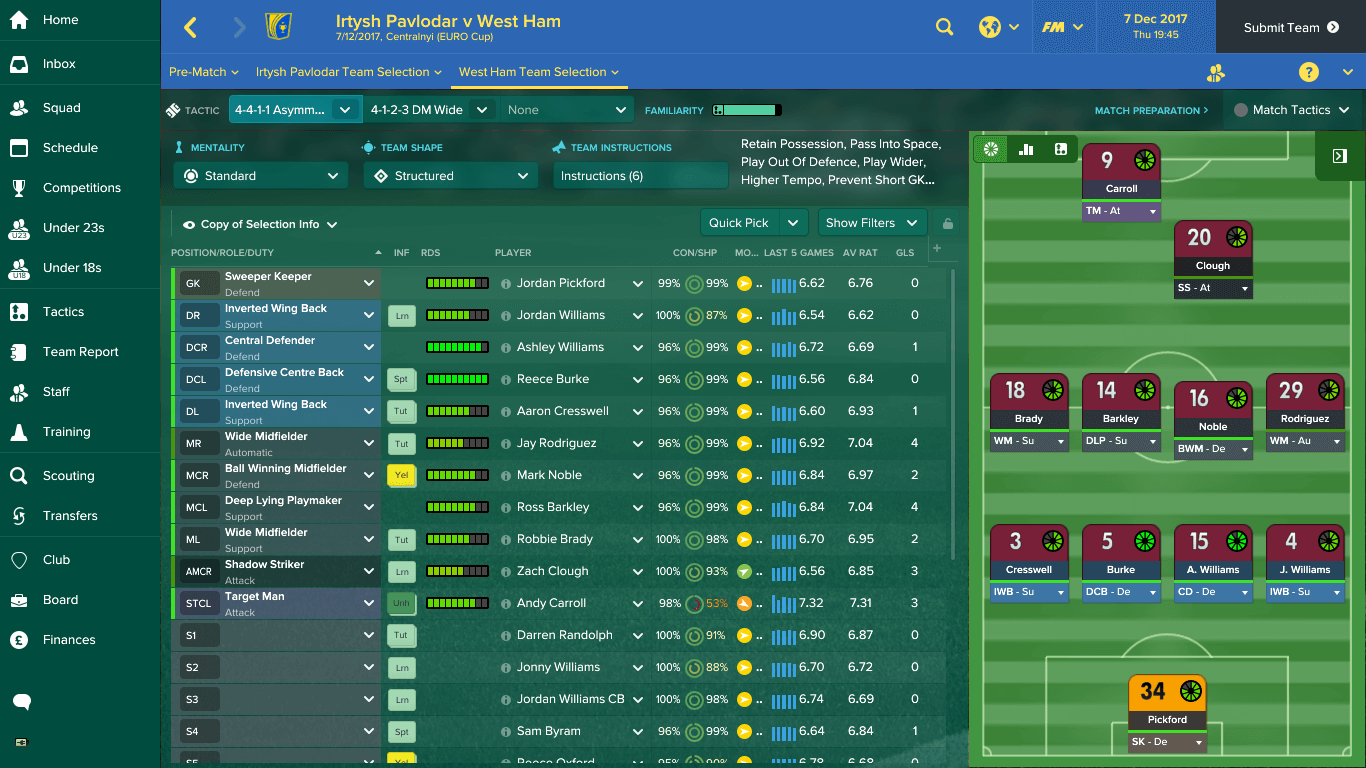 As it turned out starting him proved just how important his absence has been. He scored within the opening 20 minutes, with a powerhouse of a strike just inside the box.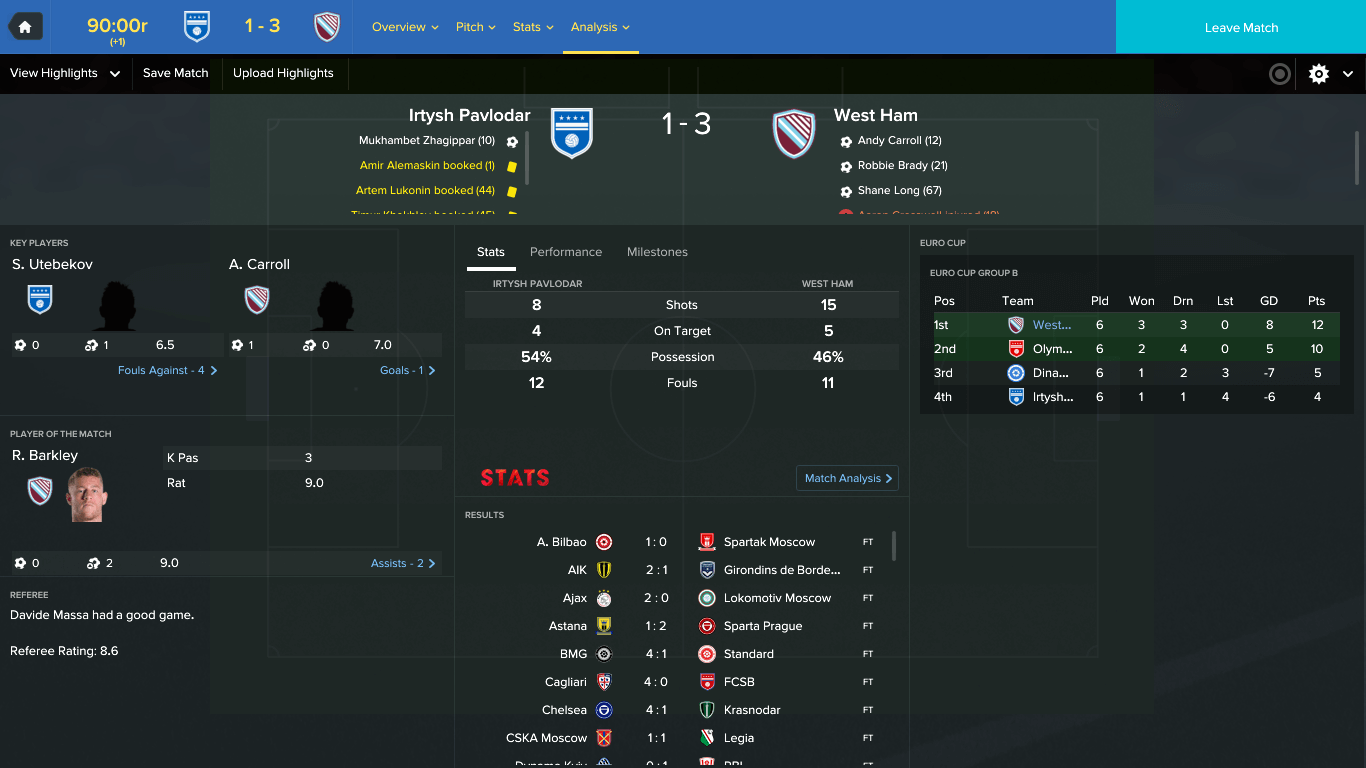 We went on to win 3-1, with Ross Barkley pulling many strings. It showed how vital these two players are to the team, and how much they have not performed so far this season.
We are now a week into December, with a clear board message. Win games, or be sacked. There are three crucial things for the Brexit side to focus on over the next month. Keep Carroll fit, settle on a permanent midfield, and find some quality centre-backs to be signed in January.
The question is, when there's only the home nations to choose from, are there any good quality defenders out there?