Bouncing Back Against Tottenham
Last week was a difficult one. Some decent performances, but all in all, a disappointing month. So, the plan this week was to use the international break to really prepare for the game away at Tottenham, to avoid the sort of disaster we experienced at Anfield a few weeks back.
Erik Lamela and Christian Eriksen were my targets of choice. Yes, Harry Kane had hit 6 goals in 8 league games, but the players behind him were playing equally well. Both Eriksen and Lamela had contributed to 5 goals since the start of the season. They needed to be neutralised.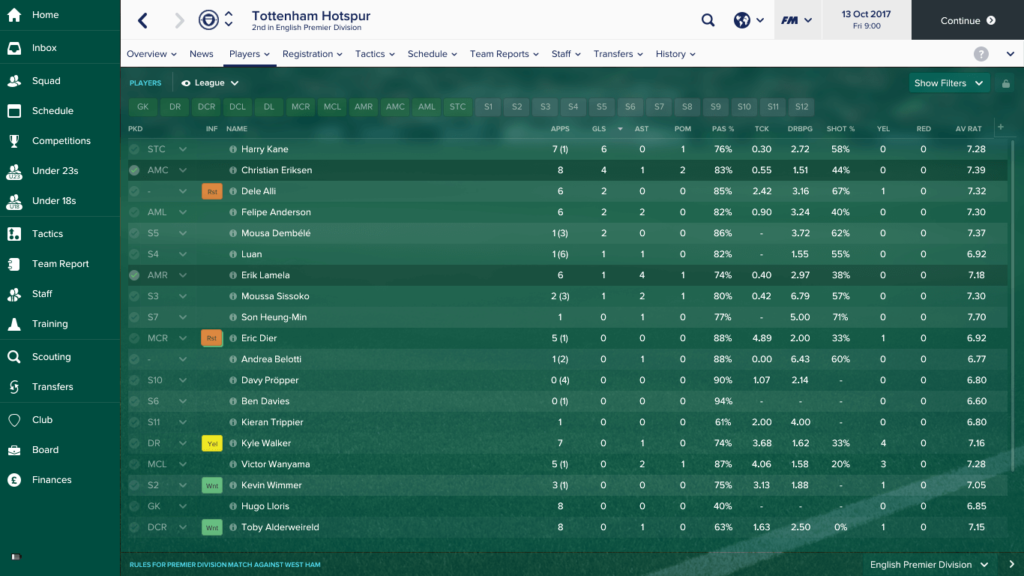 Lamela likes to cut in from the right and dwell on the ball. He has high dribbling but not much in terms of distribution. Therefore, if I can keep him as wide as possible, that will help.
Eriksen is the opposite, he needs as little space as we can provide, so he can't make passes or get long-shots away. So this is the starting 11 that I went for.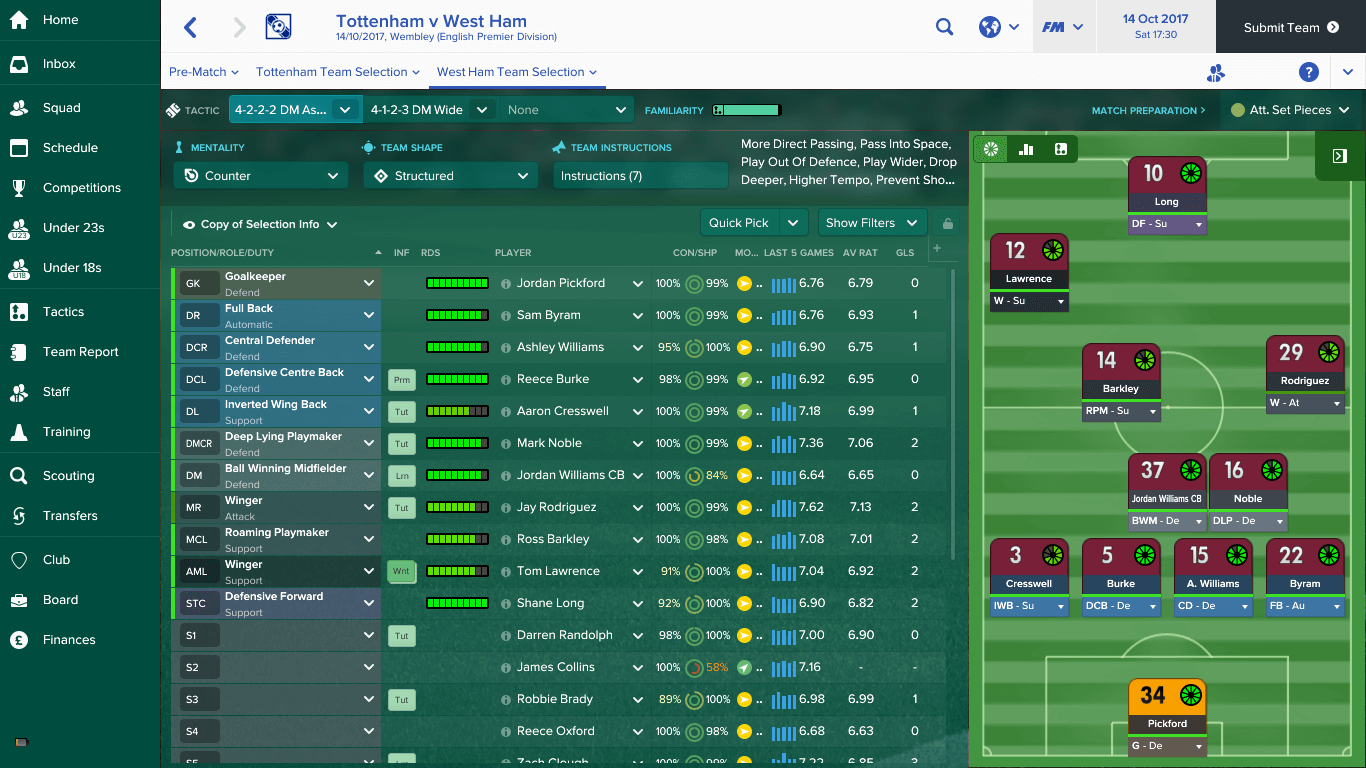 Now it looks like a mess, but my scouts told me Spurs concede most of their goals from left-wing crosses. With both Brady and Snodgrass unfit from international duty, Lawrence filled the gap, in an advanced role. The two CDMs would give the defence a shield, to handle Eriksen and the left winger, Felipe Anderson.
Aaron Cresswell was the vital factor. Playing as an inverted wing-back, Cresswell would come narrow, forcing Lamela wide, and cutting off even more space for Eriksen. Barkley then played advanced, to supply balls to Lawrence and Long.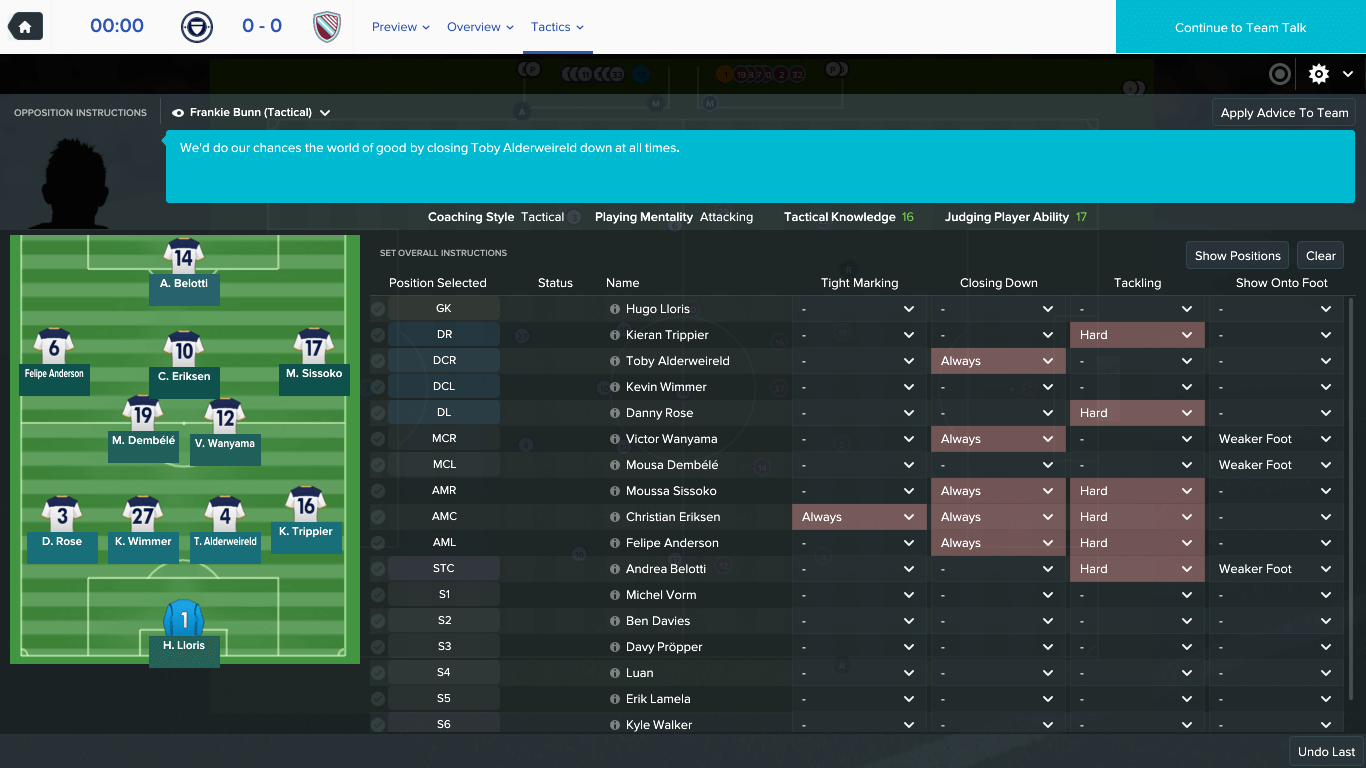 Of course, Spurs decided to outwit me, playing Sissoko on the right instead. I stuck with the same system, because there's still not an awful lot Sissoko can do out on the wing.
14 minutes in, Lawrence crossed for Long to score. Absolutely perfect start. We've had strong starts before, but this felt different. We had set up to neutralise the attack, and now we were a goal ahead too. Surely we could at least grab a draw.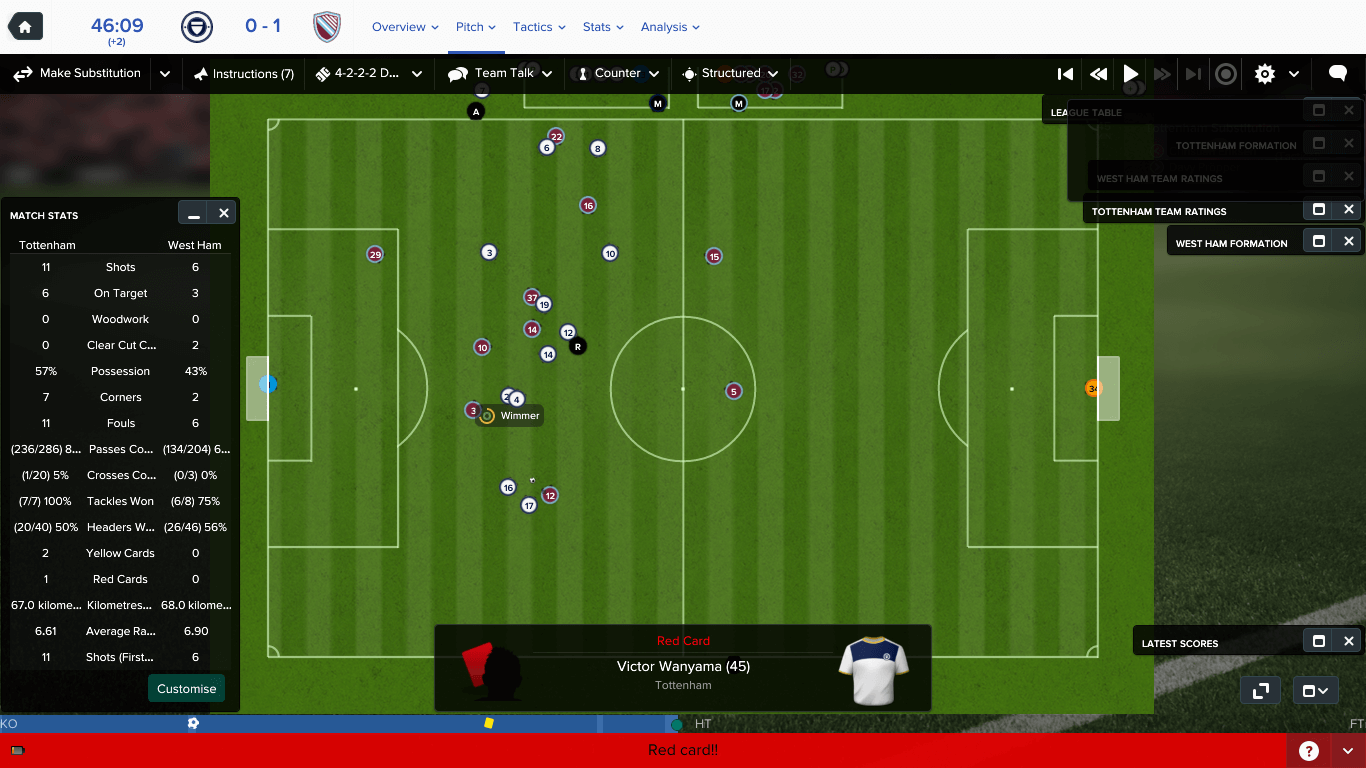 Then, after sticking Barkley to man-mark Wanyama because he'd already been booked, Spurs went down to 10 men. This was it, the plan was working brilliantly and my managerial ability would never again be called into question.
Immediately after going a man up, Dembele scored with one of the goals of the season from the edge of the box. WHAT AM I SUPPOSED TO DO? The team is set to close down, and there are 5 men in front of Dembele. Somehow it's 1-1 at half time.
The second half again went well, we had shots and Spurs could only shoot from distance. Then, from a deep free-kick, Long gave away yet another late penalty, and Lamela buried us.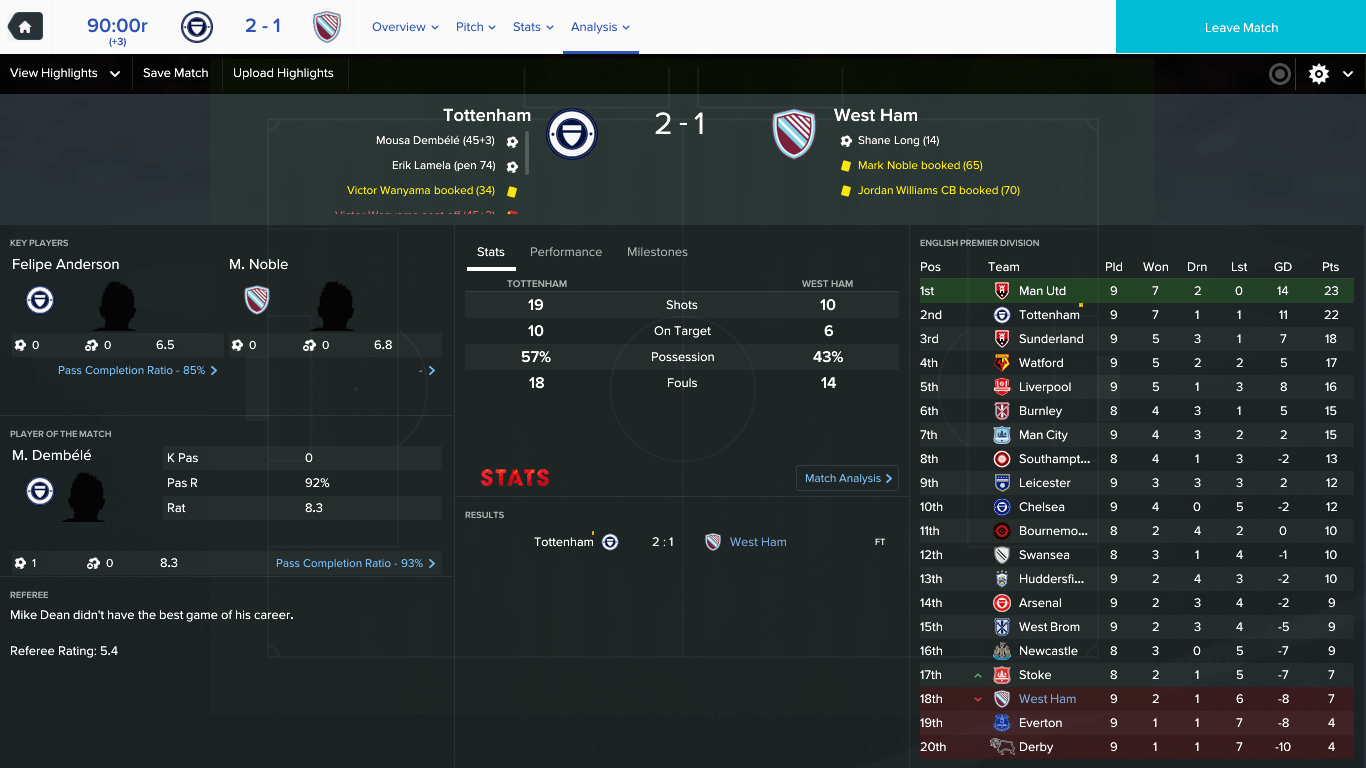 After all that preparation, great goal-scoring and man-marking, we still couldn't even get a point against our London rivals.
European Triumphs
This scares me. How can we do so much right, and still have nothing to show for it? Anyway, a home tie with Dinamo in Europe should make me feel better.
Setting up in a more conventional system, with Clough playing just off the back line and James Collins making his first appearance, we got to work. I'd been told about Ante Coric, the CAM wonderkid that was terrorising Croatian defences, so I set up with a 4-1-2-3.
But, it turns out Dinamo fancied their star creator out-wide in a 4-4-2, so I got Barkley in between the lines, and went for the jugular.
A fine performance from Clough as he set up two goals, and we had yet another good display in Europe. That put us top of our group, in a place that I really feel we can make our own.
"Yet Another Late Penalty"
Snapping back to the domestic problems, Leicester at home should prove to be a more straightforward affair than the Hotspurs.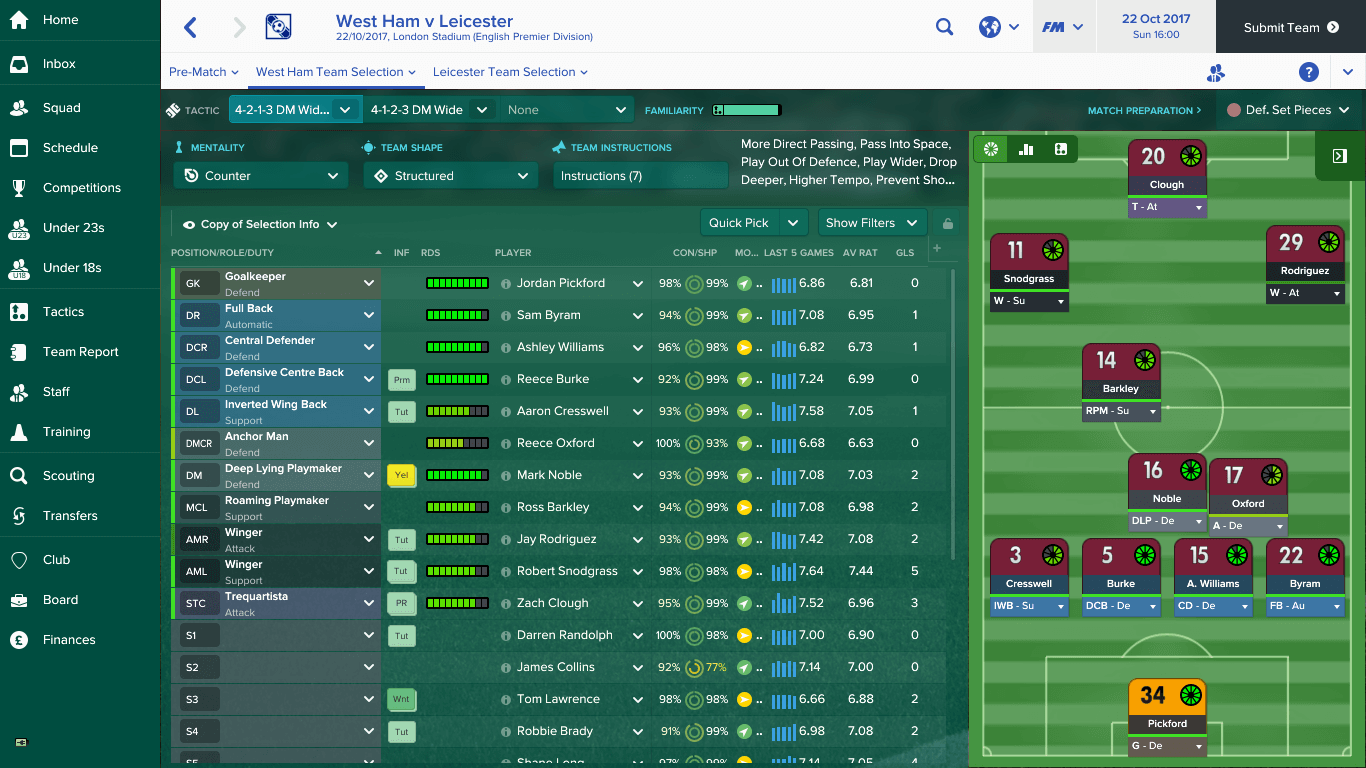 Setting up the same way as against Spurs, to neutralise Mahrez and the Leicester CAM, Hatem Ben Arfa, we raced into another early lead. This time, the ball fell to Jay Rodriguez as we asserted our dominance.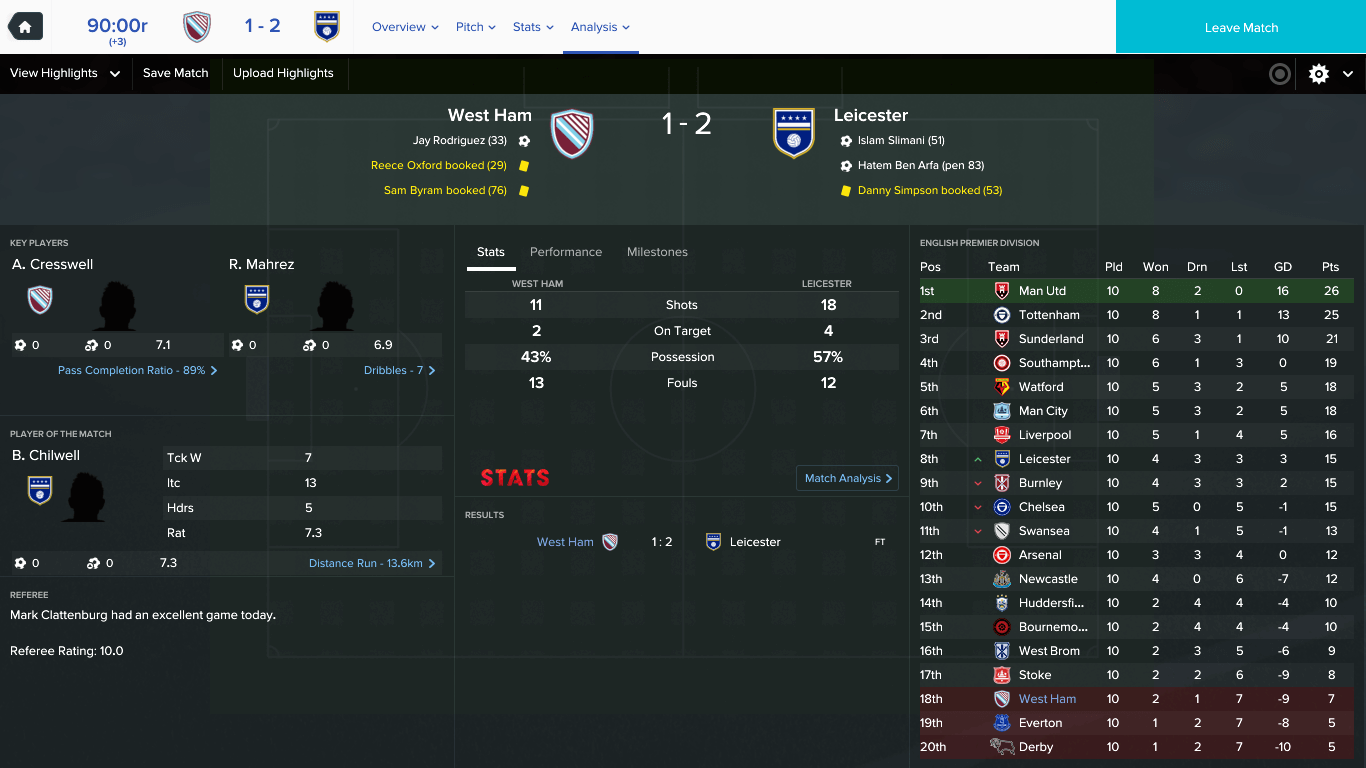 However after two mistakes, again, from Ashley Williams, Slimani was allowed to head home, and yet another late penalty meant that we had taken no points from a winning position once more.
By this point, I wondered if it was a negative formation crushing us. So, for the final game of the session against Sunderland, I went for it. They only had one striker, 52-year-old Jermain Defoe, so I felt I could play 4-2-3-1.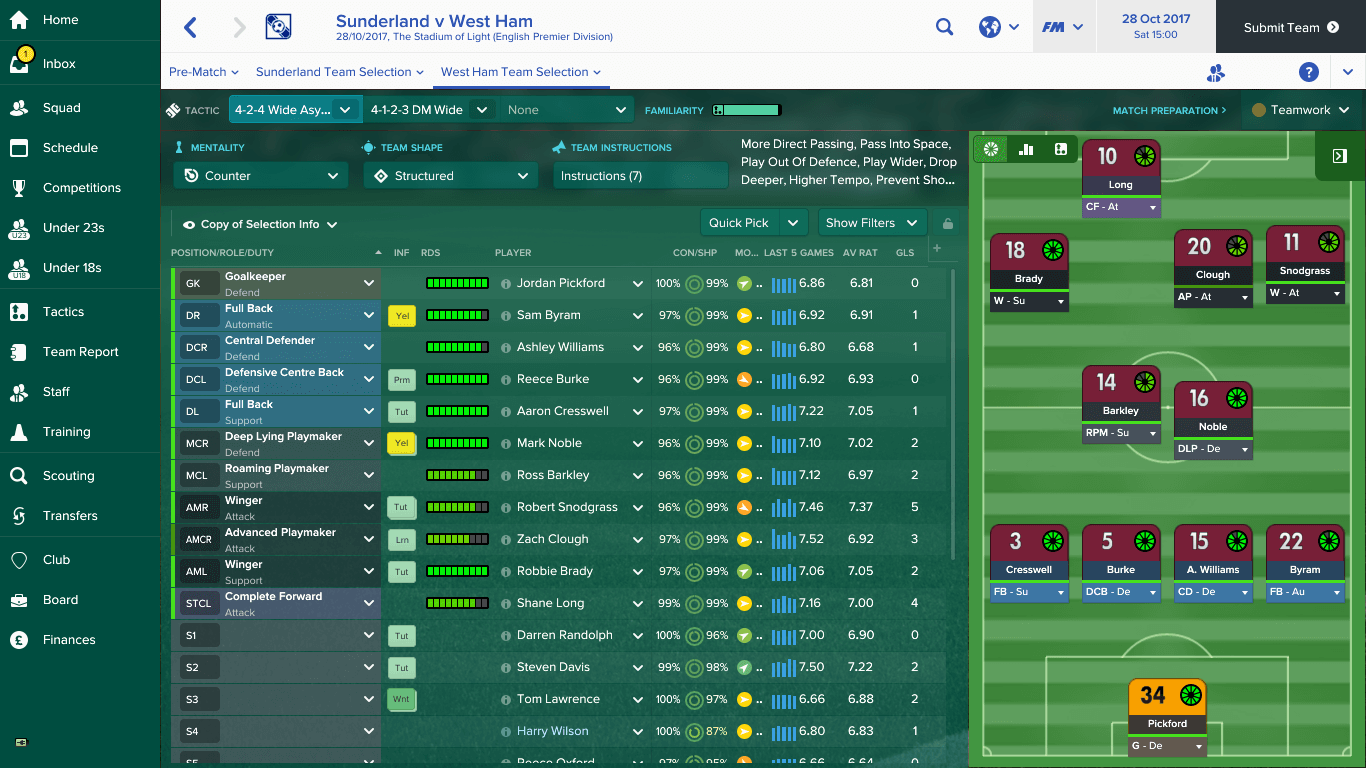 Turns out, that was a horrible idea, as the defence, again let down by Williams, couldn't cope with Defoe in the air, or as he ran in behind. Whether we sat deep or high, he managed to get through, as he finished the game with a superb hat-trick.
As it turns out, Brexit works out significantly better in Europe. It just seems that we cannot keep goals out in the Premier League, and as a result are languishing in the relegation zone.
It may be that I need to play a higher line to avoid teams coming onto us in the latter stages, or perhaps the defensive recruitment hasn't been great, but how many games is that lost via late penalties? At least 3 or 4, which is inexcusable.
We kick off next week against Dinamo in the Europa League, so hopefully we can get only our second win of the league season. In only a month or so Mr Carroll returns too, so if I can keep my job until then, that will give the side a huge, very huge, boost.