The EFL Cup
When you've had a tough time of it on Football Manager, the best thing to do is forget about it, and on the next session start brightly. Last week we had an awful time, losing all but one of the games, and conceding way too many goals in the process. The plan this week was to start quickly, and get some points back on that board.
First game was an EFL Cup tie at Bristol City. Lower league opposition are always tricky away from home, but I thought we'd have enough about us to start the game solidly, and snatch a goal late on as the opposition tire.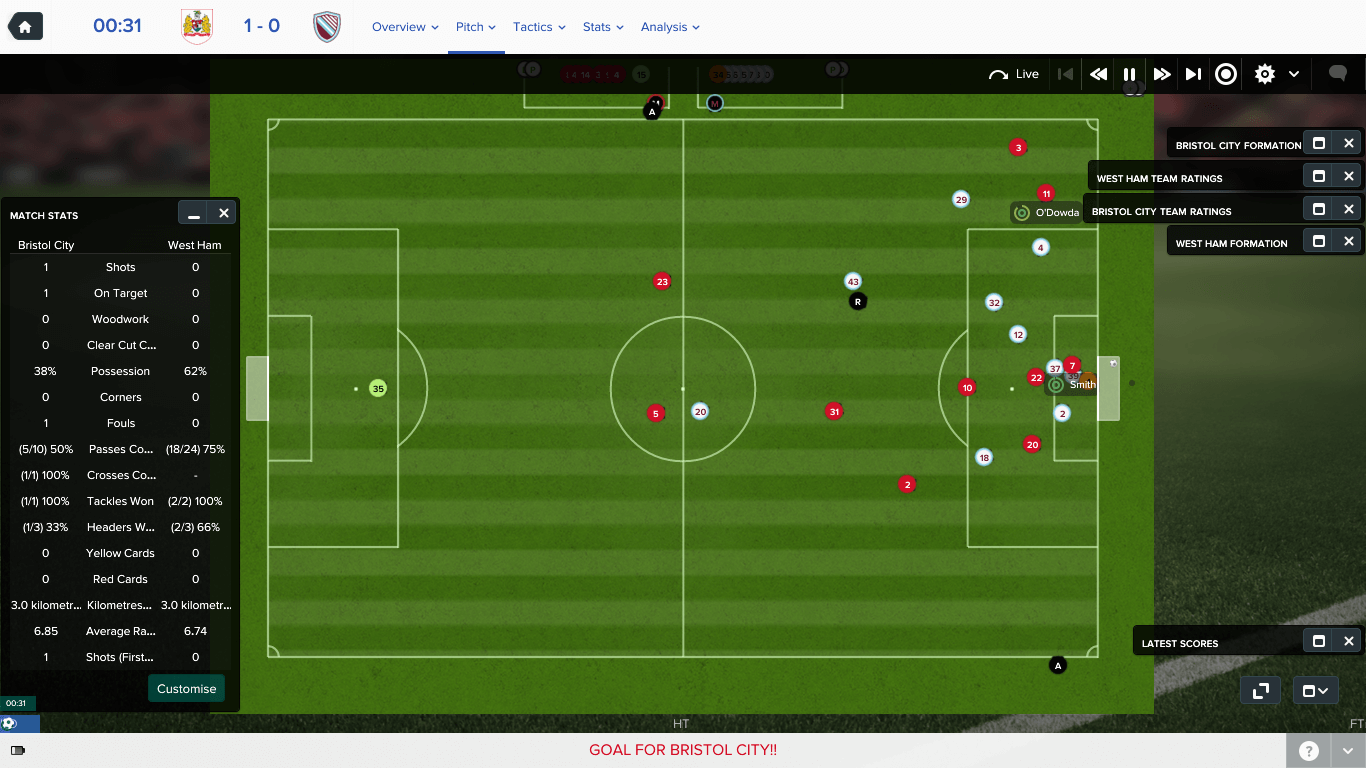 30 seconds in, we go a goal down. Pickford nowhere to be seen, and wildcard signing Danny Devine completely caught out by the pace of the game.
Things never really improved throughout the game, and despite a goal pulled back by James Rodriguez, that was the last we saw of the EFL Cup.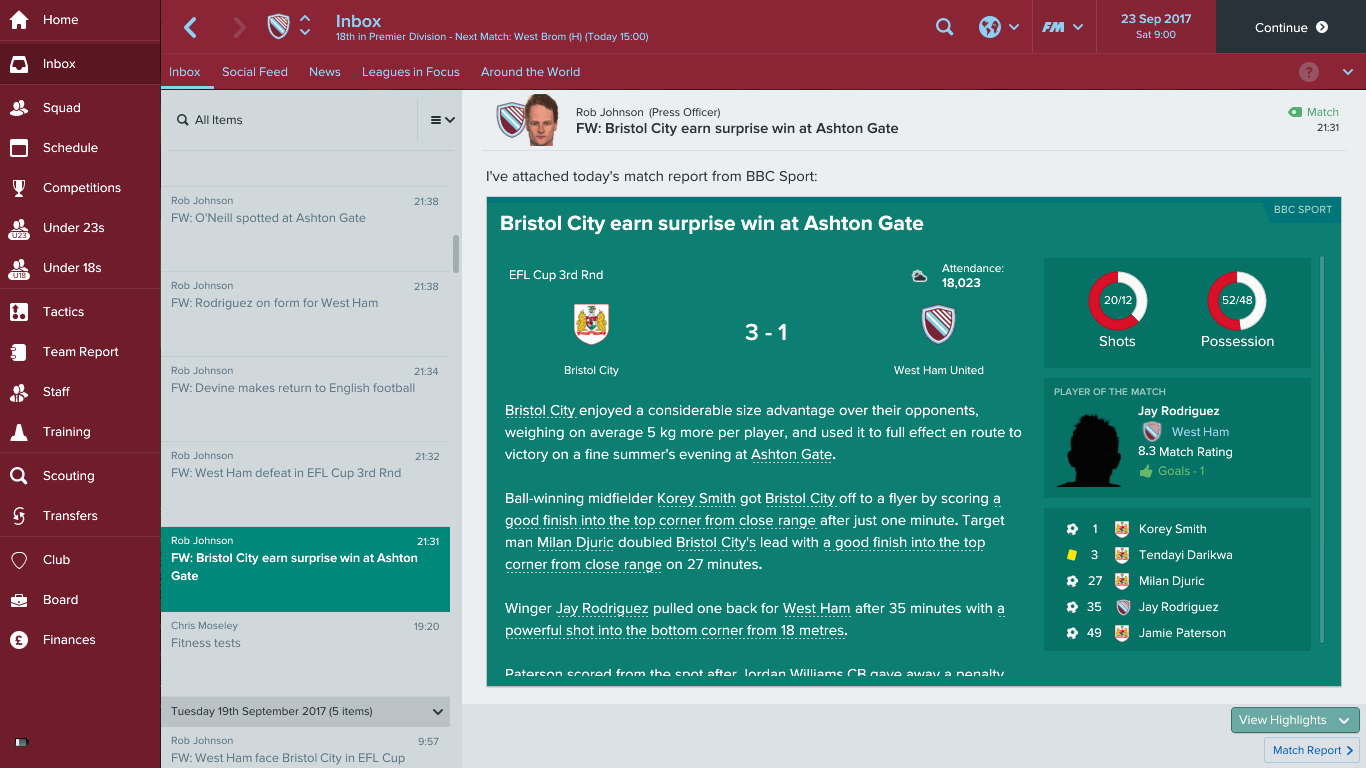 Bouncing Back
But who really cares about the EFL Cup? We've got more than enough problems to be dealing with in the league, one less fixture to worry about should be a positive more than anything. Our next match was crucial, a home clash with the Baggies.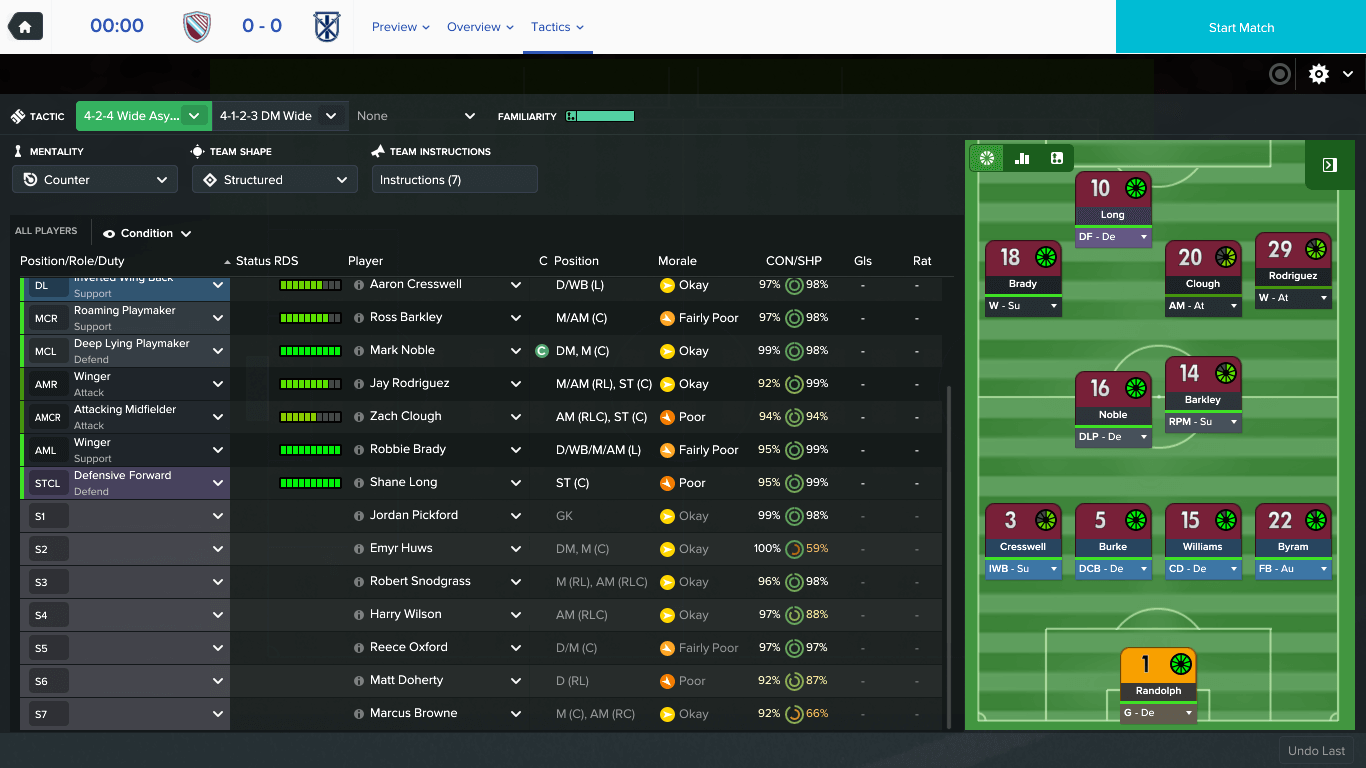 This was the team we set out with. Changing it up slightly, trying Clough in behind Long, to be involved in the game rather than sitting on the defensive line. Barkley in the CM role concerned me, but West Brom aren't known for their midfield domination, so that was unlikely to hinder us.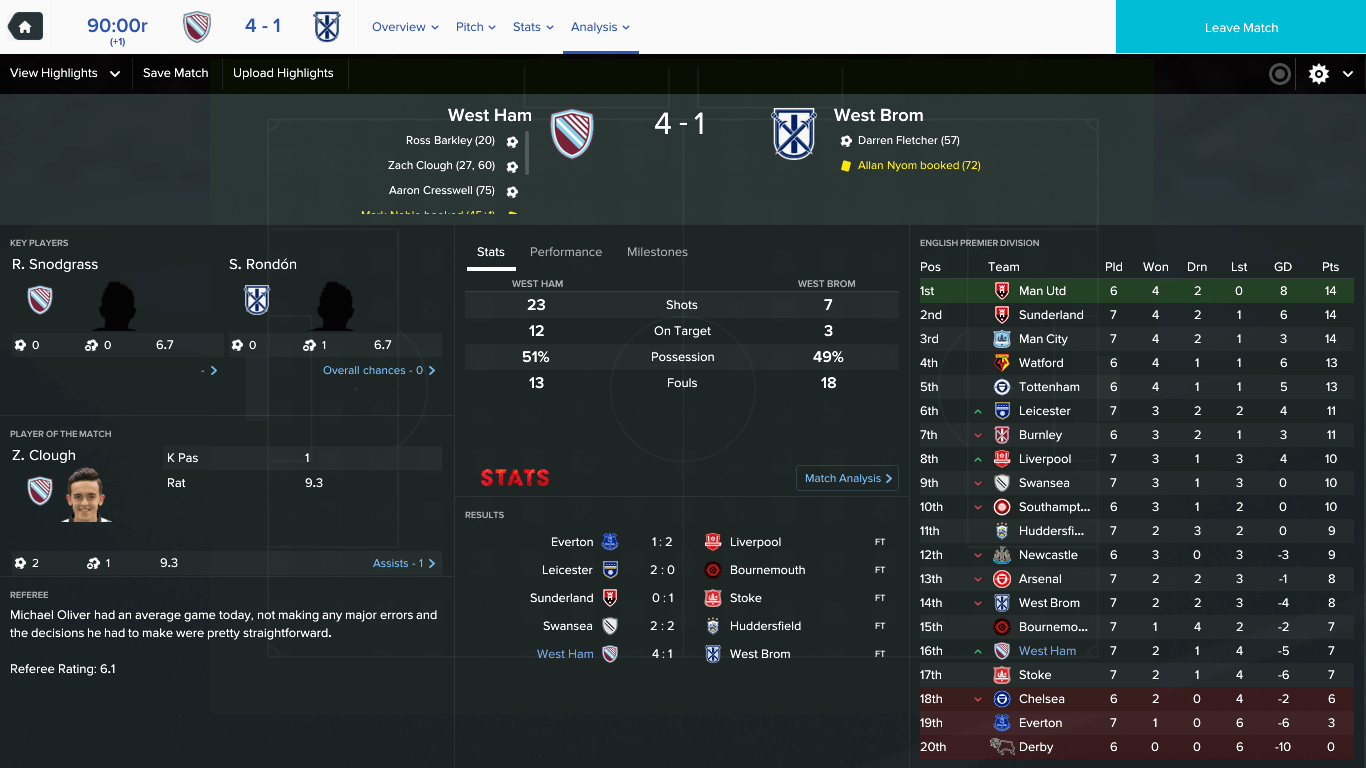 You're damn right it didn't hinder us. Clough grabbed two goals and an assist, and even Aaron Cresswell grabbed a goal from a corner. A total annihilation of the midlands side, as we clambered out of the relegation zone.
A morale boost and a bit of momentum, we could now go into the next game with a formation and team shape that looked like it could do damage.
That next game was our second Europa League game. I must be frank; Irtysh Pavlodar are a side that I never knew existed. But they were on their way to the London Stadium to test themselves against the Brexit XI, so we had to give them everything we had.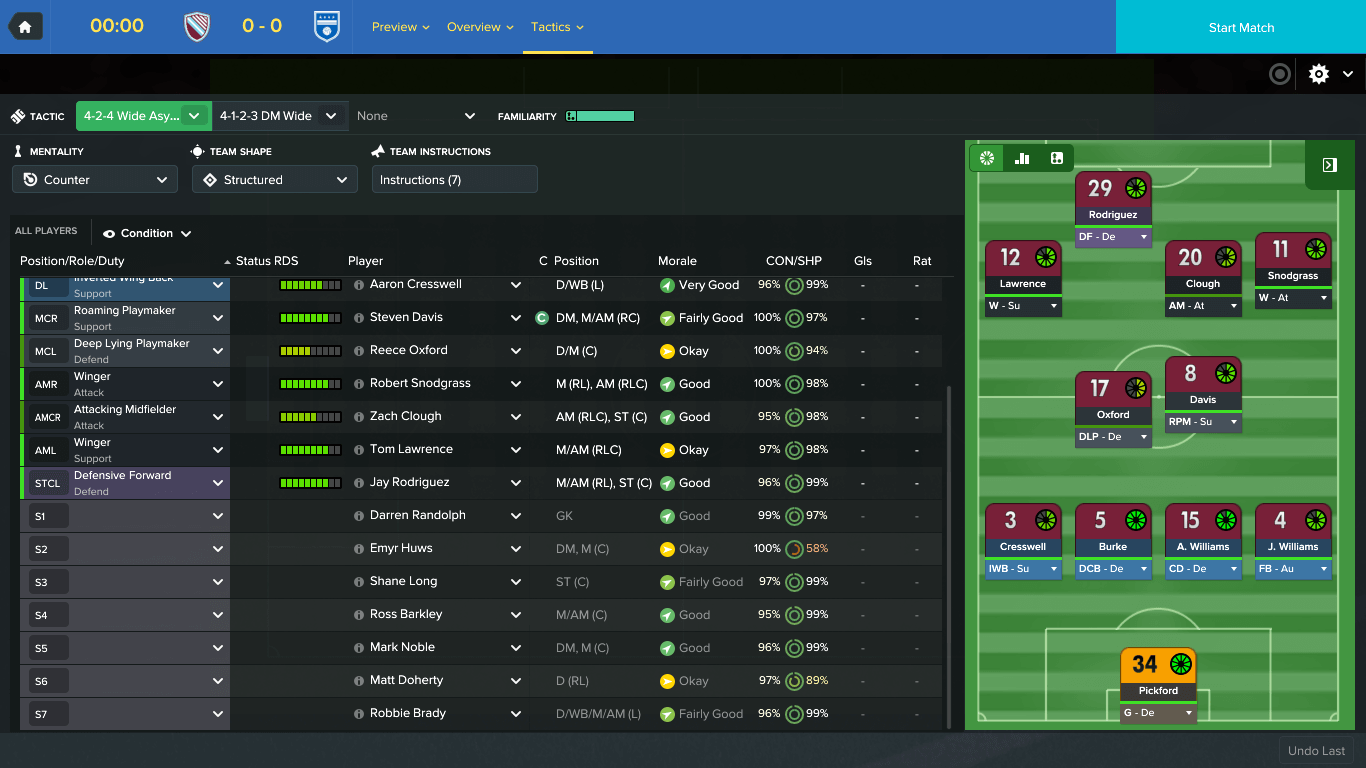 A bit of a switcheroo, much like the Bristol Game, but this time I didn't tinker with the defence too much. Jordan Williams started his second Europa League game at right back, which can only help his development. I lumped with Rodriguez up top, to give Snodgrass a start, and also rested Brady to give Tom Lawrence a much deserved run out.
We smashed them 3-0, good performance. All three goals came from outside the box, including a rifle from Steven Davies and yet another Snodgrass free-kick. Not a massive test, but that put us top of our group, so I'm not complaining.
International Break
Then came the international break, which gave us two weeks to really focus in training. The British team works out weirdly at internationals. Most of the English players aren't in the England squad, because we're only West Ham, but most of the players from other countries are first teamers.
This means that we don't get quite as many players back from the break fully refreshed, but at least there aren't any South American long-distance flyers we need to worry about.
Bournemouth was the destination for our next game, as we were refreshed and running off the back of two fantastic wins. Surely, if we played an overly attacking game against two defensive sides at home and won, then we should play a defensive game against an attacking side when away?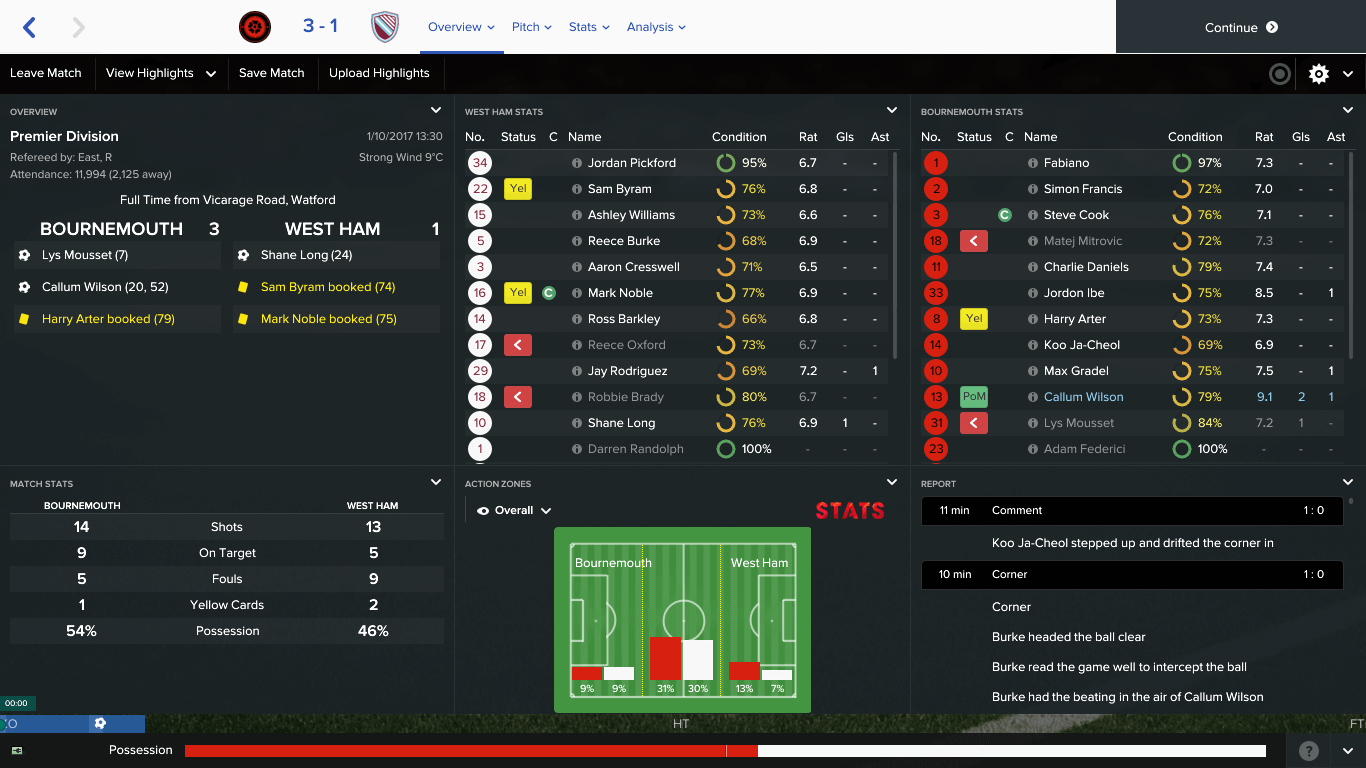 Despite having three in the middle, and instructing my boys to sit deep against a speedy Bournemouth set up, I hadn't taken Lys Mousset into account. Not huge, but strong enough to get up and nod past Pickford in the early stages, and we never really recovered.
We pushed forward to get back into the game, and Callum Wilson did the rest. Football really is a very simple game, and I find that playing Bournemouth is the proof of that on FM. You know how they're going to set up, but stopping them always seems to be a difficult prospect.
So, if week 1 went particularly well, and week 2 particularly badly, I'd say that this week was smack down the middle. What is clear is that we need to deal with this way form, because right now we only seem to manage positive results on our own turf.
And to really hammer that home, the first game of the next episode is Tottenham away, so be sure to check out how we cope with that. Sitting with 7 points from our opening 8 games isn't great, so we will prepare some man-management tactics to prepare for the Hotspurs, and try and snatch a result