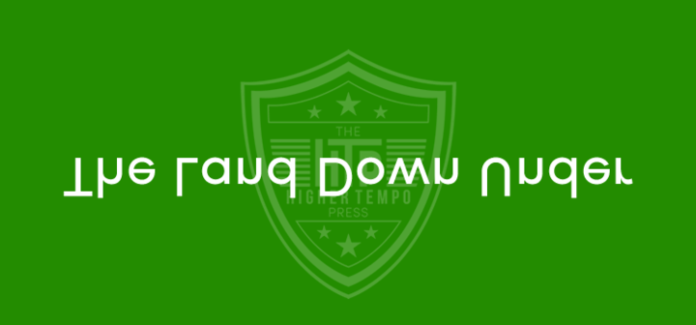 G'day, mate! Welcome back to the Central Coast! When we last left off, we had a strong preseason. We lost the FFA Cup again for some reason, but we had the team warmed back up and ready for the season. It's the start of December as I write this, and I've got some wonderful news to share on the continental front!
You will hopefully recall that we were going to go up against Shanghai, that team that always hands us a heavy defeat. We won it 5-3 on aggregate. The first time around, we had a convincing 4-2 win. In the following match, they showed up to play, and we only had to hold them to a 1-1 draw. But, a win is a win, so I can't complain! We defeated the defending champions and the Central Coast Mariners are going to their first ever Champions League Final, which will be played against Al-Shabab from the UAE.
Between the Champions League matches, I was renewing contracts, and this is an interesting, though not undeserved development. As I said in my failed signing of Raul Meireles a couple of years ago, only the board is able to decide who can or can not be signed as a designated player. When I met with Ivica Buric to renew his contract, I was negotiating with him for a Designated Player contract.

Personally, I think he's going to be worth it in the long run, and I'm not one to waste money on contracts. He broke into the first team when he was 16-years-old. He was an Australia starter at 17. The 18-year-old wins monthly awards for the fun of it. He started his career as a Golden Boot runner-up. European teams have his eye on him, and best of all is he's still got a lot of room to develop into a top-class player!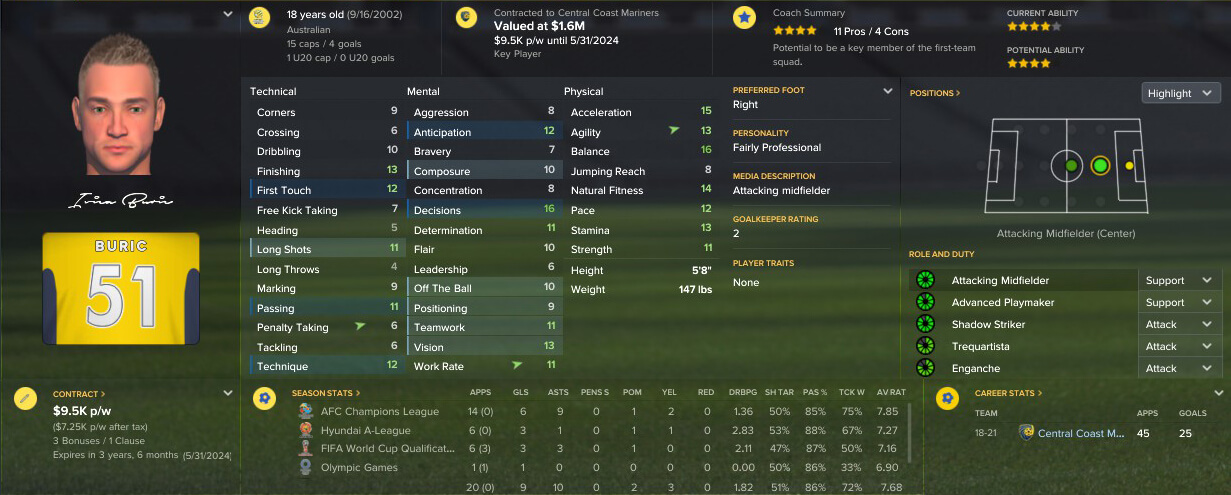 I am a little irritated (and concerned!) that Ivica's agent started off negotiations with a non-negotiable AU$2m minimum release clause. That's what I sold Ozcan Gunes to Porto for, and Buric is way more valuable to me than Ozcan Gunes ever was! If somebody wants him, I'm getting the short end of the stick, and there's nothing I can do since he won't fire that agent for me!
Ready for the big news that I've been stalling on sharing?
We won the Champions League this year! I was absolutely ecstatic! It's been a long haul these last many years to get to where we were, and we've done it!
We had a great 0-3 away win against Al-Shabab to start things off. Then, we came home to finish our run at our nearly filled Central Coast Stadium.
The team was a bit roughed up by the time the Final came around. Liam Rose, Cameron Howieson, and Josh Bingham were both gone on injury and Michael Neill was suspended. I had my young Tom Webb in as left wingback and my attacking front consisted of Ivica Buric and youngsters Ben McGinley and Carlo Beaton. The goals came from Buric and both youngsters.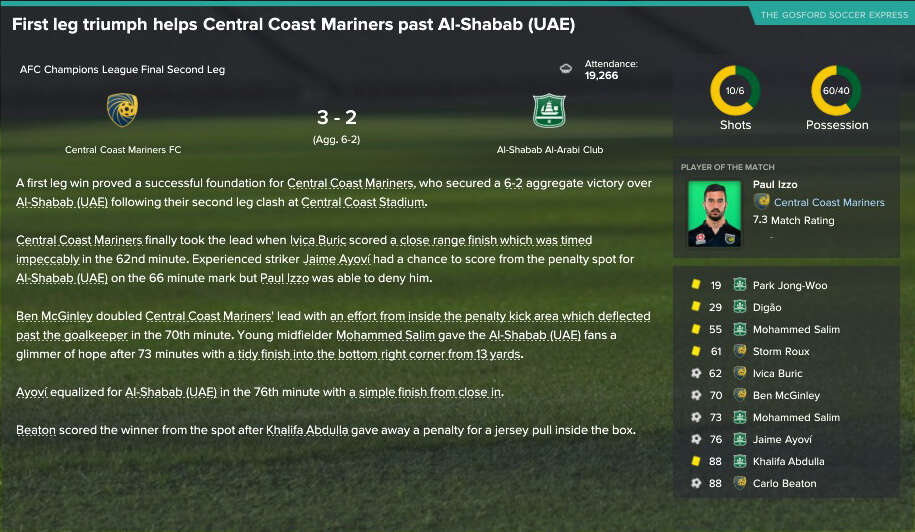 The Mighty Mariners are in the history books now! This was the club's first Champions League win. This was the second Champions League win for an Australian club since the country moved to the Asian confederation, with the previous win being for the Western Sydney Wanderers six years ago.
This is our fixture run from our season opener against Sydney. We've been on a good run the entire time, despite our injury crisis. The Adelaide United match stands out as a blemish, but all-in-all I can't complain too much.

In the A-League, we're currently in 5th place with two games in hand. Two matches were rescheduled because I had 10 players out on international duty for various teams. With our continental commitment now out of the way, I expect us to close the four-point gap easily and get back to defending our title.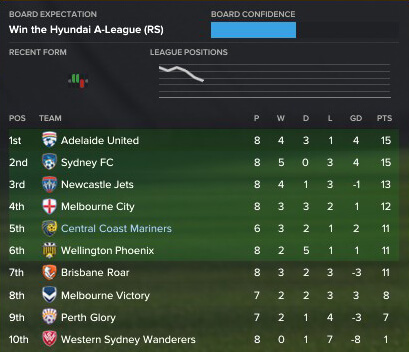 Looking back at my initial objectives for The Land Down Under, I had three things I wanted to see done.
I wanted to develop quality Australian players
I wanted to bring consistent success to my club of choice
Secondary: I wanted to raise the stature of Australia as a whole
I think it's safe to say that the first objective is complete. Ozcan Gunes, Ivica Buric, and Liam Rose are all being courted by Europe, and Ozcan and Ivica are regularly starting for Australia.
I have developed Andy Kecojevic into a good domestic player. I have Tom Webb just about ready to regularly be a starting wingback. Ben McGinley is developing nicer than I expected. He is now on my radar to someday compete with Josh Bingham to sit in beside Cameron Howieson and Ivica Buric.
For the second objective, I failed to win the FFA Cup, but to be fair it's a pointless cup that means nothing for Australian football aside from being able to have a cup at all.  In the four seasons that I've completed, I've finished top of the league in each of them, and I've won the Grand Final twice, but I've made it to the Final in the seasons I've failed in. My Central Coast Mariners team is the team to beat in the A-League. The last big hurdle was being able to claim the AFC Champions League title at least once, which we just did. Objective complete.
My secondary objective was to work with the Socceroos if the opportunity came up and see what I can do with them. Since I took over in early 2019, we've been undefeated in international meetups, and we're now sitting 15th in the world ranking as I write this, with the World Cup qualifiers basically guaranteed to go our way at this point.
With my major objectives taken care of, I think it's safe to announce that I want to end Down Under as an A-League tutorial/story series when the 2022 World Cup concludes in a year and a half.
I'm going to stay in my Australia job through the end of the World Cup, but whether I stick around the Central Coast Mariners job for the last year will be a different story. I'm not much of a dynasty maker. I like to show up, meet a few short objectives I set for a few seasons, and then see if there is a new challenge to find. The A-League seasons have been boring me for a couple of years now, with the allure to sticking with the club being in the Champions League.
My contract runs out at the end of the 2020/21 season, and I'm considering resigning my post unless the Chairman gives me a hefty non-negotiable pay raise. I'm currently making AU$5k p/w to manage the Central Coast Mariners. It's a decent bit more than some of the other managers make, but there are still some who are making almost $8k per week in my save. I've been trying for years to get a decent rise in pay out of the board. Considering my achievements, I think the requested $6k p/w salary is an acceptable ask, but Charlesworth won't give me anything more than his suggested $5.25k p/w without backing out.
I'm going to end the written part of this save at the end of the 2021/22 season anyway, so my salary doesn't concern me so much, but on principle, I would like to see a salary reflective of my worth as a manager, or I'll pick a new club to find a challenge at and take Ivica Buric with me!
So, in the next update, we're going to regroup in February or so and go over the transfer signings I may or may not make next month and get our group stage information for the next Champions League series. I'll also bring you all up to speed on the state of the Australian national team under my management.
It's been a historic day for the Mighty Mariners, and I hope to see you all next time as we start getting ready to wind down this wild ride we've been on!