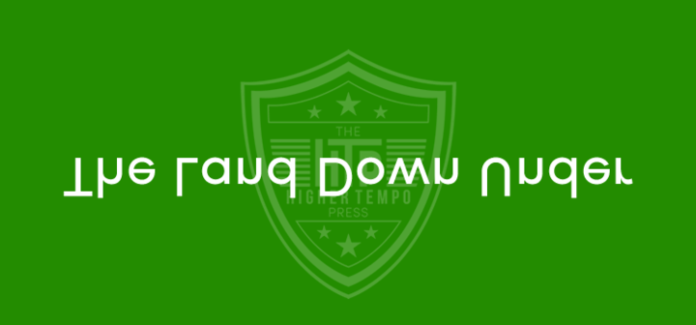 G'day, mate! Welcome back to the beautiful Central Coast! It's the end of our season with the Mighty Mariners, and we've got some fantastic news to share!
I ended the last update after the transfer window, and I meant to throw in at least one other post, but I got carried away playing the game and we're at the end of the season, so let's cover it in one hit, shall we?
To top it all off, let's get the foregone conclusion out of the way. We've retained our position as regular season premier for the fourth year running. Surprise, surprise!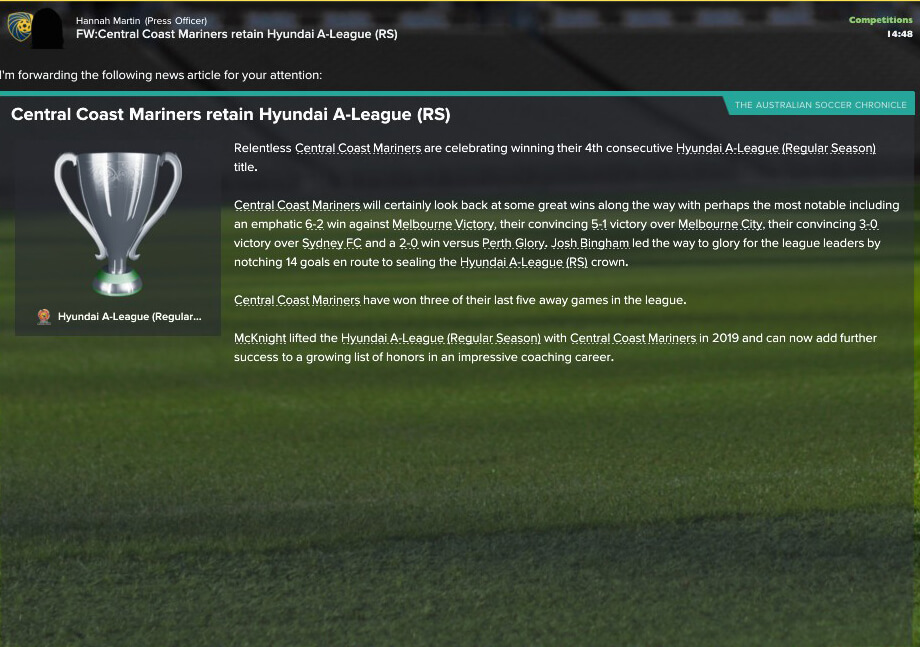 Everyone is applauding my fantastic achievement at the club, of course. We're still setting records for the number of regular season wins by one team!
We ended our regular season with only one loss. A 0-1 loss. We were one fluke of a goal away from an invincible regular season! When the Finals Series comes around, we're going to be facing off in the semi-final against Wellington Phoenix. They can't play for a Champions League spot, but they have an empty trophy cabinet and will be aiming to win the Grand Final for the sake of taking their first trophy.
On the continental front, we've secured qualification with one game to go. Shanghai Shanggang are going up with us. Pohang Steelers and Kashiwa Reysol (formerly known as Funabashi Bandits before the real name fix I added between updates) are going to fail to qualify.
For the FFA Cup, as I said in the season's first update, we lost to amateurs and a semi-professional team ultimately upset the competition.
We defeated Wellington Phoenix comfortably, and we were set to face off in the Grand Final against Sydney FC. We haven't held the Finals trophy since 2017 when we won it during our first season. Every Finals Series since then has been a disappointment.
I am ecstatic to report that we captured our second Grand Final trophy against Sydney FC. It came down to a penalty shootout against a strong Sydney FC, but the job is done and that is what matters.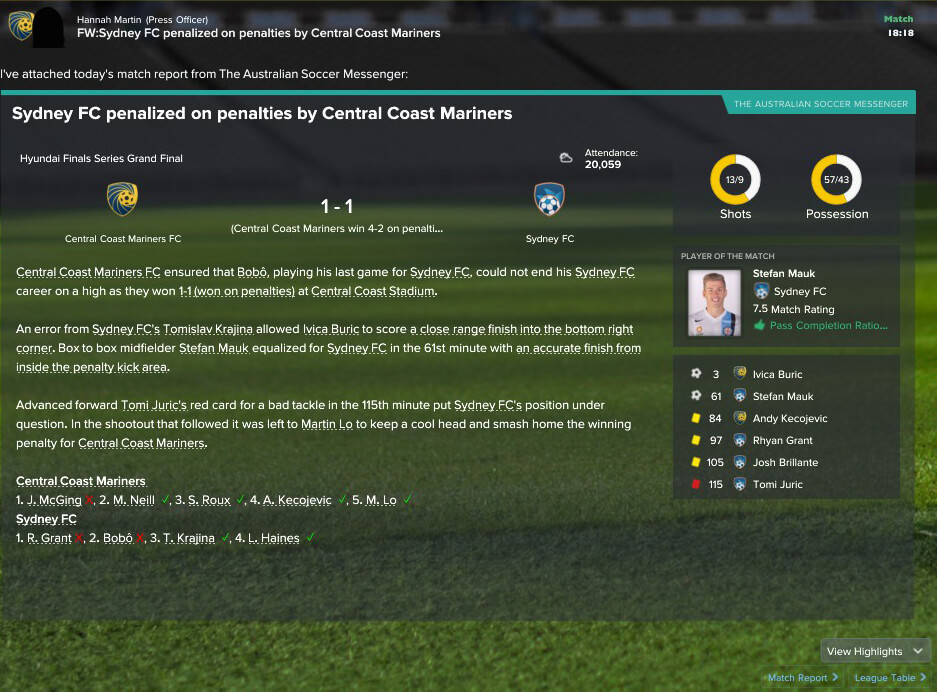 We lost by two against Shanghai in the last match of the group stage, but it doesn't matter because like I said, we secured qualification with a game in hand. In the second round, we will be facing one of our fellow Australian sides – Perth Glory.
While I am pleased with the draw since Perth Glory are a well-known opponent, I am disappointed that an Australian side has to face off against fellow Aussies. At the end of the day, I'm aiming for my team to win the competition and not them, but eliminating an A-League team guarantees that there is one less to attempt to make it to the end.
I typically cover the second round in the end-of-season update, but I'm not expecting any major difficulties. I'll just tack it on to the first update for the next season if it goes catastrophically bad and needs to be shared.
Time to move on to the end of season awards, and this year the Mariners took the whole lot of them!
The 2019/2020 Hyundai A-League Player of the Year award goes to our very own Joshua Bingham. The 25-year-old attacking midfielder scored 17 goals in 28 appearances while providing 8 assists to his team mates.

Bingham also won the A-League Golden Boot, with the second highest goal tally only being 11. He has performed very well for me this season and has really turned it up compared to the previous season. This is a very good performance seeing how he missed the final half of last season with a torn calf muscle. Hopefully, we'll be seeing more of these good performances next year.
The Young Player of the Year award goes to Andy Kecojevic. I'm not going to lie, this award decision really puzzled me, and I wouldn't mind knowing in more detail how this award is determined. In 20 league appearances, he somehow got in zero goals and only a single assist. I have young players who performed far better than him. Ivica Buric would have been my choice, but he wasn't in the running. Buric had a number of goals and assists to his name, and while 20 starts aren't that bad, he's had more than Andy K. Andy K is a good link-up for the attacking play, but I am not completely convinced he was player of the year material, my love of Buric aside.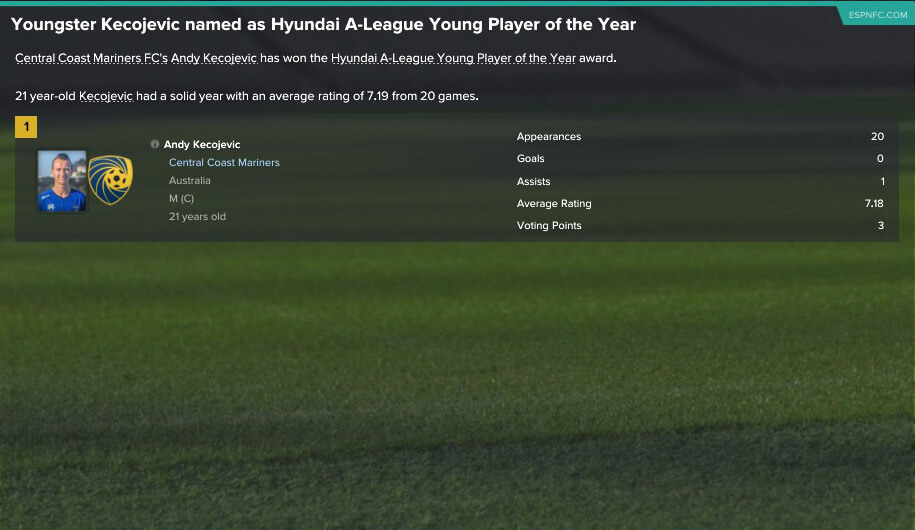 The Goalkeeper of the Year award goes to Paul Izzo with 12 clean sheets and 14 goals conceded in 25 league appearances. Amazingly, I don't recall seeing an own-goal from him this year, which was a complaint I had the last season that almost saw him fired. I guess my stern words got to him!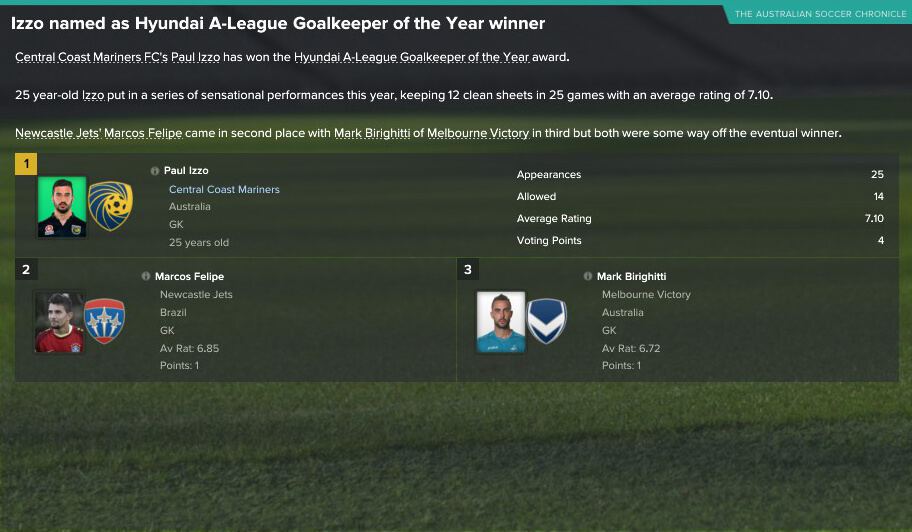 My accolades don't matter to me so much as the team accolades do, but for the sake of completion, since I advertised that we won it all, I'm showing off my third Head Coach/Manager of the Year award.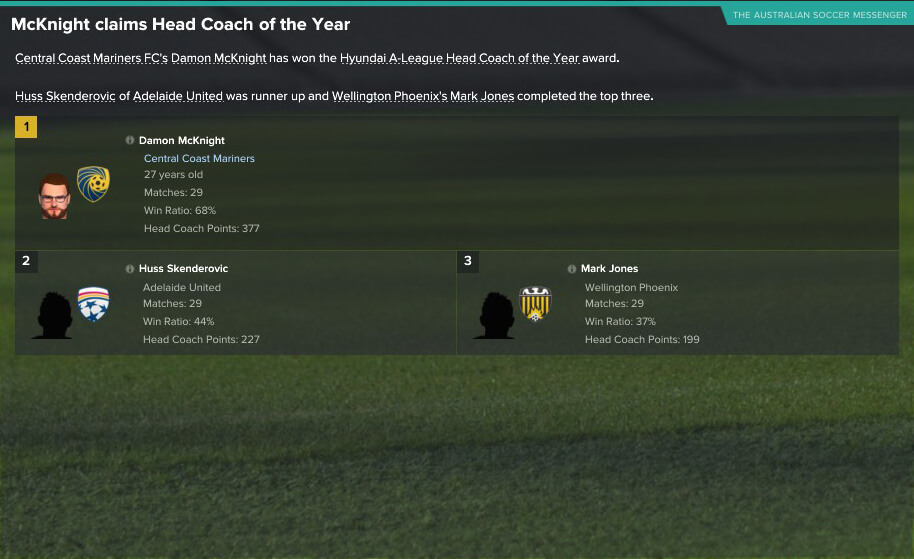 Here's our fixtures list for the end of the season. Following our 0-1 Perth Glory loss at the end of the transfer window, we took off on a win streak that ran all the way through to our final Champions League match.
What are our goals for the coming months and for the next season? More immediately, we need to put in some good results against Perth Glory in a couple of weeks to keep the dream of winning the Champions League alive.
In June, we're going to have two international friendlies in charge of Australia ahead of the next round of World Cup qualifiers for the Australian national team. They should be push-over friendlies that my assistant scheduled himself, but it gives me a chance to look at a couple of players I've had an eye on ahead of the next round of competitive matches.
Domestically, the only thing we haven't won is that damn FFA Cup. I am impatient about it, because time and time again we've proved to the other teams that we are the best in Australia, but we can't win that one stupid trophy. It really shouldn't be as big of a deal as I'm making it since the FFA Cup doesn't matter at all, but it's never been in the CCM trophy case before, and I want it!
The usual A-League goal is to win the regular season and the Grand Final, so we'll be attempting to do that once again. The Champions League goal is to make it to the Final. We've made it to both the quarter- and semi-finals before, so the next step has to be making it to the big one. Ideally, we want to win that of course, but my personal goal is an appearance.
I'm off for a brief vacation before the international friendlies. I'll be back at the club in time for the preseason and the youth intake. See you all in a few months!