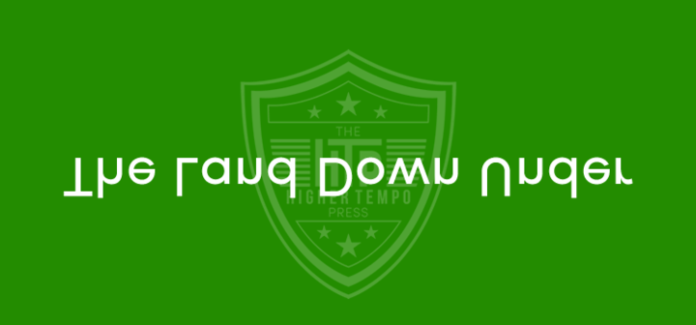 G'day, mate! We're back at it once more! The winter vacation has come to an end, preseason has come and gone, and now it's time to get you all up to speed and get ready for the upcoming campaign. In this update, I'm going to go over the matches of note and go over the transfers that we've made during the preseason.
Before we get into the preseason, we have to cover one final piece related to the previous season. I wrote the end of season post a little earlier than usual and bypassed the 2nd round Champions League match against Perth Glory. We went through that round on away goals, which I found a little surprising, but a result is a result, and it was finally time to let the players loose for a couple of months to relax.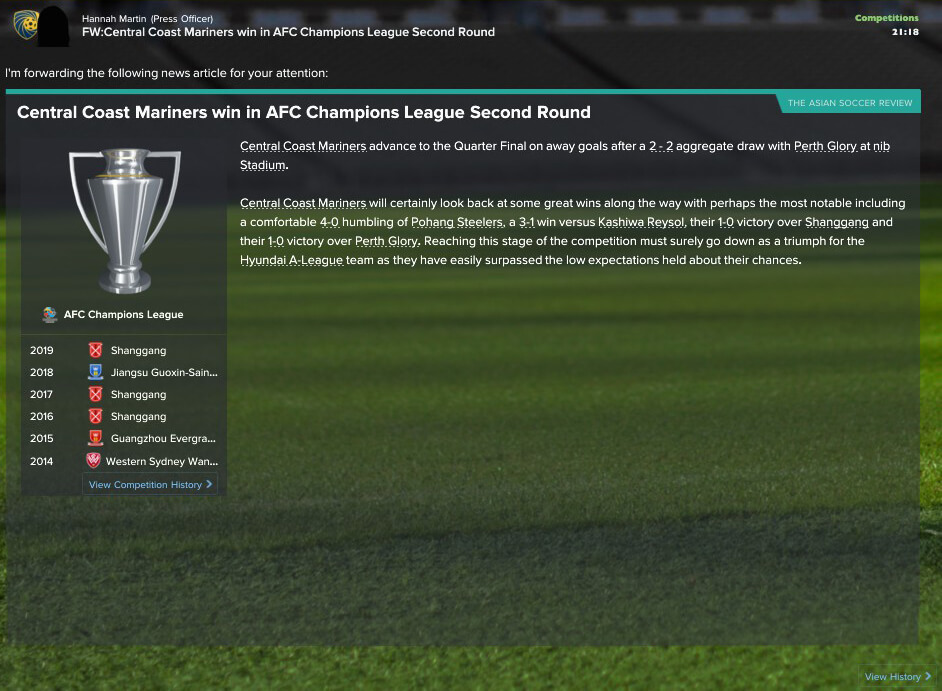 I wish I could say it was a restful break, but as a manager for both club and country, I had a lot on my plate. The players got to take off to go on vacation, but I had to prepare for the next stage of qualifiers for the 2022 World Cup and look at new signings for the Central Coast Mariners.
On the national side, things are going quite well, but I'm going to save an update on the Socceroos for later because it takes so long to go through an entire group with the matches spread so far apart.
Domestically, we lost the FFA Cup, of course. This time in a close loss to Sydney FC. We should have won that stupid knockout competition so long ago that I was almost tempted to save-scum it, but couldn't bring myself to do it out of principle. I guess the fates have decided that we are never going to win our only domestic cup.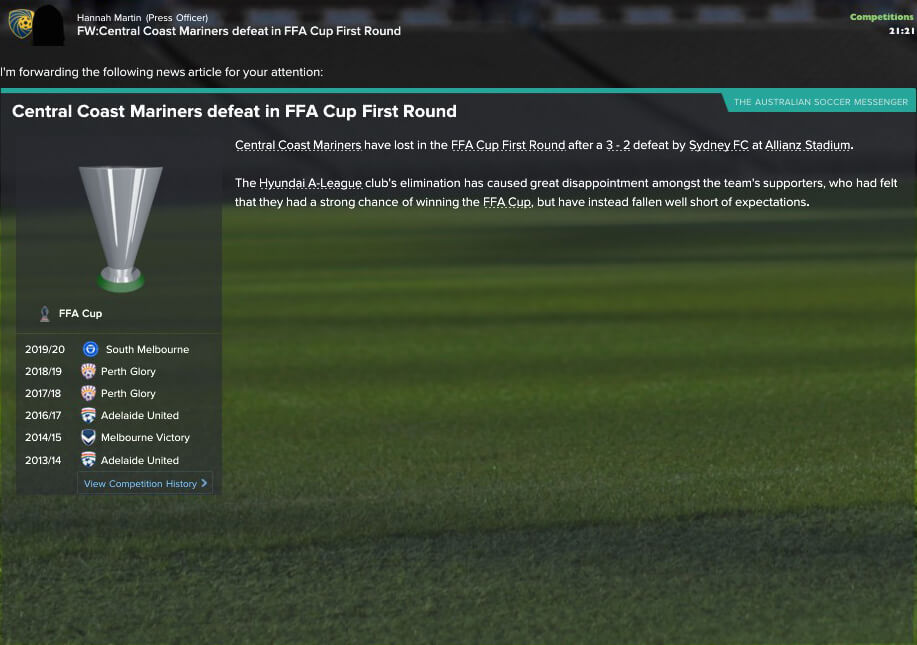 Luckily for me, the board still doesn't consider that cup to be particularly important and they still aren't looking down on me for losing it!
The preseason friendlies went just as expected. We won the friendlies pretty handily across the board. My assistant manager Rodrigo Vargas is still in charge of them, so I've still got nothing to say about them. When I'm already set up at a club and have my system in place and functioning, I just can't be bothered to watch 12 friendlies.
Competitively, we had to turn our eyes towards the AFC Champions League. In the quarter-final, we were facing off against Jiangsu. In the first match, we took a very convincing away win, with the final score being 5-2.
Don't worry, I'm just as shocked about the win! We caught Jiangsu on an off-day, no doubt!
The second match came out to a loss, which was a disappointment, but we still came out on aggregate with the win to advance us into the semi-final against Shanghai Shanggang.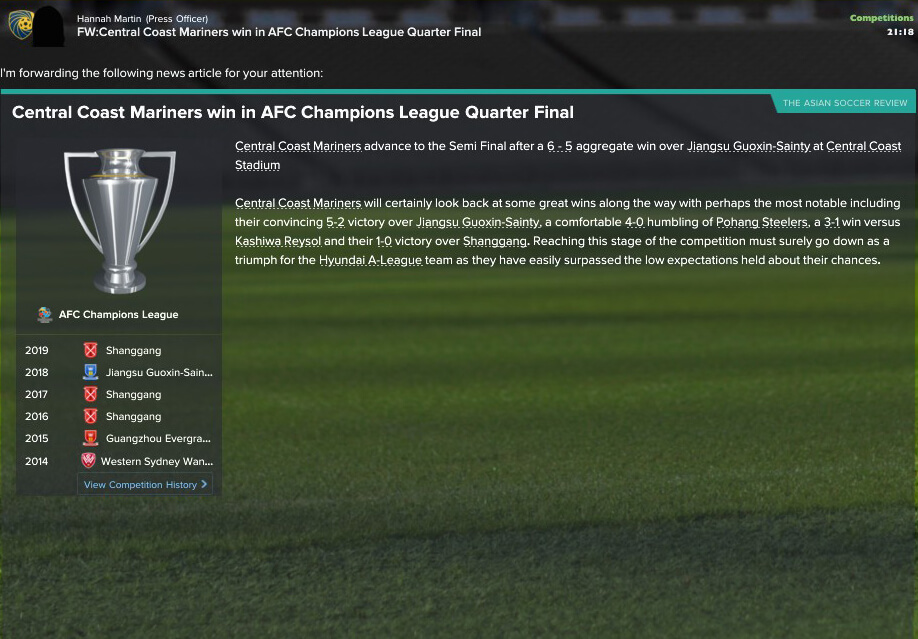 I'm tired of losing to Shanghai every year, and I'm more than ready to upset the dynasty they're starting in the Champions League. I'll have to have my team at its best to get the results we need.
My first signing was 20-year-old Argentine goalkeeper Federico Filiosi. I haven't forgotten about my "Australia First" policy, but this was a solid young keeper who I was able to pick up for basically nothing with other signing options near exhausted. With the right development, he could definitely be taking Izzo's spot in the coming years.
The one standout for me is that I use my goalkeeper as a sweeper keeper, and Filiosi has a 1 for passing, one of the most important attributes for the role. He's going to need a lot of focused development on that to get his passing up to snuff compared to the rest of his attributes.
My next signing was Julius Thompson, a reject from the Western Sydney Wanderers. He's got a lot of potential and could still develop into a good player. He will likely be surplus for a couple of years, but I've got a couple of upper-20s central midfielders to replace soon. They still have some good years ahead of them, but I like to have quality youngsters in wait to step up to take their places, and he was willing to sign on youth papers, not senior papers.
My last major signing is Scottish defender Murray Wallace. The 27-year-old brings some much-needed experience and ability to a defensive line that is comprised of younger players who I decided weren't up to the job quite yet. I'm somewhat surprised he came for us because he had a couple of European teams and three or four Major League Soccer teams eyeballing him. He's making a pretty hefty salary at the moment, but we've been turning a profit the last couple of years and I'm always significantly under wage budget anyway.
These were my main signings. I let go of a couple of others who were surplus from the youth team and expired a couple of senior contracts. I believe our team is going to be stronger now with these players on the table for us.
When September comes around, it's time for the youth intake, but unfortunately, we came up dry on that one. Most of the players were not particularly good, and I only had one truly decent player. He was a striker, of course. I don't use strikers with the Mariners, and I have too many attacking midfielders and midfielders to see any benefit to retraining him. I made the decision to just release every player from that intake. This year it just wasn't worth the time or effort.
With all of this information, what are our expectations for the 2020-21 season? We want to win the A-League again and defend both of our trophies. I am anxious to get one over Shanghai at long last and advance to the final. I'll be doing my hardest to get us there! Internationally, we're off to a good start in this round of qualifying matches, and I expect to advance closer to participation in the World Cup. At the end of the year when I get ready for a transfer update, I'll share my progress in the group, which should be nearing completion by then.
It took us four years of winning, but the bookies are finally saying that we're the team most likely to win! About time! I was getting tired of the comments expressing shock at my fairy-tale runs each year when I was in the progress of establishing a dynasty in the A-League!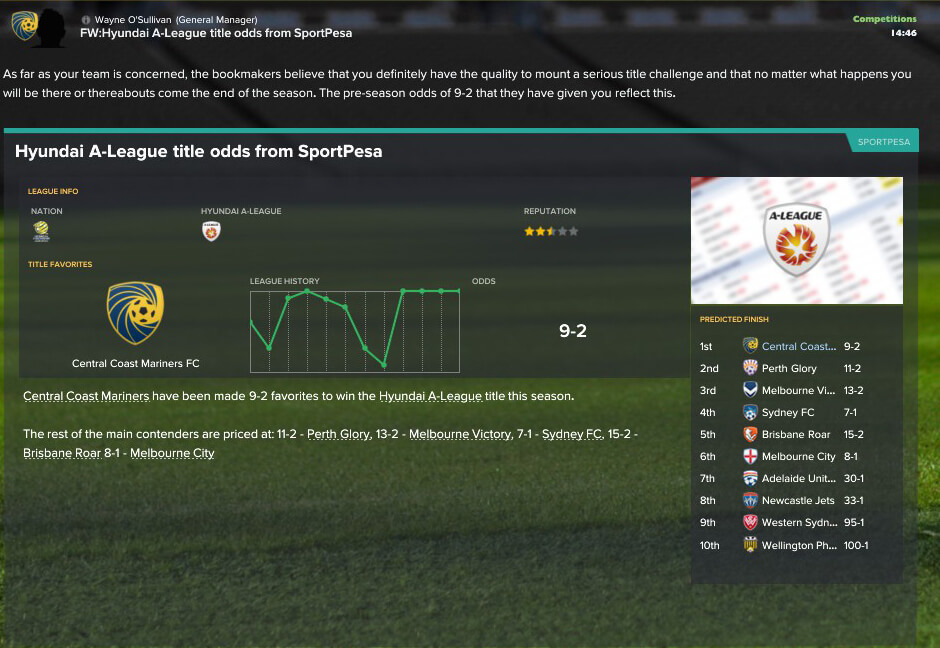 Here's a look at our fixtures for the preseason and for the first two months of the season. Our first match of the season will be against Sydney FC at the Allianz Stadium. Our first home match will be against Brisbane Roar in the second meet of the season. After that, we take a break from the A-League to travel to China and take on Shanghai for the first leg of the semi-finals.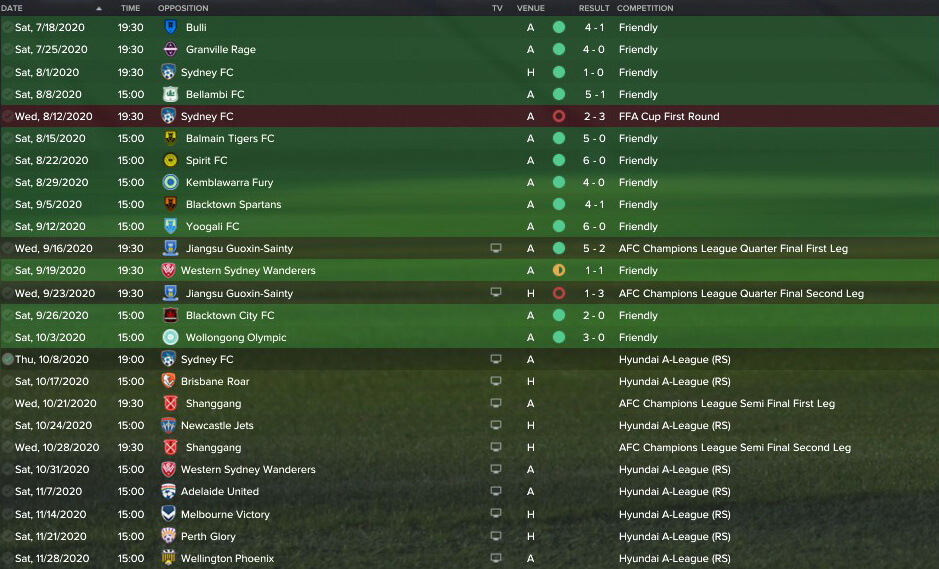 I'm still optimistic about our chances, and I'm ready to win it all in the league again and then make it into the Champions League Final at long last! Let's cross our fingers for success and continue to cheer on the Mighty Mariners!