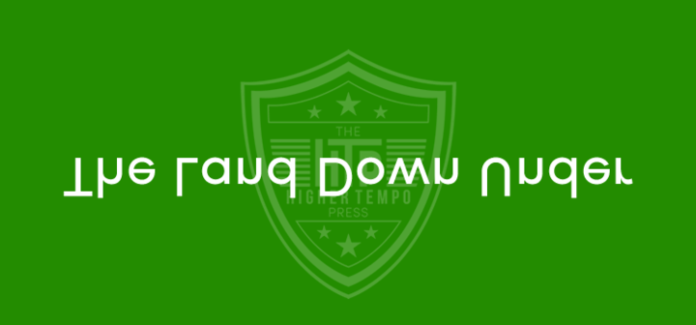 G'day, mate! We're back to check in on the Mighty Mariners! I left you all on a cliffhanger at the end of the last post. I usually completely finish a preseason before the preseason post comes in, but I stopped at the end of the first leg against Shanghai. We're going to cover that result, as well as the competitive matches for the first third of the season in this update.
You'll recall that we had a major deficit to overcome following the hammering we took at home. We went to China hoping for a result of any kind so that we could leave with our heads held somewhat high. Unfortunately, things went south. We held them level for the first half, up until an added-time own goal from Jake McGing put Shanghai up in front. Andy K found a way to get one back for us at the 75th minute, but it was too little too late. We were the slightly better team this time around, but with the own-goal, we were ending the match with a draw from a result that wouldn't have overturned our deficit anyway.
That was to be our final competitive preseason match. The remaining month of our preseason would just be the fitness friendlies that Vargas was in charge of, as per usual.
The title odds came in, and we're up a few positions to be predicted for 5th place. Again, why do I look at this when it's always wrong? The betting odds for winning are down a bit, so you gamblers won't be making it rich this season, but there's no harm in investing, because if things go my way this will be win number four of the Central Coast dynasty.
I said "if things go my way", but unfortunately things aren't going quite my way. The squad is still crippled by injuries, with Cameron Howieson and Ivica Buric on the injury report following the win against Perth Glory in our second league match.
We had one particularly exciting match that I want to specifically highlight. In our away match against Mel. Victory, we took the win 6-2, with Josh Bingham scoring five goals in the first half! It doesn't get much more exciting than that for an away match, and Josh Bingham gets to go home with the save's first 10.0 rating!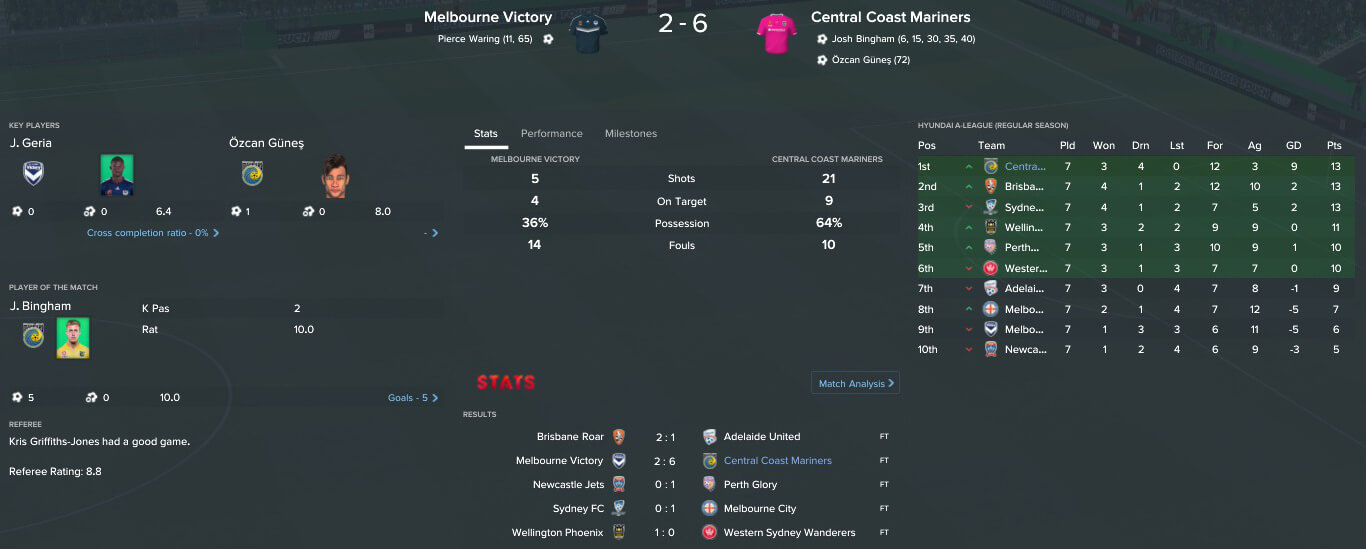 Here's our league fixture list running through the first eight competitive matches. We're undefeated so far, but unfortunately, we've had more draws than anything else. With Buric, Howieson, and Williams only just starting to come back to fitness and with international call-ups, we've had a less than ideal start to the season. We've drawn half of our matches! We're still up in first by the skin of our teeth, but with fortunes against us, we're not on as strong of a start as I know we're capable of.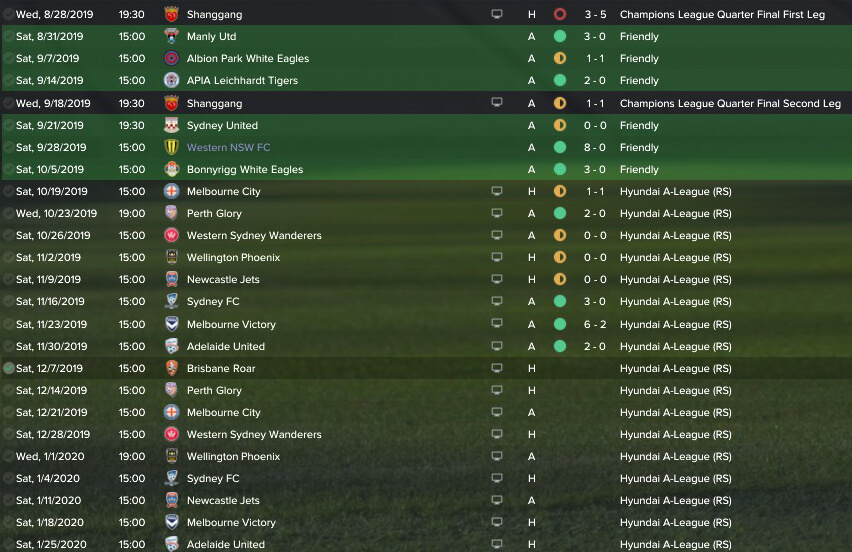 The plus side, if there is a plus side to being crippled by international call-ups, is that Ozcan Gunes scored a goal on his second outing with the national team! That's both of my favorite regens capped with goals for Australia! Ivica Buric with 6 caps and 2 goals and Ozcan Gunes with 2 caps and one goal!
I want to wrap up the post by showing the winner of the Champions League and the winner of the FFA Cup. The first one isn't surprising, but I reckon you'll find the second one is!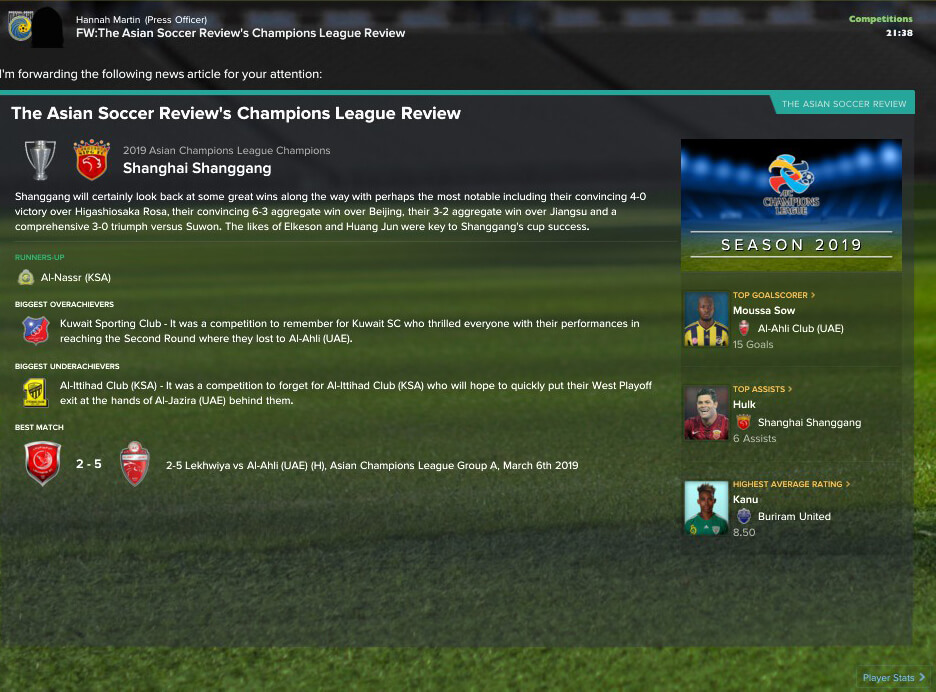 Shanghai won the Champions League for the fourth time in five years or so, continuing their Champions League dynasty run. They were always the team to look out for, and they proved it to us! We're going to need to be on our A-game to have any hope of success the next time around!
The FFA Cup was won by South Melbourne FC, a semi-pro side! They take home their first trophy following a successful campaign against many professional A-League sides! It was definitely the year of the amateurs, seeing how results for us and other teams went this year!
We have a month to go until the transfer window opens up, and I feel like this time around there will be some big changes coming to the team. I've kept the same core of players since my tenure started in 2016, and while we're a good domestic side, it's clear that we have some weak links that are holding us back internationally. I'm eyeballing the defensive line and the goalkeeper as two spots I'm interested in shuffling around, and I'd like to find someone for the midfield with a little more spark than McGing has.
Paul Izzo has made more mistakes than I would have liked to see in the previous season and a half, and it's time for him to go since I've lost patience with him. Reece P and Matthew Lee, my youth defenders, never really were able to successfully step up to the senior team and are now in their 20's. I don't want to keep their wages on the youth squad forever, so they will be walking as well. Jake McGing is a competent midfielder, but he's not quite as good as Andy K or Martin Lo when it comes to linking the attacking front and the defence. The Vietnamese-international will probably step up to regularly start alongside Andy K since he's already proven himself. The new signing would start off as a rotation/backup option for the Andy K/Martin Lo starting XI.
I will be back after the transfer window with match updates, the new Champions League group draw, and I'll have some news on what transfers I've made. I said my preference is for Australian youths from my academy, but I need some changes to the squad and have exhausted my options for the roles I want to change, so new faces will be coming in!
I'll be back soon. Here's to hoping we can get out of this stagnant period we're having!