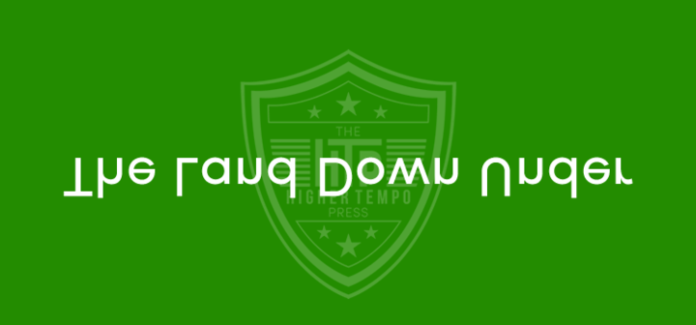 I'm starting to become convinced that the FFA Cup is cursed and that I am never going to be able to win it. I'm going to open up the blog by saying it and getting it out of the way…
We lost to amateurs. There, I said it! We lost to a bunch of f*****g amateurs in our first matchup for the FFA Cup! We started strong enough with one of our trademarked crosses from wingback Storm Roux to Cameron Howieson at the 17th minute, then things started to slip away. What should have been a convincing win from the three-time A-League premiers turned into 1-1 following an Izzo own-goal, then South Hobart came back with one of their own and we never recovered from it.

Needless to say, after I loaded everyone up on the bus to go home, Izzo got one hell of a talking to so I can remind him that being a useless goalkeeper is not going to keep him in the team. I didn't mention it before, but that was his third own goal in less than a year since he had two during the last season that I never mentioned in a post. I'm starting to think he's getting too comfortable being the first team keeper, and he's starting to slip on me. I have been considering starting the 24-year old on the bench for the first many matches of the season to try a younger 'keeper out and give him time to reflect on how he can go from being great to absolutely worthless to me at the wrong times.
We've been having a rough time on the injury front, as usual. Preseason is when we always experience our worst injuries, and we've been having our fair share of first team injuries!
Rhys Williams picked up a 5-month injury, and Ascroft, Pratt, Webb, and Neill, a bunch of very important defenders, are out on injury at the moment, though thankfully about to come fit again. It was a bit of a headache having both of our left wingbacks injured with no competent replacement. To be entirely fair, it was entirely my fault that I spent three years doing everything except creating depth for our two wingback positions!
On the international front, we are matched up to Shanghai for the quarter-final of the Champions League, and we had the first leg at home. We were hammered in this competition as well. We lost it 3-5 to Shanghai in our first leg. With that many away goals and a two-point deficit to come back from, we've got our work cut out for us in China if we want to progress any further in the competition.
I'm not going to go over the preseason friendlies. As I said previously, I don't do the friendlies unless I am making major tactical changes and I need to see for myself how it works out.
With the competitive matches up to this point out of the way, let's move on to my favorite part of the season. Youth intake!
I'm going to preface it by saying not to expect much. I guess I was spoiled by having Ozcan Gunes, Tom Webb, and then Ivica Buric come in as immediate first team players in two years, but I was disappointed with the class of 2019. Not very many of them are graduating from the academy and coming up to the youth setup. In fact, I signed three players, one of which was more of a reluctant signing, and I terminated everyone else's trials before they even hit the youth trial match.
Joe Ziada is our first of three signings. He's a defender, but for the ball playing defender role that I use for my defenders, he's not looking so hot. He can head a ball decently, but he's got a poor touch, passing, technique, and vision, with everything else is pretty eh. He allegedly has some good potential in the long run, but he's going to need a bit of development if he wants to come near my team with our elevated standards for what a good player is.

Next up is Yuri Arena, a midfielder. His dribbling, anticipation, composure, and concentration stand out as particularly bad, but I have a couple of fair older players who could probably mentor him a bit. Physicals are just slightly lower than what I'd like to see, though. If I decide to develop him I'll be putting a lot of work into having a mentor work on his mentals while I have the coaches train him as hard as they can on the physicals as he trains and plays with the youth team.
Last for the three keepers is Darcy Hooper. He's got a good command of the area, aerial reach, agility, and handling, but the other sweeper keeper traits are lower than I would like to see. I am sure he can defend the goal if he wanted to, but he's going to need a bit of polish if he thinks he's going to be allowed to leave his line. I could use a good youth goalkeeper, though, so I'll be putting more effort into developing him than the other two because I have a surplus of CDs and MCs as it is!
We brought in a Nic Feely as a backup goalkeeper since Alistair Bray left us over the summer, but as with Alistair, he's just a backup who won't make many moves with us. I have no other transfer news of note to share since I've been getting by with the players I have or have been developing. Surely I have been making the least amount of signings of anyone in Tempo history! We all love developing youth, but I am perfectly fine slotting in players and letting the team prop them up until they find their footing, and it's worked well enough for me that I send people out more often than I bring them back in since there's always a youngster!
I am crossing my fingers for, but not expecting, a comeback in China against Shanghai, so I am not going to get to that result in this update. I'm just going to focus myself on the league.
On the domestic front, our first match of the season will be away to Perth Glory. Our first home match will be our second match, which will be against Mel. City and our last match will be away against Adelaide United.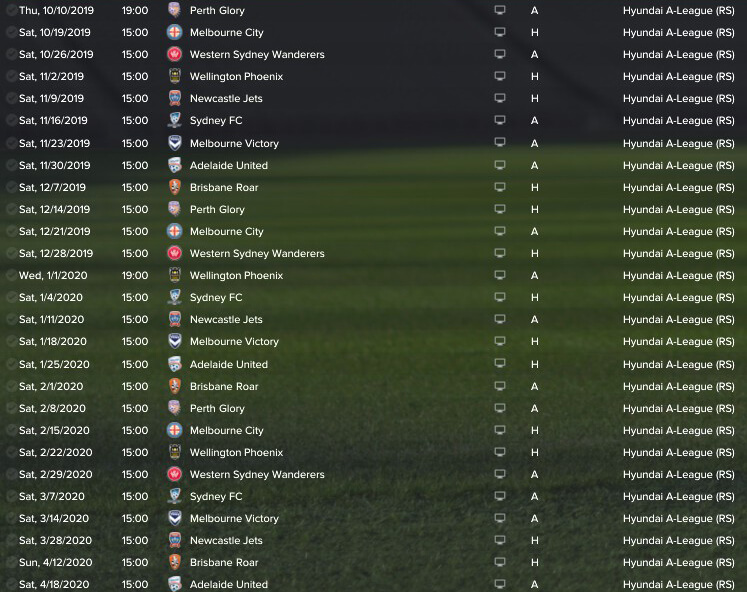 By the way, pardon the switch from opaque backgrounds to ones with images. I went from using Keysi's DF11 Tempo skin to the updated one that came out several months ago. Still a fabulous skin, Keysi!
That wraps up this update on the Mighty Mariners! We've got a handful of preseason matches remaining to do, as well as our second leg against Shanghai. I'll be back during the regular season to provide an update on all things related to the club during the season and I'll provide a brief update on the Socceroos since we're going to wrap up the first round of qualifiers for the 2022 World Cup in a month and a half! Spoiler, it's not going terribly bad! We're undefeated in what is admittedly an easy group, and while the A-League currently isn't good enough to 100% support the Socceroos, I am gradually sneaking in Mariners players, and Rhys Williams (DC), Liam Rose (MC), Andy K (M/AMC), and Ivica Buric (AMC) all appeared to do fairly well with the club.