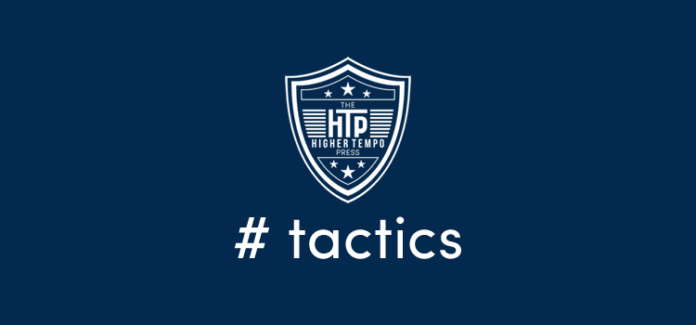 Welcome back to part two of my reinvention of the golden generation of Croatia circa 1996-98. In part one, Davor Šuker took over the Croatian national team and successfully applied Ciro Blazevic's 5-3-2 to secure qualification to World Cup 2018 in Russia as Group winners. In this part, we look at how the World Cup Finals tournament goes and identify the pretenders to the crown that were once worn so magnificently by Boban, Bilic, Prosinečki and Šuker himself.
World Cup Fever
What is success? In our case, I am aiming to get Croatia back to the Golden Generation's level so the objective is better than 3rd at a World Cup. But would less than this be a failure? Let's look at Croatia's recent international competition record:
| | |
| --- | --- |
| 1996 European Championship | Quarter Final |
| 1998 World Cup | 3rd Place |
| 2000 Euros | Did Not Qualify |
| 2002 WC | Group Stage |
| 2004 Euros | Group Stage |
| 2006 WC | Group Stage |
| 2008 Euros | Quarter Final |
| 2010 WC | Did not Qualify |
| 2012 Euros | Group Stage |
| 2014 WC | Group Stage |
| 2016 Euros | Round of 16 |
| 2018 WC | ?????? |
As World Cups go, if we get out of the group we can call that an improvement. The top two go through from the 8 groups as was the case in Brazil 2014 where 4 points were enough for many teams to qualify in 2nd place. Two wins should do the trick but a lot depends on the draw.
We're drawn in Group F with South Korea, Paraguay and, favourites to progress, France.
Preparation
Here's a confession. I might have fucked this up. In my time with the national team, friendlies have never been a fertile ground. When I first started this save – my first FM international stint – I found it horrendous. I thought it was because I was tinkering with the tactic to get it set up correctly. Now, it just seems that the team are just not interested in friendlies! I got fed up of the defeats in the first batch of friendlies that I cancelled all others before the WC for fear of ruining morale. This was my first mistake because in the run up to the finals key men started getting injuries including Kovacic, Pjaca, Ćorluka and Modrić. Also, my stars like Mandžukić and Perišić were not getting playing time at club level so come the tournament start we'd a lot of first team regulars lacking in match fitness. Baws!
First Group Game vs France
Ooft – to leave with a point was a great relief here. We took the lead with a well-taken goal from Mandžukić and then we flew by the seat of our pants to half time. A calming but positive half time team talk was in order. One minute later and France were level. We were played off the park for the next ten minutes with Griezemann adding a second to his equalizer on 53 minutes before missing a highly dubious penalty on 55. Against the run of play, Perišić popped up on the 63 minute with a second for us to draw level. The full backs were dropped back, the mentality dropped to counter and we played out for the draw.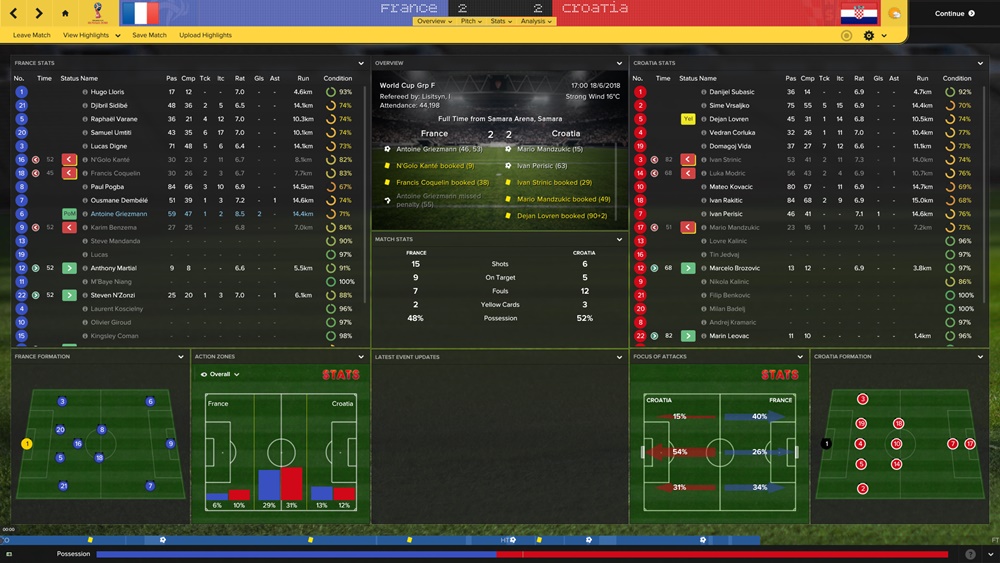 Second Group Game vs South Korea
The worst thing about a World Cup – no margin for error whatsoever. I should be happy – the France game was a point gained for sure. But now the table just shows 1 point on the board and the pressure to get a win here against South Korea is palpable. They pack the defence and midfield and offer very little up front except for the occasional shot from distance. However, we cannot break them down. A major flaw in this tactic is it is simply not geared for setting up camp outside the city walls of the opposition, catapulting in the odd diseased cow and hoping they wheel in the big wooden Mario Mandžukić that we've left at the door stuffed full of little midfield wizards. As a result, we have to wait until the 85th minute before our left back gets free down the left, crosses to Mandžukić who slips in Kovacic to slot home inside the box. 1-0 and we set ourselves up for qualification.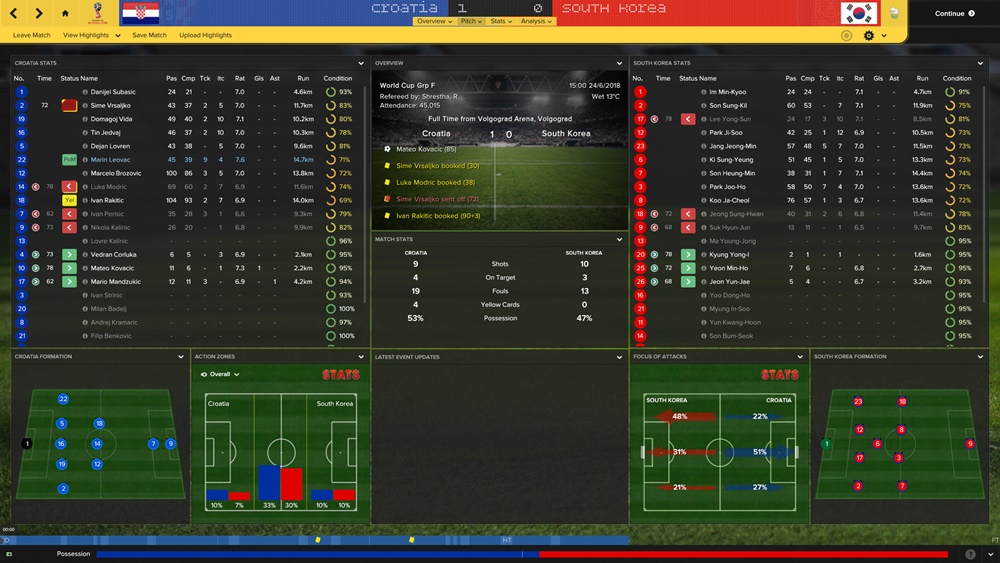 Third Group Game vs Paraguay
Pointless Paraguay – in the group that is – are really there for the taking. I have learned from the experience of Euro 96 where Ciro played his reserves in the dead rubber third game. They lost and as a result got Germany who put them out. Plus that team had qualified, we're still at risk of crashing out. If we lose and South Korea beat France by the same margin then we are gone. There's that pressure again. I'm feeling it playing a game, hats off to those who do it for real.
So for this game, full strength team. But it's not full strength because my only right full back Vrasljko got him sent off last game so I have to reshuffle the back line. We play well though creating chance after chance but the lack of match fitness – even after two games – shows on my key attacking players. Mandžukić has been seriously off his game – the only thing of note was the opener against France. He's misplacing passes, not holding the ball up and missing chances here, there and everywhere. Hooked along with Perišić on the hour for Pjaca and the walking huff, Kramaric. We still cannot score. It takes a free kick of brilliance from Rakitić on the 78-minute mark to give us the lead we deserve and I can finally relax. But only for ten minutes until Paraguay score with their only shot on goal. We're level and in danger. We hold out – not sure my nerves do – and we're through as runners up. France had beaten South Korea 1-0 anyway but will that draw cost us in the draw for the next round?
Aye, it does. We get Portugal, France get Australia.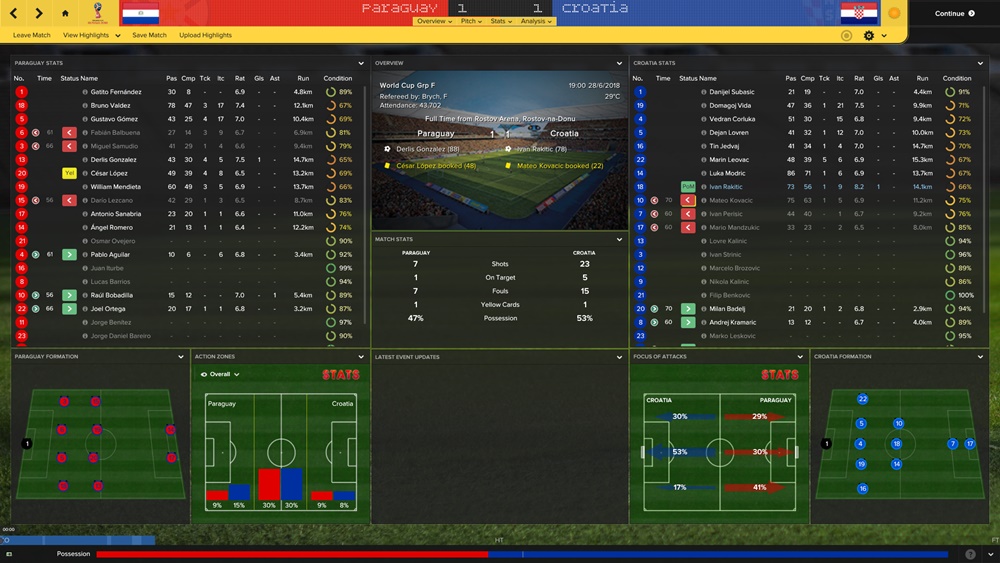 Second Round vs Portugal
The European Champions are a good team, of course, but in FM they are on steroids. Without counting CR7 – Guedes, Bernardo Silva, Ze Gomes, Andre Silva, Guerreiro, Joao Mario, Ruben Neves, Nelson Semedo – even Andre Gomes is good in this game.
They line up in a 4-1-2-1-2 formation that is pushing at my defensive weak spots (especially in the AMC zone between my midfield three and defensive line) whilst nullifying our strengths (DMC pick up SS and/or runs from MCa). The threat of Semedo also inhibits my left full back's attacking potency – not helped by the lack of form shown by first choice (and subsequently dropped) Ivan Strinic in the group stages.
I set up faithful to my 5-3-2 – that is the whole point of this story – and watch in horror as a howler from my goalie, Subašić, gifts Guedes a goal after three minutes. A minute later and we are 2-nil down after a terrible headed clearance from Vida sets up Gomes to volley home just inside the box.
What do you do after two hideous mistakes? Lock down Bernardo Silva and go Overload, Highly Structured. Three minutes later and Modrić scores – we are back in the game.
The game flows from end to end as we desperately search for the leveller. We have 17 shots but no clear cut chances and only 4 half chances. Turns out we're too desperate and the dream is over. We are out in the Second Round.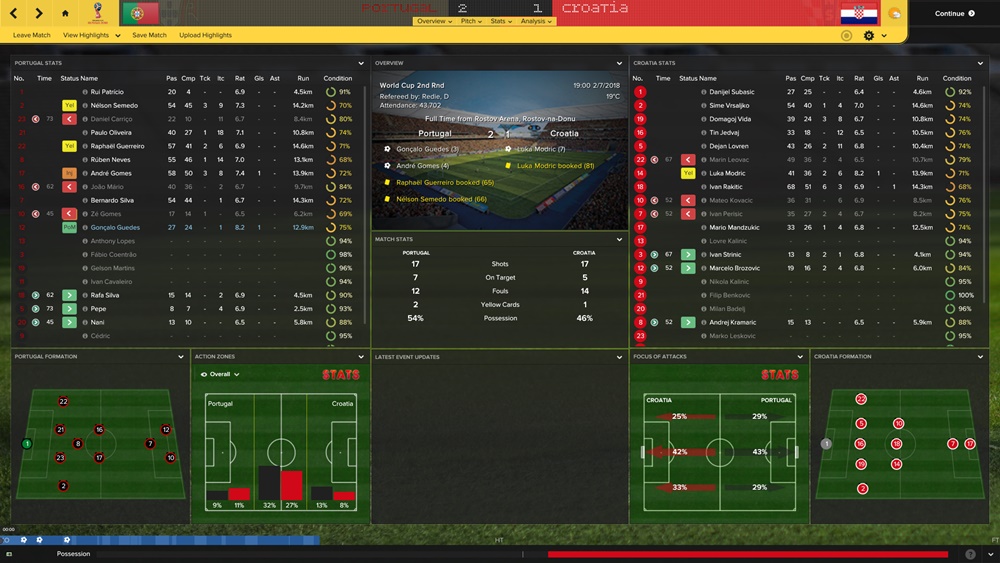 Imagine in club management where you and your team do well in your league to qualify for the Champions League, then you make it through a tough group stage, your team has momentum now, all that hard graft and endless toil over one & half seasons to reach the first knock out then – boom – you are out. You can't make up the gap, you can't claw yourself back, you are gone, it's over. It is quite devastating. It left me drained and empty.
I Can't Live If Living Is Without You, Russia 2018 World Cup Finals
For what is it's worth, our conquerors Portugal go on to reach the final of the World Cup only to fall at the last.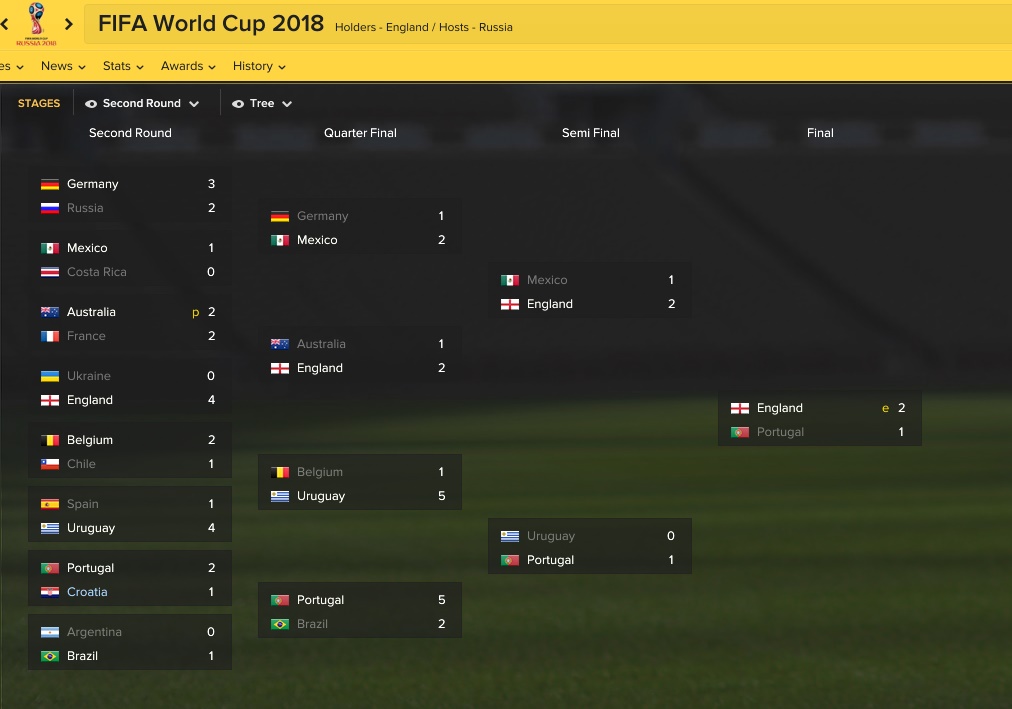 Back to the Future
My team did well enough to call it a success – not a Golden Generation success – but it was the best showing in the World Cup since 1998's wonderful adventure. But this team is ageing. Subašić, Ćorluka, Modrić, Perišić, Mandžukić, Kalinić even Rakitić will need replacing – is there anyone out there ready to step up and replace these guys whilst possibly emulating the 96-98 sides?
Ones to Watch
GK Josip Posavec
Plays for Palermo in Serie A, a tall goalie with some good attributes. Only 20 at the start of the game but posted some impressive stats in my save.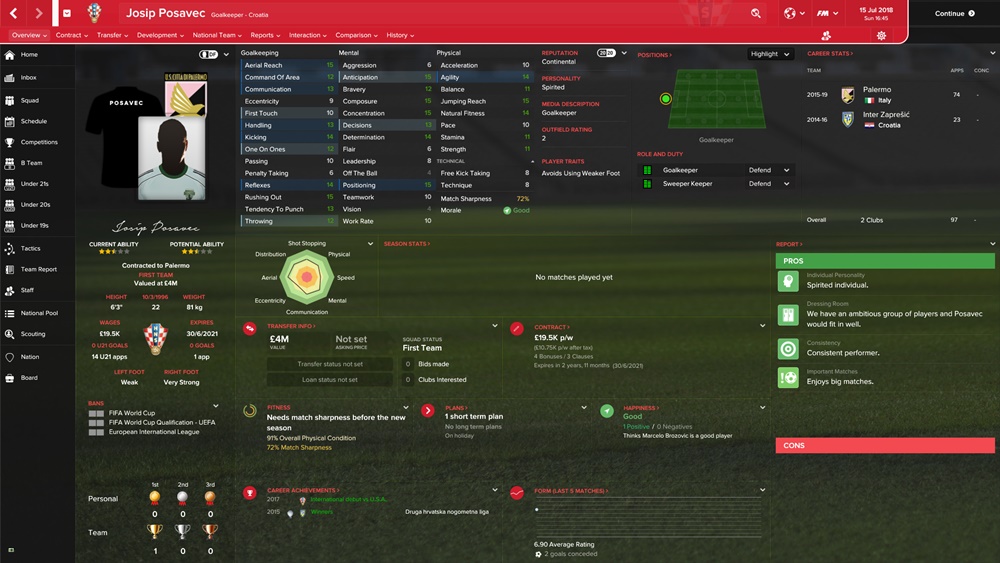 GK Lovre Kalinić
A bit more well known is this 6'7" monster of a keeper. Plays for Gent in Belgium top league and has the attributes to be a top, top goalkeeper.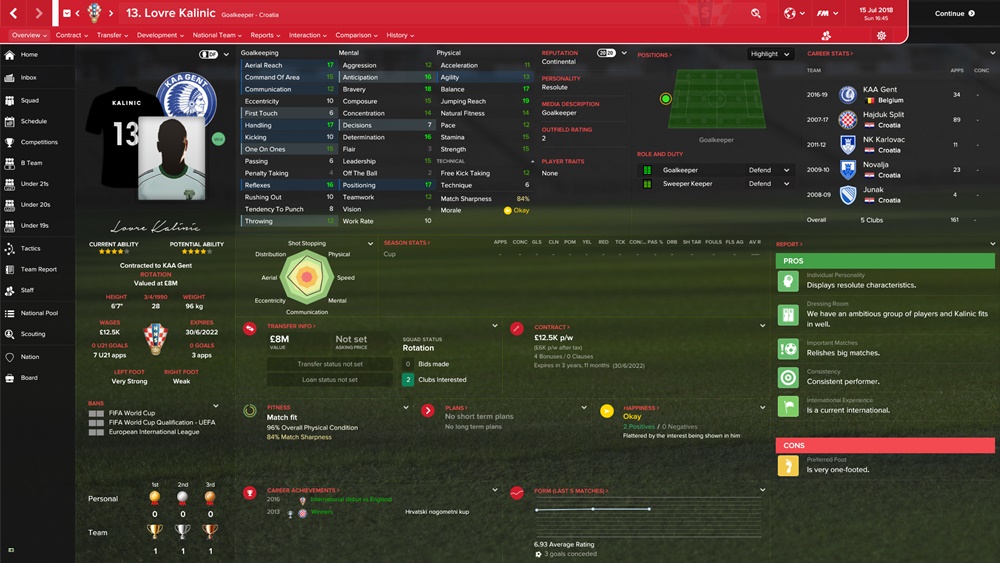 CD Tin Jedvaj
Described as the "Next Igor Tudor" in fm17, Jedvaj has the attributes to follow in Štimac's role as a solid defender with reliable technique on the ball.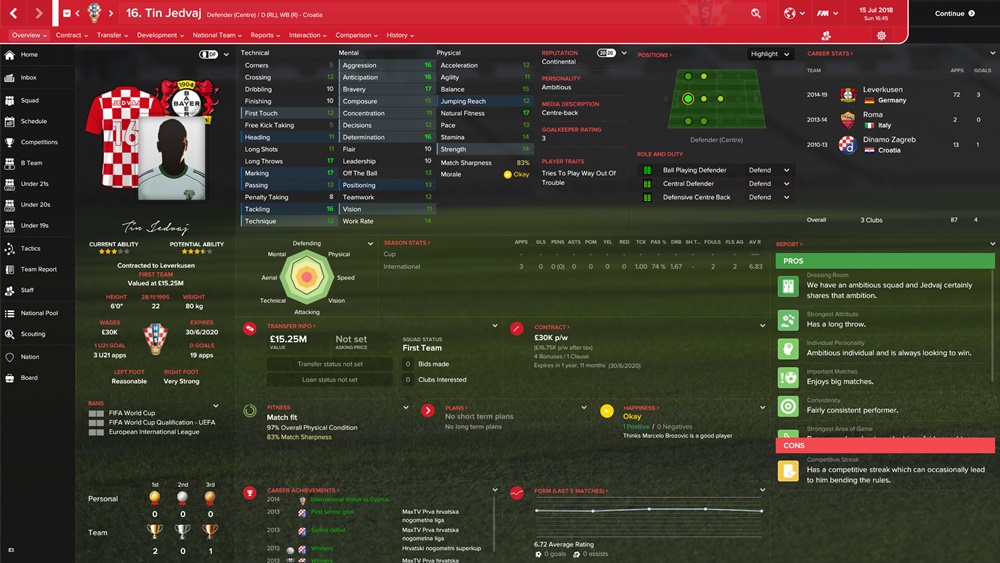 CD Domagoj Vida
Not a youth prospect but neither is he, perhaps, a well-kent face. A Champions League level centre back – again in the Štimac mould – that would do a good job in most teams at that level.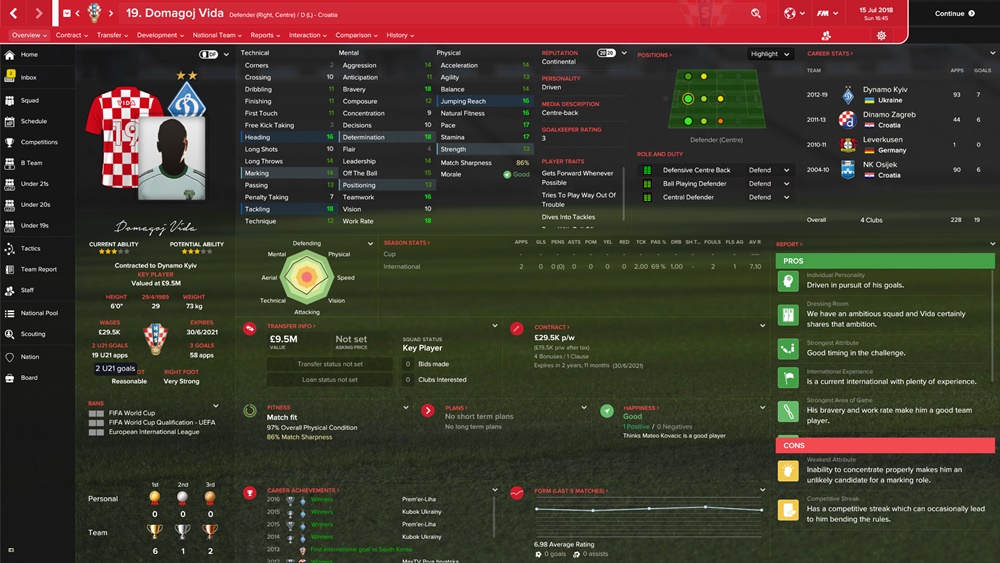 CD Filip Benkovic
Young centre back starts the game with Dinamo Zagreb and develops quite nicely. A decent option for probably not a lot of cash.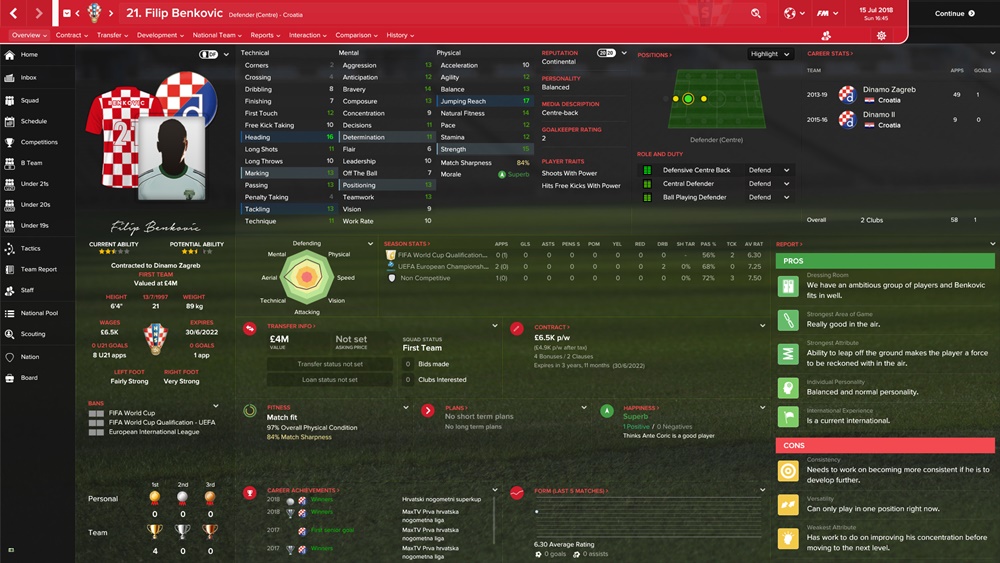 MC Ante Ćorić
A wonderfully gifted player in real life, he looks like he has the skill and the flair to be the new Prosinečki.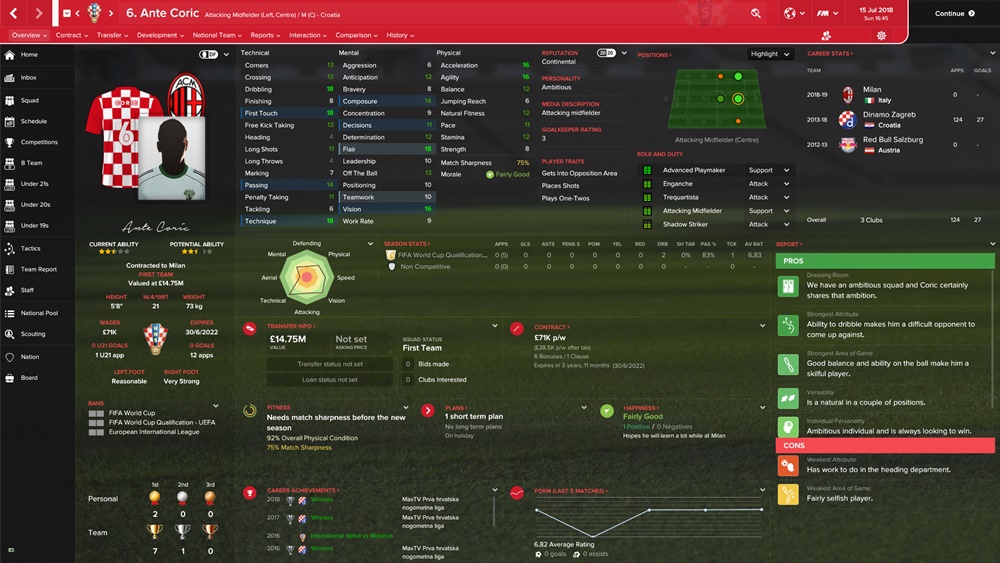 MC Mateo Kovačić
One of the "should I include" seeing as he plays for Real Madrid but I did want to point out his attributes remind me of Boban even though his best role in FM17 is set to Advanced Playmaker. See ESDF's article that features Kovačić ability to break lines – https://www.esdfanalysis.com/match-analysis/tactical-theory-breaking-lines/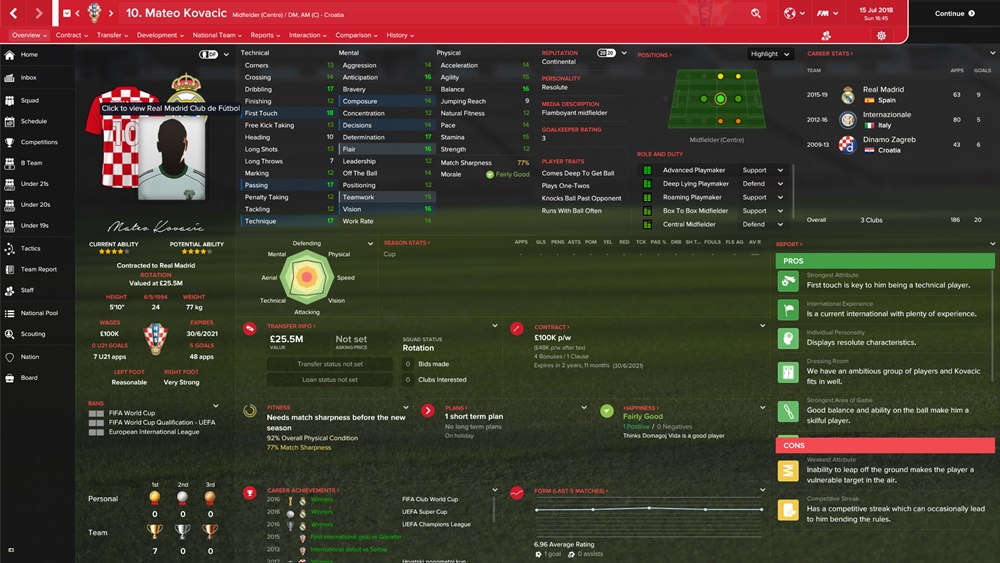 AMC/SS Nikola Vlašić
A young 'un who develops some solid attributes in this save after being picked up early by Arsenal from Hadjuk Split for only £3.5m. Vlašić shows some impressive physicals and is versatile – comfortable across the Mid-Att strata.
CF Marko Pjaca
Has the basic attributes in FM to be a striker of the quality of Šuker/Boksic. FM17 starts with him just having joined Juventus for £20m but you might be able to arrange a loan deal.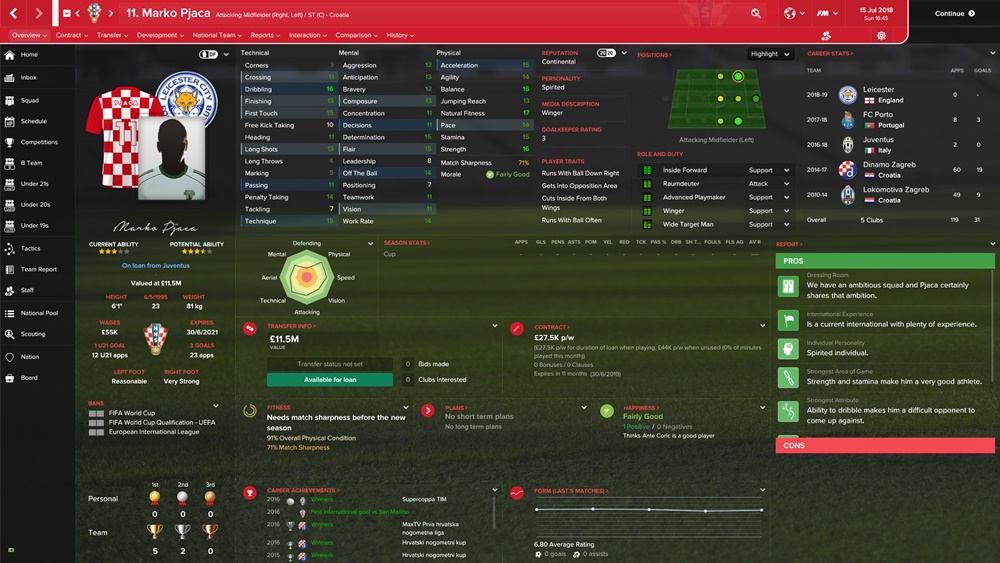 No Andrej Kramarić?
Andrej Kramarić has the attributes to be a fantastic striker and in my save he posts the stats too with a healthy goal every 1.5 games for Hoffenheim. But I can't recommend him here because every time I played him, he stunk out the whole team. His attitude was terrible, his output was even worse. Shame.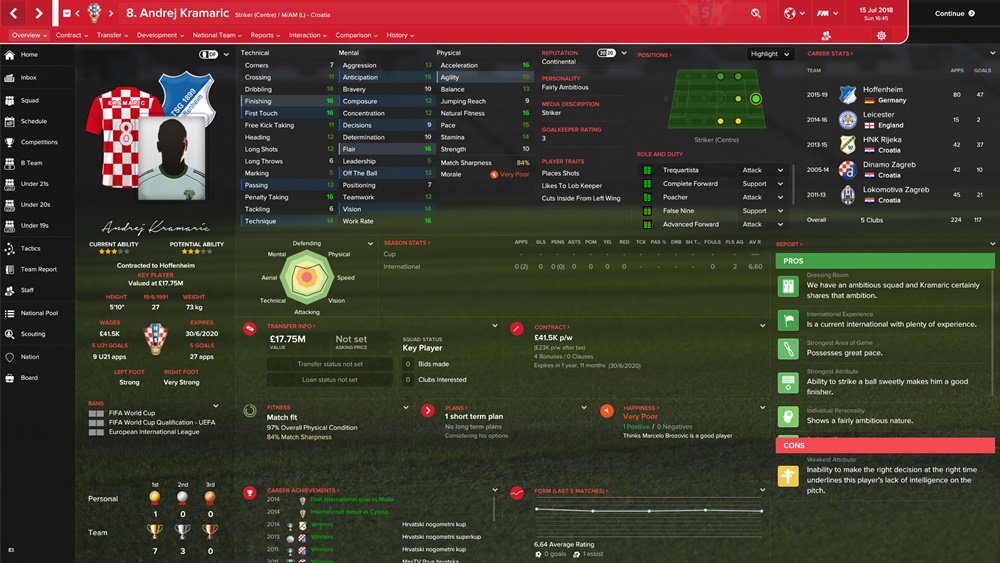 Conclusion
I am not sure if the glory days will ever return to Croatia. In a country with fewer people and wealth than Scotland, they consistently produce top class football players who ply their trade in the top teams across Europe. That is to be admired and applauded (and studied in our case). However, the stars need to align to pull together the spine of a world class international team as it did in the nineties. In my opinion, this team is currently a Šuker-level striker away from competing again.
Still, it has been fun and although international only save is baws in general, the tournament itself left me an emotional car crash. When you are bricking it before you play Paraguay on a computer game then something has gone right somewhere although maybe not in your life.