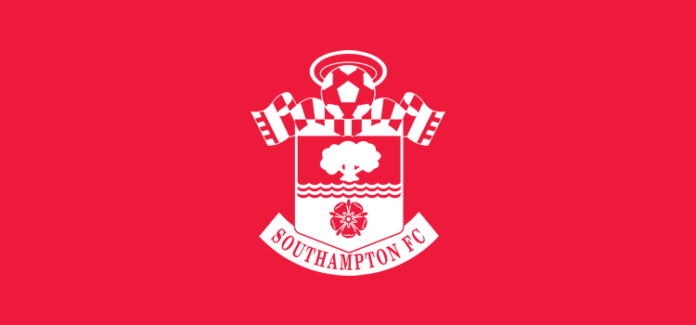 Welcome back to 'Southampton's Black Box': a story focused on the organised success of the club known for their over-achievement. As the title implies, the save will be highlighting and representing the recruitment strategy by Southampton. I will be compiling a large database of players in the game to assist me in my FM17 successes, as well as your own. Enjoy!
Back in Part 6 we saw my Southampton side falter in the Premier League, but managed to recover to a 10th placed position by the end of January and a nearly perfect Europa League Group Stage. The EFL Cup was not a priority and, thus, our Fourth Round exit wasn't particularly concerning and our youthful players had so far achieved a Fifth Round birth in the FA Cup. Let's take a look at how the Saints finished up the 2016/2017 season.
Premier League
A strong finish to the 2016 campaign helped our club climb from the depths of a relegation fight to a decent mid-table position. Strong wins over West Ham and Bournemouth, flanked by losses to Arsenal and Crystal Palace, meant that our position in 10th was secured even more. Not-quite-disappointing results against Burnley and Spurs were followed by wins over Manchester United and Swansea: results that pushed us on to stay undefeated in April and May.
Jay Rodriguez's added time winner against Liverpool on Match Day 37 meant we climbed above Chelsea into 7th and had a chance at Europa League qualification on the final day. However, a disappointing away draw against Middlesbrough designated us to 8th place in the final Premier League table: a position that I'm certainly not disappointed with considering our horrid beginning to the season.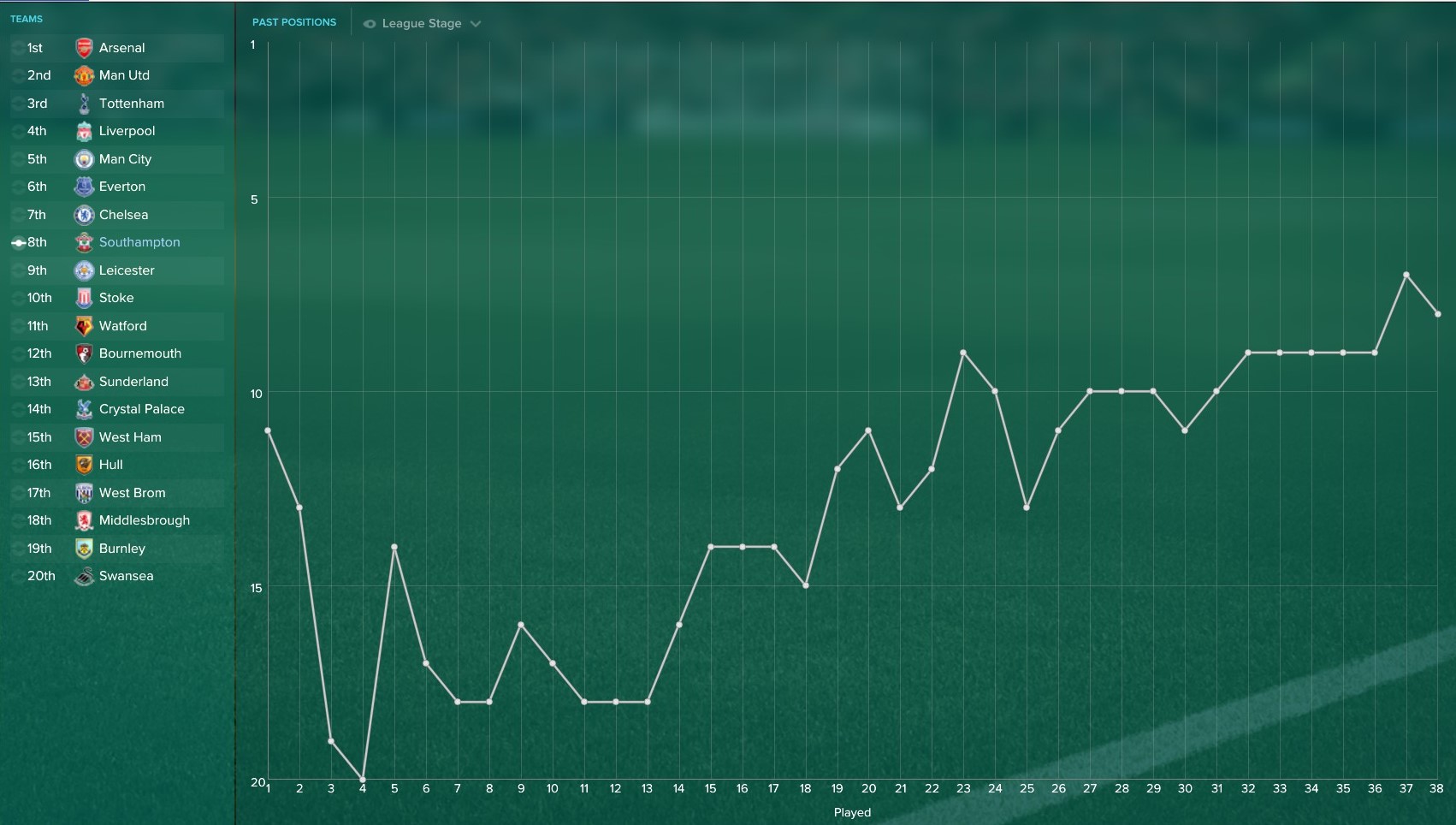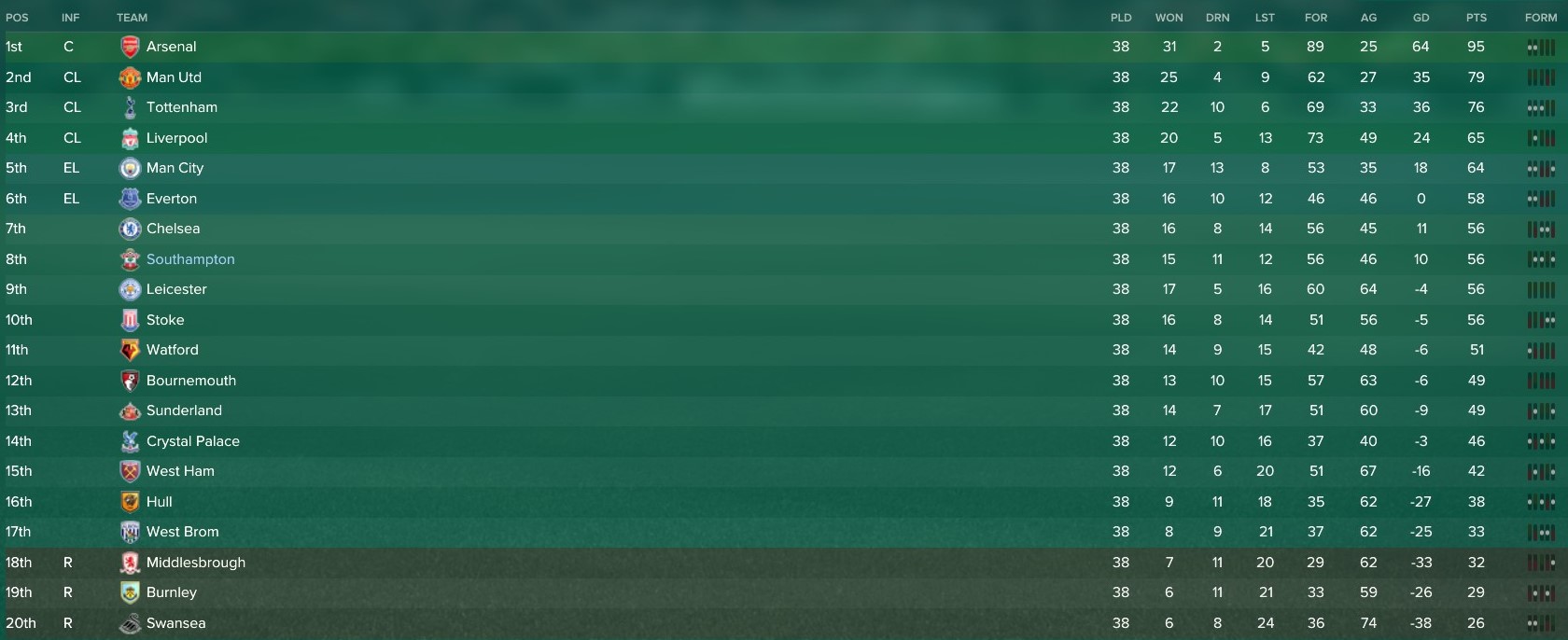 Europa League
Ukrainian giants Dynamo Kyiv was found waiting for us as we entered through the gates into the Europa Knockout Rounds: a tough test, no doubt. We travelled to Eastern Europe with confidence though, and our 3-3 exhilarating away result was certainly positive. The Blue-Whites couldn't handle the task back at St. Mary's and we ran out 4-0 winners, 7-3 on aggregate. Nathan Redmond's hat trick captured the winger's resurgence after a disappointing start to the season in Southampton's attack.
Celta Vigo awaited in the Round of 16. A 2-0 home defeat in Leg 1 represented the disparity in quality between the two sides though, and we couldn't recover in Spain and fell to a 3-1 (5-1 aggregate) defeat. A lack of a deep run in the competition is particularly disappointing because of how well we played in our group and the first round, but Vigo were simply more talented than us on both days. I'm furthermore frustrated because we won't be playing continental football next season, so 2018/2019 is the next time we'll get to show our hand against other European sides.

FA Cup
The Cambridge and Oxford United wins were straightforward to kick off our FA Cup campaign; a tie against Leeds United, on the other hand, was clearly tougher than our players expected. I started a lot of youth players but we only managed a draw at home. The replay away in Leeds didn't go to plan either, and the Championship side ground out a 1-0 win. Not what I expected from such an important competition, but to be fair I didn't start my first 11 and was more focused on Premier League results.

Youth Intake
My first ever youth intake at an English club went very well, if I do say so myself. Southampton certainly has the staff, facilities, and reputation to attract the country's top talent; two of these talents look like future first team stars.

Matt Leggitt: The 15-year-old centre-back is physically imposing at 6'5" with great natural fitness and decent technical and mental attributes. I can certainly see him as our future ball-playing defender, as his passing, technique, vision, and 'first seven' (aggression through determination) mental attributes are all solid. I'll get him working with an experienced tutor and Leggitt will hopefully be dominating in the Under-19's in no time.
Matthew Keen: Wow, this kid looks awesome. The young striker has all of the necessary attributes to be a solid defensive forward already (18 natural fitness, 16 teamwork, 15 work rate), but I have bigger plans. Keen has the base attributes, mentality, and potential to be an insane complete forward: the team's driving force in attack. The striker's physicals will improve vastly due to his natural fitness, and the only attributes less than 7 are not essential to a forward player. Don't be surprised if he even gets a cup appearance next year.
Season Wrap-Up
Virgil van Dijk is no doubt our greatest player currently. My assistant has upgraded his ability to 4.5 stars and he achieved an average rating of 7.41 across all competitions, a team high. The Dutchman hasn't even hit his prime, so I will be likely battered with transfer offers this summer. Will we let him go? It's too soon to speculate, but I'm definitely preparing to replace him. 'Wunderkind' defender Jaïro Riedewald was brought in for this reason anyway, and he's the next player I'm going to highlight.
Riedewald was amazing in our first season for a new signing, achieving the 'Signing of the Year' award. I'll admit that the transfer fee for the 20-year-old from Ajax was on the expensive side, but Southampton's largest transfer ever is certainly not a bust. Riedewald was ever-present on the left of van Dijk, basically forcing Maya Yoshida out of the lineup within weeks of his arrival. I found that our results improved against sides of all ability when we had the two Dutch defenders deployed as ball-playing defenders, allowing us to retain as much possession as possible.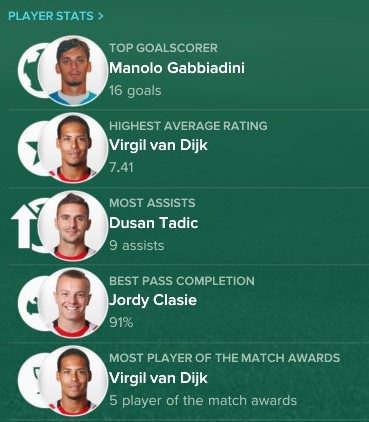 The striker situation at the club is an interesting one. Manolo Gabbiadini was our top scorer with 16 goals across all competitions and, being a new signing, was given the benefit of the doubt when he underperformed. That being said, Charlie Austin was great when he got the chance and will certainly be given more game time next season. Shane Long wants to be sold this summer; at 30-years-old, I will probably end up granting his wish. Finally, Jay Rodriguez was one of our best players, but I feel more comfortable with him out on the left side cutting in. Who do you think should be the Saints' first choice striker?
The midfield was interesting too. Oriol Romeu definitely underperformed in a deep-lying playmaker/ball-winning midfielder role, but his attributes suggest that I should keep giving him more chances. Jordy Clasie was by far the best performer throughout the season, and James Ward-Prowse wasn't too far behind. Pierre-Emile Højbjerg was another underperformer, but the Dane has some awesome attributes and is still young. That being said…
A new signing will be joining Southampton at the start of next season. Get excited.
In other news, St. Mary's Stadium is getting an expansion! This, along with the plans to improve our Youth Facilities and Training Facilities shows just how ambitious I am for Southampton and that the board has a similar perspective.
A superb domestic end to the 2016/2017 campaign gives me great hope for the future of Southampton and I am definitely excited to get on with the summer transfers in Part 8. As always, to ask questions or give me any (much-appreciated) advice, comment below this article or contact me on Twitter, @adiek22. Have a great day!