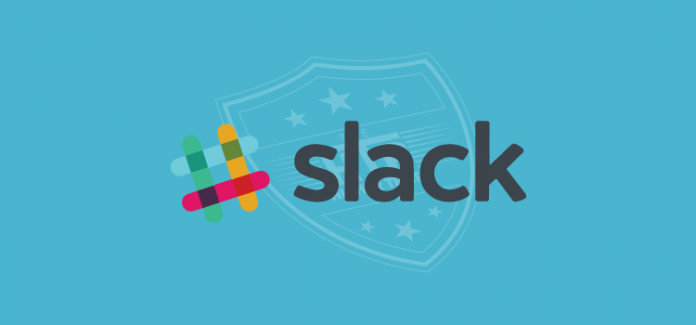 Alright guys! Welcome to another edition of Slack….yeah yeah, I know what you're thinking…
"Regista, you took your bloody time with this update didn't you?"
Yeah, you're right. I did. I'm incredibly sorry about that. This isn't how I've wanted this save to go, but with moving house and changing jobs real life has intervened quite a bit. And I know that it's killed any momentum this save had, but I never start something I can't finish (heh).
We're going to be changing the style of these updates so that we get through them on a season by season basis. Each player will have a full roundup of their season, how their club got on and their immediate future. Slack FC won't be forgotten about either, as we'll also have a look at their season, and whether Heskey still has his job.
And for those of you asking if DrPoods has played more than 1 match this season – he has.
Goalkeepers
Ben Smith (@ZeGermanFM)

Our first goalkeeper is turning into somewhat of an absolute beast. Compared to this time last year, all area of Smith's game have improved hugely thanks to that education at Bayern Munich. Smith has spent this season in the Bayern II squad, playing in 33 matches (not all starts), and it's clear to see the improvement that it's had on him.
It's fair to say that Smith is set up at Bayern for the long term and could be Neuer's eventual successor (might have to wait a while for that one). Speaking of Bayern, they won the Bundesliga at a canter by 14 points, and Neuer kept 14 clean sheets.
DrPoods (@drpoods)

Whaddya know – Poods finally got his chance in the first team. Perhaps he impressed in training, perhaps he threatened to leave, but more likely he got his mum to complain to the Slack FC chairman, DrPoods played 34 LEAGUE GAMES this year along with a handful of cup games to boot.
I mean look, there's proof and everything. I'm not kidding. Seriously.
In fairness to Poods, he had to wait his turn in order to become the next Jose Luis Chilavert. Plenty of the lads were ribbing him last year about never making the match day squad, but Poods is now a man. Unfortunately, his command of the area attribute has decreased by 1 compared to last year, but concentration and positioning have improved by 1. Still not scored a free kick yet though.
He's not signed a professional deal yet, but he might need to very soon…
Defenders
Chris Eadie (@eadster)
Ha, did I say Bournemouth before? I meant Spurs. Clearly.
Anyway, Eadie has had the luxury of being one of the first of the group to make their full international debut! He featured in a 2-2 draw with Norway in September, just over 1 full year after playing first team football. Such has been the rise of the mad scientist Eadie that Tottenham were willing to take a punt, paying Slack £16k in July 2017. He's not made his Premier League debut yet, but has managed 4 FA Cup and 2 League Cup appearances.
There hasn't been any notable areas of growth for Northern Irishman, he's just steadily gotten better and better. Will be one of the best fullbacks in the world in a very short space of time.
Lawrence Davey (@97ldave)
Here's one where the rumours came true! Mr Davey now finds himself at Premier League side West Brom, saying "seeya" to the Slackers after a £28,000 transfer in August. He now finds himself along side a  certain Mr Daniel Gear. Perhaps there is treachery afoot.
A Premier League debut has followed at the Emirates Stadium as the Baggies beat Arsenal 3-2. Davey is also involved in the England youth set up, playing 3 games for the U19 side. It's more all round growth for  another of our young prospects, but for a centre back Davey's got some impressive ball playing ability with great First Touch, Dribbling and Passing attributes.
As he's getting older, Davey's favourite band has changed from Steps to Atomic Kitten. He's started noticing girls now.
Daniel Gear (@dgear86)

The traitor-I mean the rock at the back for many Slack games, Daniel Gear has gone on from strength to strength at West Brom. Still yet to break his nose, 2017/18 saw Gear make his league debut for the Baggies. He was also a member of the England U19 European Championship winning side with a few of his fellow Slack graduates, and is turning in to one of the best young centre backs in world football.
Just look at his attributes – go on! At 195cm he certainly is starting to physically improve, and most of his mental attributes have increased by 1. With a good leadership attribute at 17, we may be seeing a future England captain in the making… if he can stop snaking players from Slack FC!
Samo (@FM_Samo)

Our wee Scottish laddie from Livingston has made his full international debut against Bosnia and Herzegovina this season. Somehow, despite his busy schedule of running a community of FM Slackers, Samo's made 13 appearances for Dundee, helping the club to finish 8th in the Scottish Premiership. He's so popular that the top 6 clubs in England are all interested in signing the centre back – Man Utd are leading the race right now.
Perhaps all that sitting around on his PC has taken it's toll as he's less agile than he was last year. However, Samo did break his ankle in training in November, keeping him out for 6 months. Had he not suffered such a horrible injury who knows where he could have been right now.
Expect to see him in the Premier League soon.
kinna (@thenameiskinna)

I've heard rumours that Kinna actually posted himself to England from his native Croatia as he was that desperate to play in England. No one can prove that he didn't  All that hard work and dedication to make it over here looks to have paid off. Kinna gave up the club captaincy of Slack to move to Southampton in June for £40,000. It's been a quiet season though for the big man, as he's yet to feature for the Saints in any competition.
We all know Southampton have a fantastic youth academy, which might make this one of the best moves so far from Slack. Again, it looks like Kinna has been in the gym over the last year, as his strength has risen by 3 and stamina by 2. He really needs to be playing games to make some bigger improvements. Perhaps some League Cup games will be on the horizon.
barnet (@barnet)

Quiet barnet secured a move away from Slack in June this year to Wales, further conflicting his loyalties internationally. The young centre back was a part of the Swansea U23 side that won the Italian Youth Club Invitational tournament, picking up 2 man of the match awards in that tournament. He's been unlucky with injuries this year, and is currently out with a damaged spine. Let's hope he makes a full recovery and that it doesn't affect his career too much.
There's not been too much improvement in a year for barnet. Whilst mentals have improved a little, he's still technically fantastic and could become a complete defender in the future. What do you guys reckon – would a loan move benefit this lad?
Cosmo (@blackcaesara5)

Cosmo has cemented a first place spot in the Hearts side whilst also picking up the number 2 shirt. Hearts finished 7th in the Scottish Premiership with Cosmo playing 24 matches for the side. A Scotland debut soon followed against Slovakia, and Cosmo is almost established in the set up as he has 6 caps at the age of 18.
At 191cm tall and 90kg, he's tall for a full back, but this has helped him become a trick opponent to encounter. His acceleration, pace, strength, agility and balance have all improved hugely this year, and with improvements to crossing, passing and dribbling he's become the archetypal full back. Much like Samo, he's wanted by the top 6 in England, but West Brom and Stoke are also interested. Could he join up with fellow Slack alumni Davey and Gear, or perhaps with Joe Timms at Stoke.
In other news, to further enhance his TV career, Cosmo is now the face of Irn-Bru. Go figure.
Marc Bowen (@marcbowen17)
Creative full back Marc Bowen is still at Palace, and has made 3 Premier League appearances this season for the Eagles as they finished 17th. Facing a brave relegation battle, Bowen picked up a bad achilles tendon injury in March 2018 just as he established himself in the side. Bowen was also first choice right back for the England U19s in the European Championship.
Already boasting a 20 attribute in marking, he's not far off 20 in tackling as that's improved by 1. His technical attributes have improved across the board too. Palace may have only just stayed in the Premier League, but Bowen will be playing Premier League football for years to come.
Midfielders
Mike Pearson (@accordingtofm)
It has been confirmed that Jurgen Klopp watches non-league football. How else would he have known about Mike Pearson? The midfield dynamo left Slack FC in July for £47,000 much to the dismay of loyal Slack fans. His senior Liverpool debut came in the Community Shield match against rivals Manchester United, losing on penalties after a 2-2 draw. Pearson picked up a 7.2 rating in this game and assisted Coutinho for the equalising goal at 1-1. Not a bad way to introduce yourself to the Kop!
Opportunities have been scarce since then for Mike, however he's been putting in the hard work on the training field and gym. His strength and jumping make him an ideal ball winning midfielder, a role he played in Liverpool's youth sides that won the Premier Division Cup and also the U18 Cup.
He's available for loan next season, but something tells me that Klopp will want him to stick around.
Ewan Beattie (@ewan)

Buckfast clearly has some sort of steroid in it. Beattie's clearly been on a lot of the good stuff as his game has improved dramatically following a move to Hibernian. Beattie managed 29 games picking up a 7.78 rating for Hibs as they finished 6th. Like Samo and Cosmo, he's also made his debut for Scotland in a defeat to Portugal. Seriously though, just look how good this guy is at 17!
I could wax lyrical about where he's improved, but instead here is his attribute card last season. Enough said.
Angel Bastardo (@fm_grasshopper)
Our resident Argentine has found himself at Whtie Hart Lane, signing for Spurs for £79,000 in the January transfer window. During the first half of the season Bastardo featured heavily for Heskey's side, playing 24 league games and scoring 2 goals. Success has also come internationally for Bastardo as he featured in Argentina's U20s side that won the South American U20 Championship.
Bastardo looks almost ready for Premier League football. With impressive attributes all round, he looks to be an absolute destroyer in the making for Spurs. A lot of money has been invested in to the lad, and I think we will see a League debut very soon.
Keysi Rensie (@keysirensie)

We have a Gooner in our ranks as Keysi Rensie is now an Arsenal player having movedi n the January transfer window. He was a bit part player for the first half of the season with Slack, but Arsene Wenger clearly knows a good prospect when he sees one. Arsenal paid Slack £94,000 to bring Rensie to the Emirates, but he is yet to feature in a first team game.
A lack of game time has stunted Keysi's growth as he's not improved drastically from the prior year. He's got the makings of a quality winger but someone just needs to give him a chance. A loan move looms large next season, and Keysi may feel he's got a point to prove…
Danny (@dannykjr)

Here's another surprise – Danny hasn't left Slack FC (yet). Last season Danny was a core member of the side that won the National League South title, and I would have bet my house on the fact that he would have moved. It's a good job I didn't isn't it?
Because of this, Danny's attributes have not really improved this year. Sure, he's scored 4 goals and made 15 assists in 36 matches this season (with 10 man of the match awards), but I feel like he's not reaching his full potential under Heskey. He's not signed a professional contract yet, which may allow a big side to come in and sign him for a small fee.
One further point to note is that Danny has been made club captain, and given how the National League campaign went, he may want to stick around a little while longer.
Adam Pengelly (@ap21fyt)
Oh I do like to be beside the seaside…
One transfer made in the January transfer window was Adam Pengelly to Bournemouth. For a fee of £220,000 (rising to £400,000), this transfer is the highest fee received by Slack FC for an outgoing player. Prior to his move the young English midfielder made 7 assists in 28 matches, but now he's a Premier League player having made his debut from the bench against Sunderland.
Bournemouth's academy have really helped Pengelly develop his game, as Pengelly now has two attributes at 20/20 rating. His stamina has also risen by 3 in less than a year, showing that Adam is really working hard in the gym! At still only 17 years old, I can definitely see plenty of England caps in the future for him.
Joe Timms (@timmssports)

A casualty of the January transfer window, our bright spark Joe Timms now plays for the Potters following a £130,000 move. The 2017/18 season started will for the lad, scoring 6 goals in 32 appearances for Slack. But when Mark Hughes came calling there was only ever going to be one outcome. He's yet to make an appearance for Stoke, but when you look at the lad it's only a matter of time.
Stoke's academy isn't usually known for it's ability to produce fantastic young talent, but the past year has seen Timms develop in to a fine young footballer. It's consistent growth in each area allowing Joe to become a great centre midfielder. I hope that Sparky sees something in this player – he's turning out to be a favourite of mine in this series.
Regista (@regista)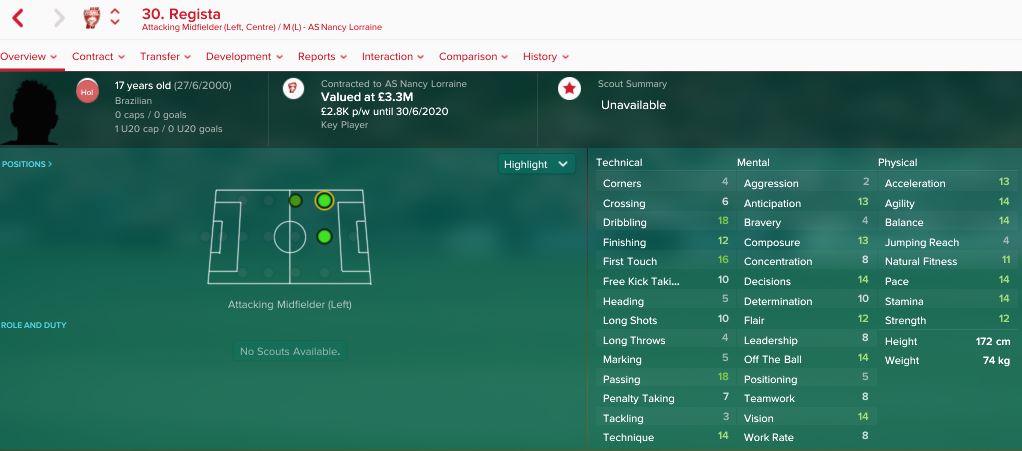 Ah yes. Here's little old me rocking the number 30 shirt at AS Nancy in Ligue 2.It could be said that Regista was the catalyst in Nancy's Ligue 2 title win, with 8 goals from midfield. Despite this he only picked up 4 assists, which is mightily disappointing. Assist King Regista has a nice ring to it – now play like it on the field you moron.
Regista has put in a lot of effort on the training field, and it shows with his growth as a playmaker. First touch, long shots and technique have risen by 2, along with vision, off the ball and decision making. He's got the makings of a good all round attacking midfielder and I would hope Brazil call him up to their youth sides soon.
The Brazilian playmaker is valued at £3.3m, but a move to the Premier League may be on the cards if he can find his form next year.
Forwards
Dale Borthwick (@daleybo)

Seems like everywhere our lads go, they pick up titles. Blackburn Rovers won the 2017/18 League One title, and Mr Borthwick made 14 appearances in this campaign. Borthwick has also represented England at U19 level, putting the cherry on top of an excellent season.
It looks like the coaches have trained him with the "Run With Ball Down Right" and "Hugs Line" player traits, turning Dale in to an out and out winger rather than a striker. He's also one of the quickest players in League 1 with 18 acceleration and 16 pace, whilst his strength has also improved by 2 points. Mentally, composure has risen by 2 to 17, along with positioning, off the ball and decision making. Credit is due to the lad and also the Blackburn academy.
It's hard to see you staying there for too long Dale.
Severin Lambiel (@ifinnem)

Now now… a certain Mr Jacbosen has had a word with the Slack FC chairman and suggested that one of the lads move to Watford or else…
Well what Mr Jacobsen wants, Mr Jacobsen gets. Watford paid Slack FC the measley sum of £35,000 for our left winger in the Summer 2017 transfer window. But Lambiel has found opportunities hard to come by at Vicarage Road. Sure, he's made his Premier League debut in a home defeat to Leicester, but the Portuguese lad has not made many appearances for the U23 side either.
It's hard to see why this is the case though. Comparing him to last year, his dribbling has reached the mighty zenith that is 20/20, along with improvements in finishing, first touch, heading and a mighty +3 to long shots!
I think it's a good move for Lambiel as long as he doesn't let the sun go down on him. Watford will be playing Premier League football next season after finishing 13th in the league, so there will be plenty of opportunities for Lambiel take off like a rocket man in 2019.
Oliver Jensen (@fmfutbolmanager)
Copying Regista with the number 30 shirt, Jensen is still plugging away in Norway with Odd. It's an odd time to be in Odd as oddly enough the club does not have a manager despite finishing 5th. Another odd point to mention is that Jensen only made 1 league appearance, despite making 22 last year and scoring 4 goals to boot.
Jensen's technical attributes were great to begin with, but he's made great progress with the physical area of his game. Agility, balance and pace have risen by 2, whilst he's improved his acceleration, strength, stamina and natural fitness too. He's wanted by four Premier League sides, including Chelsea and Champions League winners Manchester United. Odd then that Odd won't play him.
Stuart Reid (@reids)

What a difference a year makes. Last season Reid was one of the players of the season for Slack, banging in braces almost every other game. It's no surprise that Premier League sides came calling, with Leicester City fancying another Jamie Vardy type story. The Foxes paid the Slackers £40,000 for Reid's services, and off to the King Power Stadium he went. Braceface has also contributed one assist this season in two appearances as Leicester finished a respectable 9th.
I've linked Reid's profile from last season to really showcase how much this guy has improved. It's not so much the technical side of his game (although dribbling has risen by 3 amongst others), but the mental side of things is remarkable. For example, Reid's determination has gone from a rating of 9 to a rating of 17. Clearly that Premier League move has focused his mind from women to football.
Leicester have put this lad up for loan, and I can see a whole host of Championship sides ready to fight it out for his signature soon.
Pichichi (@dkm)
Well this is a bit of a surprise move. Pichichi is now part of the Green Army in the South West of England, having made the £75,000 move in June 2017. It's surprising as Pichichi was voted Player of the Season last year, and I expected him to move to a Premier League side (no offence to the Argyle).
However, unlike many of his peers, Pichichi is a first team regular for Plymouth. The striker nearly equalled his goals per appearance record of last season, scoring 15 goals in 34 games in League One (19 in 34 last year). His performances earned him a place in the Team of the Year, but Plymouth could only finish in 13th spot. Pichichi was also part of the England U19 European Championship winning squad, starting in the 1-0 win over Germany in the final.
Although he's been banging in the goals again, there hasn't been too much significant growth over the last year. Attributes have improved, but only by 1 point overall. It can't be long before he makes a big money move further up the footballing world and surely more awards await the man from Berlin but plays for En-ger-land.
But what about Slack FC?
They'll be a Football League club next year.
Yup, Heskey has lead the club to back to back promotions and league titles despite the mass exodus of players. All of the players that have left the club have made Slack around £1.5m in transfer fees which have been invested wisely. Mixing experienced players such as Danny Pugh with promising youngsters like DJ Buffonge, Slack won the division by 4 points ahead of 2nd placed Chester. On loan winger Brandon Thomas-Asante was top scorer with 15 goals, with striker Luke Lofts just one goal behind.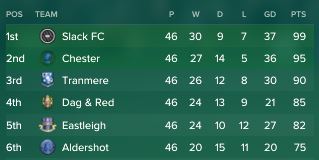 With promotion comes great reward, and Slack will move in to the newly built Slack FC stadium at the end of June. Seating just over 11,000, Slack will be able to compete with the very best in the Football League straight away. Only DrPoods and Danny remain from the original squad, but we'll have to see how long Heskey can hold on to both players.
So there you go! Nearly all of our lads have made big money moves away from Slack, with some of the players ending up at big clubs. Next year will be the season that some of them really kick on and we'll finally see what they are made of. Where will they end up? And will Slack cope with League 2? Stay tuned to The Higher Tempo and follow me on twitter (@registafm) to keep up to date when the next instalment goes out!