Last time out I asked the question – how did this Middlesbrough side get relegated? By the time I'd reached November on CM2 (96/97) I had a pretty good idea. After 11 games, we were at least outside of the bottom three.

Fast forward to Christmas and things were positively amazing – 13th, another 10 goals scored and 4 points above the danger zone.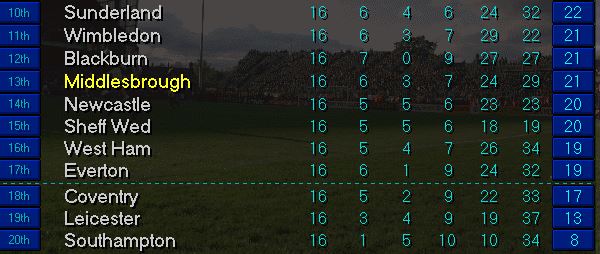 The highlight of that was probably this 3-1 dismantling of West Ham, a game where Iain Dowie was written off by the player rating system.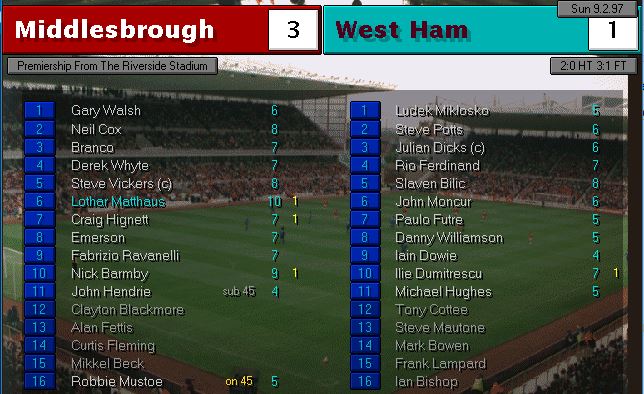 You'll notice Lothar Matthaus played a perfect 10 here. I'm probably not the first person to realise that he is really rather good. He is holding this set of morons together but as you'll come to see, there's only so much a soon to be 36 year old can do for you.
For you see, most of our good work was done in November, and I gave the people of Middlesbrough the bleakest Christmas on record. It'll be cold, so cold…

New Year's Day though gave us a chance to draw a line in the snow and give ourselves a new start. We delivered the lowest quality win imaginable thanks to Emerson, who is probably very concerned about what he has got himself into.
That was a very welcome win, as the board are already looking for Terry Venables' number.

Yes don't worry Bryan, we're just bringing Terry in to help you out…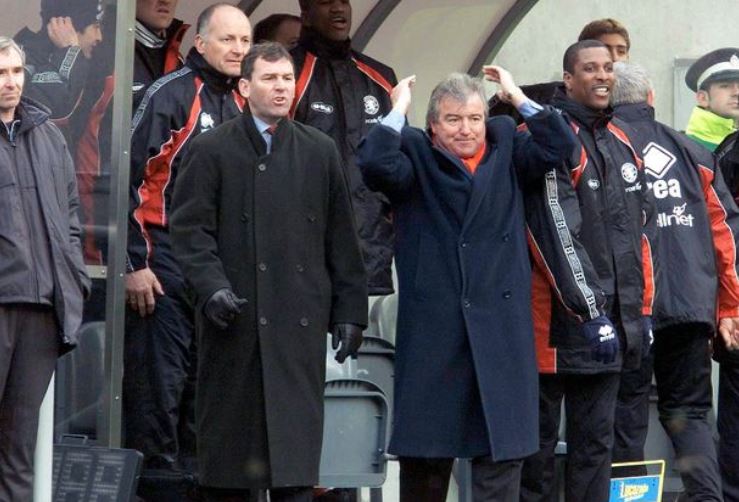 Anyway back in the here and now (or early 1997 if you will) and I need the team to respond to the pressure I am seemingly under. I need a goalkeeper, as Fettis and Walsh are just awful and have no ability between them.

Bleak, I think you'll agree. So there's only one man for the job.

Lovely Fred. I'm sure it's coincidental that we have January blues to go with our December blues. And general blues. We're just blue, alright? It's not a happy house.
Defeat after defeat follows, pausing briefly to pinch a draw away to Oldham in the FA Cup and win the replay. To compound matters, we won't repeat the real life feat of reaching the League Cup final as we are defeated at Elland Road in the quarters.

January has been a disaster.
Board patience has thinned even further.

But there's always a little bit of light at the end of every tunnel. Finally, somebody wants one of the weener kids.
What do you buy a team that needs everything? We don't score goals and we concede loads. A centre half? No no, there's only one man for this job.

My old friend, please help me out of this pickle.
Ravanelli has been a disgrace, he's managed 5 goals in 28 games. That's shocking, but hopefully the arrival of Beardsley to partner him will free him up a bit whilst Juninho, Emerson and…Nick Barmby run wild in midfield. Yes, it's time for a new tactic.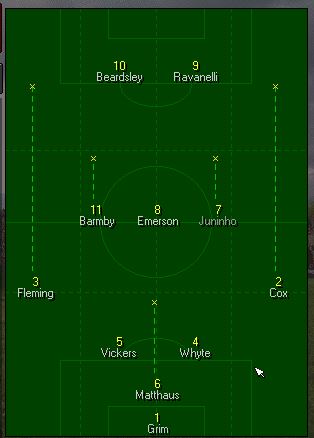 The turnaround in our fortunes are instant. Even Neil Cox is a threat as we knock Arsenal out of the FA Cup.
But it's points we need. A home game with struggling Leicester allows Beardsley to continue winning my heart.

Things are…ok. Ish. At least we're not Keegan's Newcastle.
Defeat at Blackburn, despite Beardsley scoring again, is soon forgotten about when some sort of heavy gambling Austrian club turns up with 70 grand in poker chips for Clayton Blackmore. Sold.

That gives us precious squad space and £6m to blow on somebody else to hopefully push us towards safety. Bids for John Hartson, Ugo Ehiogu and Michael Duberry all come to nothing though, so the money will have to continue burning a hole in our collective pockets for the time being.
We're still in the FA Cup, our salvation, and our reward for ousting Arsenal is a home tie with Aston Villa. Ravanelli is injured so Fjortoft partners Pedro and Juninho is back from his 8th injury of the season. It's a classic…

Away to Swindon in the quarters, you've got to be happy with that.
What we aren't happy with though is a heavy defeat at Hillsbrough.

That puts huge pressure on our home game with Arsenal, so it with a huge amount of relief that Fjortoft and Beardsley combine to give us three precious points.

Lush. The board are still not having it.

Bring back your precious captain Marvel, see if I care.
So, what have we learned? Well, we're still deep in relegation trouble, especially if Leicester win their games in hand.

My best two players have a combined age of 71.

But you know what? We're still in the FA Cup, we haven't been in the bottom three since the opening weekend of the season and just because we've scored the third least goals in the league doesn't mean we'll be relegated. I mean obviously it increases the likelihood but likelihood shmikelihood, we've got Peter Beardsley. I'm not scared.
He faces a clash with old club Newcastle…next time. Join me next week for the season finale, where hopefully Juninho won't be crying again.