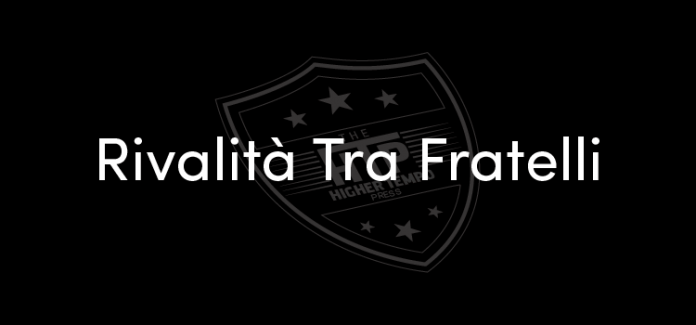 This is the story of two brothers, a modern-day Cain versus Abel if you will, based in the northern powerhouse Italian city of Milan. If you'd like to replicate this challenge, we're using the updated medium database with the following leagues: England (Premier League, Championship, League One & League Two), Italy (Serie A & Serie B), Spain (La Liga & Segunda División), France (Ligue 1 & Ligue 2) and Germany (Bundesliga & 2. Bundesliga).
Rivalità Tra Fratelli, Episode 19 – AC Milan Revisited
MIKE: Let's start with some brutal honesty, I am not happy about this. I already won this challenge, I won Serie A and the Italian Super Cup. We can all win a lucky European final when for some reason Mourinho didn't realise there was a game on and Lazio's players were so complacent they barely got took off their headphones and stashed their sweets to get off the bus. I had to beat Juventus, the mighty Old Lady, in Italy's Super Cup and quite frankly, the league table doesn't lie.
First thing is obviously first, I gleefully retire Charlie from the game. The smug bastard asked for a screenshot of his accomplishments, but he can visit this page and get it.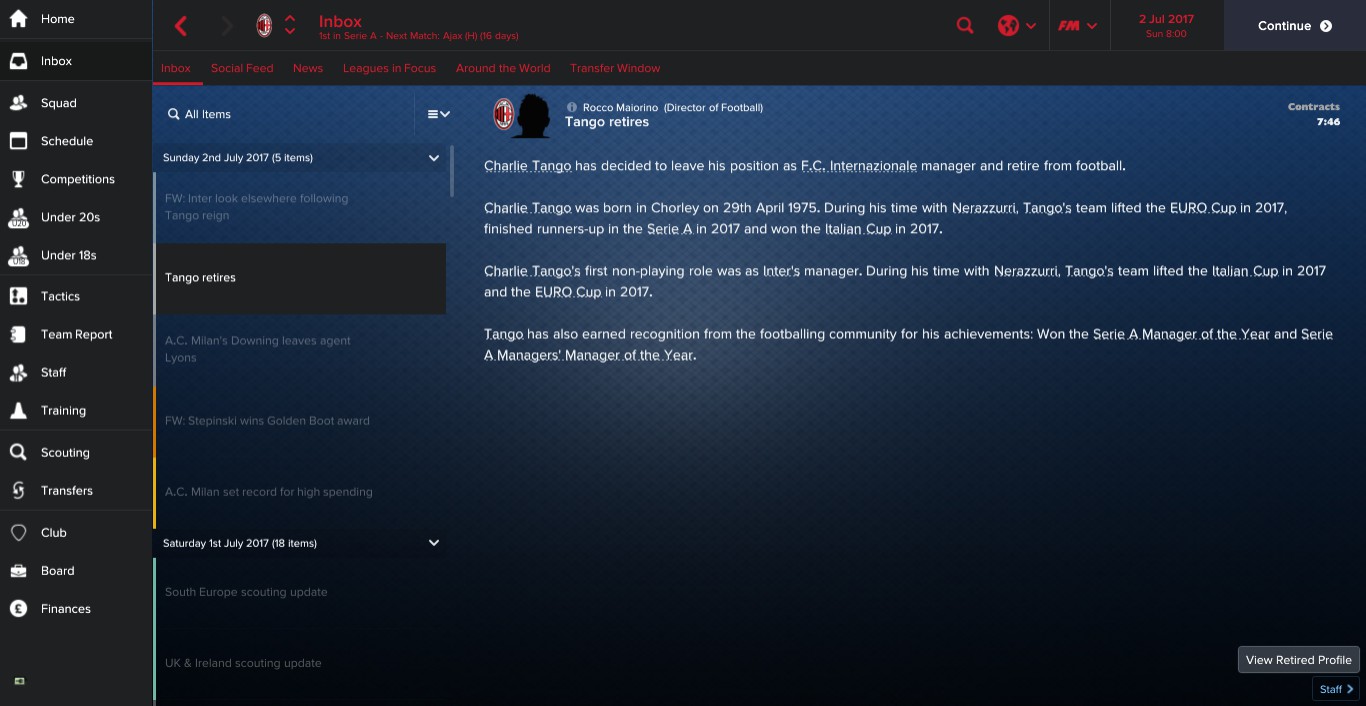 Taking the reigns in the opposite dugout at the San Siro will be Jorge Jesus, who appears to have spent his life in Portugal. I don't care for him already. He managed Belenenses, which is a club José Mourinho briefly played for. There's some trivia for the nerds out there.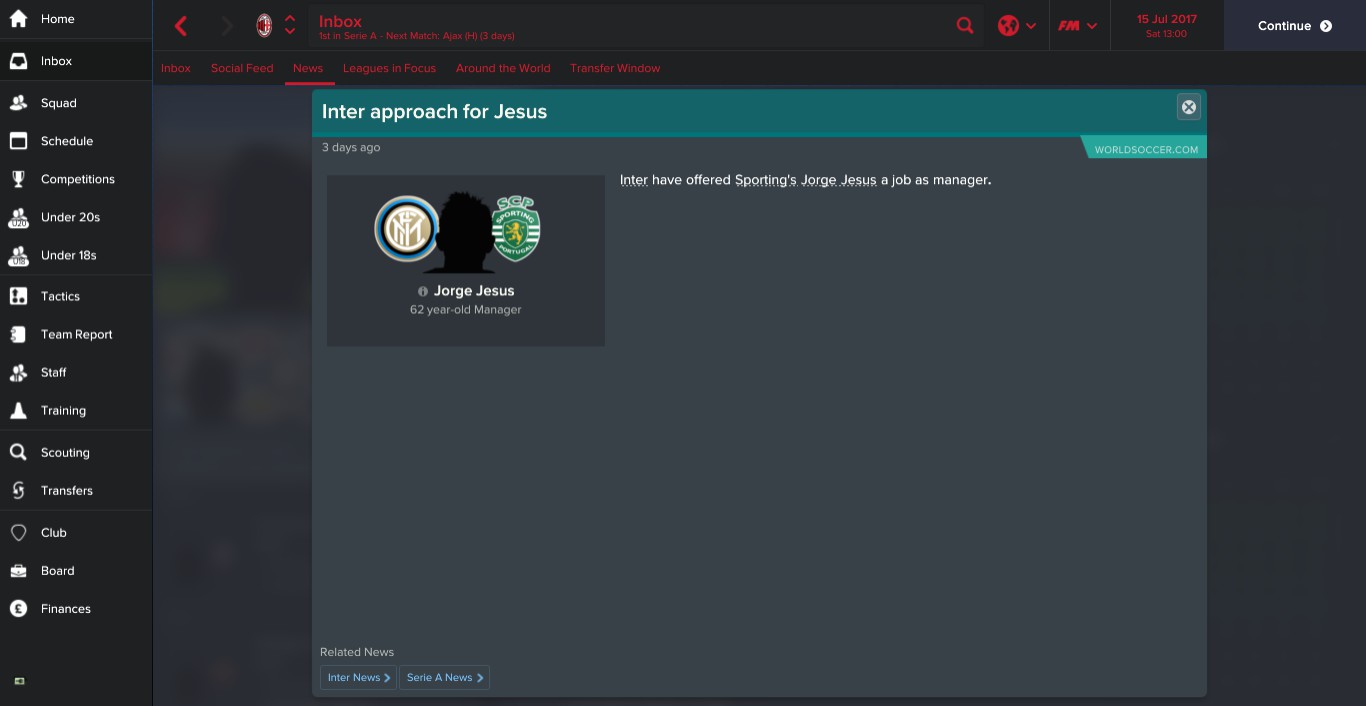 We are in dire need of reinforcements, considering that Deulofeu and Ocampos have now returned to their parent clubs. In keeping with the same plug-and-play strategy for recruitment, I'd like you to welcome Theo Walcott and Kevin Mirallas to occupy the wings. I imagine there was a touching moment as Deulofeu walked back into Finch Farm just as Kevin Mirallas was departing and the returning winger had an opportunity to pass on the lowdown about the Rossoneri.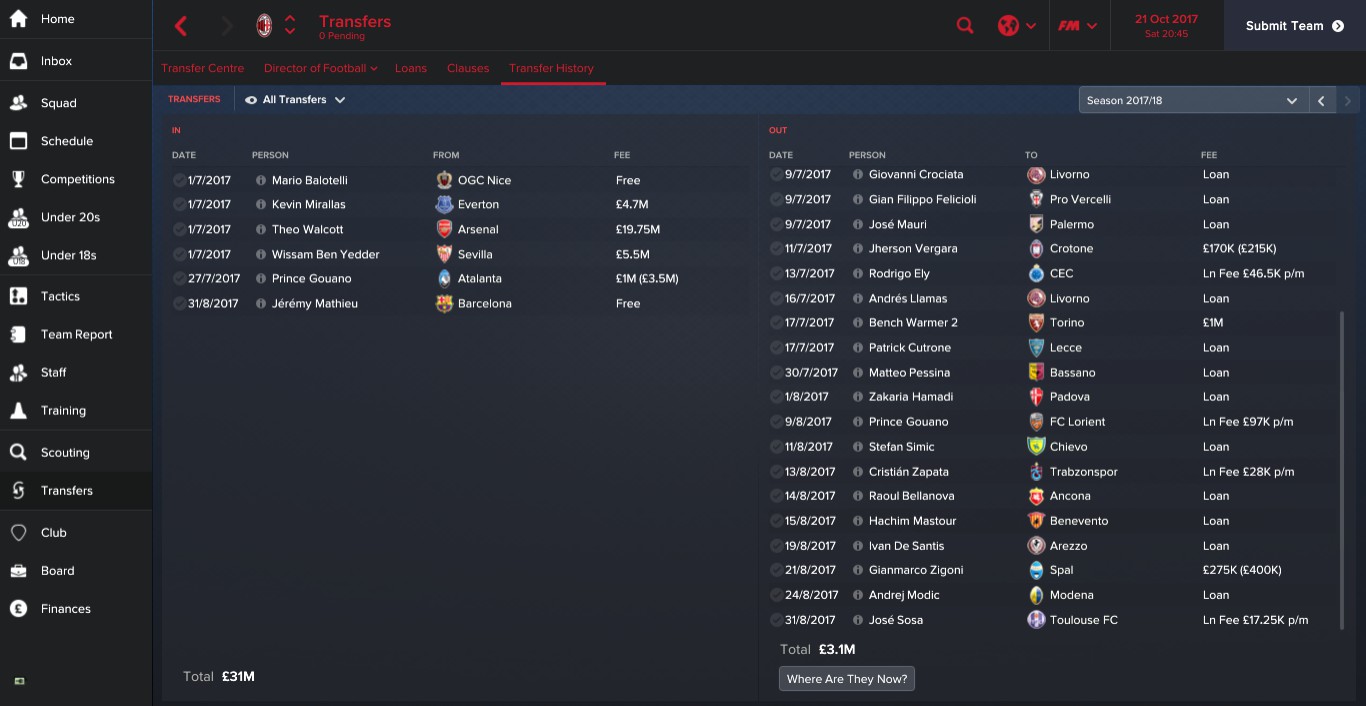 I've also tweaked our most regularly used formation, the Dogs of War into a counter attacking system. We're cranking up the tempo but employing more discipline. I was a spectator of a few too many red cards last season, especially in that last game against Torino when Concrete Ron was given his marching orders and Gumbau was forced to cover at centre half. My favourite #weareacmilan formation is now a 4-4-1-1 with control the order of the day.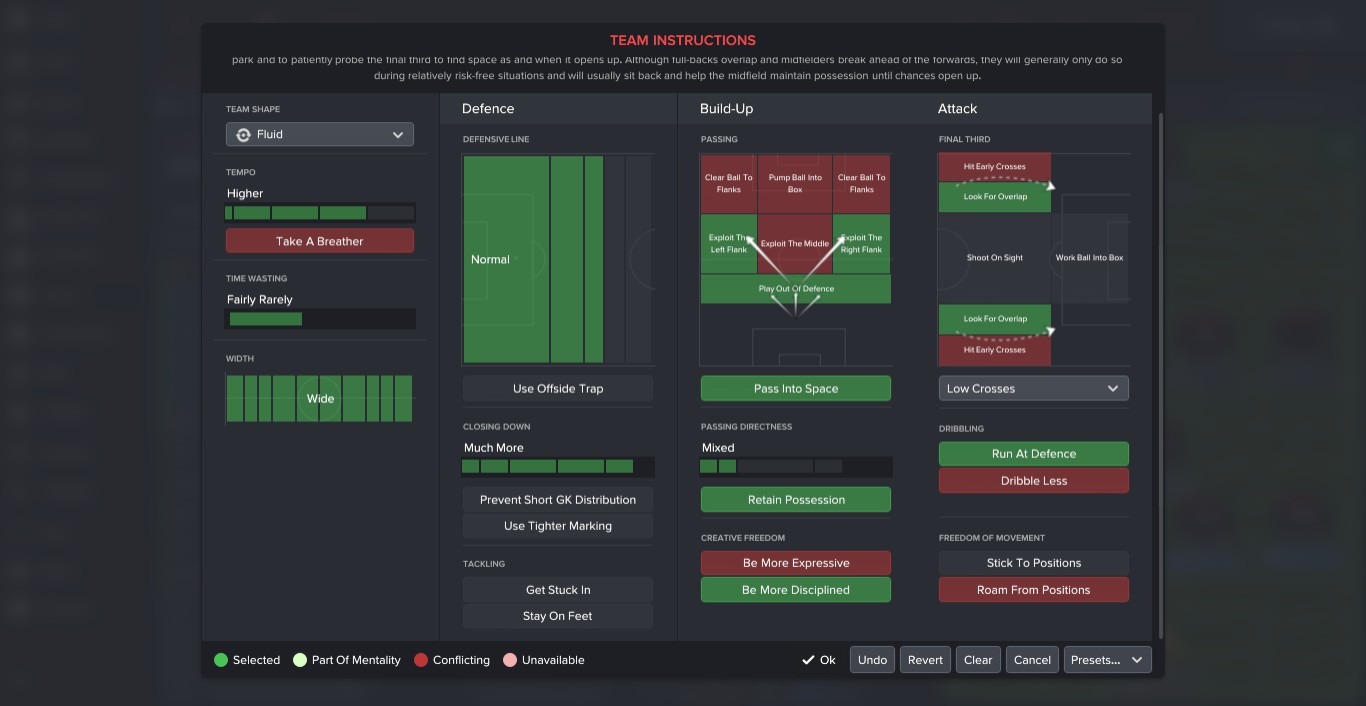 While Jorge Jesus was pissing around selling players for inflated fees – João Mário to Chelsea for £34 mil potentially rising up to £47 mil and Mauro Icardi to Liverpool (who also signed Belotti) for £44.5 mil potentially rising up to £61 mil (more than Charlie got in his game) – in addition to sending their best defender Kortney Hause out on loan to Palermo, I was optimistic about the season ahead.
We're seeded first in the Champions League for a start and Inter only brought in Sevilla's Franco Vázquez to replace the departed stars so count them out of the title race. Juventus won't get it right under Marcelino, we've all seen Brian Gendo's video of his reign at Valencia. The title is once again ours for the taking.
We started the season in good form by retaining the Italian Super Cup and defeating Barcelona in Iniesta's testimonial before the world came crashing down. A 3 – 1 home loss to Sassuolo featuring two red cards set the tone for the first half of the season.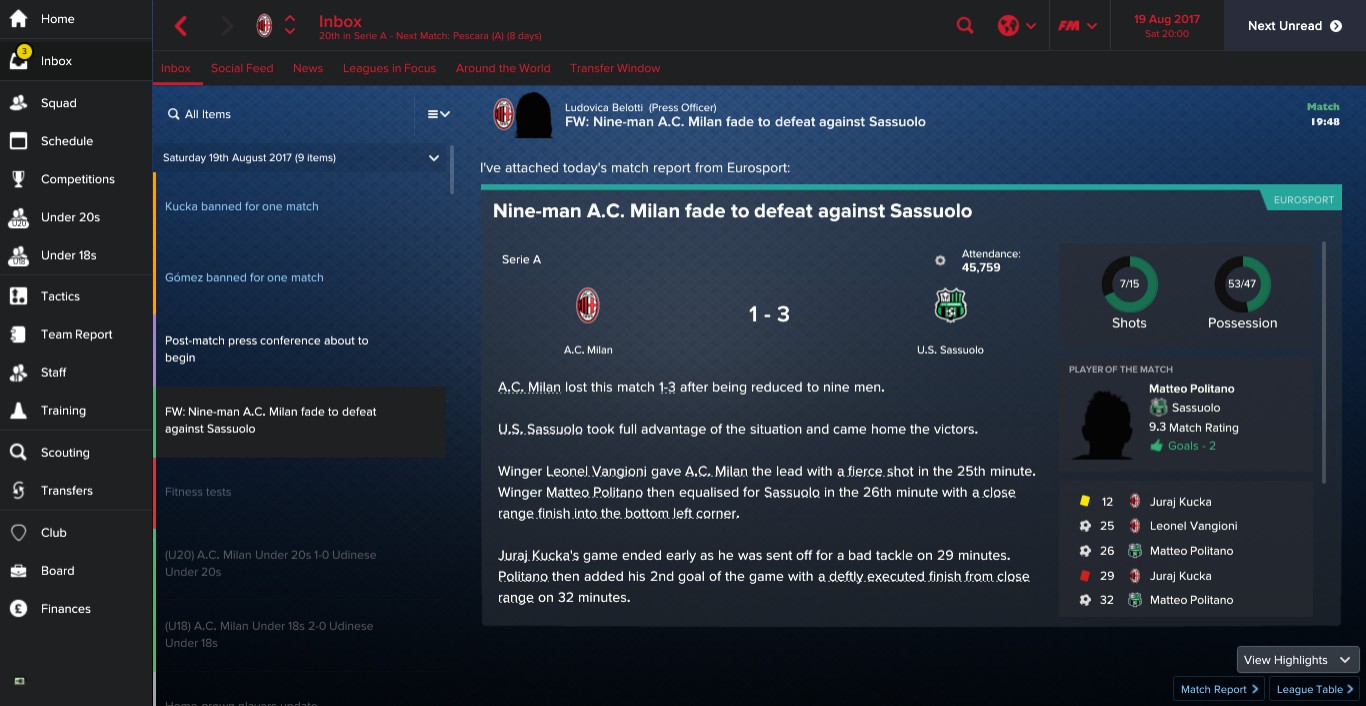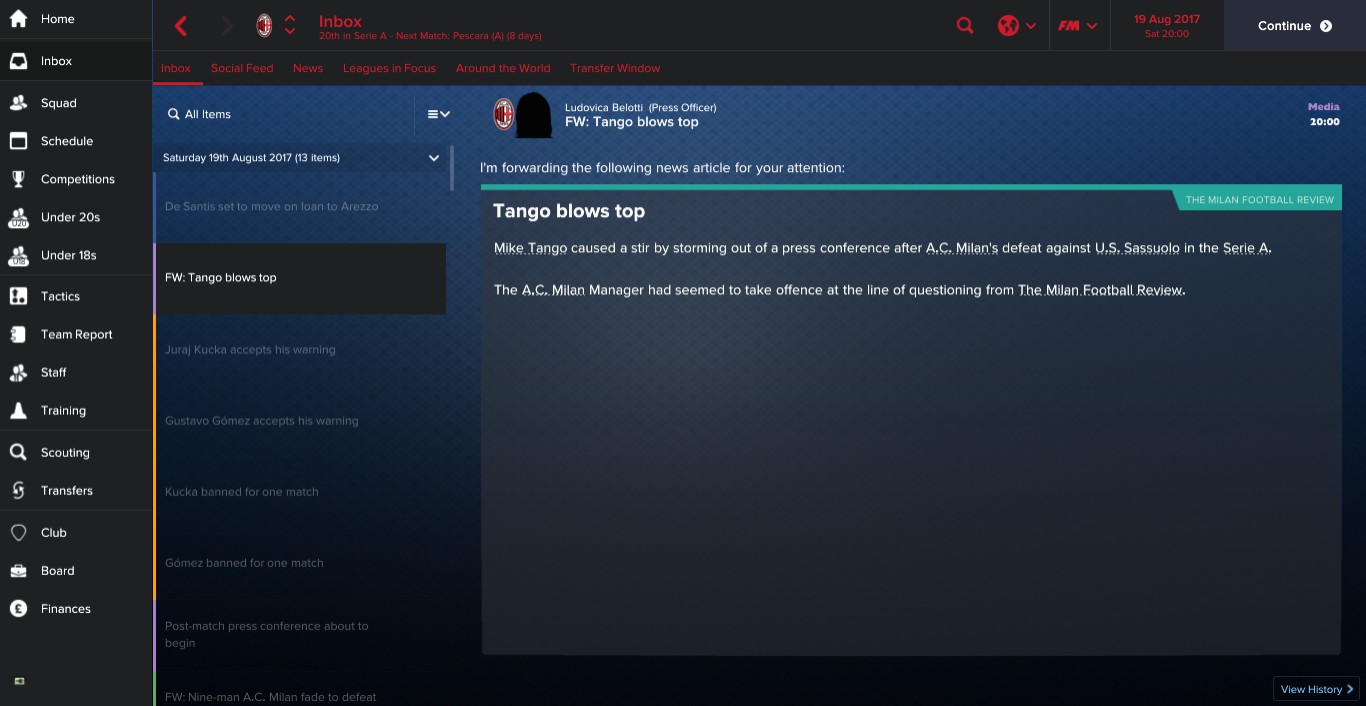 We then went on a 14-game winless run in Serie A. FOURTEEN BLOODY GAMES. Oh yes, the shine well and truly had worn off. At the time, I just felt the team were doing it on purpose to see me meltdown. I've since speculated that the team struggled to accommodate the new signings and cohesion wore off. Knowing full well that changing tactics didn't work the season before, I improved training with a couple of new coaches but nothing seemed to work in what was a harrowingly depressing start to the season. Wazza was also being a wazzock.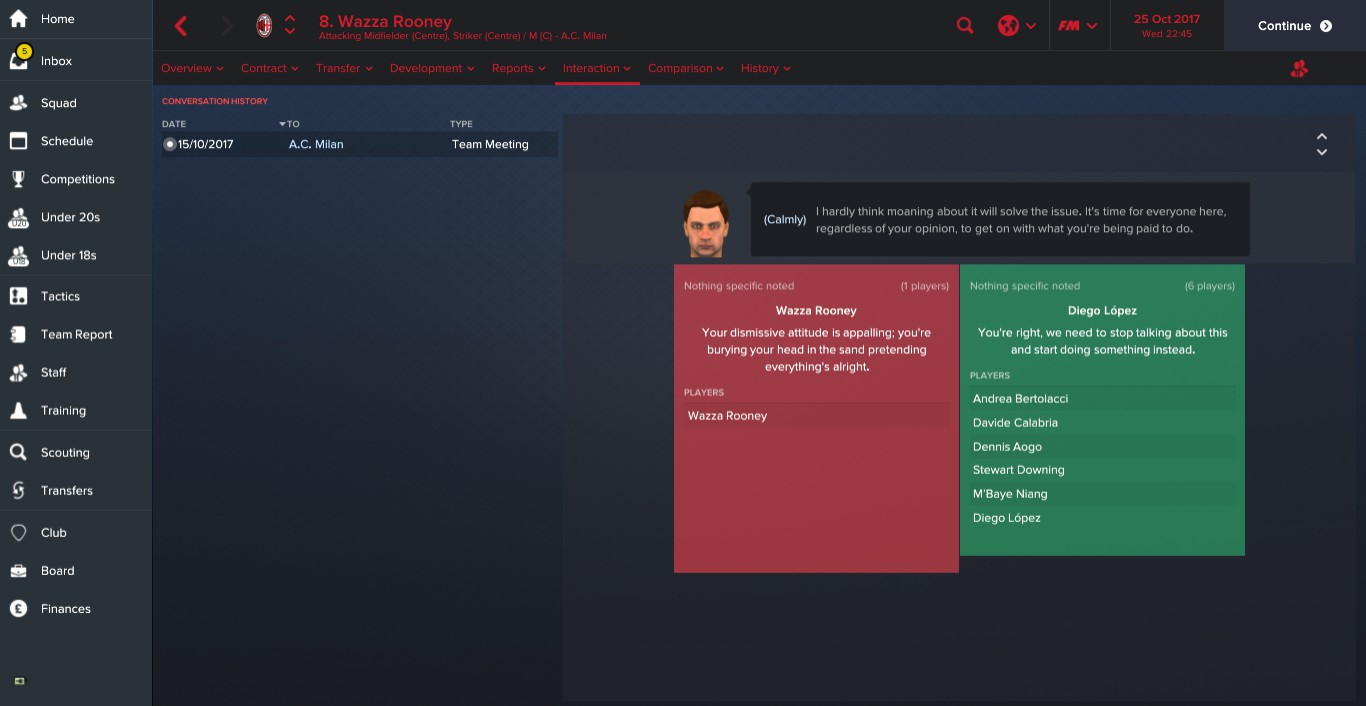 I don't like to stand on a soap box here, what didn't help us was 7 red cards in the first 10 games. While we're on the subject, I've played various incarnations of Football Manager for a few years and I've never seen a team get so many red cards early on. Just for reference, Montolivo, who was played mostly as a DLP or half back (not a ball winning midfielder because even Charlie has had problems with those walking a disciplinary tightrope) ended the season with 3 red cards and 15 yellows.
What was really frustrating was that running parallel to the poor performances and results in the league, was a cracking patch of form in Europe. Knockout round qualification secured in four group games with a flawless record, in the end, we'd win all six group games.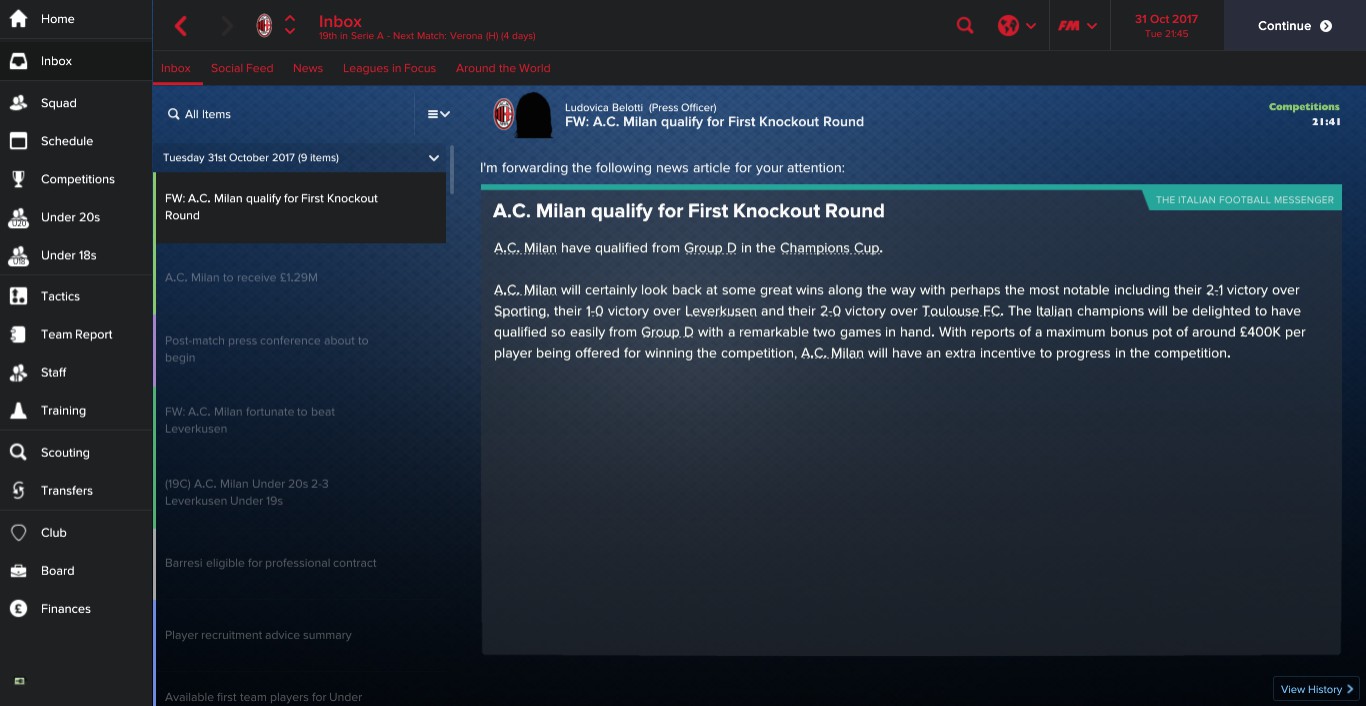 Flirting with the 'very insecure' status on more than one occasion, I have no idea how I wasn't sacked.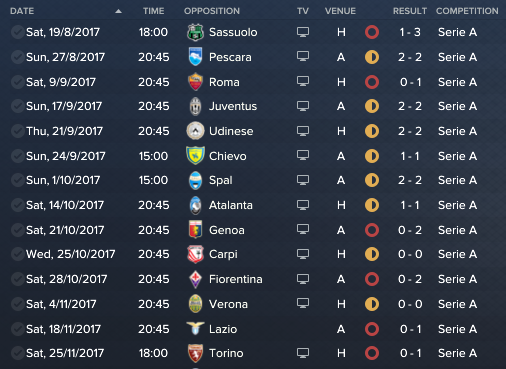 By the 26th November, we were in 20th and we had not won a single game in the league, having just lost at home 1 – 0 to Torino I was invited to speak to the board. I preached on my successes the season before and they just about bought it. I stopped talking to the press even though club legends like Ancelotti and Shevchenko couldn't resist putting the boot in, I ignored the players' weekly complaints and got my head down.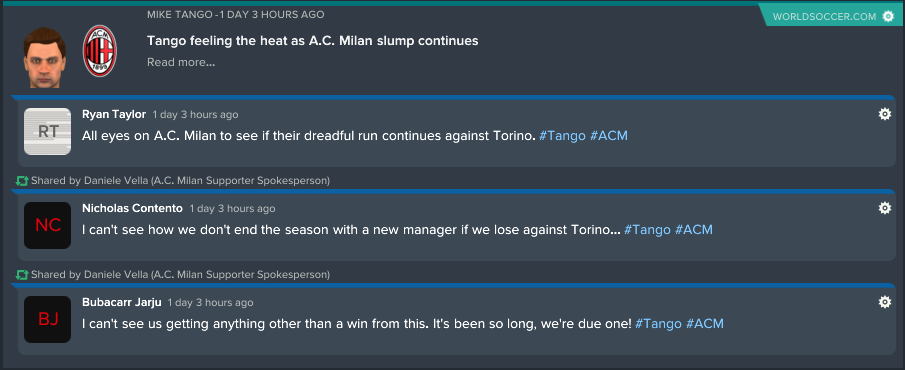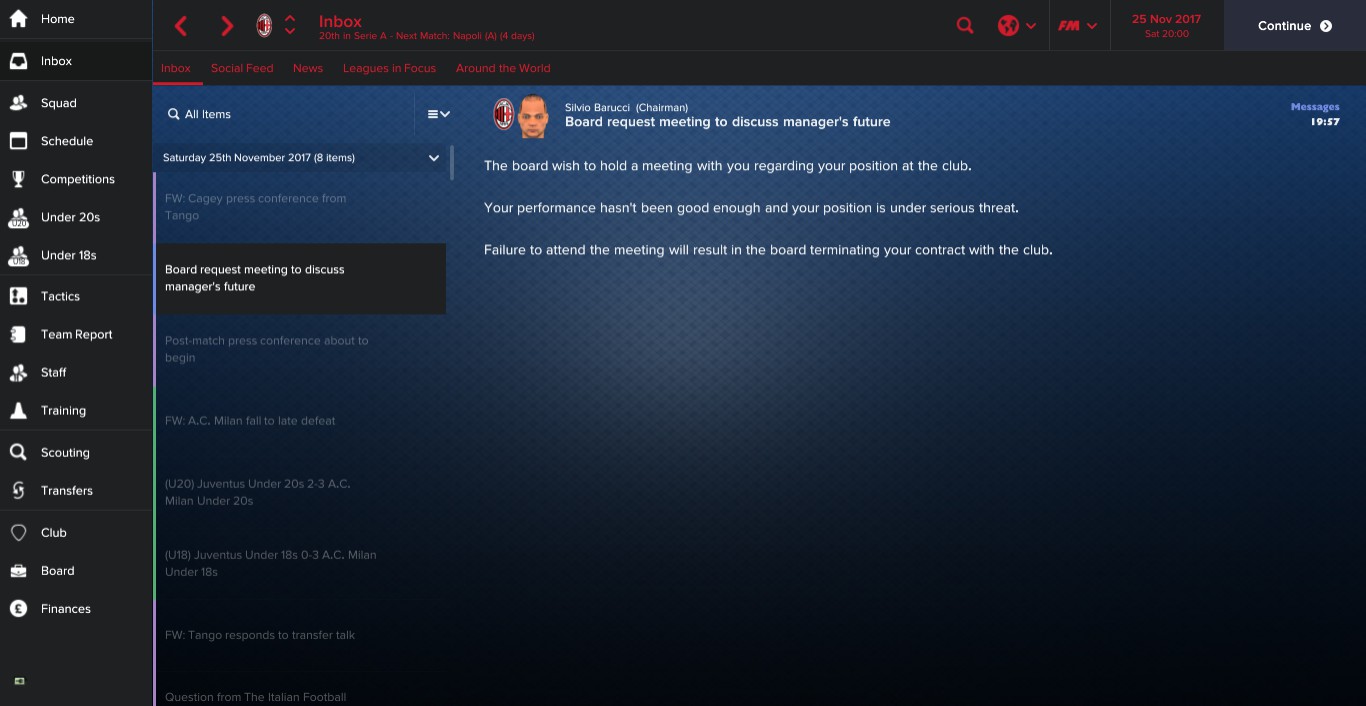 Then we went to Naples and everything changed. For the first time Theo Walcott displayed the form that made him popular with the Arsenal faithful all those years ago, Leonel Vangioni revelled playing further forward and Jérémy Mathieu's experience at the back was crucial.
Suddenly in complete contrast to the start of the season, we were relentless in gaining result after result. With Walcott purring on the wings, Wazza providing the ammunition for Bacca and new signing Matteo Darmian slotting in at left back, we established a seven game unbeaten streak including a defeat of Sassuolo, who will always hold a special place on my most hated list for that opening day massacre.
Okay, I have to confess something and address the elephant in the room. I wanted to jump ship. Desperately I was seeking a way out.
I felt as if I were Claudio Ranieri. All of a sudden the achievements of the season before forgotten, the legacy I had created bludgeoned and spat upon. The board and Wazza Rooney, who I gave a fantastic contract to and gave him playing time when he was shunned by Mourinho, abandoned me. Just as this revelation hit me, just as Claudio Ranieri's name entered my mind, Leicester City offered an interview. In 7th place, still within reach of Europe and basically with a good squad.
I wavered but I was the bigger person. I would not walk out on the Rossoneri and taint the reputation I had earned. No, I knuckled down and achieved what was expected of me at the start of the season, a Champions League quarter final place while watching Inter flounder in eleventh place and Jorge Jesus binned off after less than a season. I expected Atletico Madrid to end our European participation at the quarter final stage but an injury to Jan Oblak in the second half of the first leg after all their subs had been made saw us establish a lead, one what we would protect in the second leg in the Estadio de Madrid.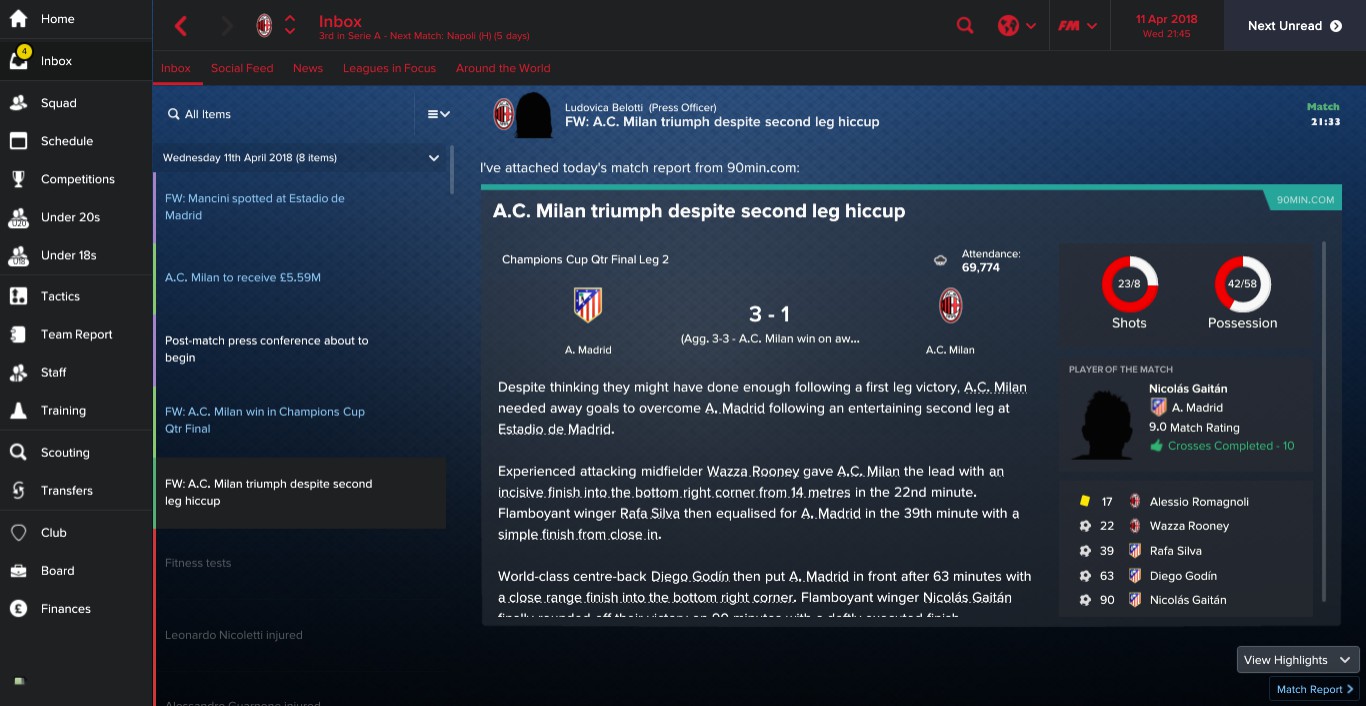 The European dream would take us from Wembley in the first knockout round through Madrid, to the beautiful Estádio do Dragão in Porto and sadly end in Ukraine's Olimpiyskiy National Sports Complex. On the very field that hosted Italy's 4 – 0 embarrassment at the hands of Spain in the final of Euro 2012, we couldn't quite finish the job. We were well beaten, battered if you look at the difference in number of shots, but at least we were there to be beaten.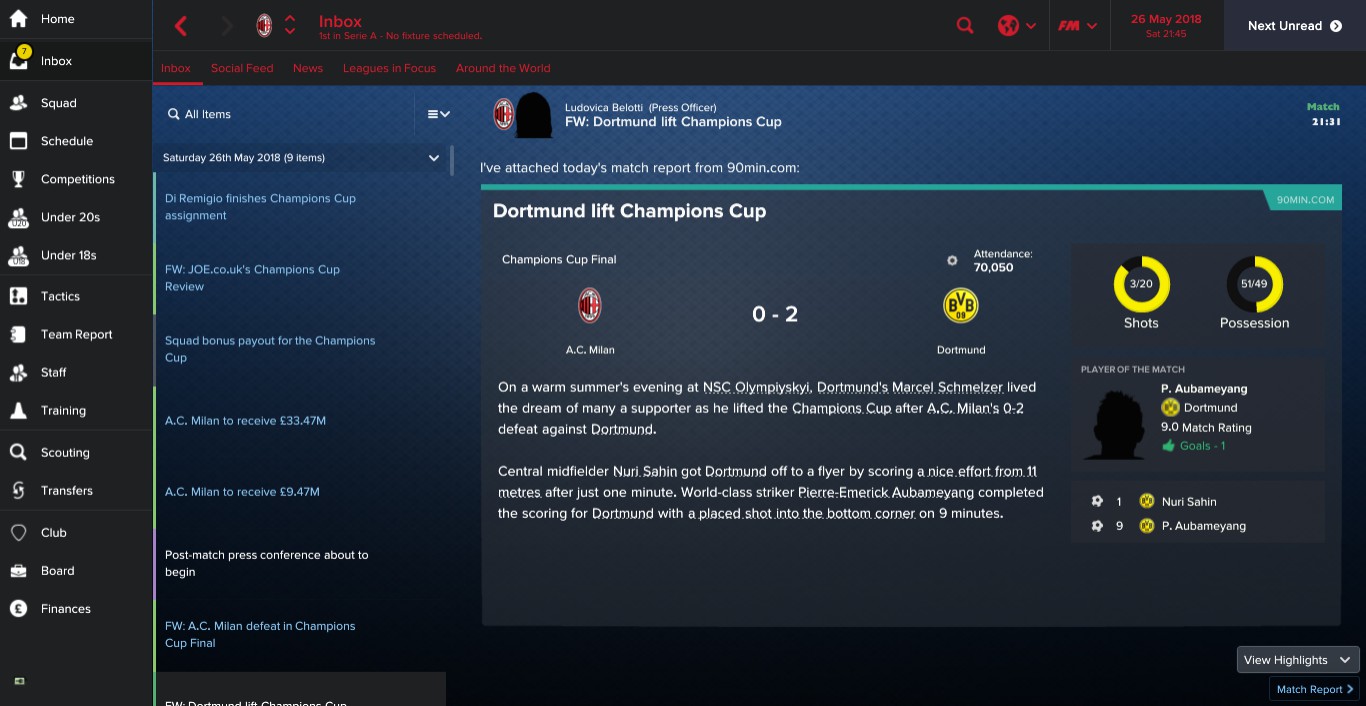 Following the winless run and turning things around against Napoli, we would only drop two more points (away at Roma) over the entire season. Our ascension saw us claim scalp after scalp, slowly climbing the league table until we overhauled Napoli as they visited the San Siro to move into second place.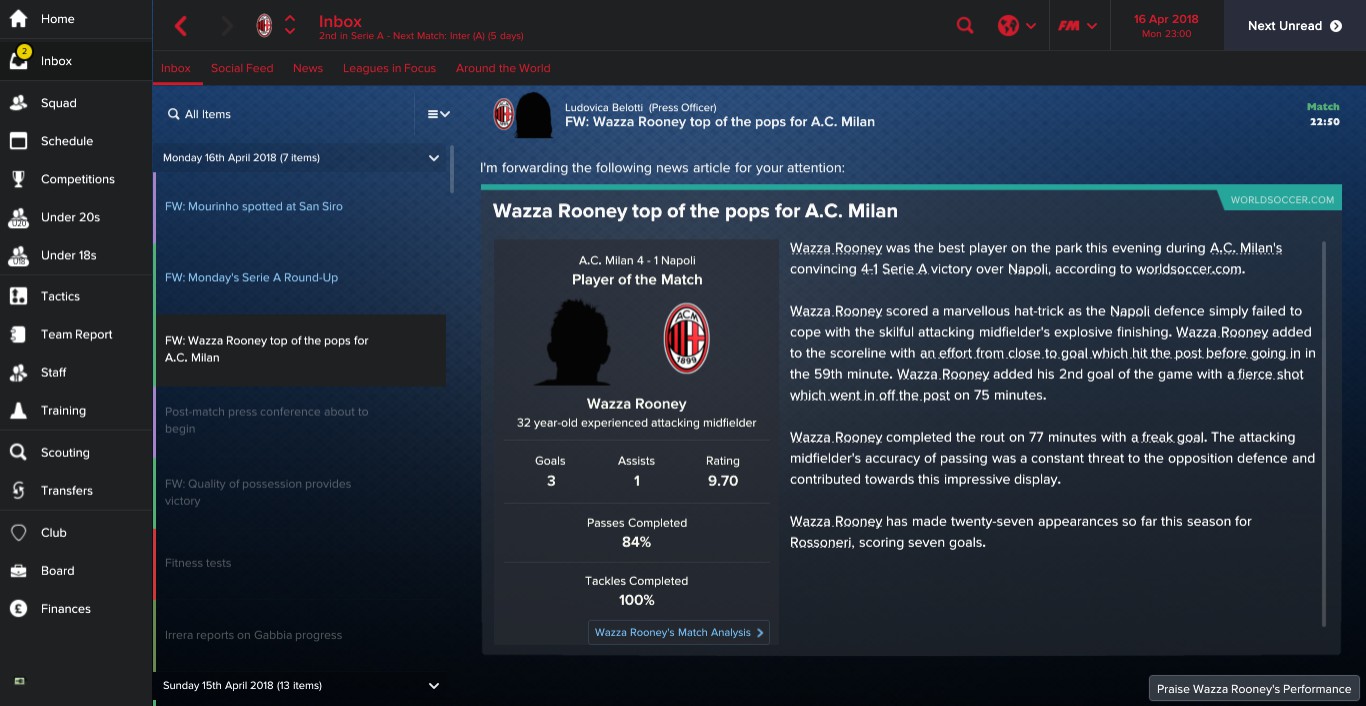 That just left one, Juventus, the team tipped by the bookies and every single member of the press core if their questioning is anything to go by. With three games to go we sat second, two points shy of Marcelino's team. It took a narrow Milan Derby victory over Inter, who laughably had turned to Walter Samuel to save their season, and defeat of Bologna to regain our position at the summit, one that we would keep hold of in the last match of the 17/18 Serie A season and I'm not proud nor ashamed to admit tears formed in my eyes. As Daniel Storey said on Friday in the aftermath of Arsenal's comeback victory over Leicester; the sweetest triumph is the one earned after staring disaster square in the face.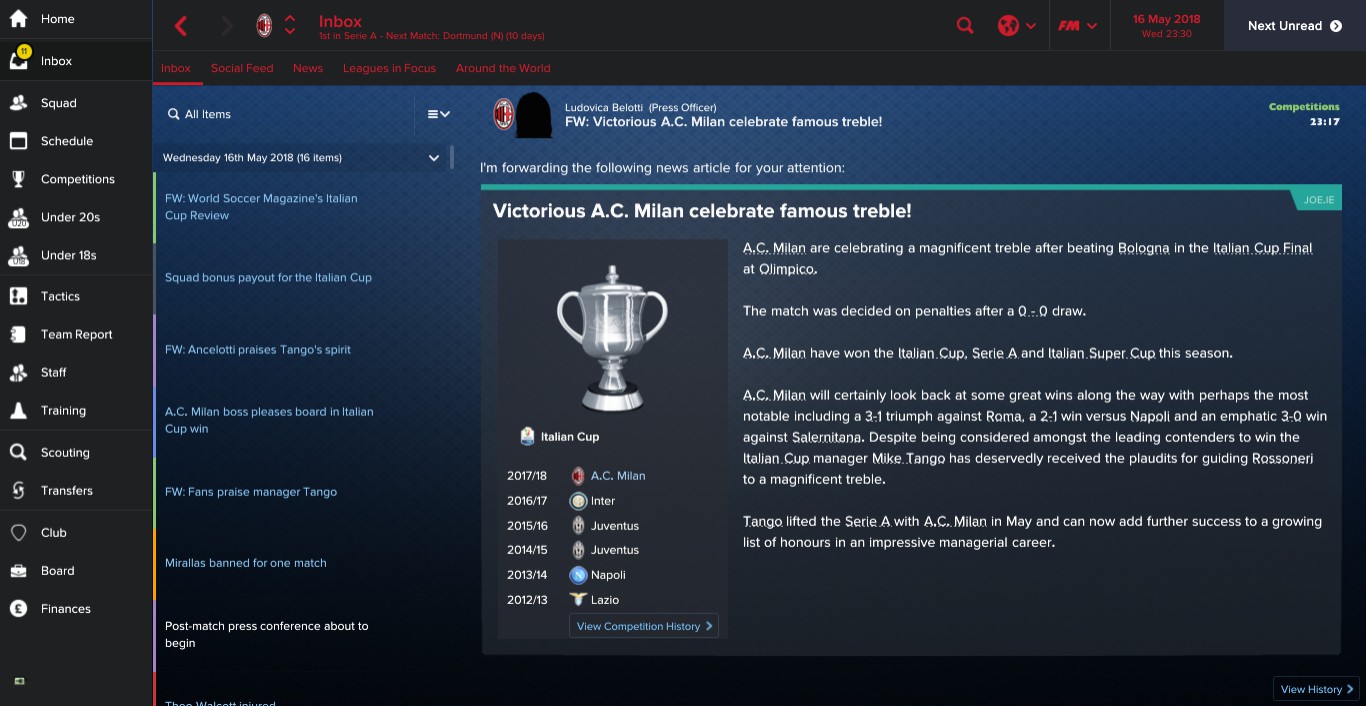 The tears were wiped away quickly. My emotions were overruled immediately by the memory of the board callously demanding results, Wazza Rooney and countless other players complaining about my managerial methods and club legends sticking the knife in my back at every turn.
Now, and only now, I abandoned them as they had abandoned me.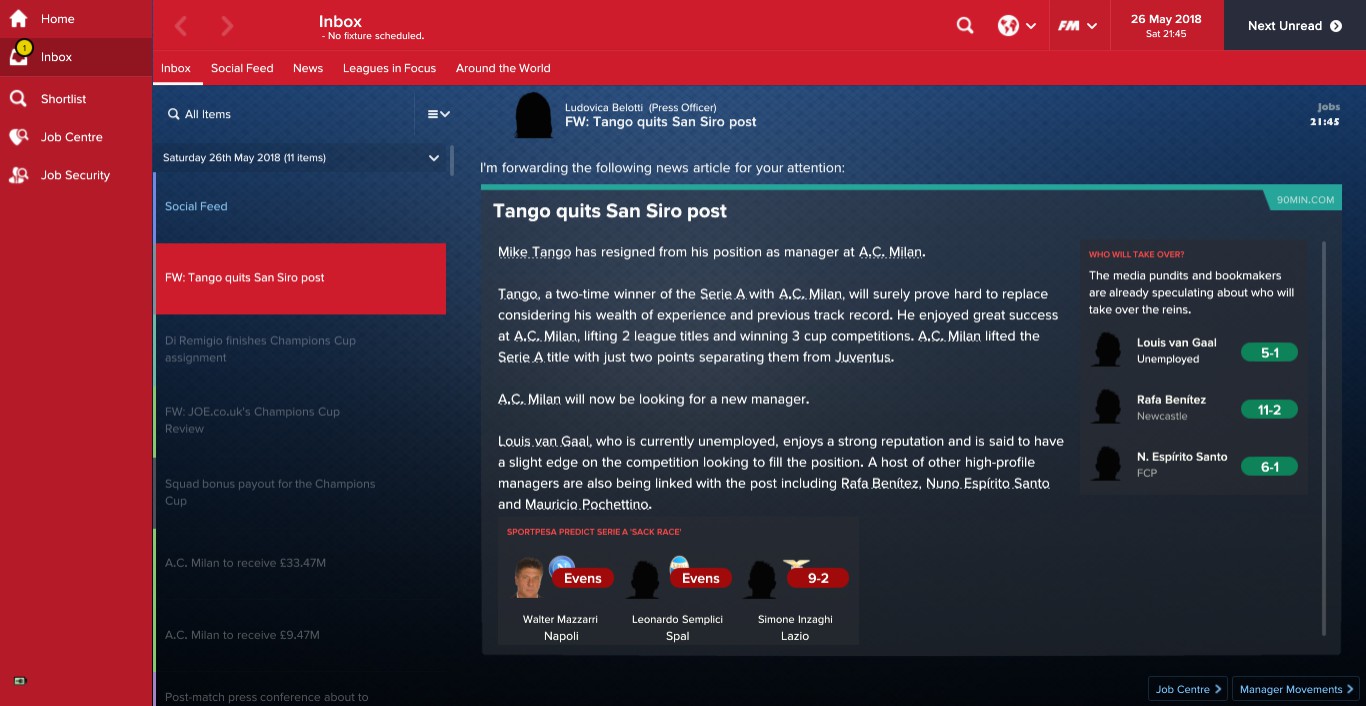 It's funny how things work out because just days later, I spotted a vacancy. I hadn't planned to play on, I didn't even want to play this season out to start with, but I now have a renewed determination. The likes of Wayne Rooney and Li Yonghong won't have the last laugh.
I have to beat them.
I have to become European Champion.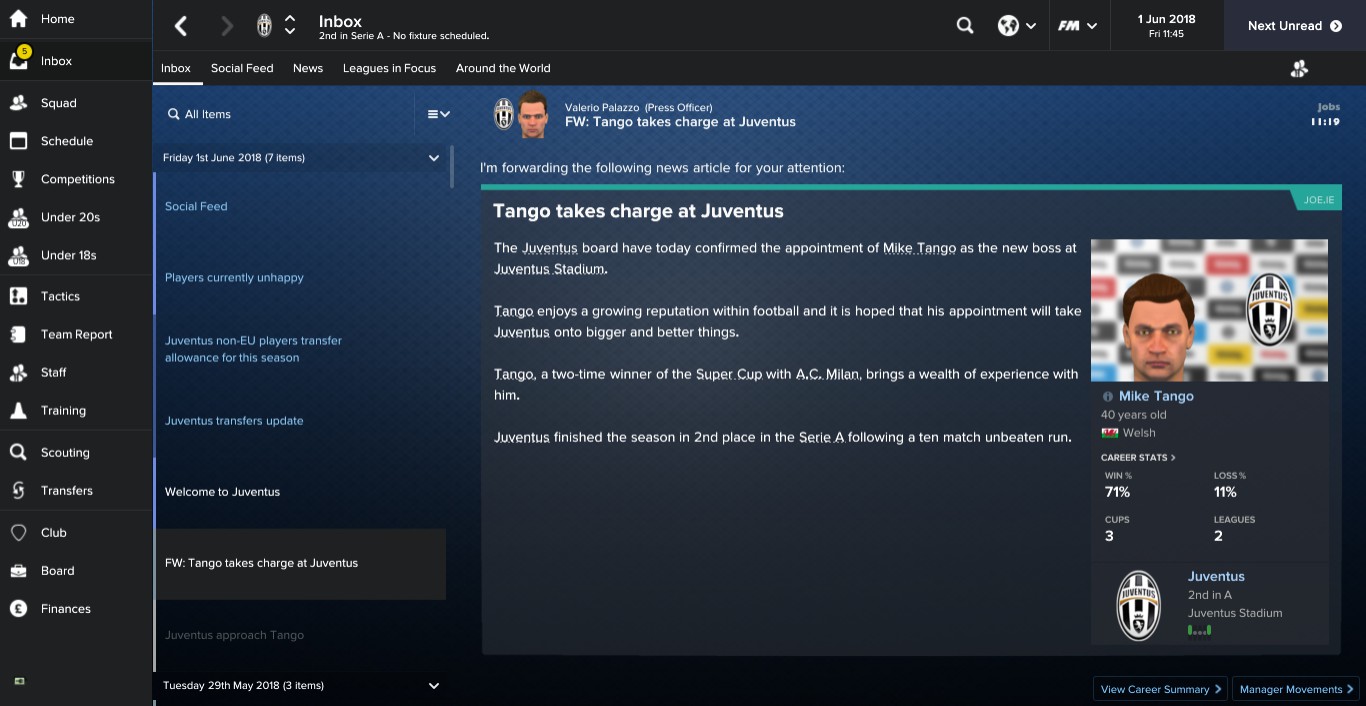 Thank you for reading, join us on twitter at @FM17Challenge, @CharlieTangoFM & @MikeTangoFM for exclusive comments, developments prior to episodes and reaction afterwards. Continued thanks to Chris, Mike Pearson and everyone at Tempo for the opportunity to share this with the readers.