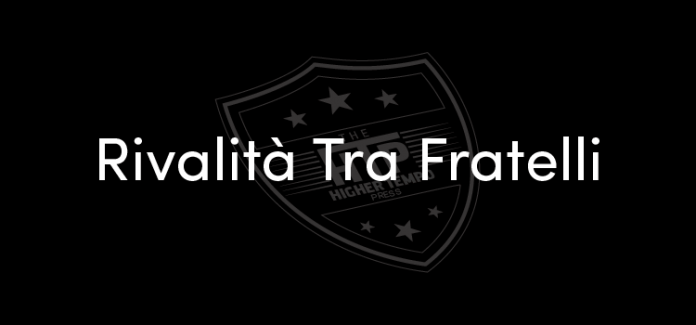 This is the story of two brothers, a modern-day Cain versus Abel if you will, based in the northern powerhouse Italian city of Milan. If you'd like to replicate this challenge, we're using the updated medium database with the following leagues: England (Premier League, Championship, League One & League Two), Italy (Serie A & Serie B), Spain (La Liga & Segunda División), France (Ligue 1 & Ligue 2) and Germany (Bundesliga & 2. Bundesliga).
Rivalità Tra Fratelli, Episode 18 – Inter Milan Revisited
CHARLIE: Just when you think you're out, Football Manager has a harrowing way of dragging you back in no matter how much you kick and scream. To be fair, I wasn't kicking and screaming too much. The review edition last week soothed my frustration, as did carving up the save so that I could retire a certain M. Tango, from Chorley.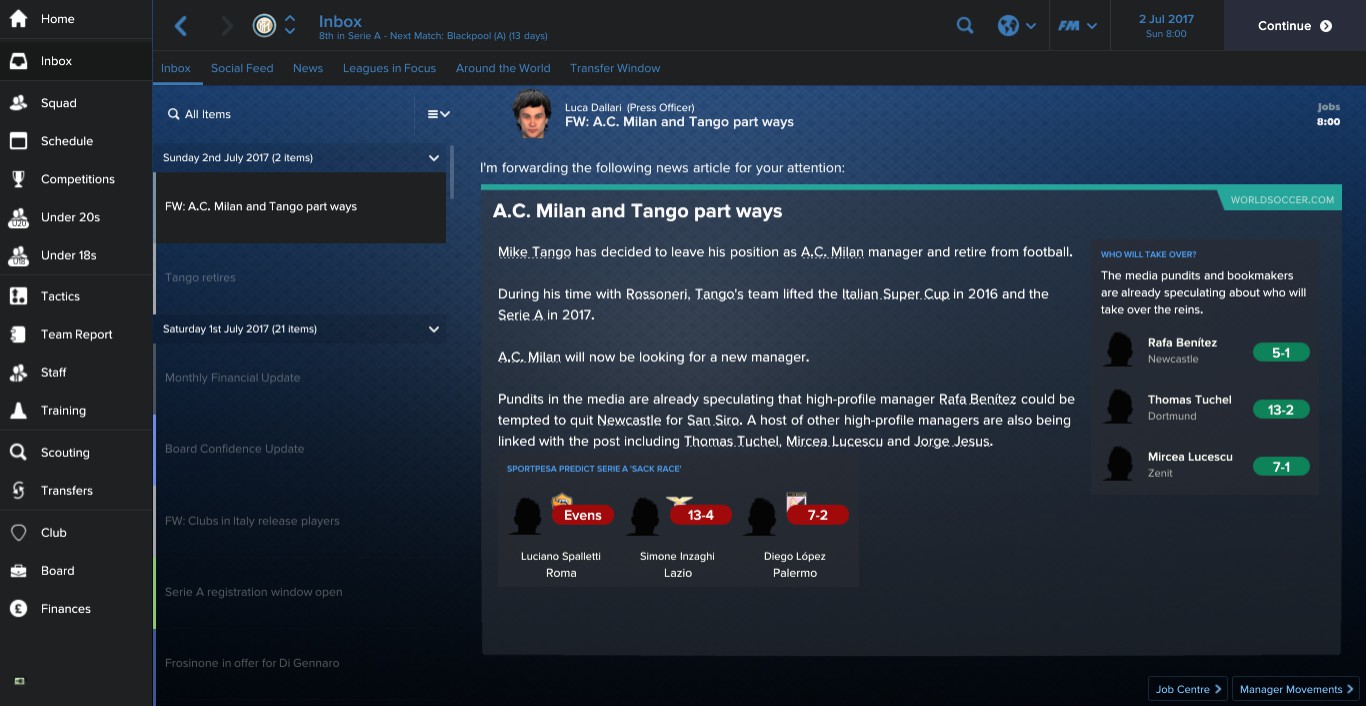 Starting another season forced me to go back and read the early editions of Rivalità Tra Fratelli to see how I approached the 16/17 campaign. I cringed as I read our early exploits, I'm hard on it, but aren't we all hard on our early stuff? Remember that essay you wrote when you were in school, the one that got you an 'A', the one your teacher described at parents evening as 'inspired'? There you are one day going through your old belongings and you find it, you read it and despite initial buoyancy your heart sinks. The words coming to mind are, "Jesus H. Christ, what was I thinking?" That's how it is with early columns sometimes.
The big news leaping off the page is the decision to sell Mauro Icardi. In truth I committed to sell Icardi at half-time during that last Juventus game after he was utter tripe. Again. What's more, Manchester City's disruption of my top striker resulted in exactly zero bids. Dortmund attempted to low ball us at £42 million but the Kloppster and Liverpool stumped up the cash. I genuinely hope that he scores a hatful against City following their unwanted coveting of the Argentinian.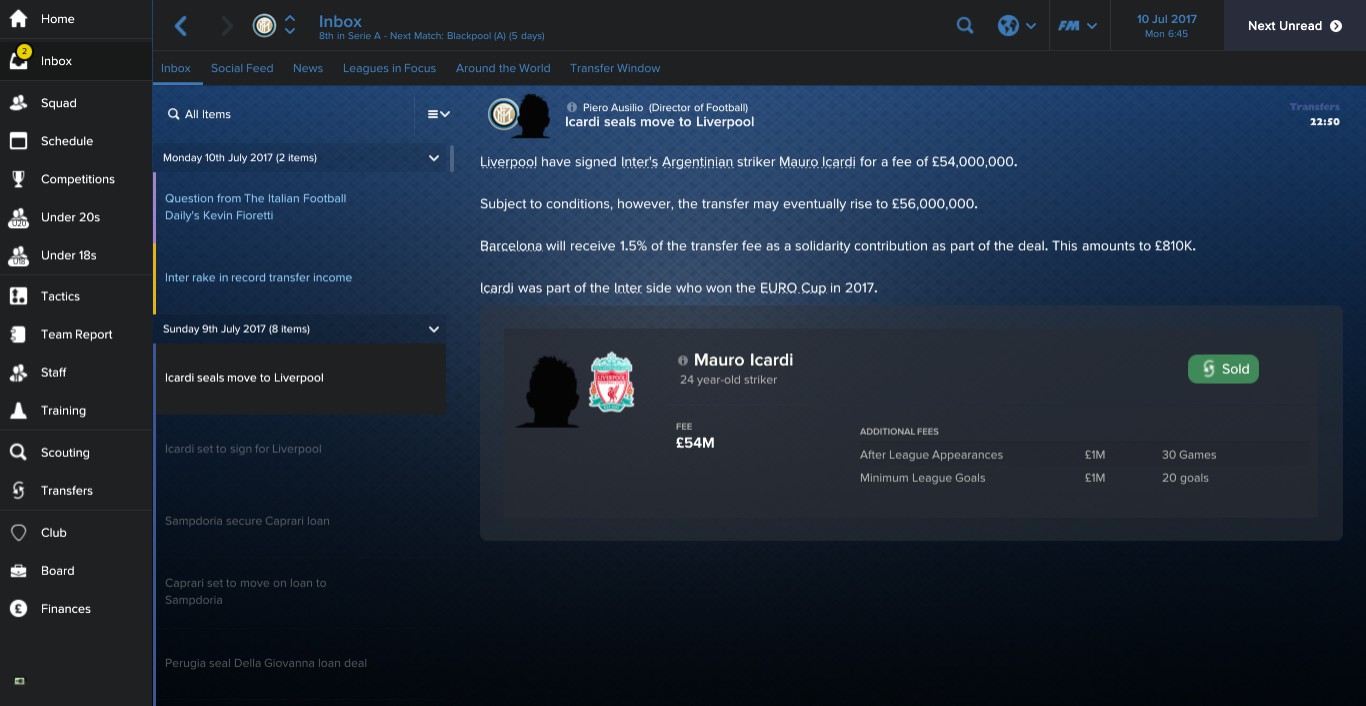 Icardi's replacement caused a sleepless night or two. The perfect striker for the systems we employ is clearly Romelu Lukaku but he's Belgian, expensive and after receiving some stinging criticism from the press about not signing Italian players, I felt that our new number nine must be a native. That really narrowed it down to two; Andrea Belotti and Manolo Gabbiadini – the latter was not a regular starter for Southampton in 2016/17 and that could have been one of the reasons they suffered relegation… or he wasn't good enough to get in their team. In the end, it's that last concern which led me to Torino's doorstep.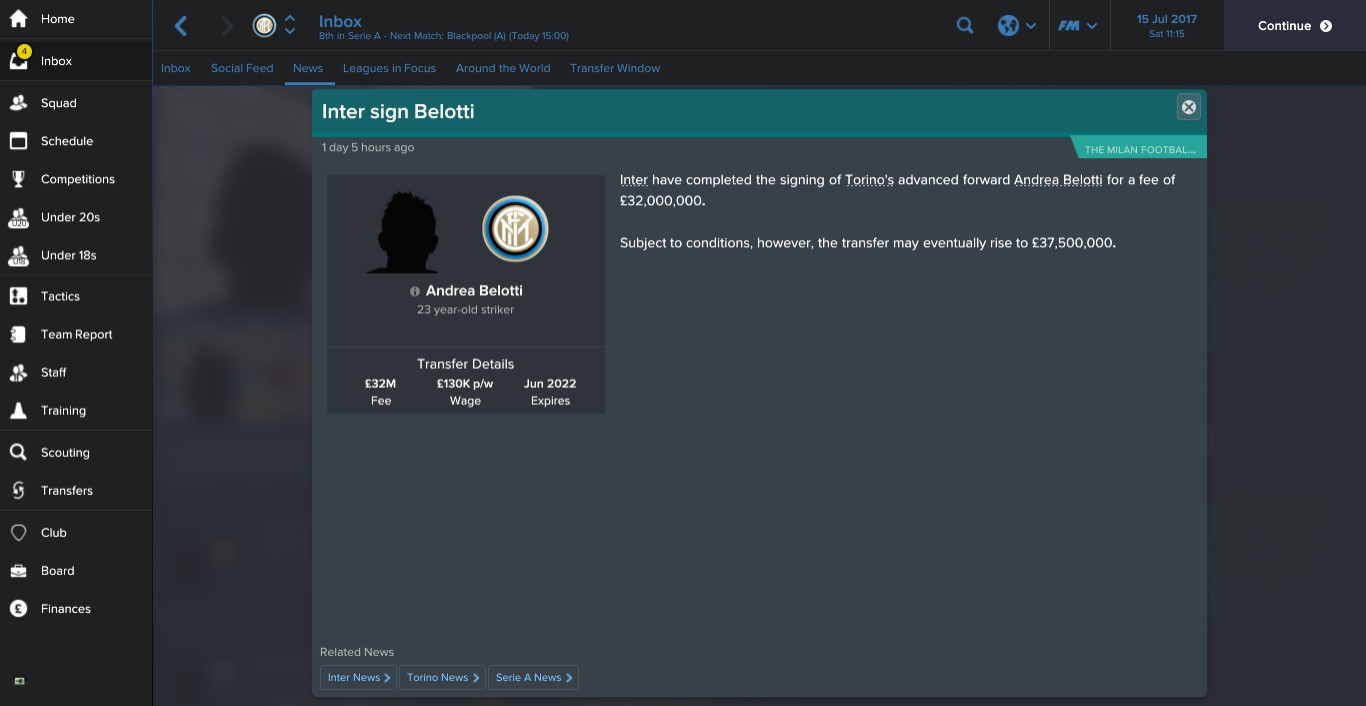 I would like to admit that submitting a Belotti goal for the Tempo goal of the month competition (please all vote), may have ruined this. My bad, folks.
In terms of other transfers, a group of young prospects like Borja San Emeterio (Sevilla), Fran Villalba (Valencia), Ingoglia (Trapani) and Lorenzo Dickmann (Novara) have come in to supplement our Under 20's. Éder's move was made permanent in a transfer arranged prior to my arrival and Marcel Sabitzer has been recruited from RBL to provide competition on the flanks. We've spent £65 million but recouped £87 million with Icardi's sale, in addition to Miranda leaving for Manchester United and players who were out on loan such as Caner Erkin and Stevan Jovetic being flogged for reduced fees to get their wages off the books.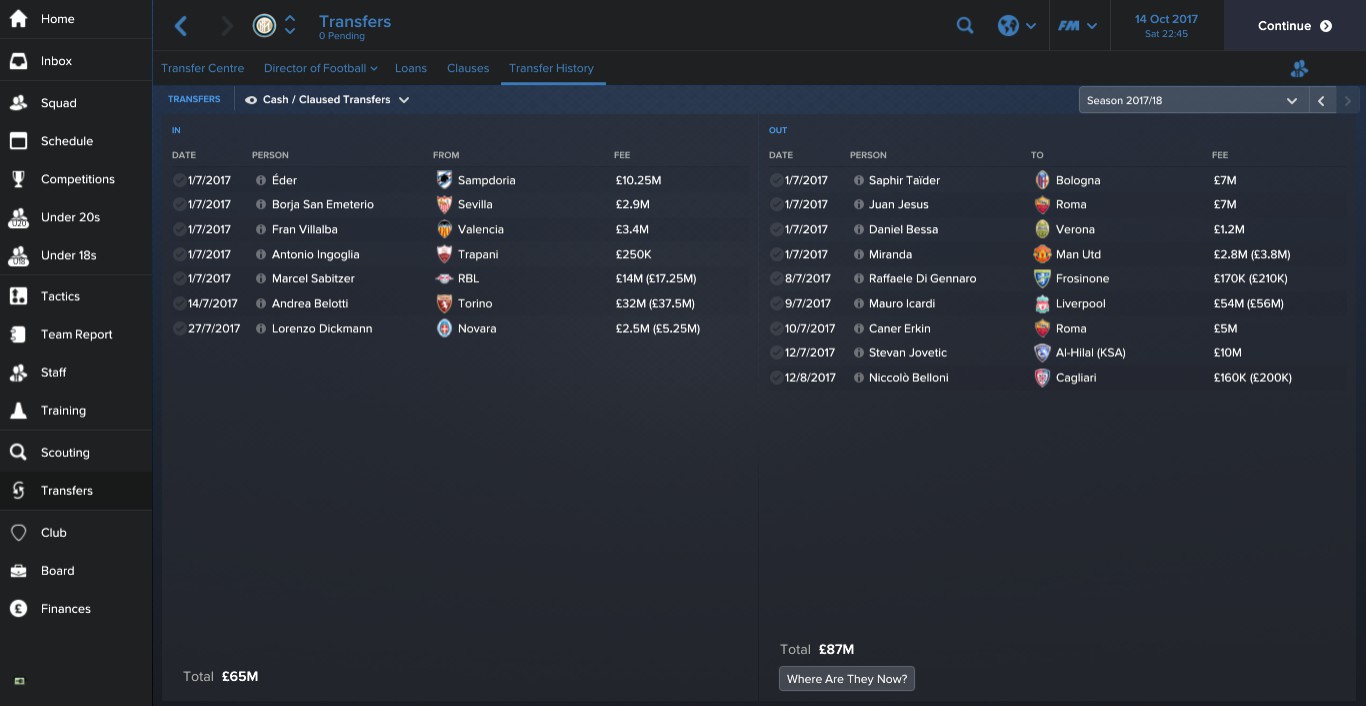 The early major engagements worth noting are the two Super Cups as a result of our tournament triumphs last season, first we take on AC Milan now managed by former Barcelona and Roma coach Luis Enrique, then we come up against Champion's League winners Tottenham. Preparations are, as usual (as longer serving readers will know all too well) halted by Kondogbia demanding a transfer to Monaco. This time, somewhat fortuitously, the replacement I have identified is Monaco's own Tiémoué Bakayoko so any bid will be met with a demand for an exchange.
Despite being more than a tad intrigued that Luis Enrique hasn't exactly selected his best eleven, Donnarumma and Montolivo finding themselves benched, and Hachim Mastour playing as a left winger – neither of us have even heard of him – it's a professional job required without the injured Candreva. Antonio is now our Captain but it's the new man, Belotti, who impresses with a brace and would have had a hat-trick if I'd remembered to add him as a penalty taker. 3 – 0 didn't flatter us in the slightest and perhaps suggests that Mike overachieved with very similar players. It was a proper derby as well, with 12 yellow cards shown.
Tottenham won the Champion's League, beating Arsenal in the final and I can only imagine how the Spurs fans crowed about that. It still boggles my mind that all my Spurs supporting friends care more about finishing above Arsenal than winning silverware. Small club syndrome. In any case, they didn't add the European Super Cup to their prize haul as it was donated to us, quite surprisingly, by Eric Dier and his red card. Up until that point the game had been fairly even, although one could argue Spurs shaded it. After the red it was academic, Barbosa came to the party late on and 16/17's number one striker according to our team of season opened his account with a brace.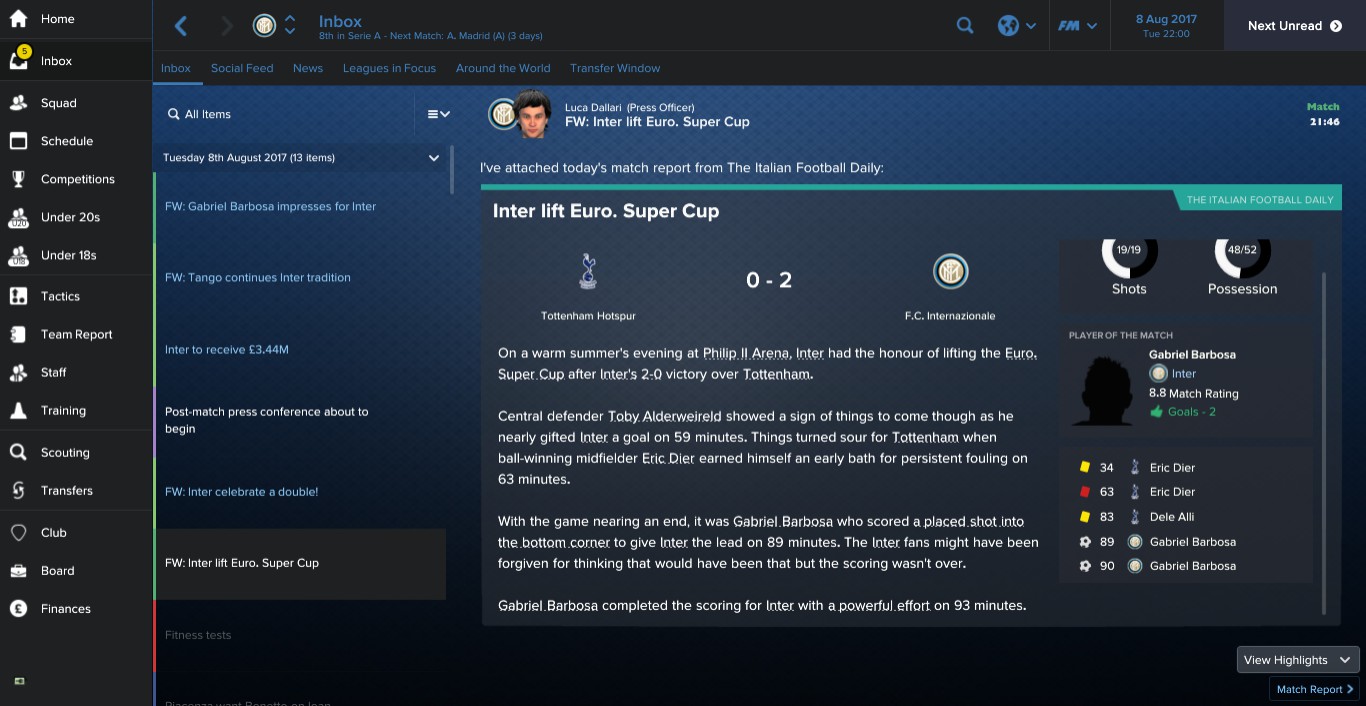 I'm told revenge is a dish best served cold, although Mike is acting a little weird when I ask his ideas about how best to get revenge. I'm concerned about him. I don't think his second season with AC Milan is going well and all the light has gone from his once sparkling eyes. I was lucky (or unlucky) enough to hear him talking to his players via the cat earlier today because morale has dropped to a level where the players would only speak to him through an intermediary and he's convinced they're all talking about him behind his back on a plane ride over to London. Not that the bar is very high at all in Tango Towers, but that does represent a new low.
My revenge is to be found against Roma, my old nemesis and one of two teams responsible for my losses the season previous. Now it's time for the corresponding fixture, the last time they visited the San Siro to play us we practically bent over. All I can hear is Bob Willis complaining after a catch inevitably goes through the England slip cordon; "After you Claude." Not this time. There's no Radja Nainggolan to cause a week's worth of nightmares or even an Antonio Rüdiger, who is out on loan in Spain. I'd have taken him on loan. There is a Gylfi Sigurðsson though, plucked from the Swans for a paltry £14 million.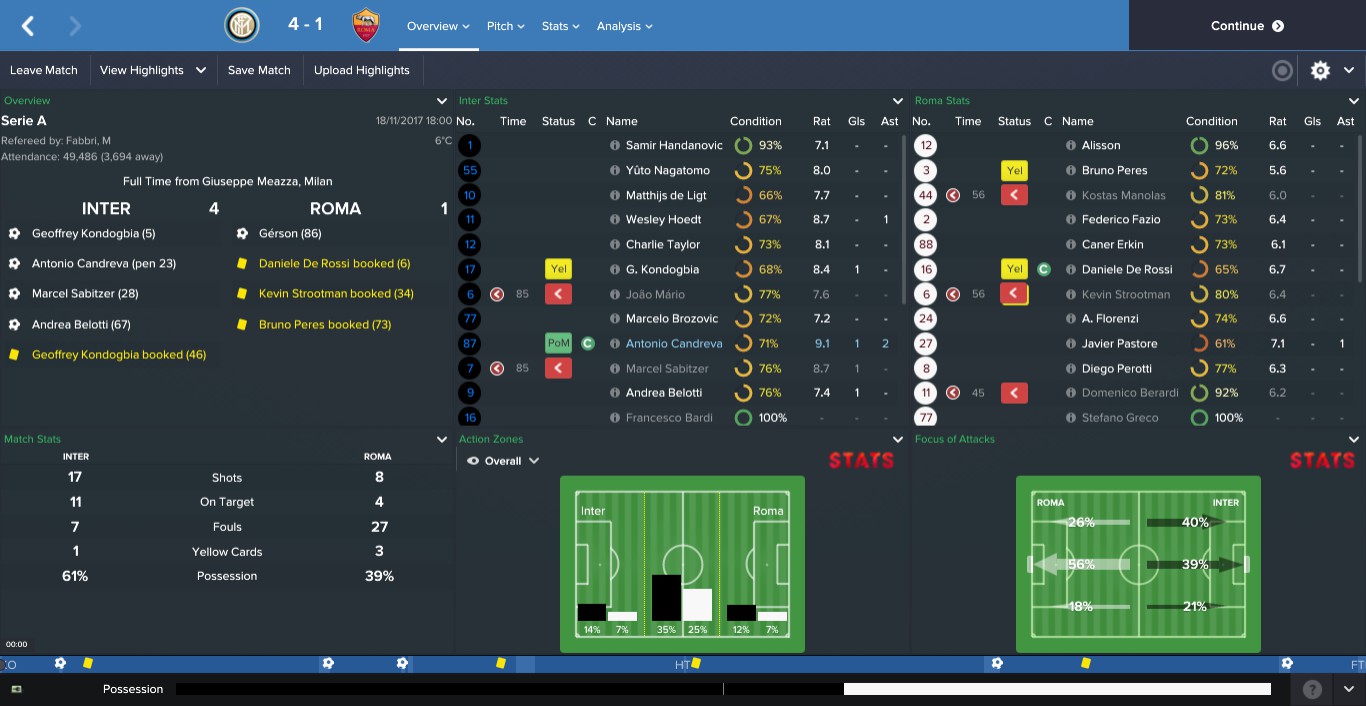 Gabriel Batistuta, Damiano Tommasi, Vincent Candela, Francisco Totti, Daniel De Rossi… your boys have taken one hell of a beating! Sweet revenge for the demolition the season before has been achieved. No longer will I break out into a cold sweat when I hear the name Radja Nainggolan. He's busy partnering Paul Pogba in the Manchester United midfield.
The defence of our Italian Cup, won in that damp squib of a match against Lazio, ended in a penalty shootout in the San Siro at the hands of Napoli after a 2 – 2 draw. It was never a board priority, I can let it go. It's interesting to see AC Milan overcome Juventus in the quarter finals, considering they are struggling in the league. Luis Enrique finds himself in an 'insecure' job status with AC down in seventh, which is pretty much how their season in the real life 16/17 Serie A went. It does again speak volumes how much Mike managed to get out of a squad clearly below par.
I am missing Mike… somewhat. I'll just take you behind the curtain into Tango Towers and let you know how episodes are produced. I sit here fastidiously making notes as we go along to just tidy up later, Mike's method is to make handwritten notes along with the occasional word processed comment and I have to spend as much time as it takes to upload the entire episode as it does tidy up his scribbled notes.
The second bout of revenge comes with the visit of Juventus, the very game the season before that ended our titles hopes when Mike's AC Milan left the door wide open with a draw against Torino on the last day of the campaign. What's more, it's a title shootout. Like Brian Clough in The Damned United, I meet them out in the car park. I want to see the whites of their eyes. This is the moment for my list for the season to be completed. When the campaign started my five-point priority plan in this order were; run Radja Nainggolan out of Italy [Done], replace Mauro Icardi [Done], avenge Roma loss [Done], defeat Juventus at the San Siro and win Serie A [Not Yet Done].
If I don't beat Juventus here at home, I will need to do another entire season just to fix my karmic kilter. Alas, that is not required because despite an early setback in the second half with Paulo Dybala firing the Old Lady in front, we score four goals without reply capped off by two from Icardi's replacement, Italian hitman Andrea Belotti, to claim Serie A for ourselves.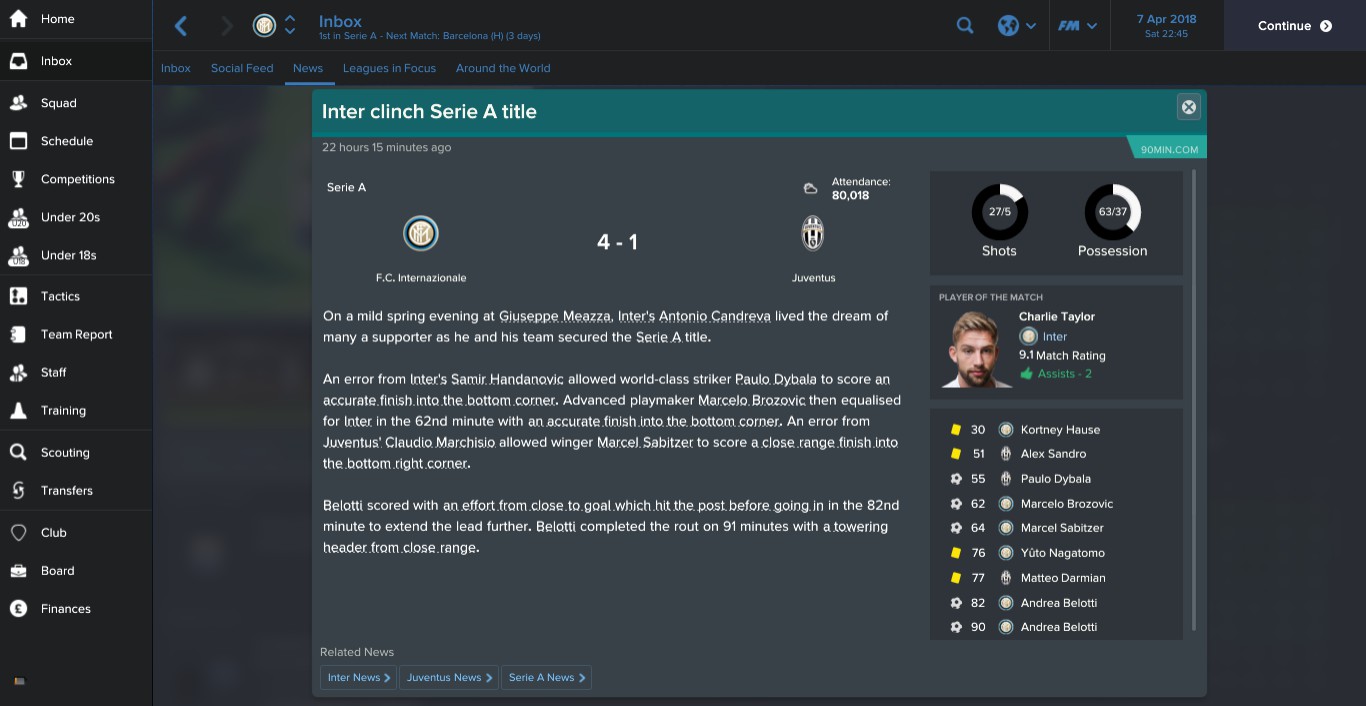 We've won three trophies, all within spitting distance of my 100 game celebration. That's a landmark worth celebrating.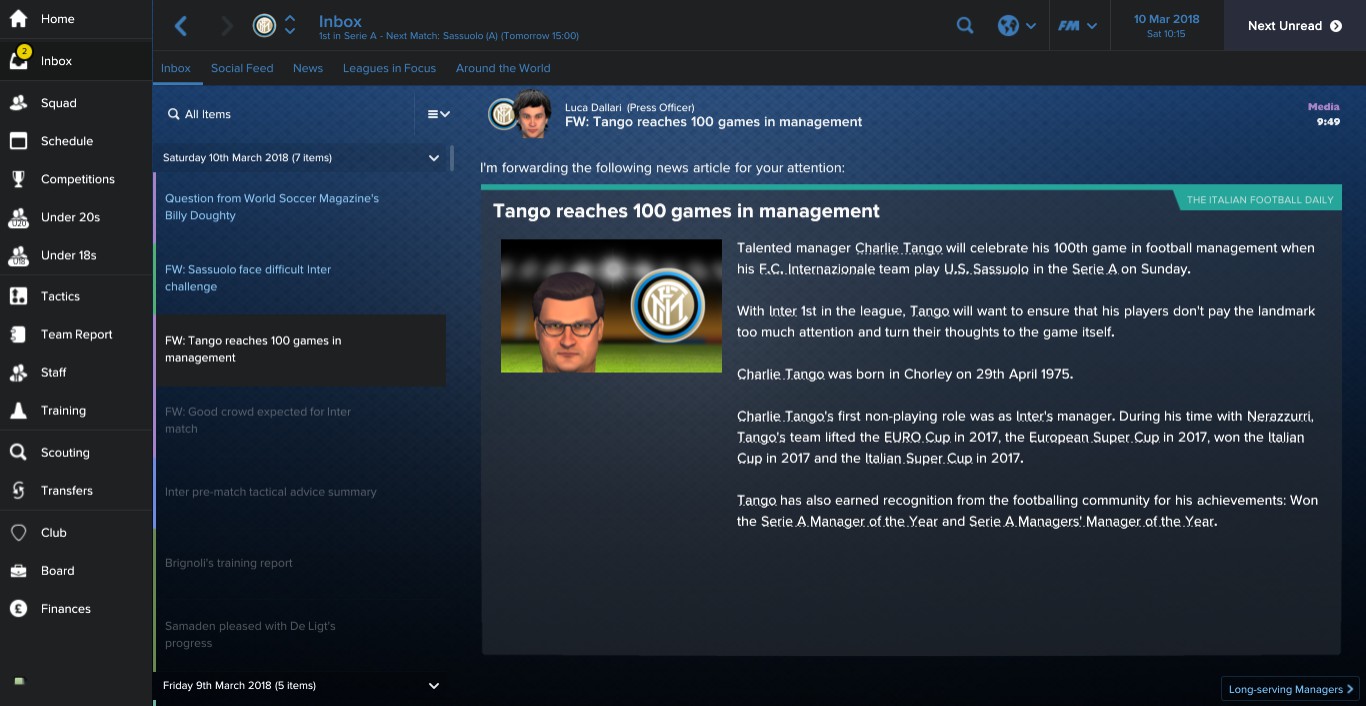 Our European exploits didn't match the domestic promise. After dispatching a group featuring København, Arsenal and Atlético Madrid with relative ease (5 wins, 1 draw), we manoeuvred through Tottenham in the first knockout round with a win home and away before coming up against Barcelona in the quarter finals. This, I should point out, is a Barcelona who have the trident of Luis Suárez, Neymar and Messi marauding in the final third. After securing a 1 – 1 draw at the Camp Nou, it was just a case of not cocking it up in the second leg.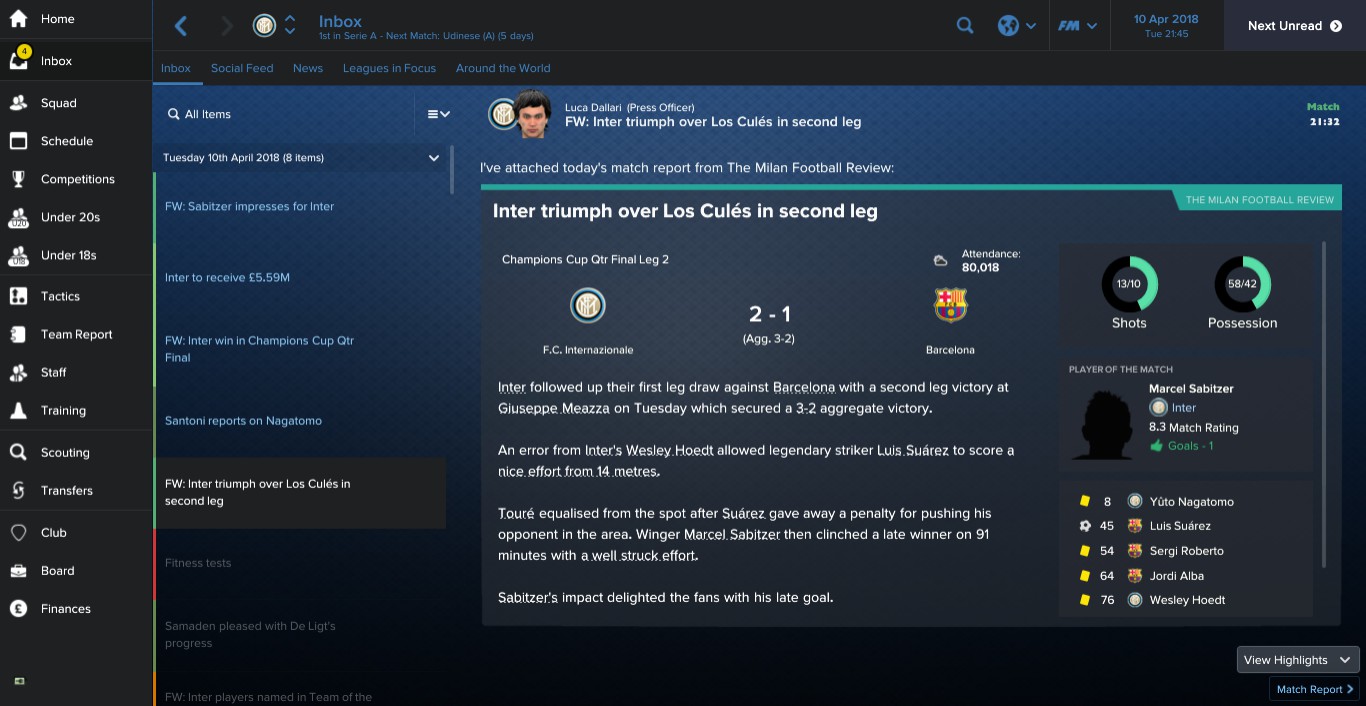 That led us to Bayern Munich, the scourge of many a team in Europe over the last several years. Now I should point out that the expectation set was to reach the semi-final and we did that, so I saw this tie as a 'free hit'. In the end, we didn't disgrace ourselves. A narrow 1 – 0 loss away was followed up by a 1 – 1 draw at the San Siro, in which Vidal notched a penalty for Bayern and that sealed their passage through to the final.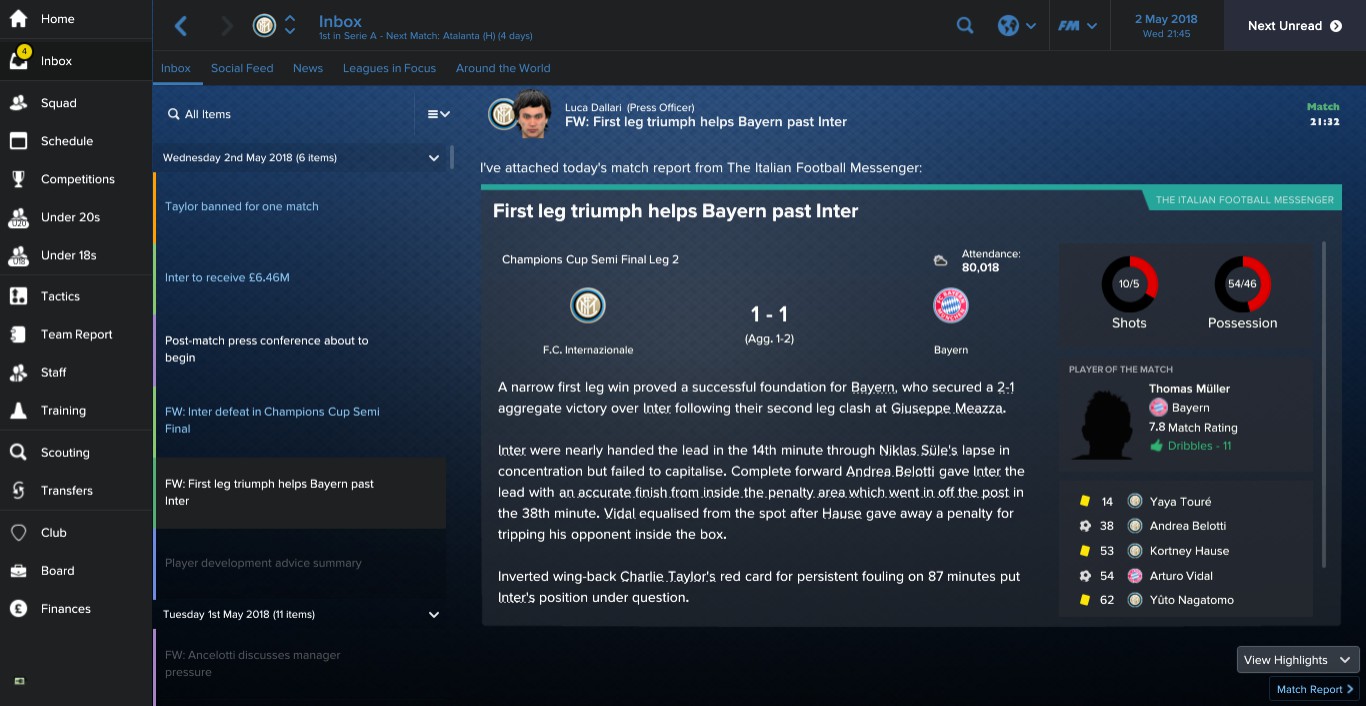 I feel like this has been a season to enjoy. There's been no sibling pushing me on, no Mauro Icardi to cause frustration and some of the players have developed into cracking young footballers. It's been a season of positivity and that's not something to turn your nose up at.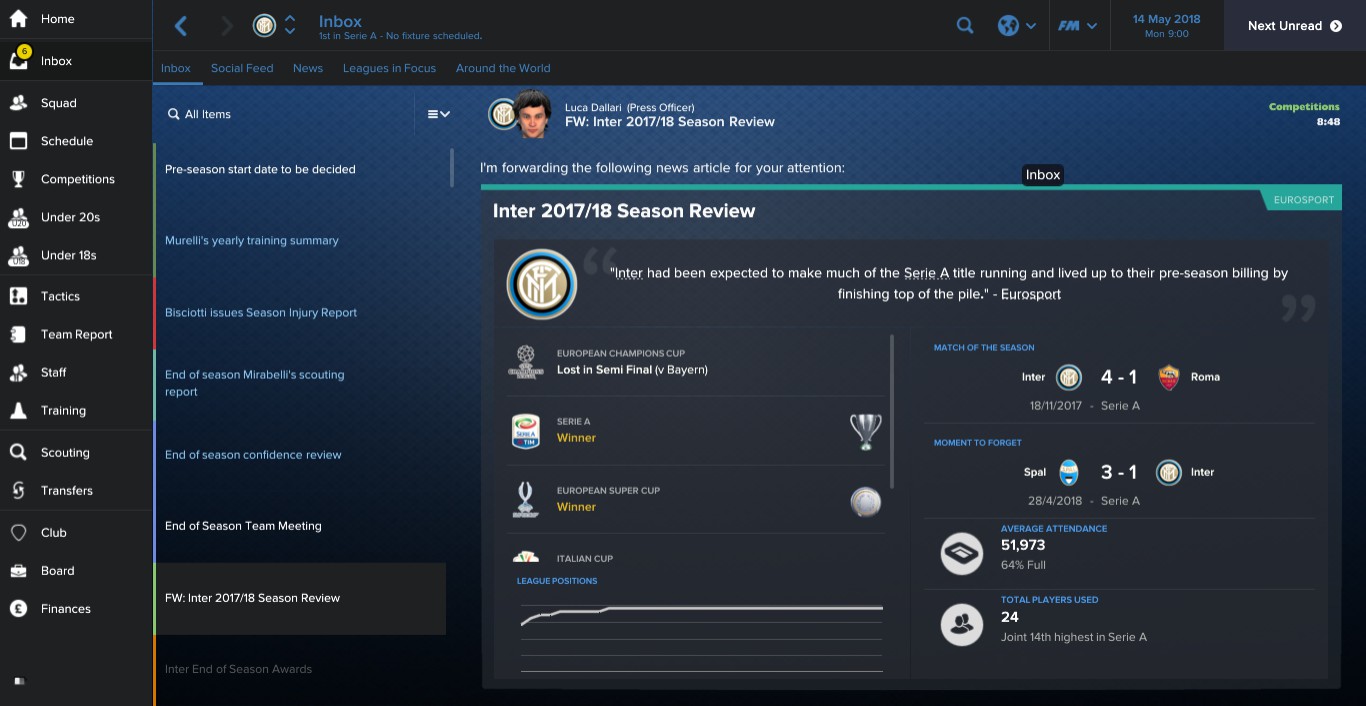 Next week both I and you will find out how Mike did in his second season with AC Milan, although the last time I checked he was looking for a box of matches and an aerosol can for his laptop. I've achieved everything I set out to now, I've won a European trophy and claimed all the domestic silverware available, not to mention avenging the two losses that hurt me most. The only thing left to do is take a trip down to Serie B and earn promotion. Little money, technical attributes in single figures… sounds like fun. I've identified two available jobs, for which I'll put up a poll on twitter.
Thank you for reading, join us on twitter at @FM17Challenge, @CharlieTangoFM & @MikeTangoFM for exclusive comments, developments prior to episodes and reaction afterwards. Continued thanks to Chris and everyone at Tempo for the opportunity to share this with the readers.