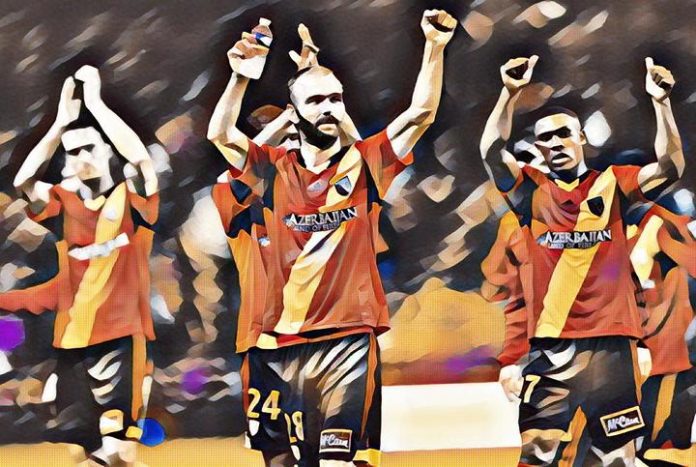 So we're back in action in the Dominos Ligue 2 as we welcome 1st placed Havre Athletic Club to Stade Felix-Bolleart-Deleis. Going into the game Havre were understandable favourites going into the game and with them controlling the centre of the pitch in their last game I'll be moving to a 3-4-1-2 to get more bodies in their as well as using wing backs to try and take advantage of their central focus. Unfortunately though John Bostock isn't able to feature as he has a thigh strain, in comes loanee Maggiore.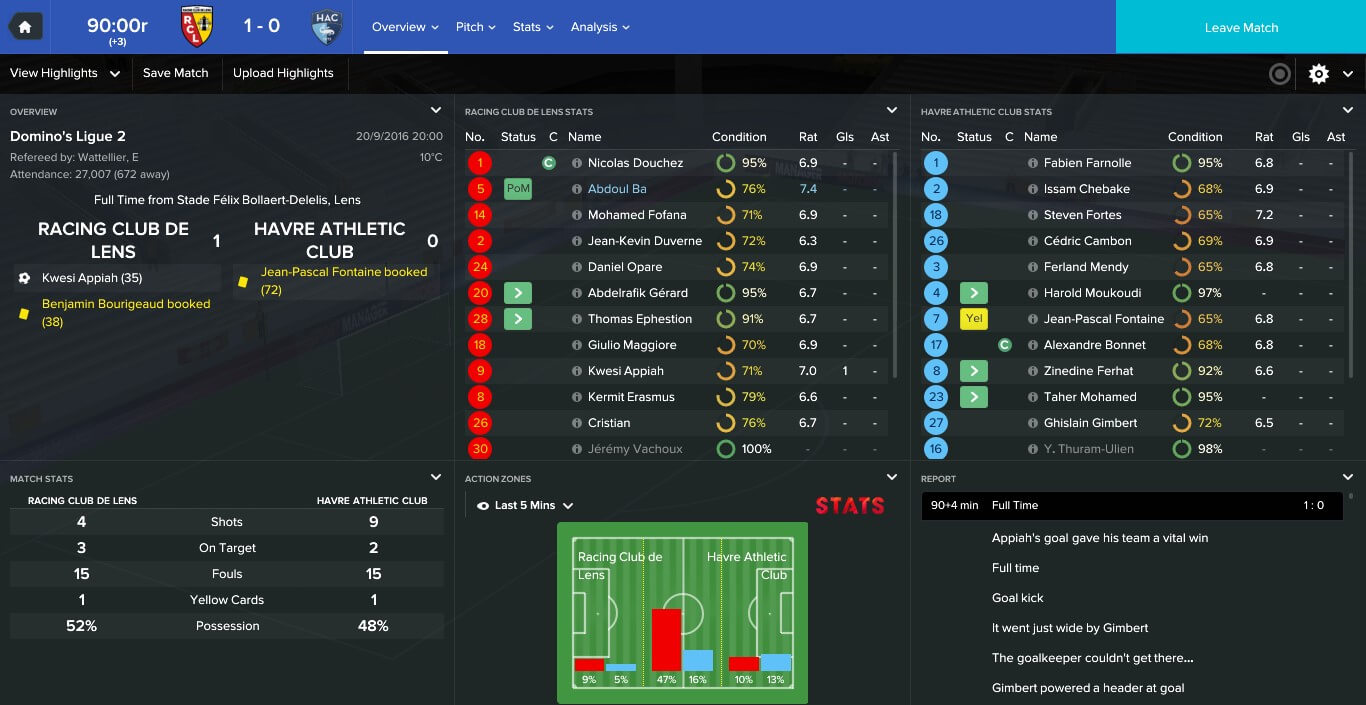 It wasn't the most attractive win, with only six match highlights, but hey, a win's a win. We set out to control the midfield and as you can see that's exactly what we did before Ukrainian Eugene crossed from his wing back position to assist Appiah's 2nd goal of the season as we climb up to 2nd the table. Sadly though Eugene did suffer a calf strain that'll keep him out for three weeks.
Looking to really kick on in the next week we had a chance to leapfrog Valenciennes for top spot. This time we were away from home and not being favourites again against the league top scorer Nuno Da Costa who had 10 goals, I decided to stick to the 3-4-1-2, going for the same aim as last week, thankfully Bostock returns to the side as the advanced playmaker in central midfield.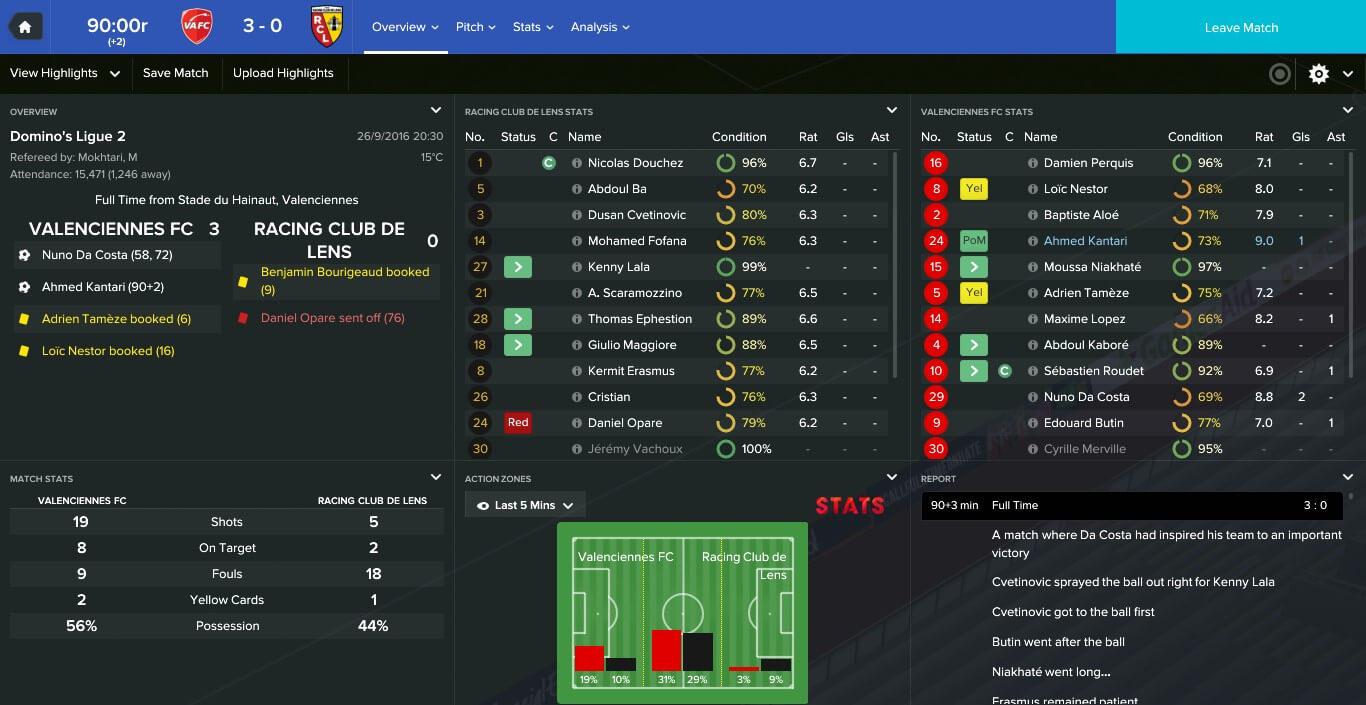 Well that didn't work as well as I thought it would. Despite holding out for the first half we just weren't good enough to contain Da Costa as the striker bagged a brace moving us down to 3rd after 10 games with 20 points. It's not a bad spot to be in after 10 games but I'd much rather be a couple of places further up the table.
Next was a game against 19th placed Nimes Olympique who we really should be beating, so hopefully the team is able to bounce back just fine playing in the same formation back at home.
Again, it wasn't the best of games but the work on the training pitch seems to be paying off, after benefiting from a short free kick routine wing back Kenny Lala managed to whip in a low cross for Kermit to knock home and secure the three points.
After an international break we came back in October to face US Orleans who are 13th in the league but with identical form over the last five games this could be a tough game.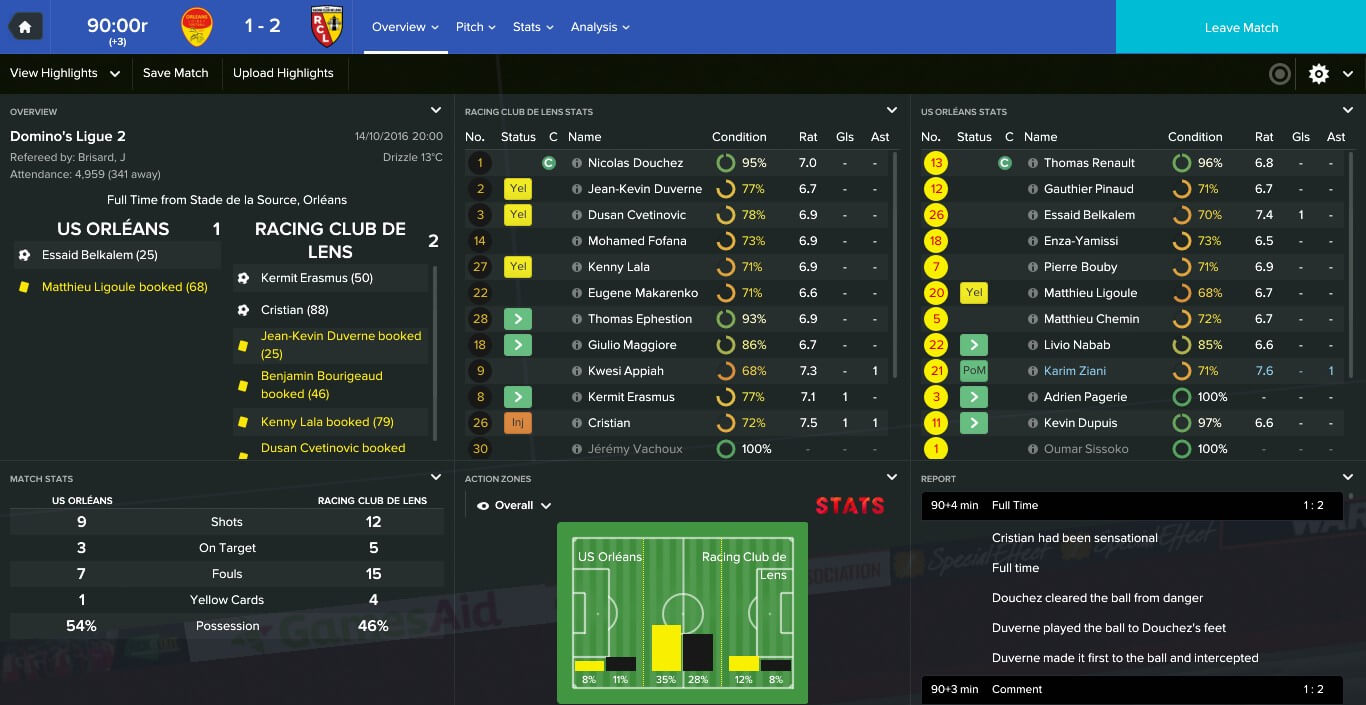 Well it wasn't easy but we got there. After a very very very slow first half big Kermit got us off to a great start 5 minutes after coming off the bench before an injured Cristian completed the comeback late on with a great finish on the counter which see's us to 2nd, two points off 1st and two points ahead of 3rd. Luckily Cristian is only out for a couple of days in the doctor's office.
Back to our gaff and its 2nd vs 3rd as we take on AJ Auxerre in yet another early top of the table clash. We go into this as favourites which is encouraging and having gotten a few decent results using this formation we're sticking with the 3-4-1-2 especially as over 60% of their play comes centrally. Hopefully this'll see us end their 11 game unbeaten run.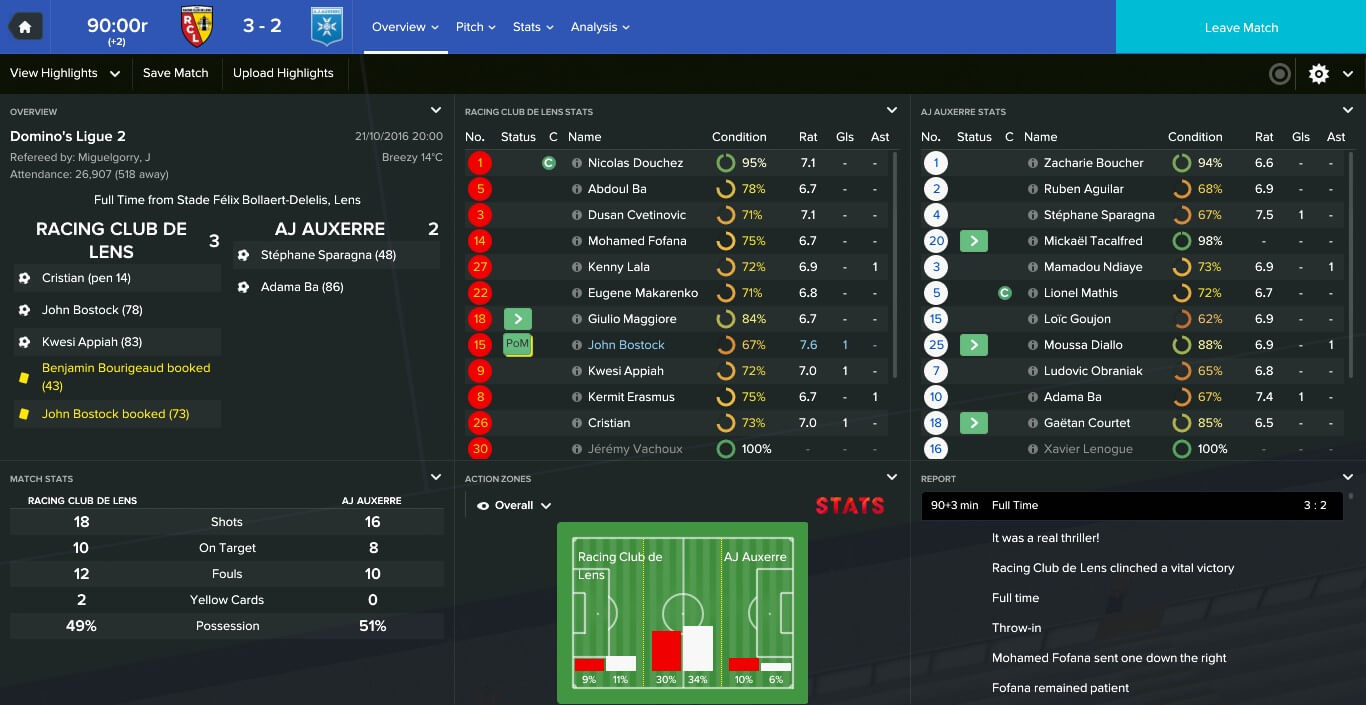 It got a little iffy at the end but luckily all the business was already done by us. A great volley from Bostock along with Appiah's effort from the edge of the box really put the icing on the cake as we kept us two points away from 1st and 3rd equally.
Next was a Thursday night trip to Tours in the Coupe de la Ligue. They're currently 12th in Ligue 2 and have drawn they're last two games so hopefully we can take advantage of their drop in form. There was also a call up for Under 19 star Bilal Bari who's scored 10 in 11 this season, he'll take the place of Cristian who picked up a knee injury that'll keep him out for 9-12 days. We were also drawn to play Association Sportive Municipale Belfortaine in the French Cup 7th round.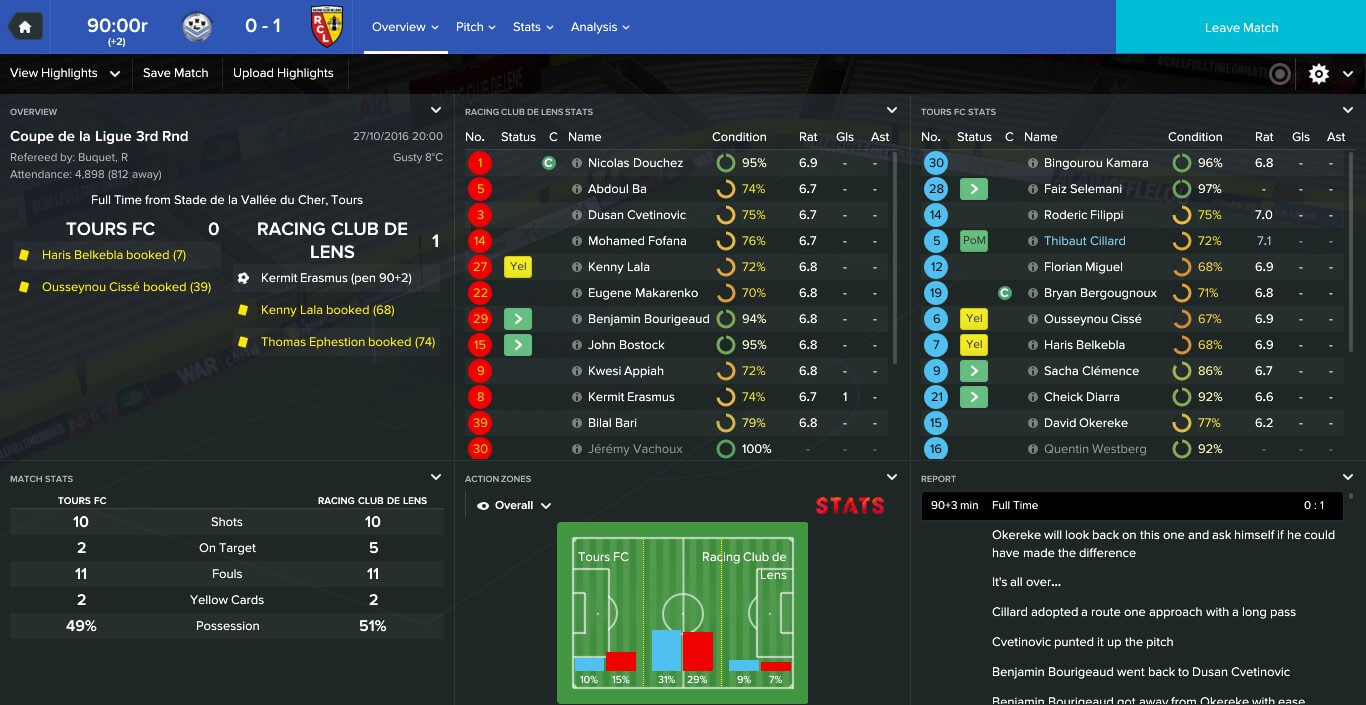 Oh my head hurts after that. Big Kermit comes through with the mugging of the season so far and puts us through to the 4th round which I'm ever so grateful for especially as it meant we didn't have to play any extra minutes despite it looking certain that the match would end goalless.
To wrap up the month of October we had another away day, this time in the league to 8th placed Bourg-en-Bresse who were tipped for relegation before the start of the season. We'll bring more senior players back into the side after midweek rotation to hopefully take charge of the match as well as keeping young Bilal involved.
Let's just say someone wasn't opening their door to trick or treaters after this thrashing which also saw Kermit strain his groin. It hasn't been a bad month as we're still 3rd in the league but it hasn't been a great one either as if we didn't drop crucial points we could be in a much better mood as well as if we stayed clear of injuries to our two main men, but hey, that's football I guess.