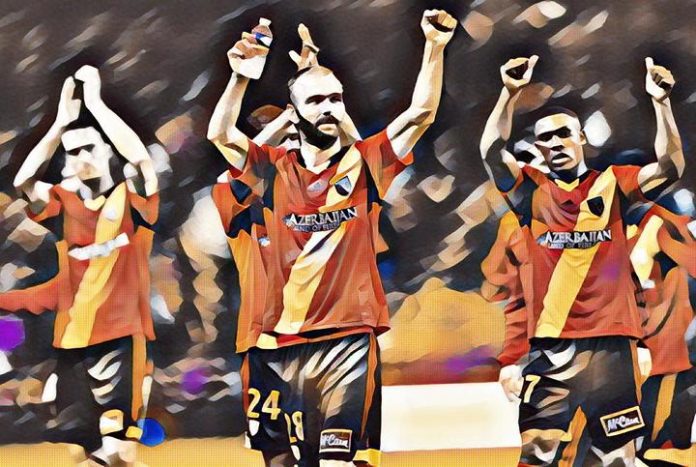 So, when I left you last time we had won every game we played so far, four wins in Ligue 2 and a win in the Coupe de la Ligue 1st round. That 1st round win sees us play against Racing Club de Strasbourg Alsace next who we beat 2-0 on the opening day of the season.
Going into the game I could see their right back likes to venture forward looking at his average position from their previous match, so of course I'm going to exploit the left flank. However, with a league game three days later, it was time to rotate the squad again.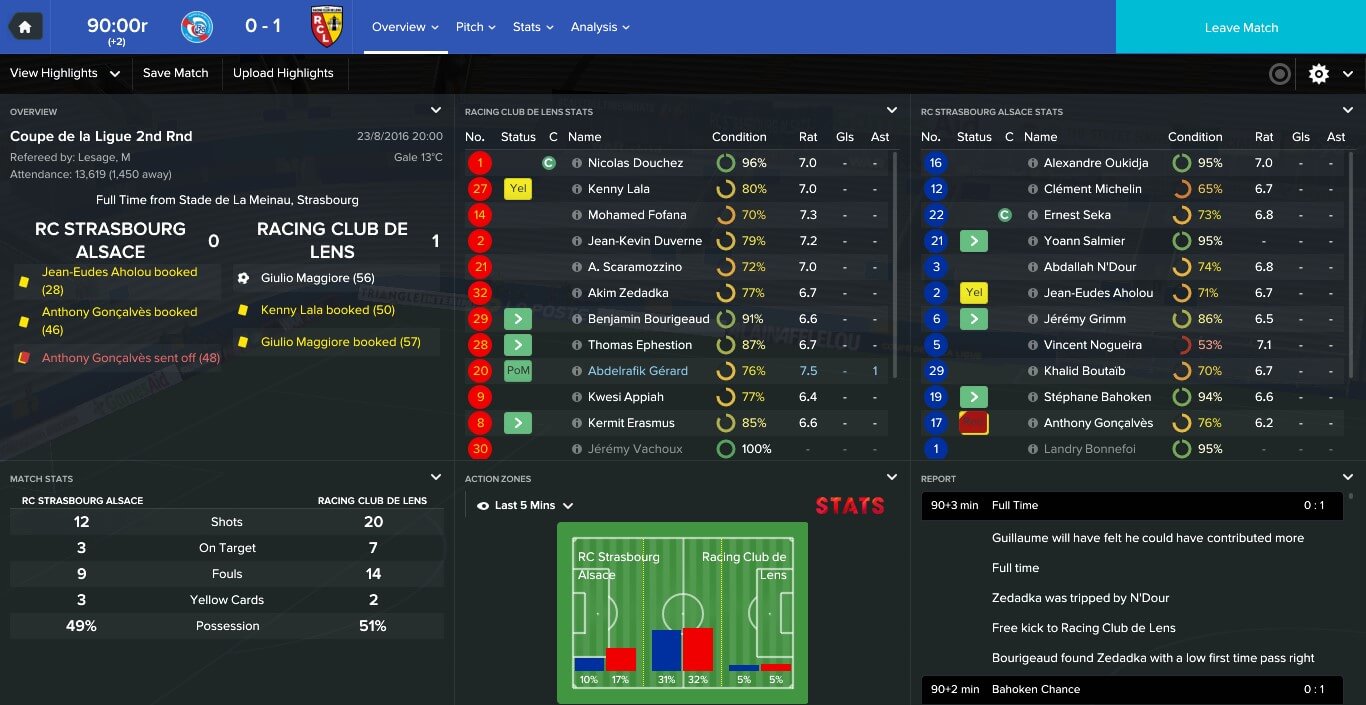 Well it wasn't as pretty as it could've been but a win's a win. Luckily exploiting the left flank paid off as the cross came from that side before loanee Giulio Maggiore knocked in his first goal for the club making a late run into the box. This win puts us into the 3rd round which sees us exceed the board's expectation of reaching the 2nd round of the competition.
Back to league football and we had another away day, this time against Clermont Foot who are currently 6th in the league. Hopefully we can continue our winning form even without Cristian who starts on the bench after picking up a dead leg in last game.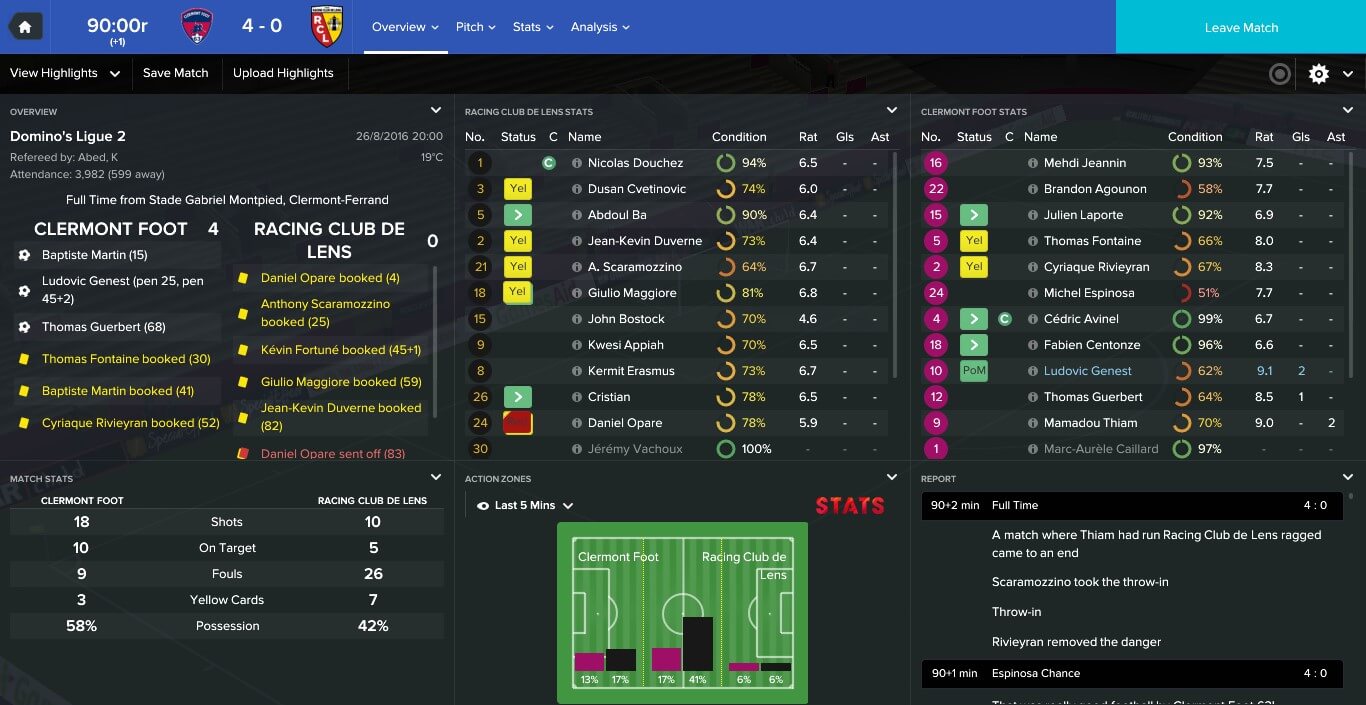 So… err… yeah we lost. With that comes our first loss of the season and we slide down a place in the league into 2nd place. With another game in quick succession the players will have a chance to redeem themselves.
Looking to bounce back at the end of August we were back at home to welcome ESTAC Troyes who were relegated from Ligue 1 last season.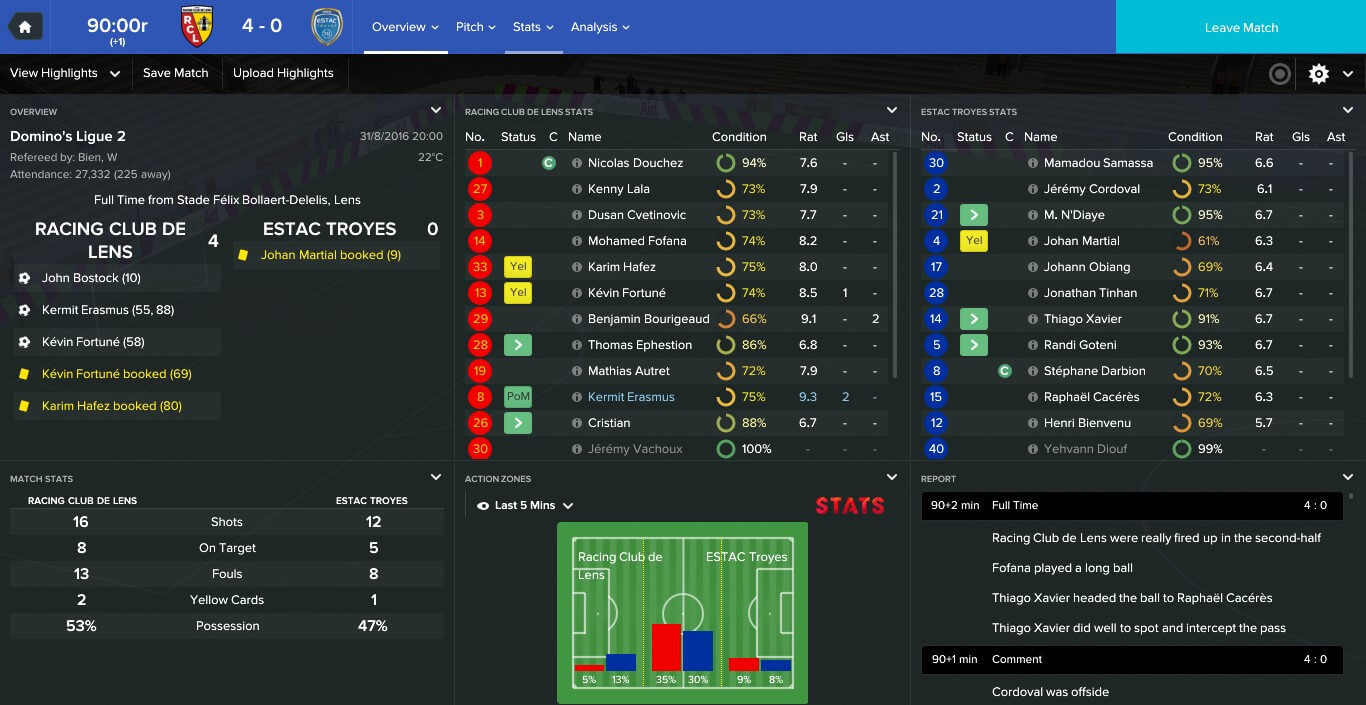 That's more like it! After an aggressive team talk John Bostock kicked us off in great fashion with a free kick from just outside of the box which thankfully put the boys in the right mindset to push on and get another three points and put us back on top of the league. It was also encouraging to see big Kermit bag a brace and match Cristian on five goals so far this season. That was some performance wasn't it.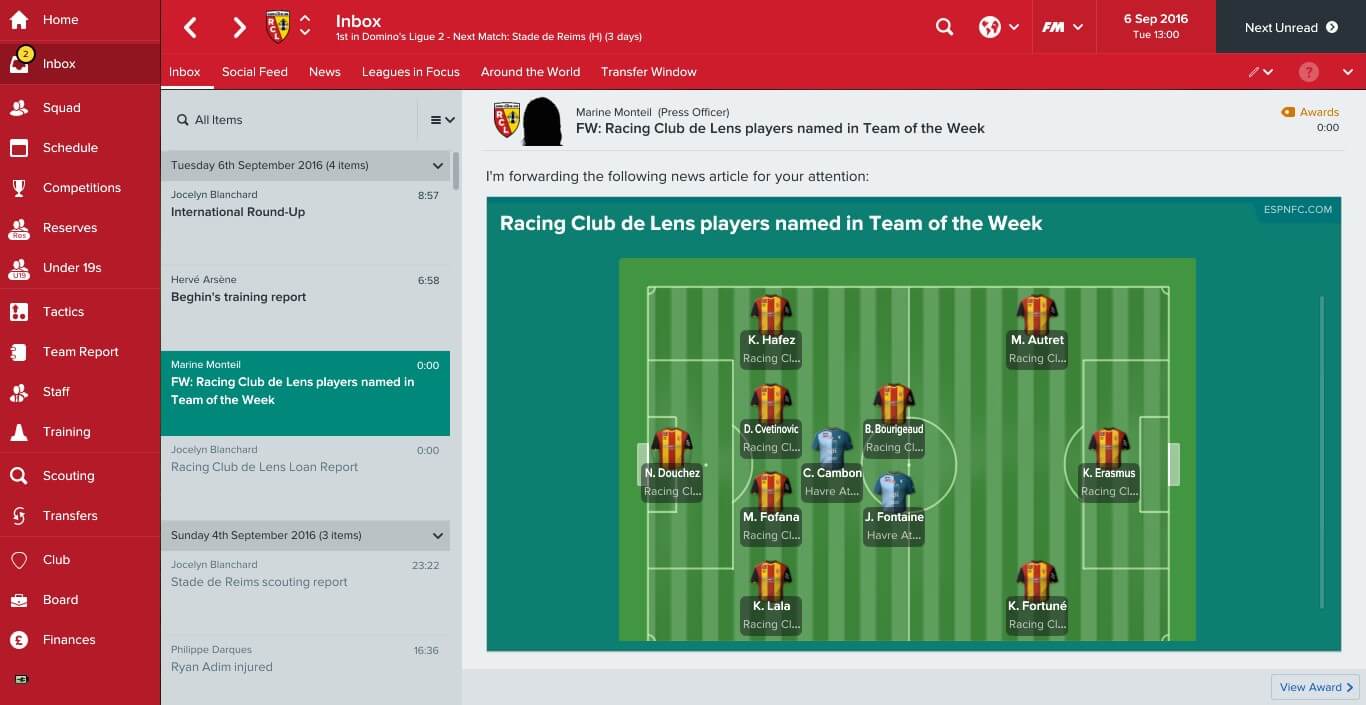 We also brought in one more player to try and bring some more depth in Eugene Makarenko who comes in on a free and is a very good full back and defensive midfielder.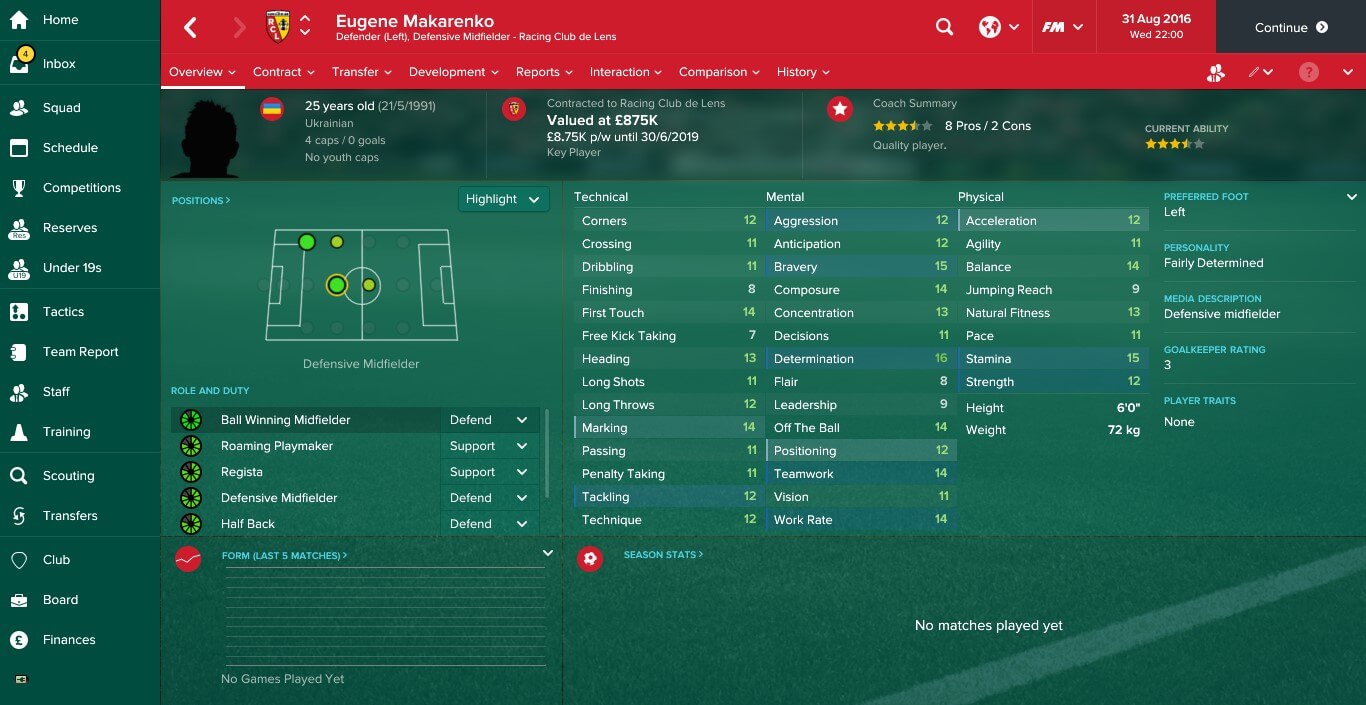 Looking to keep the good run of form going after the international break we had a game against another recently relegated side in Stade de Reims. Luckily everyone was available to play which saw me go into the game with a largely unchanged starting 11.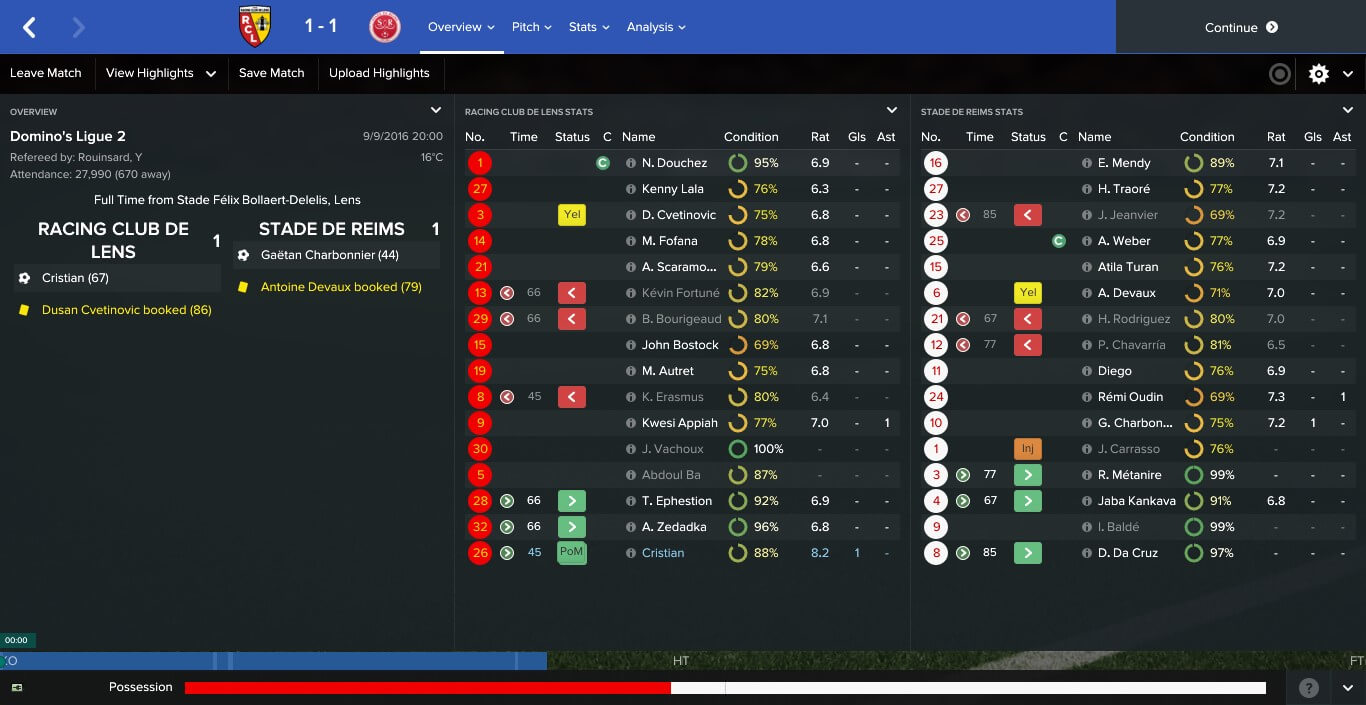 Unfortunately we couldn't follow up with another three points but the substitution of Cristian proved to be encouraging as the target man was very much involved when on the pitch, benefitng from some link up play with Appiah up front for his 6th goal of the season. Sadly we drop to 2nd just a point off top spot.
Before we set out against FC Sochaux-Montebeliard we were drawn to play Tours away from home in the 3rd round of the Coupe de la Ligue in October. Tours are currently 18th in the league but their form seems to be picking up so I expect them to be in good shape when we go up against them. This match however, saw Ukrainian Eugene make his debut for the club slotting in at left back, hopefully he does the job.
Ehhh another loss on the board unfortunately and we drop to 3rd. As you can see we didn't struggle making chances but for some reason we just couldn't finish them off today.
I think that'll be a good place to leave it for today. We currently sit 3rd in mid-September so there's nothing to worry about yet but hopefully performances improve in the coming weeks.