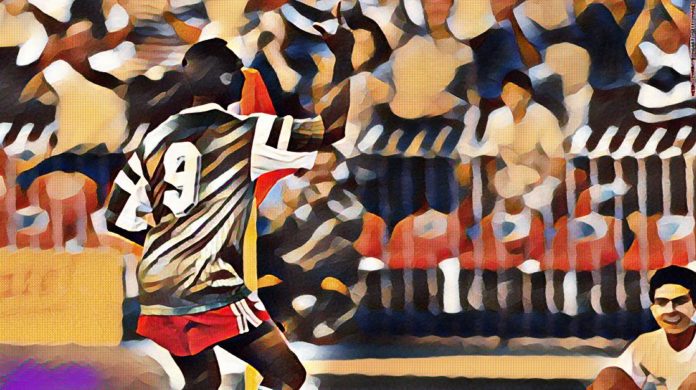 Alright folks. Swerving into unknown territory once again for you today, as I tell you all about Cameroon's African Cup of Nations 2020 campaign. Strap yourself in as we are going to hit this in one post – from squad selection all the way through to seeing how far we go.
Right then, let's do this.
Up until now I've been taking Geremi's (my assistant manager) advice when it comes to selecting the squad, then choosing an XI from what he gives me? Why? Well, managing Tonnerre KC is my priority and I decided I didn't have time to trawl the "national pool" to choose who should be playing DM. Just writing that makes me feel I am probably not doing my job properly, but hey.
But, for the AFCON, I decided to deep dive into the players available to me and try to pick a squad that might go quite far. I tell you what though, slim pickings in Cameroon especially when Joel Matip is out of the tournament through injury.
The Preliminary Squad
Honestly, I've scrabbled this lot together. We really are not that good. How many teams go to their continental tournament with a left back that doesn't have a club?
These are the guys that need to perform if we are going to do OK.
Vincent Aboubakar: The big man has 35 goals for his country and is currently playing his football for Eibar. With him in the team, we can actually score.
Andre Onana: The Ajax keeper has taken over from Kameni who retired in the summer. He will be busy, no doubt.
Joseph Minala: Incredibly, he is still 24 and has played very well for me in the matches I have included him in. If he and the next lad can do well, we might create some chances.
Karim Ndzana: You remember this kid, right? He was class for me at Tonnerre and he has done very well for Zamalek so far. He has 13 caps already, 5 goals and 6 assists so he has a chance to make a big name for himself in this tournament.
Jean-Marie Dongou: The Real Hispalis (what the hell happened to my name fix?!) front man will play right midfield for us. He can be dangerous.
Christian Bassogog: Honestly, I have zero respect for him but he is quite good. He is playing in China, well below the level he should be at. I'd rather have a leftie on the left of midfield as he drifts in too much, but hey. Beggars and all that.
I also have two other former Tonnerre men in the squad with Franck Mbeleg and Joseph Ngongang. Neither are likely to be starters, but will be on the bench.
So, in summary – if we can keep them away from our defenders we might just have some fun. But, we are fucking terrible at the back. It'll be hard to lose two of the squad.
Pre-tournament Friendlies
Pre-tournament I've lined up games with Ecuador and Ireland? Why? No idea, names out of a hat really. Hell, I actually have no idea what I am doing. But, I reckon two wins will give us a lot of hope going to the Ivory Coast.
Our Group

That'll be tough. We start with Nigeria and really cannot afford to lose. Then there is the must-win against Burkina Faso before we finish with Ghana, who beat us in the World Cup Qualifiers recently. Can we qualify? Who knows, we've done it against the odds at Tonnerre before now.
Cutting it back to 22
Hang on, don't you normally play your friendly matches before cutting the squad? Well, not here. Without really looking at the guys in a match I had to get rid of two. I decided against taking the right back Prisse as Collins Fai can cover both right and left and Franck Bambock was just one central midfielder too many.
Ecuador
I remembered why we played Ecuador – they were ranked in the top 20 in the world, honest. Cameroon have dropped from 30 to 41 under my (Mark Monroe's) stewardship which is, frankly, a load of bollocks. I fancied us to do something against Ecuador as I had a pretty good idea of my best XI. Well, I was right – we won 4-1! Ndzana put a free kick into the top corner after 8 minutes and we were great all the way through. I couldn't have asked for a better first run out.
Ireland
Vincent Aboubakar can play. In fact, on his day, he is a beast. He dominated Ireland singlehandedly, scoring two and creating two in our 4-0 win. If he can carry that kind of form forward, we could be dark horses in the Ivory Coast. I am completely cursing it, I know, but the back four looks tight and well drilled, the midfield looks creative and the front man is smelling the blood of goals. First round exit ahoy!
Squad numbers
Meh, if you care here they are.
Nigeria
Preview time, eh?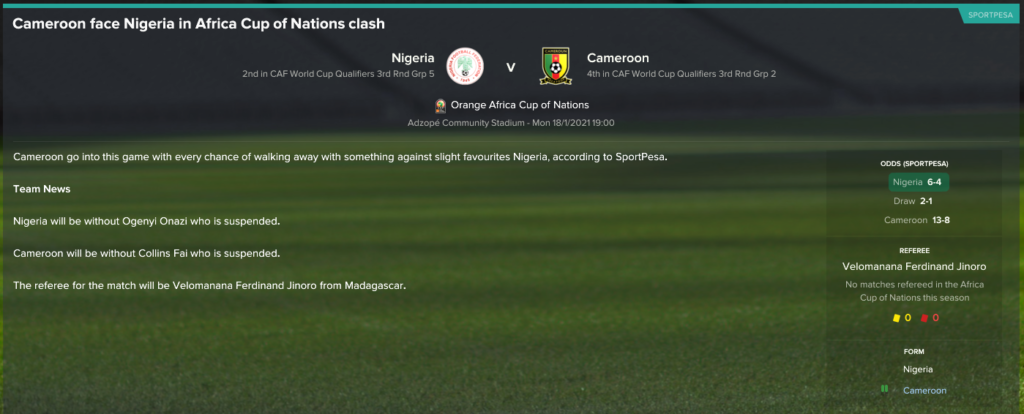 Fai being suspended isn't an issue and I did know about it – honest. Got to love the fact that the ref is from Madagascar!
We lined up like this:
Nigeria went 442. Victor Moses, Jon-Obi Mikel, Wilfried Ndibi and Alex Iwobi isn't a bad midfield.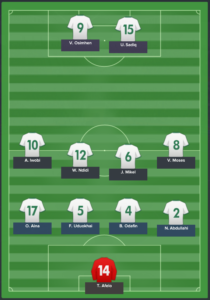 As a manager, the first goal your boys score in your first major tournament is always going to be memorable. 12 minutes in Ndzana rolled it to his left and Paul-Georges Ntep let fly. Nigeria's goalkeeper went down in instalments and Cameroon led! I know African keepers get a bit of stick, but this boy is terrible. 20 minutes were on the clock when he let Minala's header slip through his fingers. As for our third? There will be a match fixing enquiry. Big Vinny chased down a backpass, the lad came out and tackled his centre back who looked like he had it under control, the ball hit the other centre back and the big man rolled it home. 3-0.
Despite being three up, I gave them my customary aggressive kicking at half time. It worked and Minala ran on to another Ndzana pass and made it four! And that, as they say, was that. Minala could have had a hat-trick, Big Vinny deserved a goal for his endeavour but I'd have snapped your beak off for a 4-0 win at the start.

Total domination.

Burkina Faso winning was a surprise and means the winner of our next match against them qualifies.
Burkina Faso
I, er, forgot to take screenshots of the line ups. We were unchanged though. It's us vs Bertrand Traore.
30 minutes in and Big Vinny bullied their centre half and headed us ahead. We were dominating, having all the ball but not making the most of it. So, of course, we conceded a penalty. Traore was bound to step and score! But no, he was nowhere to be seen and Onana saved it superbly. This game really shouldn't have been difficult the way we were playing, yet three minutes after the penalty save Ndzana managed to get a second yellow. He would miss the Ghana game. We switched to a narrow 4131 and got away with a clean sheet in the second half – quarter finals here we come! But, honestly, we were poor.

Ghana
Yeah, some better maths worked out we needed a point to be completely sure of qualifying. A 4-0 defeat and Burkina Faso beating Nigeria who are out could see us miss out. Suddenly not having Ndzana feels important!
Ngongang was picked to come in and Guihota came in for M'Bone.
I am going to sound ignorant and say I only know of Andre Ayew, even though these boys beat us easily a couple of months ago. Anyway, we need a point!
Christ almighty that was close. With 72 minutes on the clock we were out. Ayew had scored for Ghana from the spot and Burkina Faso were ahead. I quickly learned it was going to be head-to-head that worked out the group, not goal difference. Nice one, check the rules next time.
But then Ntep weaved inside and curled one into the top corner, and everything changed once more – we were through, if it stayed like that. Five minutes later Ntep stood over a free kick and if deflected home. YES! Through go Cameroon, top of the group!!

There was going to be a nervous wait to find out the extent of the injuries to Onana and Big Vinny though.
Some big nations fell by the wayside – Tunisia, Senegal, South Africa and Algeria will be amazed that they are out – our quarter final draw….?

I shouldn't think it, but I think we should win that.
But, we'll be doing it without Big Vinny who's tournament is over and Onana who is out but should be back for a semi-final if we get there.
Quarter Final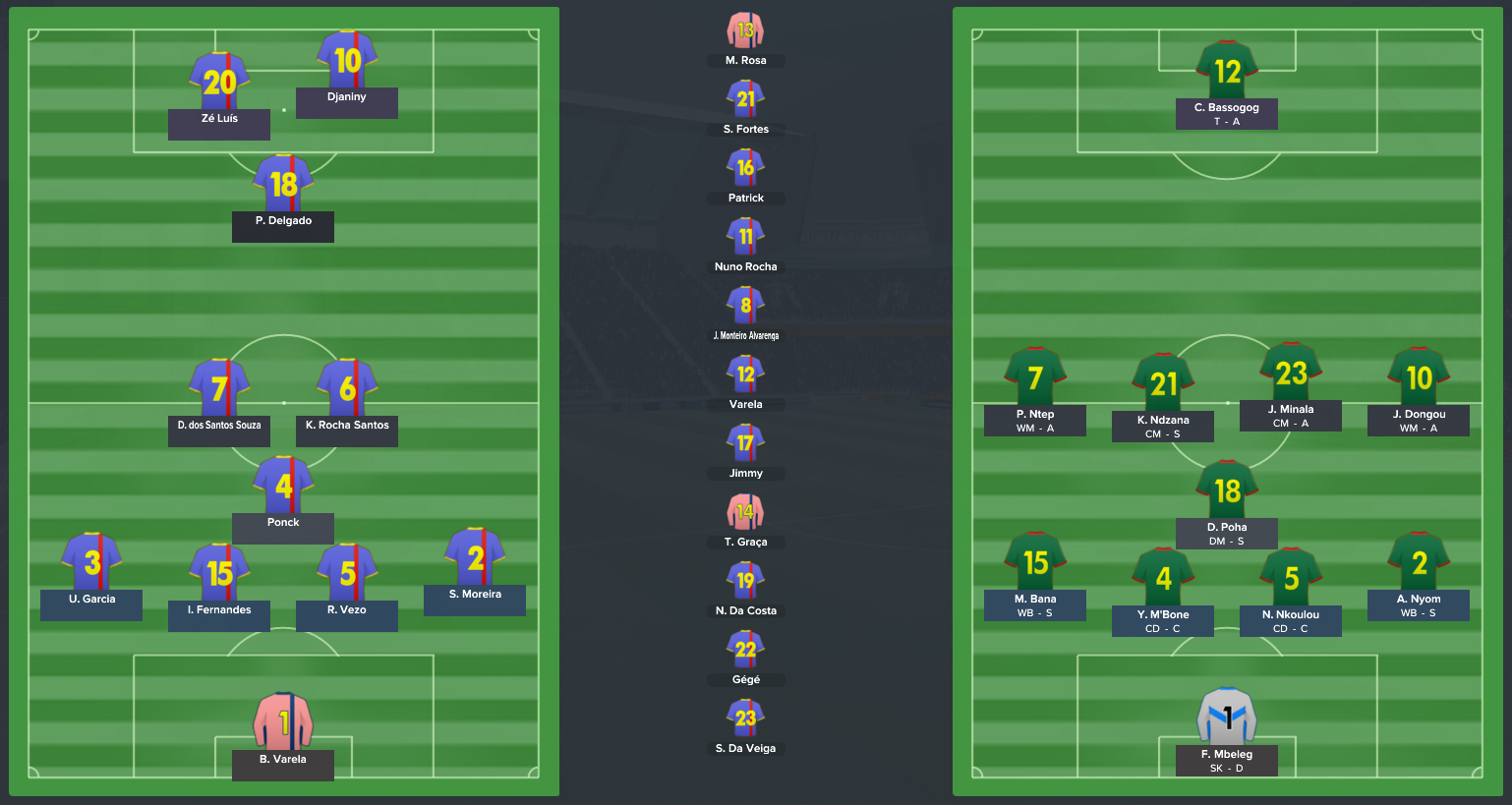 Basso came in up top for the big man, and we could get anything from the guy – erratic doesn't go far enough. I was quite proud to see three of my former boys in the side in Francky, Bana at left back and Ndzana in midfield. Could we do it?
Hmmm. 18 minutes in, having barely touched the ball, we went one down. A shot was fired in on the turn giving Francky no chance. Dongou had one chalked off for offside, and it looked very, very close. But, basically, we were playing cack. Time for a tactical tweak.
Bana was off, Ntep dropped deep to play as a wing back. Dongou shifted up top as an advanced forward and Salli came on as the right midfielder. We had to do something different.
Nyom swung a corner into the near post area where Minala wrapped that 45-year-old left boot round it and the net bulged. COME ON.
It was a new game, we were on top. We were moving the ball with purpose. But, for all our new found possession clear cut chances were hard to come by. Extra time came and went and we faced penalties. Oh yay.
Dongou went first and missed. Time to go home then.
Wait a minute, Cape Verde hit the post! Let's start again then!
Minala scored, just. 1-0.
The scored. 1-1.
Oh fuck right off. Salli missed.
2-1, bottom corner.
Oh you shit. Amang saw his weak, pathetically weak kick saved.
They score, we are out.
Yeah, we're out.
So, that'll be that then. AFCON 2021 was cool while it lasted. Gutted. Absolutely gutted.
I should probably do some kind of "5 things I learned" summary to this post but no, I'm too pissed off. Still, back to Tonnerre KC in the next post where preseason has been in full flow.
I hate international football. I really do.