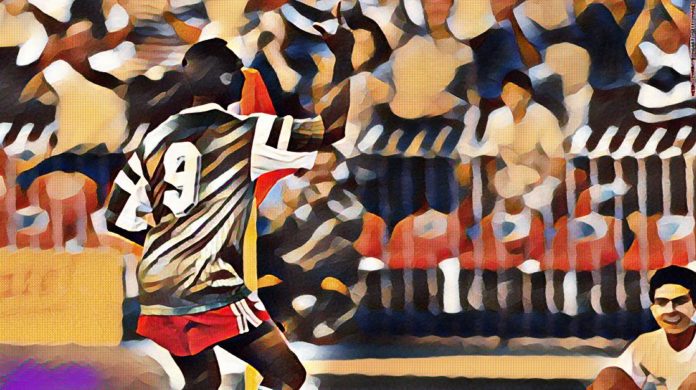 It's a bit different out here in Africa. Frankly, Tonnerre KC don't have the social media budget in place to do some kind of super cool, anthemic video announcing the fact that WE'VE ONLY BLOODY WELL WON THE LEAGUE!
That's right, season five and another big aim crossed off the list.

I'd love to tell you that it was really close, that we showed incredible mettle and guts to see it out but it was all rather easy.
That's how it stands with three games left, so we are more focused on an invincible season than remembering that we've won the damn thing. Three games left to make some kind of history. Three games to not concede three goals – as we have let in a frugal seven so far, and I'd love to keep it single figures over a whole season. Two of the three final games are against Canon Yaounde and Coton Sport, so any records will be fully deserved.
Sadly, our Champions League defence came to an end.
We travelled to Egypt to play Al-Ahly knowing a point would see us progress once again. For whatever reason, we just failed to get going. Nothing worked, and we lost 1-0 – going out on goal difference. Gutted isn't the word, we should have been going through. However, it was the 2-0 defeat at Vita Club that really screwed us. That was the worst we've played since becoming a decent side. Still, we'll get another go next season.
We have a last 16 cup game over two legs against Renaissance to look forward to as we look to defend that title and then we can have a well deserved rest knowing we don't have the World Club Cup to play in. Who am I kidding? I'd much rather be in that than not.

The U21's have won their league for the third season in a row which is great. A few of the guys are going to be too old for the side next season, and some of them will step up to the first team squad as I have decisions to make on a few of the older guys who are coming to the end of contracts. More about that in the next update though, I'd imagine.
We also waved goodbye to Karim Ndzana as Zamalek came in with a fine offer of €400k – again, handsome profit on a lad we signed for free and educated. That brought the income from transfer fees to €850k for the season, but probably in truth cost us our Champions League run.
But, when players leave that provides opportunities for others. In goal, William Kamga has six clean sheets in nine games – even though he was the main culprit in the 2-0 loss at Vita Club. The jury is still out on him, though any replacement is most likely to come from within, rather than a signing from another club.
Kemajou has been brilliant in the DM role, and even scored a goal that made our July Goal of the Month reel. Hopefully he will continue to mature in that position, but is very much on the likely list to be move on soon. Ndzana has been replaced by Jules Ondigui, a product of our Academy. He is 6ft 1, has immense physicals and has been quietly learning his trade. Again, he is very likely to have welcome vultures circling him in the next 18 months or so.
Although I am very clear on the rest of the goals for the season, I do feel as if the close season will be very big for us. As I alluded to, some experienced players maybe released to allow some of the new kids to come through. However, I do need to balance that with making sure we have cover for the players that might well get sold on. The last thing I want to do is release five and then lose three of my top performers, as that would put a lot of pressure on the eight new kids expected to fill the first team slots. Balance is needed, but opportunities need to be given.
Now we are league champions, things will grow again. Players will want more money, that is fine. They can have it. We are now at the point where we can easily afford to pay the players five times what they earn now and still be profitable. And each bigger contract they sign increases the transfer fee required, so I am comfortable with that.
The board have been slow in allowing me to send staff on coaching courses in the last few months, so that needs to be rectified. I'll also aim to bring in more coaches, as I feel we are due the next phase of evolution behind the scenes. It has been well managed so far, very gradual but it is important not to lose momentum.
Longer term, I am starting to think about an end goal for my time in Cameroon. Will it be back-to-back titles? That seems a bit too short-term. Back-to-back titles and regain the Champions League? That would be going out on a high. The thought of leading Cameroon to the 2022 World Cup, having a superb domestic season and then waving goodbye to Africa has a certain appeal to. Nothing is set in stone yet, I could as easily decide to stick around until Tonnerre are a genuine player in the world game, which would mean winning the World Club Cup and become a billion euro club.
Right now, we have to keep three clean sheets and win the Coupe de Camoroon. Oh, and it would be great if the U18's can close out their title too…
#LeTKC