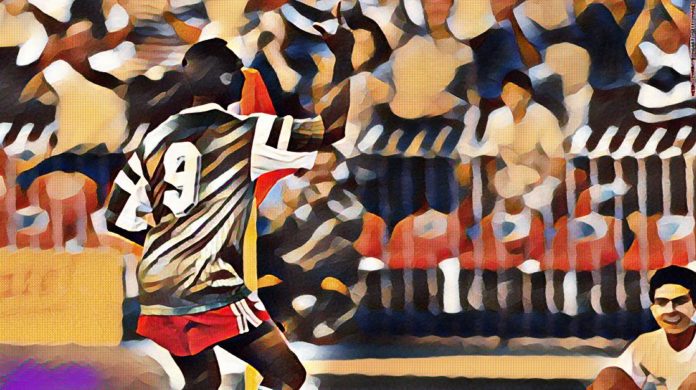 Well hello. It's been a while, hasn't it? Don't panic, the save hasn't died, crashed or been forgotten about. I've been having a mini-break from playing it and writing about it, to try and keep myself fresh. And I think it worked, as when I fired Tonnerre KC back up last night it was like I had never been away.
When we last spoke, we had played six league games – things have moved on quite a lot, so I must have played a bit more than I realised in the last week! We also were due to play the final qualifying round for the CAF Champions League – so much to tell you.
Let us begin with the Champions League.
We saw off JSM Béjaia 5-0 on aggregate with absolute minimal fuss meaning we made it into the group stages for the second successive campaign. Yes, I still take that as a right result even though we won the thing last season. It's a huge achievement for football in Cameroon as we are far from being the strongest African nation. Yet.
The draw pitted us against Wydad Casablanca, Al-Ahly and Vita Club of DR Congo. Getting out of this one was going to be tough as the Moroccan and Egyptian sides are big, big clubs in Africa. But, we have ability in our side so I reckoned we could cause an upset.
This is how it all stands after two games.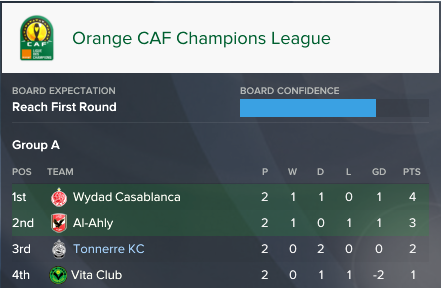 The draw with Casablanca was so frustrating – we were ahead via a stunning strike from Kemajou but they pegged us back for a 1-1. We then travelled to DR Congo and led twice, a brilliant free kick from Ndzana and then a proper thunderbastard from Tchuente. But, again, we failed to see the game out. We are not in a terrible position, but I do feel that we should have six points on the board.
Especially when I consider how damn clinical we have been in the league to date.
17 points with 8 games to go. I think we'll be OK! Plus, we have conceded a miserly 6 goals so far in the league – incredible. If we keep it under 10 it will my finest ever defensive performance over a league campaign.
Last season we failed to win the title as we didn't score enough important goals – Marcy was blamed, basically. Well, this season he has 13 in 20, to go with his 7 in the Champions League. Tchuente has 7 from central midfield, Tegs has 9 from the right and Judy has 6 from the left. We are scoring goals, 62 of them. We are going to win the league!!
Now, those of you with me from the start will know that the long term plan was to create a club where we start selling players to Europe which, hopefully, will end up benefiting the national side which, and this wasn't planned, I am now in charge of. It's bitter sweet when it happens, and I knew the day would eventually come – we have sold the first two.


Francky, our superb goalkeeper, has gone to Belgium. I've managed to get a 20% clause for the next sale into the deal. He massively deserves it and needs it as he could well be the next Cameroon number one as Kameni has retired. He'll certainly be the number two behind the lad at Ajax.
I was gutted to lose Ngongang. The idea was his contract would run down, he'd leave and then I'd resign him. But, we had an offer from Portugal. Again, I could not stand in his way so off he went.
Considering I signed both for free, I cannot complain!
I had indentified them as one of five that could be taken away this season, and I had back-up plans already in place.
Kamga has been the reserve keeper for a while and is the current Cameroon U20 first pick so will get a chance to make it his own between now and the end of the season. If he doesn't work out, he'll be under pressure from Mbamba and Awono in my U18 squad, both of whom are from our Academy.
In terms of Ngonang, moving him from CM to DM worked very well so I am going to repeat the trick by moving Guillame Kemajou deeper. This will please him as he is very keen to play. I can always move him forward if I need the CM role filling as I have two other capable DM's ready to come in.
Realistically, I am going to lose both central defenders in the next 18 months, but I am streets ahead. We have three or four ready to step in, both brought into the club to learn the trade in the Academy sides or from our own intakes.
As ever, I am keeping an eye on talent that can be recruited in. We had Kevin Sohna on loan from Bordeaux at the start of the season as a back up to Marcy. He scored some crackers, and has gone back to France only to be released. Initially, when we was on loan, I tried to get him on a contract and he wanted €1500 a week. Not a chance. Funnily enough, now he is a free agent, he only wants €300 so he will be brought back.
There's a kid called Moise Mahop with 8 U20 caps for Cameroon that was released by Nantes, and he is joining us for €15 a week! Finally, there's a left back that was playing regional football in France but has 10 U20 caps and he is coming in as well. We are building a very good scouting network, completely focused on looking to the future to fill gaps that will need filling once players get picked off in Europe.
I have a dilemma now – and I hate these situations. The league is in the bag, we won't screw that up. Therefore the temptation is to leave players fresh for the Champions League games. But, I hate rotating. So I don't think I will. We need some wins in Africa though, I fancy back to back Champions League money, I mean titles!
#LeTKC