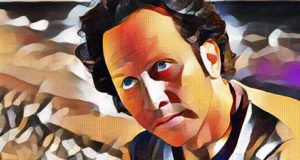 Our fantastic unbeaten run of ten games across all competitions, nine of which were victories, came to an end against Lyon and it's put us back in the battle for a top-three spot. We're third, one point behind Monaco and six ahead of Lyon.
Thankfully a ten-point cushion over Montpellier means we're almost guaranteed to be playing in Europe next season but I'm keen for that venture to come in the Champions League, so I want an immediate response from my side against Lille.
Willian Jose takes his season tally to 21 goals in all competitions with a brace and we win 4-0, setting us up nicely for the semi-final against Nantes. We fall behind in that game but battle back to a 2-1 victory, securing our place in the final- where our opponents, unsurprisingly, are Paris Saint-Germain.

That game is months away though so we return to our exploits in other competitions, starting with a French Cup clash with Toulouse. We're taken into extra-time after a 1-1 draw, miss a penalty in the first-period and advance to a shoot-out, where we lose. It's a bitter blow.
It means our focus can now solely be on our Ligue 1 endeavours until the final against PSG and we bounce back with a 1-0 victory over Stade Rennais, followed by a 2-0 win over FC Lorient. We then lose Asmir  Begovic for seven to nine weeks due to injury and Payet is finally gone, as I approve a sale to Chinese side Jiangsu.
Begovic's replacement Yohann Pele makes a howler in the following game against Bordeaux, where we fall 2-0 behind, but an second-half brace from Onazi sees us snatch a point. Our month ends with a disappointing goalless draw with Sochaux but a positive is that we're now six games unbeaten in Ligue 1.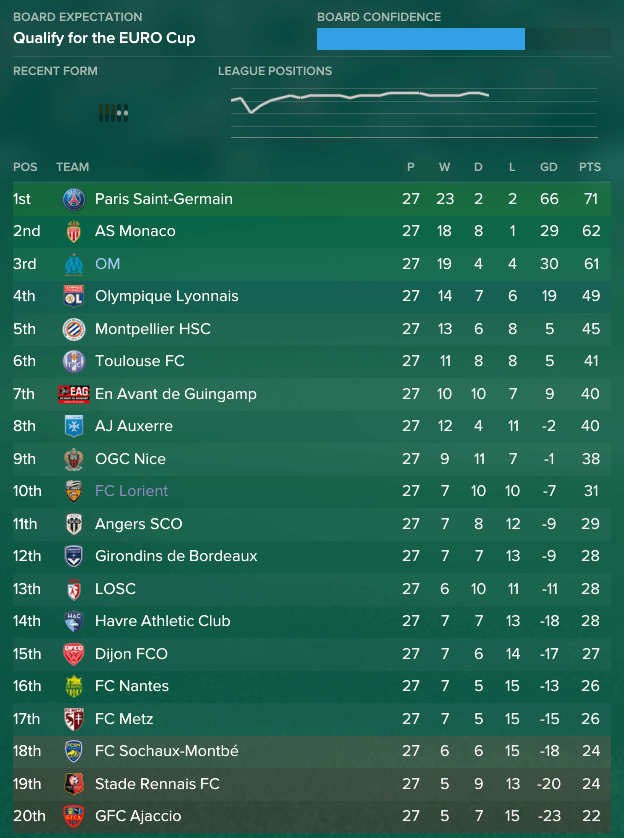 We're on-course to meet our objectives but I'm keen to see an upturn in performances, so I'm thankful to see us ease past Havre Athletic. A frankly embarrassing performance against rock-bottom Ajaccio follows, where we lose 2-1, but we bounce-back with another comfortable win against Dijon.
Paris Saint-Germain are next and I want a top-class performance, though I'm far from confident with the hapless Pele in goal and the fact Willian Jose has been ruled out for 11 days makes things worse. Before the match I'm informed we're just 14 points off securing a Champions League place and I've noticed the PSG match is the first of a double-header, with the next being the Coupe De La League final after the international break.
Begovic returns after passing a fitness test, though we'll need to keep an eye on him, and Joel is the man selected to replace top-scorer Willian Jose- and he scores after just nine minutes. We've been here before though and, like clockwork, Aubameyang scores a brace to turn the game on it's head in the second half. With 15 to go, Ronaldo Vieira equalises with a screamer and it's a decent point for us.
It's now April and my in-game birthday is right around the corner. All I want is that trophy, I want to show PSG my Marseille side mean business and I want a strong end to the season. So it's a full-strength XI and a mean tactical set-up for the final.
We look strong for the opening 40 minutes but a quick-fire double from James Rodriguez and Grzegorz Krychowiak puts us 2-0 behind. It's now a dangerous game, as I have little choice but to push more numbers in attack in an attempt to claw ourselves back in the game.
It works for the final five minutes of the half but 35 seconds into the second period Javier Manquillo stupidly dives in and earns himself a red card. With ten-men, 2-0 down in the final to a monstrous PSG side I don't rate our chances- but we have a chance, as Willian Jose pulls one back with half an hour to go.
We give it a good go but on the 80th minute mark Pierre-Emerick Aubameyang scores against us again. We go to overload, trying to find a miracle. We don't and Anthony Martial makes it 4-1. Another heavy defeat against PSG which we don't deserve.
There's no time to feel sorry for ourselves though as we have seven games remaining in the Ligue 1 season and we need to continue on our path towards the Champions League. A top two finish is the goal.

We beat Angers 3-1 and Monaco's 1-1 draw the following day puts us second. We then beat Guingamp 3-0, lose 2-1 to Montpellier and draw 2-2 with Toulouse. With three games to go we lead Monaco by a point and a goal difference eight superior, so it's all to play for in our showdown clash at the Stade Velodrome. We've reached the qualifying stages of the Champions League but I want that group stage spot.
Things start fantastically as Onazi smashes home inside two minutes but Domenico Berardi equalises before the game is even five minutes old. The end-to-end play continues all the way into the second-half, as Onazi nets a second. Joel finishes it off late-on, giving us a huge win.
Our challenge isn't over yet but I'm full of confidence heading into the final two games, where we need just two points. A 2-0 win over Auxerre means it's job done and we finish the season with another victory over Nantes; meaning our total is 84 points, 26 wins, 6 draws and 6 losses.