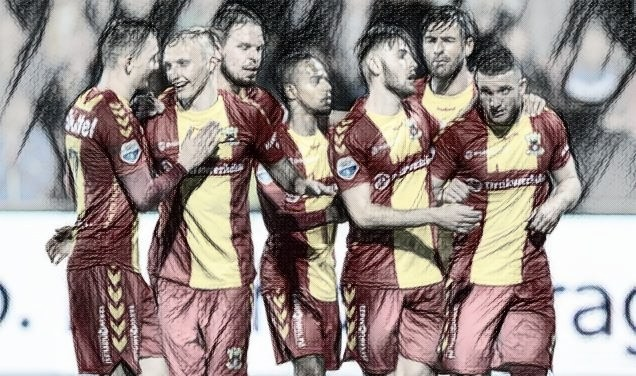 The first match of December see us travel to the deep south to lose against Roda JC. They are 11th in the Eredivisie and have some pretty decent players to field. You know, the type of players I don't have at my disposal. In a futile effort to end this month on a positive note, I return to a formation I have had some success with in other save games. I line the team up in a 4-4-1-1, which turns into a 4-2-3-1 when we're attacking. I'm not really sure why I bother, to be honest…
Our start is not bad, with a fine run by Ritzmaier down the left flank made redundant when Brands fails to anticipate on his cross. But this short spell lasts until the 13th minute, when a fine pass by Daniel De Silva enables Dani Schahin to make it 1-0. Things get even worse when Antonia sees a direct red card following a horrible tackle.
Darren Maatsen, on the transfer list since the start of the season, makes an unlikely comeback as I withdraw my only striker. After that, Roda JC has an easy evening. The 34th minute sees De Silva hitting the crossbar 16 meters out, with Schahin there to tap in the rebound: 2-0.  Even the smallest ray of hope is extinguished when Daemen fails to score from the penalty spot, after Van Ewijk was fouled in the Roda JC penalty area. When everything is against you, everything is against you. The second half sees a continued dominance by Roda JC, who run circles around us. The yellow-black offensive gives us some room to counter attack, but efforts by Van Ewijk and Maatsen are not good enough to bring excitement back into the game. The real hero is Alomerovic, who pulls of some incredible saves to control the damage being done. However, the inevitable happens in the 87th minute when De Silva hammers a deflected corner kick behind our goalie.
This disheartening defeat is followed by a meeting that has been hanging over my head for a while:
This leaves me in a dilemma. I can beg for my job and promise things I know I can't deliver, but the truth is I haven't been enjoying my employment at this club much. I sincerely doubt this team is good enough for the Eredivisie. The squad is mentally weak and collapse at the first sign of trouble. And I haven't got the funds to change this. On the other hand, there won't be many clubs willing to take a change on me considering my considerable failure here in Deventer. It's a real conundrum.
I stare at the screen for a long time. Do I simply give up? Do I barter for my job by saying I good get x amount of points in the next few games? Or do I begin somewhere else anew? Wipe the slate clean and leave this place which has brought me nothing but misery.

I don't do begging and I don't do bartering… off I am to new pastures…
I will continue this save right here on the Higher Tempo Press under the new name 'The Wandering Eagle'. See where my job hunt takes me and if I can fail just as spectacularly in new surroundings.