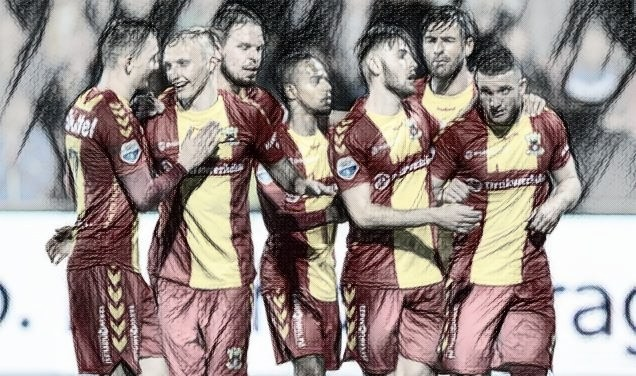 It feels good to have said goodbye to the 0 points. The four points we won in the last four matches gives us a platform to build on. Hopefully, we can continue gather points during October. On paper, Willem II, Heracles Almelo, and NEC are sides we should be able to get some points against. The game against PSV will be very hard. Furthermore, I've planned a friendly against amateur side WSV during the international break and we have a 2nd Round KNVB Beker match coming up against Jupiler League side Telstar.
Willem II are doing very well considering their stature. A 10th place is nothing to be embarrassed about. Biggest stars of the side are Erik Falkenburg and pretty boy Guus Joppen. Just like everyone they play a 4-3-3 DM. We are completely without injuries, so I have many mediocre players to choose from. I decide to swap Brands for Van Ewijk, because I'm not satisfied with his goal scoring. When he played, Van Ewijk always makes something happen. Hopefully, he makes it happen against Willem II.
I would not blamed the fans in the Koning Willem II Stadion if they had fallen asleep after the first 45 minutes. There were no clear cut chances, and even on 'extended' the match engine will only show me a wayward Willem II strike. To be honest, I don't care. I'm not here to entertain you. I'm not Robbie Williams. I'm Thomas Roode and I'm here to get points. And if I have to park the bus, tram, ferry, and train to get it, I will. During the second half, Willem II look like the side most likely to make something happen. A big chance for Falkenburg goes over the bar in the 65th minute. The Tricolores are not able to defeat the red-yellow wall erected before them, so the match ends 0-0. That's fine. It's away from home and even with our first win under our belt, I'm still not asking much more from my players. And besides, after our switch to 5-3-2 we haven't had a single goal against.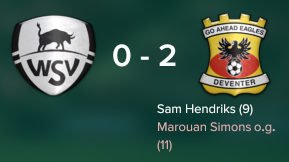 Next up is the international break. In order to keep the momentum going and get further used to the system, we go to nearby Apeldoorn and face Tweede Klasse (7th level) side WSV. Youngster Julian Wolf gets a chance at wing back on the right and Mark Spenkelink in goal. Due to injuries and international call ups, we don't have a big squad available to choose from. We register a solid 0-2 win, but without any new insights gained. The regular bench warmers did not overly impress me, and the two youngsters did okay. But all in all it was a useful exercise.
Our next opponent is 16th placed Heracles Almelo. They started the season well with an unlikely 3-2 victory over PSV, but have since slumped to the lower regions of the Eredivisie. They haven't scored in their last three matches. If we ever want to leave the relegation play-off places, we'll have to win this one. A win today would put us just two points from definite safety and give us an opportunity to rise even further. With the exception of reserve goalie Theo Zwarthoed is our squad completely injury free. Brands returns as shadow striker, Achenteh replaces the not 100% fit Teijsse and Ritzmaier replaces Goss as left sided central midfielder.
This is just what the doctor ordered. Our steady improvement has been given its crowning moment to date. An early wave of attacks from Heracles break on the sturdy rocks of our defence and it is Brands who puts us in front when he clinically dispatched a low cross from Achenteh. A fine move made by two players I decided to field instead of the usual names. It doesn't get much better as a football manager. Our dominance only increases when Heracles midfielder Pelupessy sees his second yellow card within 45 minutes. It is only the last fifteen minutes when Heracles decide to push for an equaliser. This gives us room to counter attack and when another low cross by Achenteh finds de Kogel's replacement Hendriks, who doubles our lead, my afternoon is complete.
Our win against Heracles brings us in touching distance of safety, with only three points separating us from safety. But our struggle to remain in the Eredivisie will have to wait for now, because a 2nd Round KNVB Beker tie awaits against Jupiler League side Telstar. Since the cup is no priority for me, I field a team full of bench players and youth players, with Julian Wolf, Marlo de Groot, Sefa Yildirim and Mark Spenkelink al making their debut.
Telstar were by far the dominant side. My not giving a fuck about the cup has undoubtedly has an effect on my squad, who just enjoy running around and letting Telstar do their thing. The lack of quality in the Telstar side means we go into extra time still 0-0. The extra time is about as exciting as, well, extra time and so the match goes to penalties. Third goalie Mark Spenkelink shows himself to be a true penalty killer with two saves in a row. It is captain Fischer who takes us into the third round, but the feeling that we could have skipped the match and just go straight into penalties is very much present afterwards.
Our next opponent is from quite another calibre. PSV are suffering from a disappointing start to the season. De Boeren ('the farmers') find themselves in mid table mediocrity at 8th place, even though they have some of the best players in the Eredivisie in Davy Pröpper, Luuk de Jong, Jetro Willems, and Jeroen Zoet. Meanwhile, we are completely injury free so I should have a wealth of talent available to me, if I had any. But our tactic is designed to compete against stronger teams, so I'm confident we'll be fine. And if not, I at least got into the record books, twice:



14 shots, 6 shots on target, and 3 clear cut chances. If I were playing FM with PSV and saw this match unfold in front of my eyes, I would uninstall the game, and spend my time more purposefully. But I am manager of Go Ahead Eagles and we just got an unlikely draw visiting one of the title contenders. We got one highlight, with Leon de Kogel heading the ball into the safe hands of Zoet. Apart from that moment, the PSV attackers did everything to go ahead (no pun intended), except from actually scoring. There was that one moment when Siem de Jong thought he had scored, but Hector Moreno was offside so that was a no go.
The last match of the month is against NEC, high on their 3-2 win against arch rivals Vitesse. As a fellow promotion side they are doing very well with a 12th place. They have an internationally oriented squad with no less than 12 nationalities. In comparison, I only have 7. But we also have a very sturdy defence which hasn't tasted the bitter taste of a goal for seven games. Sure, I will not win any awards with regards to entertainment, but who cares? I'm here to do one job and one job only: survival. We are going to have to continue that run without our only right sided wing back, Joey Groenbast. I choose Lars Lambooij as his replacement.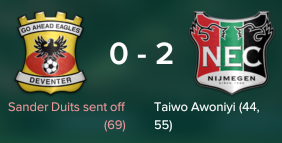 689 minutes without a single goal against us. It is a very noteworthy achievement for a side that fights against relegation. But it was all shattered when Taiwo Awoniyi took a shot from a very tight angle that somehow got past Alomerovic. Until that moment we were very much in control of the match, and created some very good chances. But after that goal, we never really recovered. NEC were the most dangerous side during the second half and when Awoniyi scored his second goal, it was all played for. Especially when captain Duits saw his second yellow card. A very disappointing result after such a good run. With a win, we could have left the relegation zone. Now, we are still very much in trouble.