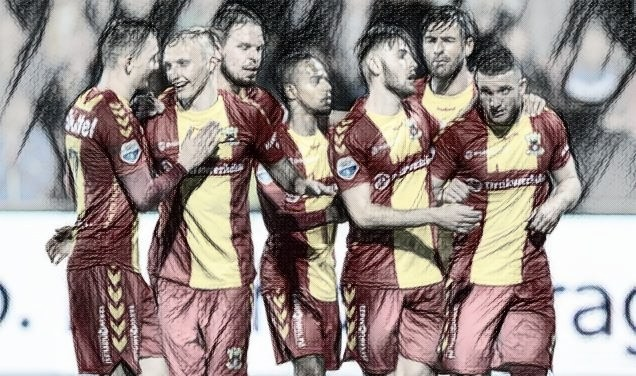 In order to lift morale a bit and get further used to the new system, I plan a friendly against AGOVV Apeldoorn during the international break. AGOVV is a club that has overseen the rise of Klaas-Jan Huntelaar, Dries Mertens and Nacer Chadli. Since then they went through bankruptcy and now find themselves on the seventh level of the Dutch football pyramid. As expected, we manage to beat them. But more importantly, I gave a few players a chance and they took it. Expect some changes for the match against Sparta.
The main victims of these changes are Sander Fischer, Joey Groenbast, Marcel Ritzmaier and Jarchinio Antonia. Their places will be filled by Erik Schouten, Lars Lambooij, Kenny Teijsse and Henrik Ojamaa. With both Sam Hendriks and Leon de Kogel injured, I put Kevin Brands up front as my striker with Jerry van Ewijk behind him. In normal times, Sparta would be down the table with us, among the muck and the peasants. But innovative manager Alex Pastoor has hit the ground running and Sparta find themselves in 8th position. That's an impressive result and something for us to emulate. This will have to start against them in our very own Adelaarshorst. Please, dear Lord, give me a point…
We dominate the first half and create some really solid chances. Especially Van Ewijk is constantly testing Sparta's defenders. There's only one problem: we fail to score, something that has come to bite us in the ass in previous matches. We continue to put pressure on the defence of our opponents. So it was completely predictable that they would be the ones to break through in the 59th minute, they go ahead thanks to a Thomas Verhaar strike. Things are made worse when Verhaar finds himself with more freedom than can be provided by the US Army and makes it 2-0. At this point, I'm looking to make substitutions. But deciding who to take off is made difficult by the collective failure unfolding in front of me. The changes I make feel like using a bucket to stop a tsunami when Verhaar makes it 3-0 with fifteen minutes to go. I switch off. Dejected I look on while both teams play out the match.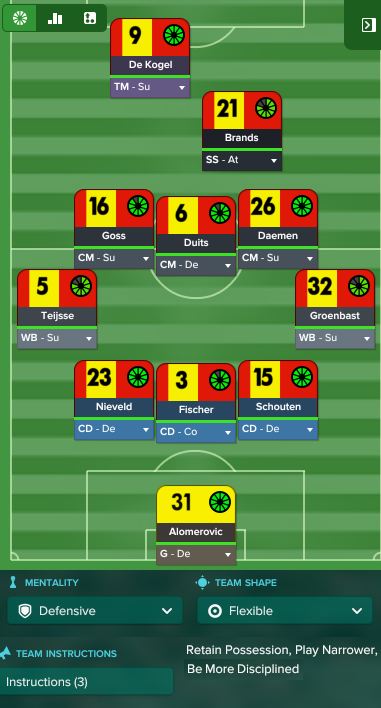 At this point, I honestly don't know what to do. Everything I touch turns to absolute shit. I don't know what I did in a previous life to deserve this. We'll just have to persevere, locked in this dance of failure until three points or my sacking ends it.
With an away game against FC Twente coming up, I need to think of something. Maybe we should forget about scoring for the moment and just concentrate on keeping a clean sheet. That would at least get us a point. In order to do so, I'm changing to a defensive 5-3-2 formation.
This is my third attempt to get something out of this team. If this fails to produce any results, I'm out of ideas. Meanwhile, FC Twente doing great. They are in 2nd position and have some players who are very much in form at the moment, such as Chinedu Ede, Hidde ter Avest and Dejan Trajkovski. It will be an absolute miracle if we get anything from this match.
With the exception of a header that ends up against the bar, we keep our shape and our clean sheet during the first half. It must be atrocious to look at, because even on 'extended' the match engine will only show me a single highlight. The second half tells very much the same tale. We are limiting FC Twente to some wayward shots and half chances. Meanwhile, we occasionally visit their penalty area too, which is a nice bonus. The red card received by Mokotjo even multiplies those visits. We are not able to score, but that's okay. We end the match 0-0 and we get our first point of the season! The tactic has worked well, considering we kept our first clean sheet. It might only be a point, but it certainly lifts my spirit.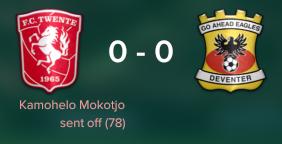 Next up is a cup tie against Jupiler League side RKC Waalwijk. I'm not bothered by the cup, because this season is all about survival. So I treat this like just another friendly. That means I offer some opportunities to my reserve players. Furthermore, I discovered I don't have many wing backs so I'm using this fixture to experiment with some players who might be suitable for this position with some retraining.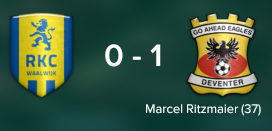 It feels good to see we are the better side. The smart money is still on us playing in the Jupiler League next season (although I doubt it will be with me as manager if that happens) and this way we can scope out the competition. Our dominance is translated into a goal when Ritzmaier fired a fine free kick into the net with 37 minutes played. A spectacular save by Zwarthoed keeps us ahead in the 70th minute, with not much else happening until that moment. Just five minutes later a long range effort by Nieuwendaal ends up on the bar. But that is all RKC can muster and with that we are through to the second round of the KNVB Beker. It's not much, but in this situation I'll take anything I can get.
The last game of the month sees us squaring up against sc Heerenveen, another provincial club who are doing very well. They profited from FC Twente's draw against us to climb up to 2nd place. They have a lethal striker in Henk Veerman (7 goals in 7 matches) and one of the best assisters in the league with Sam Larsson (6 assists in 7 matches). We'll have to be just as solid against sc Heerenveen as we were against FC Twente.
The biggest and only real chance of the first half is ours when de Kogel fails one on one with the Heerenveen goalie. A shame. With 45 minutes running out, we are still at 0-0. A very satisfactory score. An opportunity arises when Heerenveen left back Bijker sees a second yellow card in the 67th minute. We profit from our advantage in numbers in the 71st minute. Brands plays out wide to Groenbast, who reaches de Kogel with a low cross. The tall striker doesn't hesitate and puts the ball in the top corner: 1-0!! But we get very nervous after the opening goal and hand the initiative back to Heerenveen, which results in big chances for Te Vrede and Zeneli. With five minutes remaining, I go to 'contain' to see the match out. When the referee ends the match, I'm struck with disbelief. We won! We won against the second best team in the league! After 7 matches without a win, we actually did it. It's nothing short than a miracle.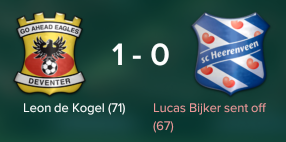 September has seen a vast improvement in our predicament. We took 4 points from 4 league games and progressed in the KNVB Beker. Our switch to a defensive 5-3-2 has given us a lifeline. If only we can catch up with Roda JC and ADO Den Haag, then we can climb the table relatively fast.
Will we keep this up? Do we actually leave the relegation zone? Join me in part 5.