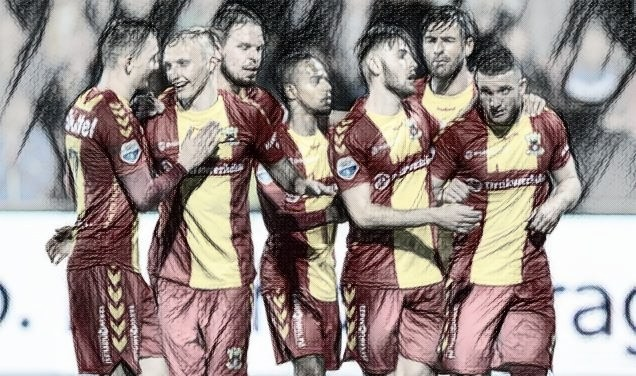 Our opening fixtures are not easy. We will be facing FC Groningen, AZ, FC Utrecht, and Vitesse. These are sides who normally compete for European qualification and are much better than we are at this moment. I have little hope to get much from these matches. ADO Den Haag might give us a better chance to acquire some very necessary points.
AZ are a formidable side, who regularly challenges the traditional top three. They have many talented players in their squad, such as Iranian winger Alireza Jahanbaksh, left back Ridgeciano Haps, and their veteran captain Ron Vlaar. Meanwhile, we are without Lars Lambooij and Chris David. Sean Goss will make his debut in the first team, replacing David. This will be a very tough season opener.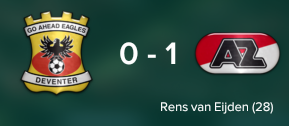 This was very much a game of two halves. AZ dominate the first half and it is to no-one's surprise when they go 1-0 up. A Bel Hassani cross ends up on the head of Vlaar, who nods the ball to Van Eijden. He heads the ball off the underside of the bar before it crosses the line. It takes 35 minutes for us to create our first chance, a hopeful shot by Brands. We are the better side during the second half. We play better, and create more chances, but fail to truly test AZ 'keeper Rochet. Considering our performance, the 0-1 result is slightly disappointing. But the way we played during the second half is certainly encouraging.
In a rare midweek fixture we meet fellow relegation candidates ADO Den Haag. They lost their first match of the season 2-0 away at FC Groningen. Their squad is a mixture of raw talent and wily veterans, such as Ivory Coast international Wilfried Kanon, 195cm tall striker Mike Havenaar, and cult hero Tom Beugelsdijk. Meanwhile, Lambooij and David are still injured, and we are also without Daemen, Nieveld, Goss and Brands, who are suffering from tired legs. They will be replaced by Duits, Schouten, Suk and Van Ewijk respectively. This opponent is our only good chance of securing any points this month, on paper at least…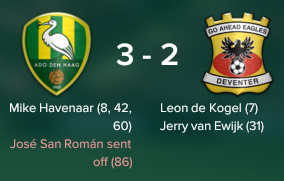 Well, this has been a very frustrating night. We were off to a flyer when De Kogel scored in the 7th minute after a fine cross by Achenteh, who does exactly what I require of him by overlapping wide midfielder Ritzmaier. But we are not able to enjoy the moment for too long, because Havenaar immediately equalises after a cross by Becker and a weak goalkeeping performance by Cummins. But we show our resilience by going ahead once more. Suk plays the ball to Van Ewijk who finds himself in a small pocket of space, enough to put it decisively behind ADO goalie Setkus. We again allow ADO back in the game with an almost exact copy of their first goal. Becker crosses; Havenaar scores. Very frustrating. And it only gets worse.
Without any player in sight, 'keeper Cummins distributes the ball right in the feet of Becker who crosses for Havenaar to score his third goal of the night. There was some hope when Argentine right back San Roman sees his second yellow card, but we can't make the most of this opportunity and return home to Deventer very frustrated. We went ahead twice and allowed them to equalise twice and then Cummins came and threw it all away. He'll find out I don't suffer fools lightly.
After his dumb mistake against ADO, I'm so infuriated with Erik Cummins that I decide 34 year old veteran Theo Zwarthoed gets a chance to impress me between the posts. In the meantime, Erik gets the opportunity to study colours and the way they relate to the kits worn by opponents. Idiot. To be on the safe side, I ask my scouting department to keep their eyes out for a goalkeeper.
Meanwhile, our next opponent awaits. FC Groningen won against ADO Den Haag, but lost their second game against FC Utrecht. Our two losses sees us at 17th place without any points and only a slightly better goal difference than fellow 'zero pointers' Excelsior. Apart from Cummins being replaced, there are a lot of tired legs. No fewer than six players are below 90% and will have to be rested. I hope this won't mess with our team cohesion too much.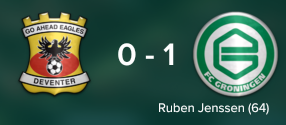 For over an hour of play, the match isn't particularly interesting. Both sides create some chances, but nothing more than wayward shots and hopeful efforts. That is until the 64th minute when Ruben Jenssen scores a direct free kick. After that, we take control of the match and push for an equaliser. But efforts by Ojamaa and Teijsse fail to bring the score to 1-1 and so we again fail to pick up any points. The most frustrating part about it is that we aren't necessarily are the lesser side. But that doesn't change the fact that we now played three games and have not gained a single point.
This happy looking fellow is 25 year old Serbian goalkeeper Zlatan Alomerovic. I found him wandering in free transfer country, having been released by 1.FC Kaiserslautern. He is better than Cummins in most areas and most important of all: he is not Cummins. I hate that guy. I move my erstwhile first team goalkeeper to the reserve squad and the transfer list, where he soon attracts the attention of Jupiler League side MVV:
With eight days between the game against FC Groningen and our next match against Vitesse, most players get the opportunity to restore their fitness levels. With only Lambooij still injured, we are able to field our strongest eleven. Meanwhile Chelsea B Vitesse have started the season disappointingly. They drew their first three games of the season and find themselves at 15th place. You know what? I'll settle for a draw.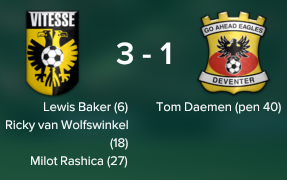 It took a full 5 minutes and 50 seconds before my new Serbian goalkeeper is forced to pick the ball out of the net after Lewis Baker put it there. I'm afraid he will have to repeat that motion many more times this season. It only gets worse when Van Wolfswinkel finds himself onside and behind our last man to make it 2-0. And it just gets silly when 177cm tall Rashica is able to head the ball past Alomerovic to make it 3-0. A little ray of hope enters the Gelredome when Nakamba handles the ball inside the penalty area and Daemen converts the resulting penalty kick: 3-1.
I give the guys a right bollocking during half time and that seems to have some effect. We are actually playing football and creating some chances, but without really testing the Vitesse defence. But it's that same defence that comes to our aid. Rashica fouls Schenk in the penalty box and referee Liesveld again points to the spot. Tom Daemen turns out to be a one trick pony, however, and he manages to hit the ball right at goalkeeper Eloy Room. We're doomed. DOOMED, I TELL YOU!!
The horrendous run of results thus far has forced me into some contemplation. Obviously, the defensive midfielder is not providing the defence solidity I'm looking for. So maybe I should try something different, something a bit more adventurous. This is what I came up with: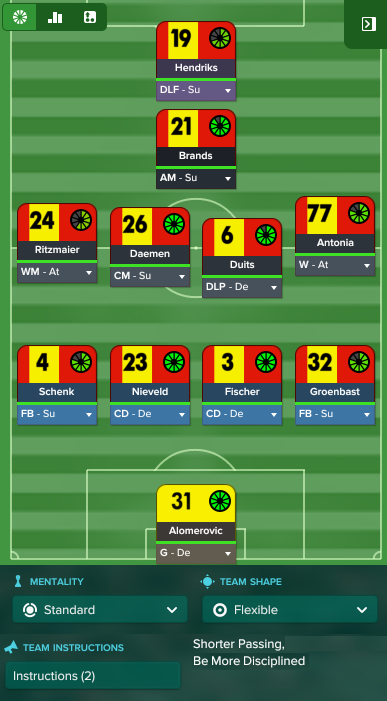 I replaced a defensive midfielder with an attacking midfielder, but added a defend role to my midfield in order to retain my balance. This formation will be a 4-2-3-1 in possession, hopefully enhancing my attacking options without upsetting my defence. I also removed the 'fairly narrow' team instruction, because I found the middle of the park would get congested with all my opponents playing 4-3-3 DM. Removing this instruction will hopefully allow me to stretch play more and find more pockets of space. The 'be more disciplined' is chosen in part by the change in mentality from counter to standard. This will cause my players to take more risks, but stay disciplined and true to the system.
My new system will be tested away at FC Utrecht. They haven't lost the last three matches and find themselves in 9th place. The squad is bursting with talent however, and my players will have to be very sharp in order to combat the risks posed by players such as Sébastian Haller, Yassin Ayoub, and Willem Janssen. With Lambooij resuming full training, we are finally injury free. I stick with the players as shown above, but every one of them can be replaced. No-one is expendable in a team that has failed to win in four matches.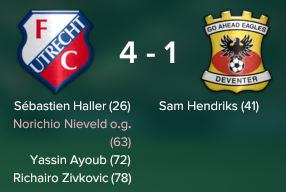 You would not believe it when looking at the scoreboard, but we actually did not play bad. Especially during the twenty minutes after the opening goal by Haller we dominated proceedings at the Galgenwaard. The equaliser by Hendriks in the 41st minute was nothing short of deserved. But after half time, we fell apart. FC Utrecht could not be stopped and attacked without pause. It is a miracle it took until the 62nd minute for FC Utrecht to go ahead once again, when Nieveld scored an own goal. After the goal, we kind of stopped playing and let FC Utrecht run rampant. It was a shame, for twenty minutes it actually looked like we could get something out of this match but to see it all fall apart this way is very disconcerting.
I hate this fucking game…
Anyway, join me in part 4 when we hopefully end our disastrous run.