Brexit
We all know the story. Politics happened in 2016, and as a result everyone is banging on about Brexit. But while the country gets drawn into debate and speculation about the future of the European Union, our football world can be an escape from the hubbub, free from political influence.
Except it might not be. One of the major concerns surrounding Brexit is how it will affect the English game. British players may struggle to find work permits abroad, and perhaps more importantly for the Premier League, it may become difficult for foreign players to secure work permits in the UK.
We all know the pain of missing out on that young Brazilian talent on FM because he can't get a work permit. Now imagine that uncertainty with almost every player from outside the UK. This is a very real possibility, and could have profound effects on English football.
The Experiment
The aim of this experiment is to see how Brexit may affect a Premier League team. To do this, I have taken control of West Ham United, on 30th June 2017, to transform their side into a club consisting of only British players and staff.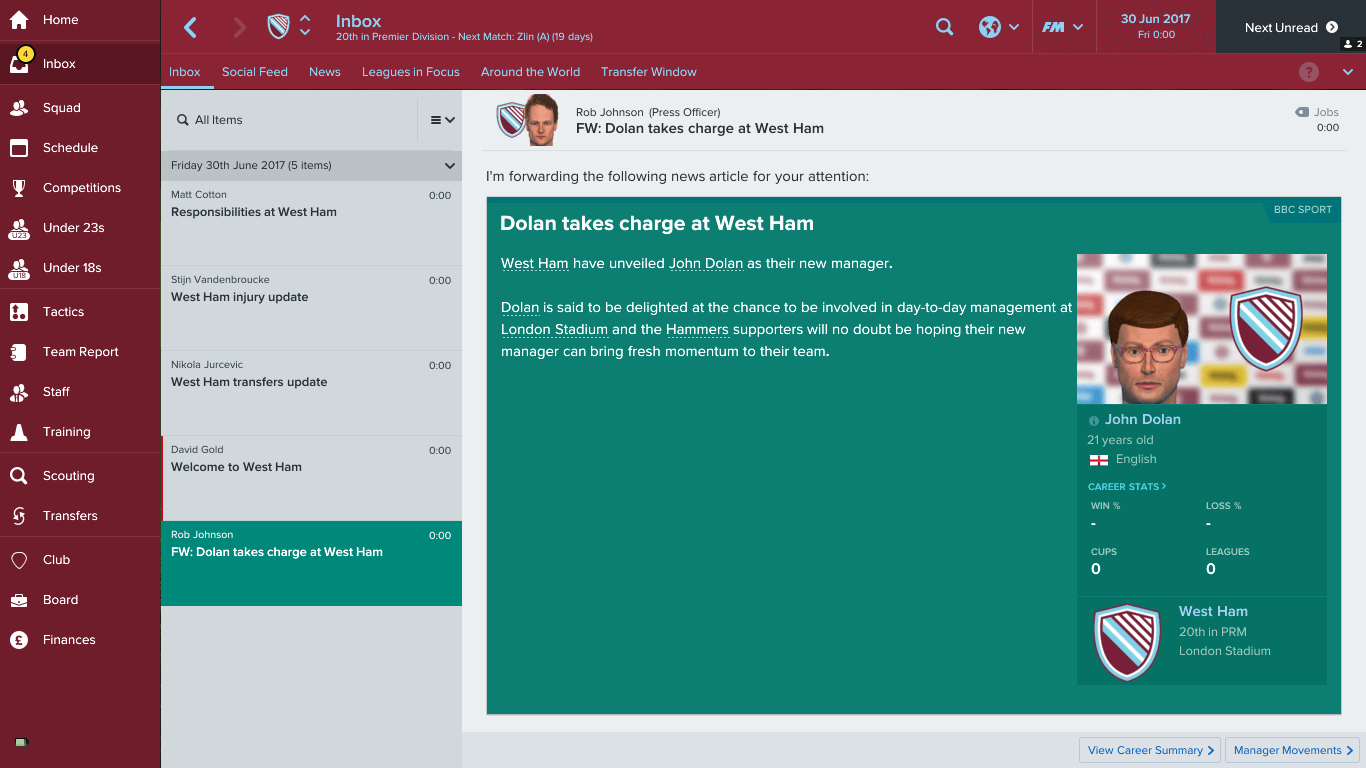 I am using only British and Irish players, because it's very possible that there will be measures put in place to ensure that Ireland still has certain privileges in the UK. More importantly, I am using West Ham United because they claim, quite regularly, to have won the World Cup in 1966. A fair argument, considering they were the club of Bobby Moore and Geoff Hurst at the time. Let's see if they still have that British pedigree engrained in their club.
I have made myself an almost entirely tactical manager, opting more for Sam Allardyce than Tony Pulis. I have given myself a National coaching license (naturally), and made myself a professional footballer. This should land me in good stead when I take over the side.
Unfortunately, the first step of this experiment involves a mass exodus of Non-British players from the club. This gives me two benefits. One, it gives me more space to develop a team of British quality, and two, it gives me an awful lot of money with which to acquire this quality. The downside, however, can be seen in the picture below.
The first team meeting was pretty frosty, although considering more than half of the players spoken to here are about to be sold, I'm not going to dwell on it. There was also a mass mutual termination of staff contracts too. My assistant manager, Nikola Jurcevic, has been replaced by Huddersfield's Frankie Bunn. Four other staff members have also had their contracts terminated. It makes sense to have the whole club, top to bottom, being British, from a language perspective as much as anything.
As I write, I am at 20th July 2017, exactly 3 weeks after taking the job. It's been a busy three weeks. We have played 1 friendly, a 2-0 win over Czech side Zlin, and have Michael Carrick's Testimonial in 2 days. We also have Europa League qualifiers on the way, courtesy of West Hams 7th placed finish the previous season. These qualifiers will be against Red Star Belgrade.
The Transfers
Most importantly, these 3 weeks have given me a complete overhaul of the squad. I now have entirely British players, and have registered all of the over-21's (all of them homegrown as well, which is satisfying to look at). The outgoings are as you'd expect, think of a West Ham player and they've been sold, but the incoming transfers have had to be a little shrewder.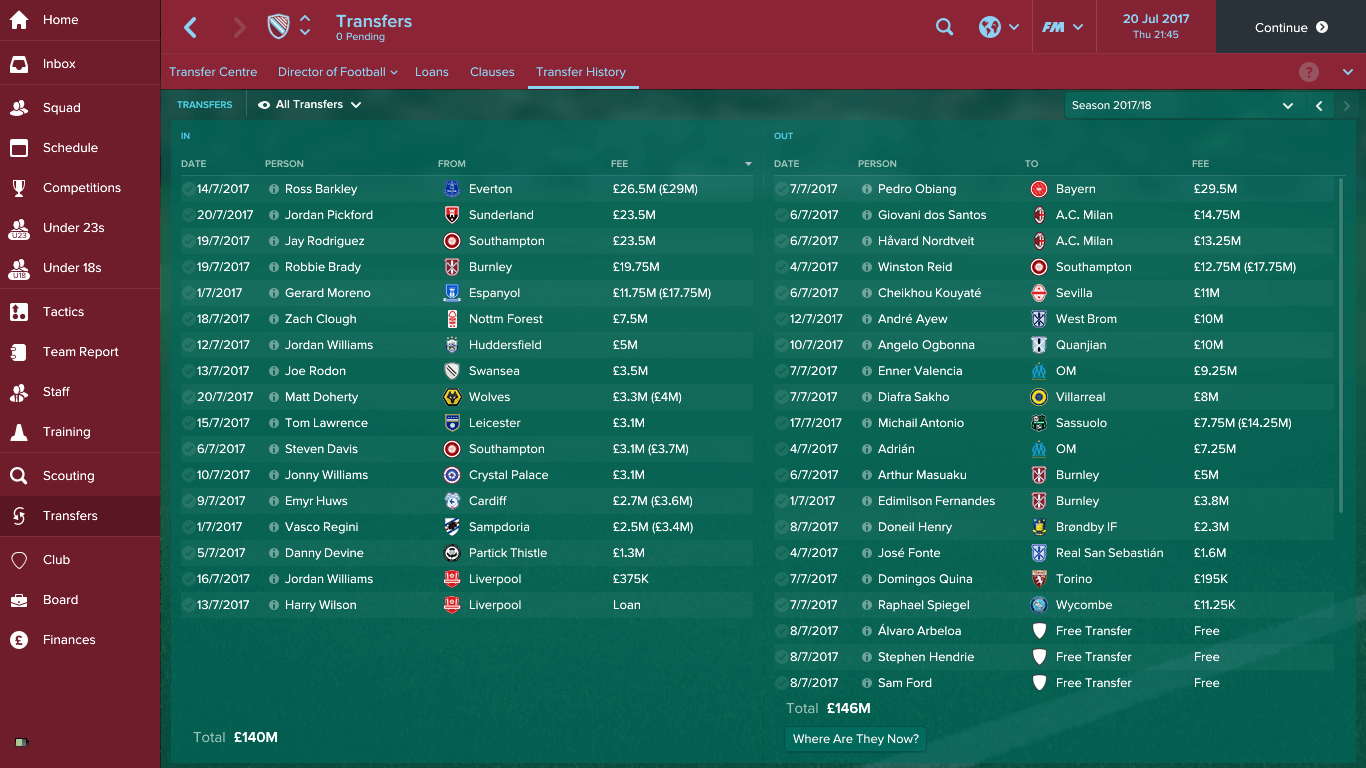 As you can see, I attempted to squeeze as much money as I could from the sales, with little success. However, £146million brought in from the sale of players is a significant amount, and has helped me put together a new squad of British talent:
Ross Barkley. Not someone I'd sign ordinarily, but by finishing 7th, West Ham have European football, and as a result, Everton do not. Therefore, relatively cheaper than normal, Barkley should prove to be the main focal point of the squad.
Jordan Pickford. Sunderland managed to stay up in 2016/2017, but again the lure of European Football may have kept his price down. An excellent goalkeeper of proven Premier League quality, he should end up being one of our more important signings.
Jay Rodriguez. Versatile and talented, Rodriguez can play in any of the front four positions in the 4-2-3-1 formation we will be using. Another player of genuine Premier League quality.
Robbie Brady. Dangerous on the left and can provide decent crosses for someone like Andy Carrol up top. Strong from set-pieces and can play anywhere on the left.
Gerard Moreno. Already had a future transfer agreed so not an awful lot I can do about it. May loan him out to avoid complaints, same goes for Vasco Regini (4th from bottom).
Zach Clough. This is where the proven quality begins to run out, and may be where we struggle this season. Highly recommended by scouts, and technically gifted, but Clough is young and yet to make the step up to the Premier League.
As mentioned, it's been a busy few weeks here in East London, and still a long way to go. We can revisit the save on the other side of the upcoming Europa League fixtures.