Beating Europe
The first competitive game for the Brexit-based West Ham team was, fittingly, a Europa League clash with Serbian outfit Red Star. The first leg of the Third Qualifying Round was at home, so it was looking to be a fairly straightforward way to get used to my team and their tactics. Delightfully, I'd lost the Michael Carrick testimonial game 2-1, courtesy of two late goals from two young lads. What that showed me, however, was a glaring issue with my attacking force.
I prefer to play 4-4-2, with advanced wingers. Score many, concede many, everyone has a good time. But with Ross Barkley, I have to accommodate him, so 4-2-3-1 is the way to go. However, due to his ability to barrel forwards and carve chances for himself, I have tweaked the lineup ever so slightly.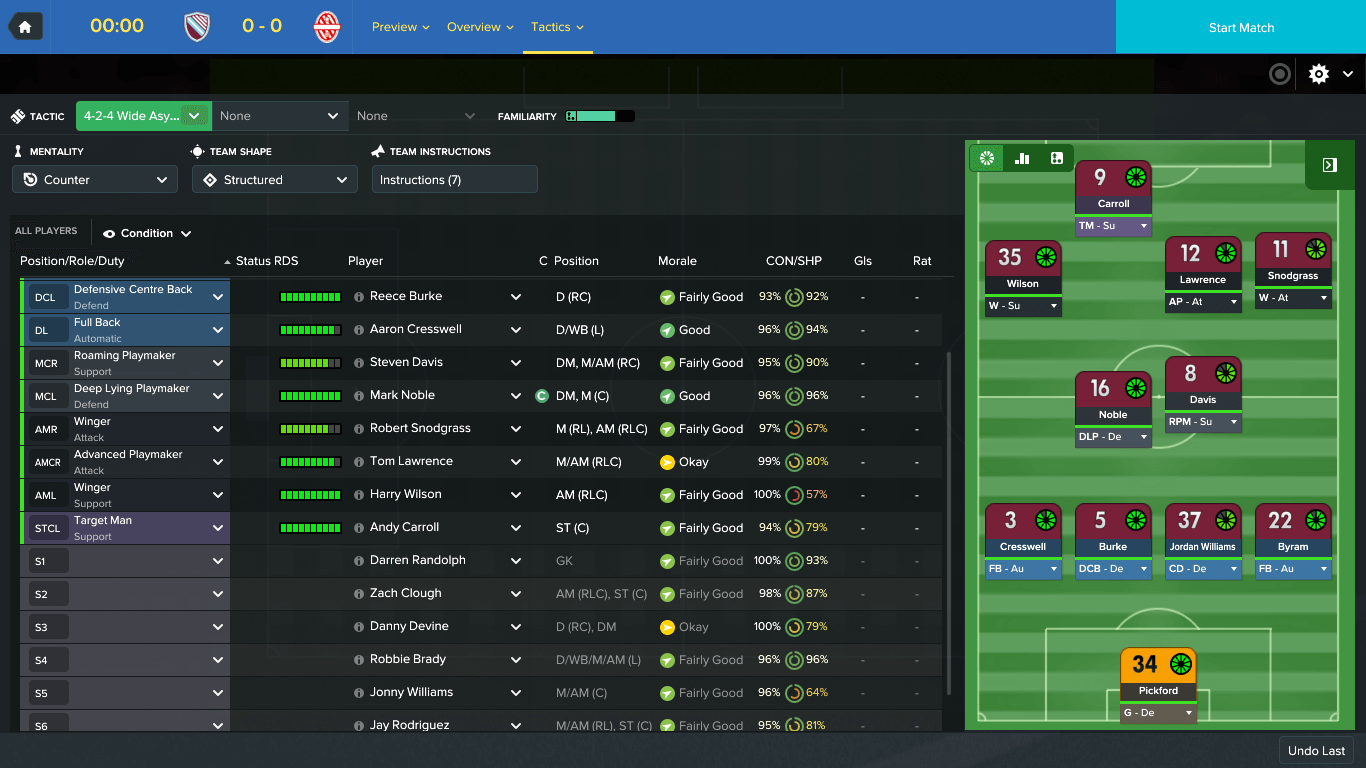 While I appreciate that it is Tom Lawrence and not Barkley in the middle there, the principle remains. Having the CAM just off to the side of the striker allows two beautiful things. One, they don't get in each other's way when carving attacks. And two, Carroll is now perfectly in position to challenge the opposition full back for headers, not the centre back.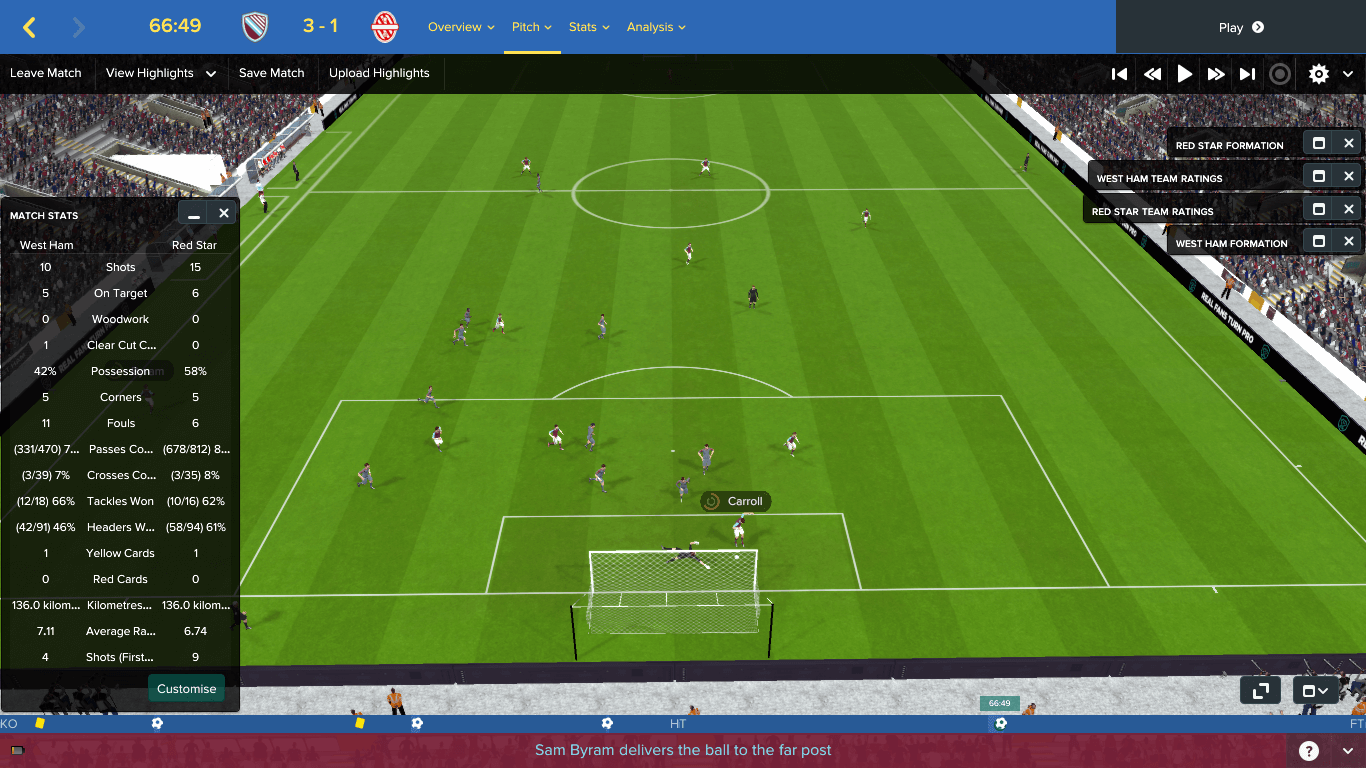 Far be it from me to suggest that it was all my tactical nouse that allowed this tap-in for Carroll, but when you've got a grotesquely huge centre forward, stick him on one side or the other of the attack and aim every single cross in that direction. It makes life easier. I should also note that the other goal scorers in this game were Snodgrass (outstanding free-kick) and Lawrence.
Long story short, we won 3-1 in the first leg, and drew 2-2 in the second. While they are the best that Serbia have to offer, I'm not hugely impressed with conceding three goals. That's why I decided to make another signing. A big, strong, British centre back who can organise as well as get his head on things.

With no CDM and a youthful backline, Williams should hopefully be the key organising ingredient. We already have a strong midfield and plenty of attacking threat, but a dependable CB is hard to come by, particularly a British one.
The Premier League Kick Off
All this meant that our final qualifier would be against Brondby, but we had much bigger fish to fry before the next phase of European domination. As I said, I have started this in 2017, because it's closer in time to real life of course, but also it means that there are more players available to purchase, and the promoted/relegated teams are a bit more random.
Last season, Crystal Palace, Hull and Middlesborough got relegated (almost spot on), and Newcastle, Huddersfield and Derby got promoted (almost spot on again). What's even better is that my first game of the league season would be against Derby at home. It would be immoral of me to not win that opening fixture.
So I got the best team possible together, with new boy Williams and Snodgrass in for the injured Brady, and after an excellent knock-down from Barkley, Carroll volleyed home the only goal of the game. Nothing special, but a win is a win.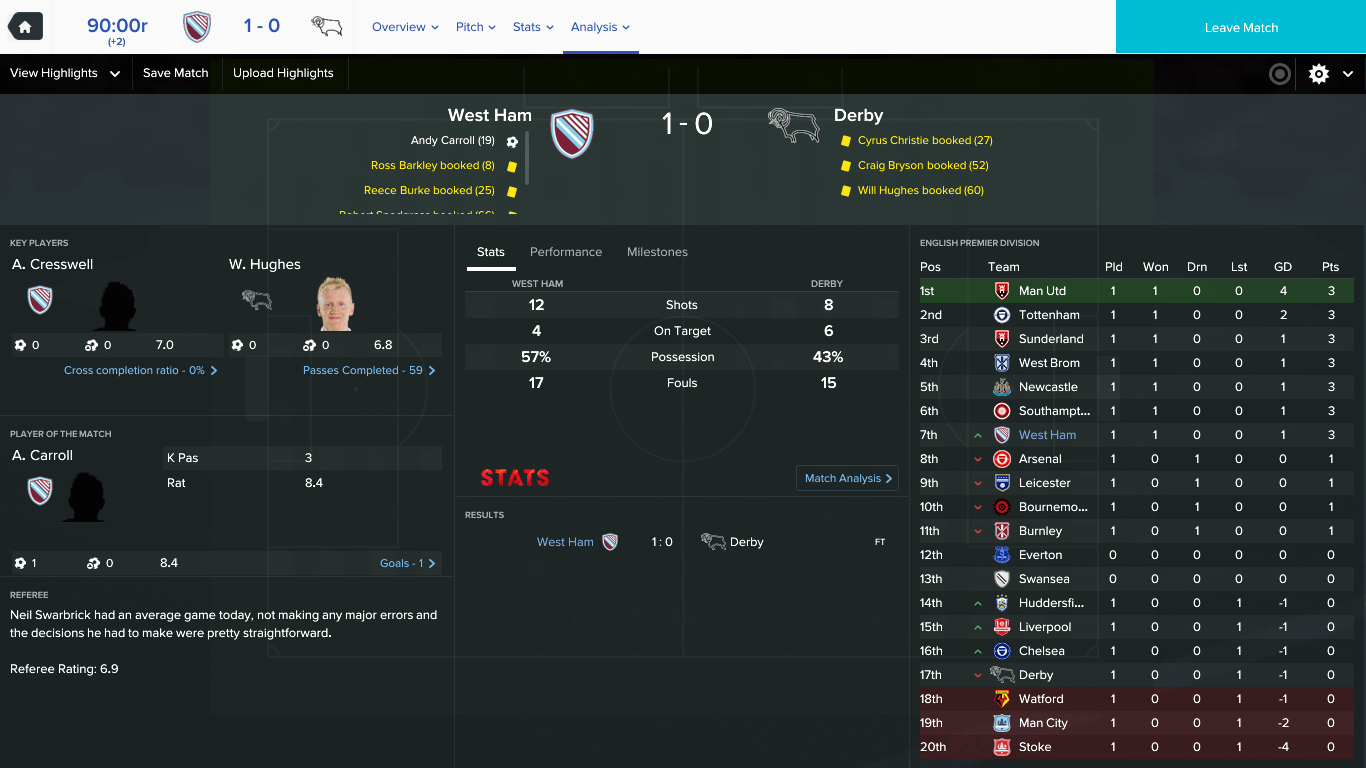 As the stats show, the formation afforded us a lot more possession, but it would have been nice to see more crosses come in. Derby played a flat 4-4-2, so our full-backs couldn't get forward to whip balls in as much I would have liked. Still, onwards, to our second league game, away at Arsenal.
Now I should make it clear early on that I am a big Arsenal fan. I love everything about them and yes, I also love the manager. He's a great man and manager, and despite everything said about him, I will always love him. However, there are some moments that make me question my love for him, and frankly, this is one of those moments.
My homegrown talent has been forced upon me Arsene, back when we voted for Brexit. Remember? Anyway, he stoked this up, and despite the serious quality that Arsenal have, I didn't fancy losing 5-0, which is normally what happens.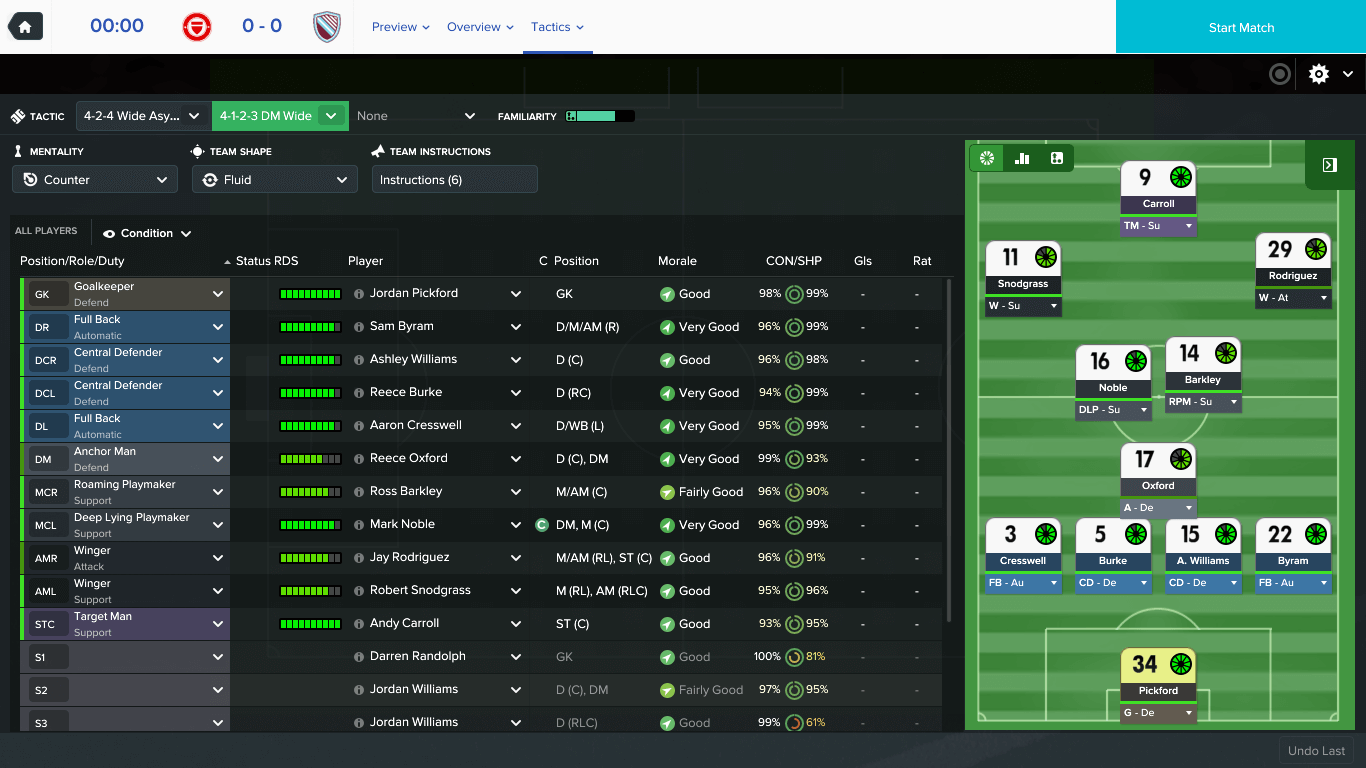 So this is the 11 I went for, playing a CDM in an effort to halt Ozil and friends in the middle. The wingers should be busy enough to prevent any overlaps, and Carroll is always an out-ball. Despite hitting the post from a Snodgrass free-kick, we couldn't score all game. Luckily, Arsenal couldn't score either, showing that the formation switch did the intended job.
Sure they had a few shots at us, but Pickford was worth every penny, and unbeaten after two games isn't a bad thing.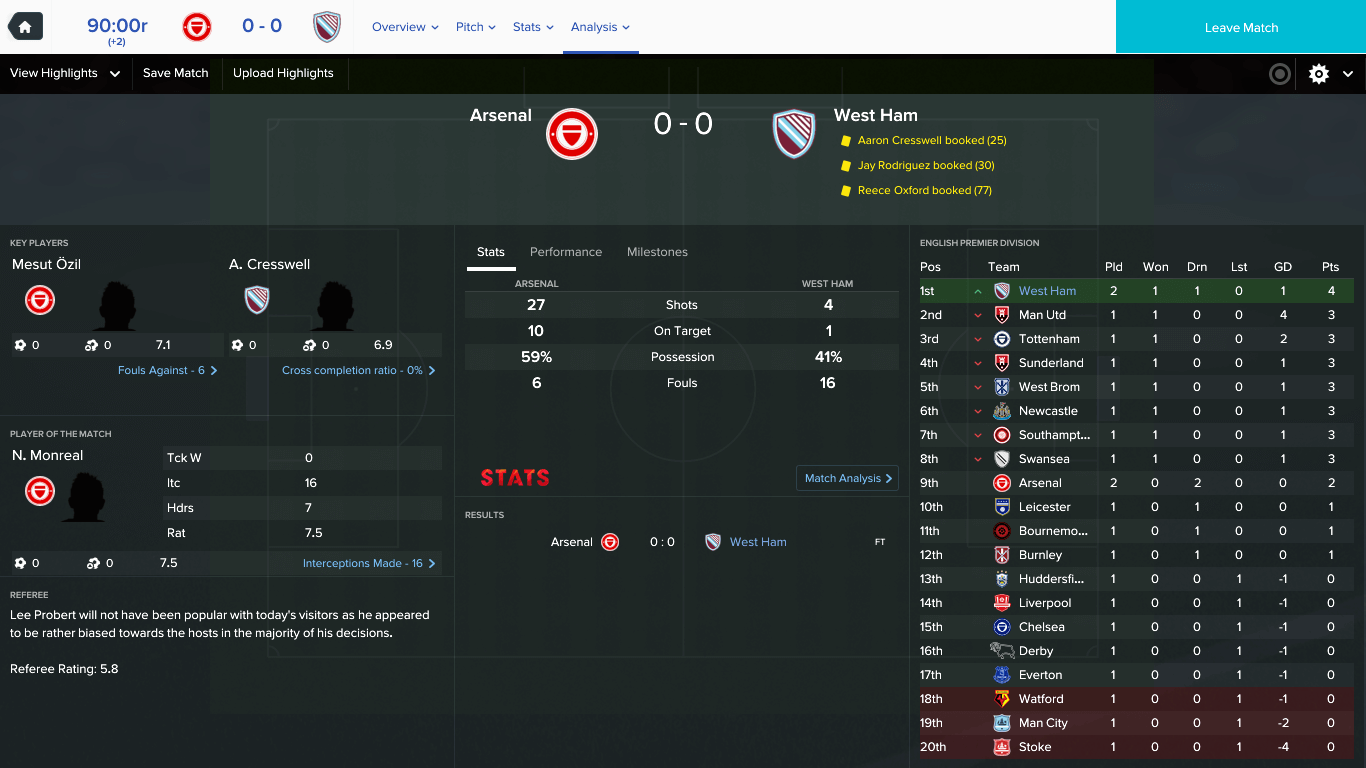 Beating Europe Again
That led to the final game of Part 2. The first leg against Brondby. Like Red Star, this shouldn't be a particularly challenging game, especially at home, but you have to be wary of Europeans, isn't that right 51%?
Anyway, I decided to rest a few players, so shortly after the Arsenal game. Carroll stayed, because Clough is recovering from a knock, and Jay Rodriguez can run like a horse. So both horses stayed in the starting 11, but there were a few changes elsewhere. Young Jordan Williams came in at CB, and younger Jordan Williams came in at RB. With Ashley Williams sitting in the back four and Jonny Williams playing ahead of them, it was a tough game for the commentator.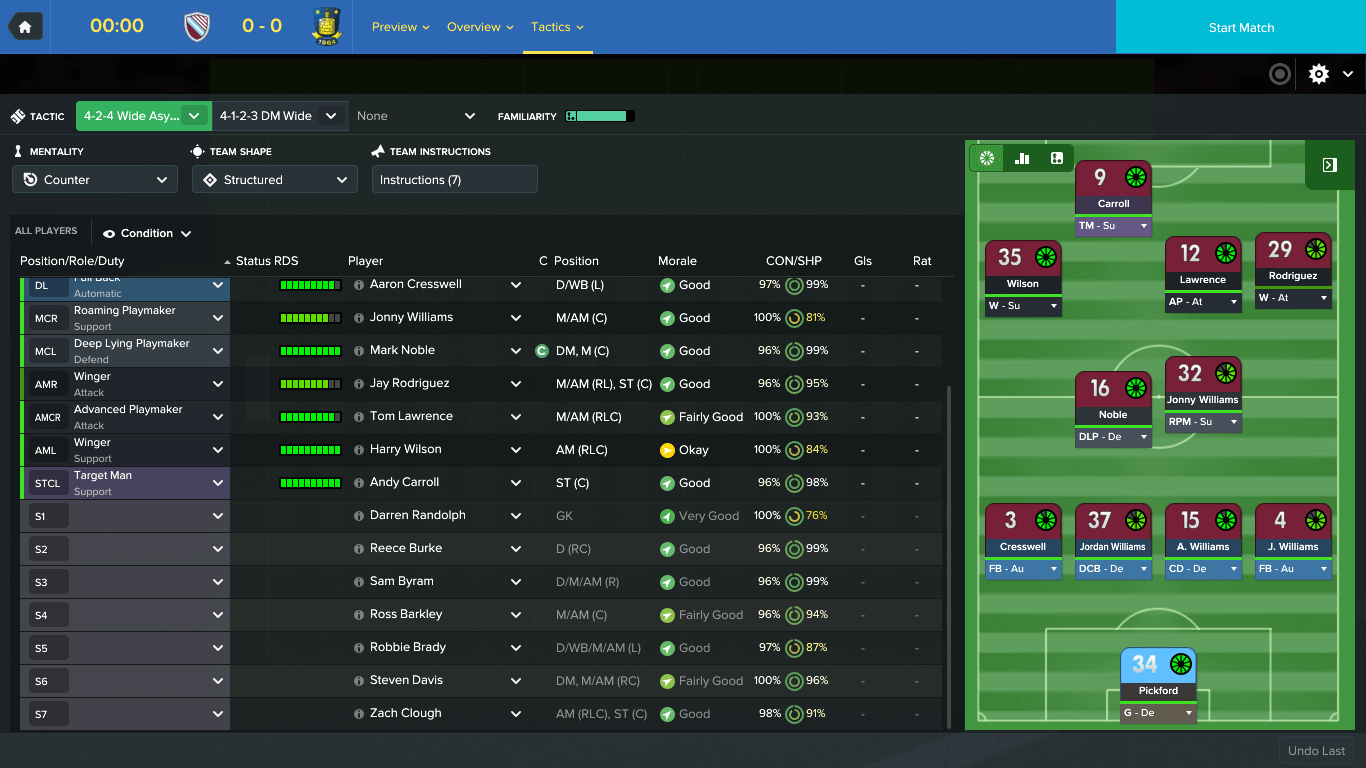 Luckily it wasn't quite so tough for us. I would have liked to see a few more goals and a slightly better performance, the away leg will be a big ask. All in all, though, we played well and it was nice to see Ashley Williams get a goal, from a Carroll flick on following a corner.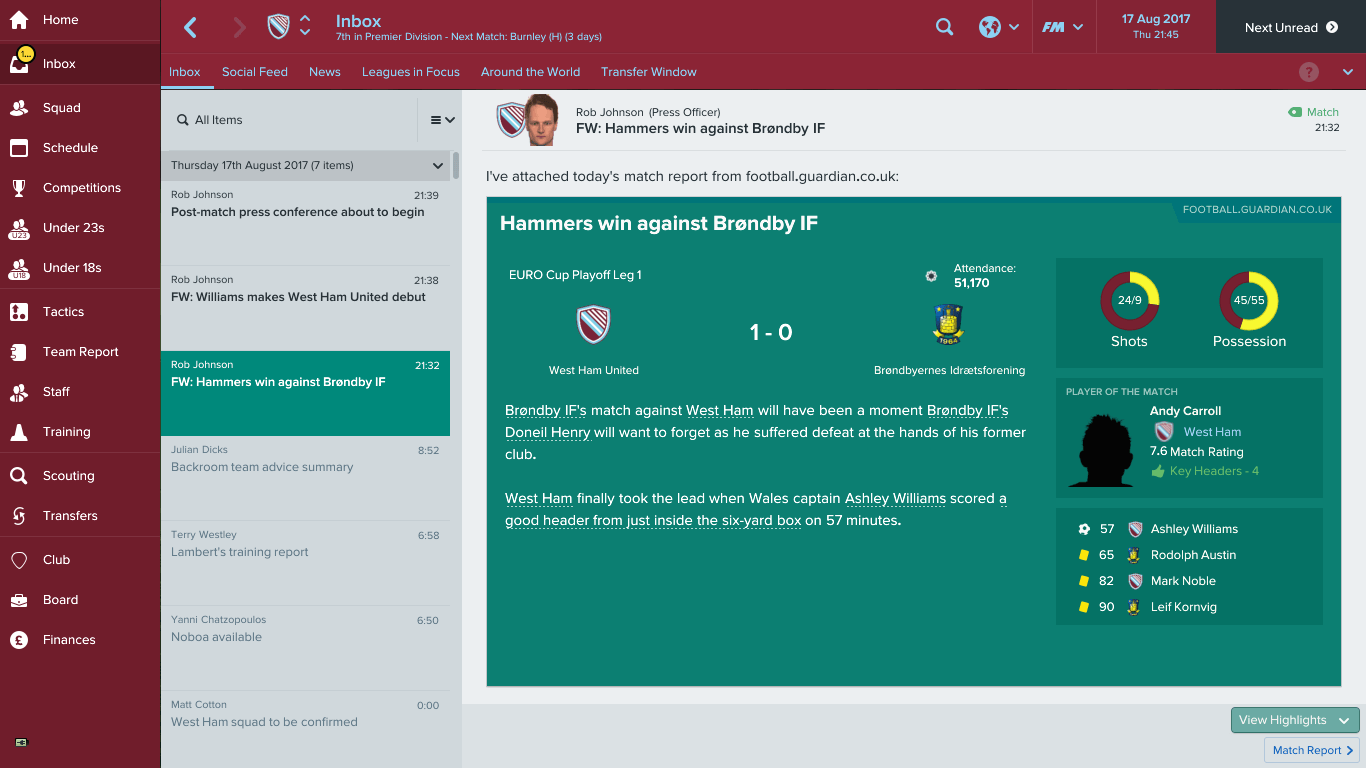 Part 3 will see us really get into the league season, as we start off with a tough fixture against Burnley.