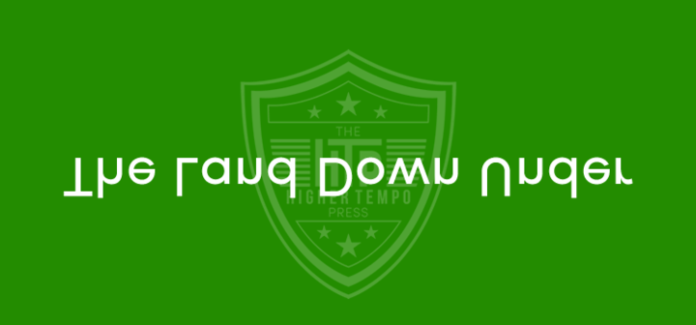 G'day, mate! The Central Coast and all of Australia are buzzing with excitement as I write this update to conclude the 2020 calendar year!
In the last update, we saw the Mighty Mariners secure the 2020 AFC Champions League, and I declared "Mission Complete!" for the club angle of the save, with my next goal being to focus on a strong World Cup showing. In my excitement about winning my first ever Champions League, I completely forgot that the Club World Cup is a thing and that we were eligible now to play against some of the best clubs in the world. How did we do?
I'm going to preface this by saying that my initial expectations for the competition are to be competitive. I'm under no illusions that we're the best in the world, but we're here to win it, so how did we do?
Our first match-up was against the Major League Soccer team Minnesota United on December 13, 2020.
The MLS has more money and leverage to bring up quality talent, but overall, I don't feel like the quality of a team like Minnesota United will be too much of a challenge for me.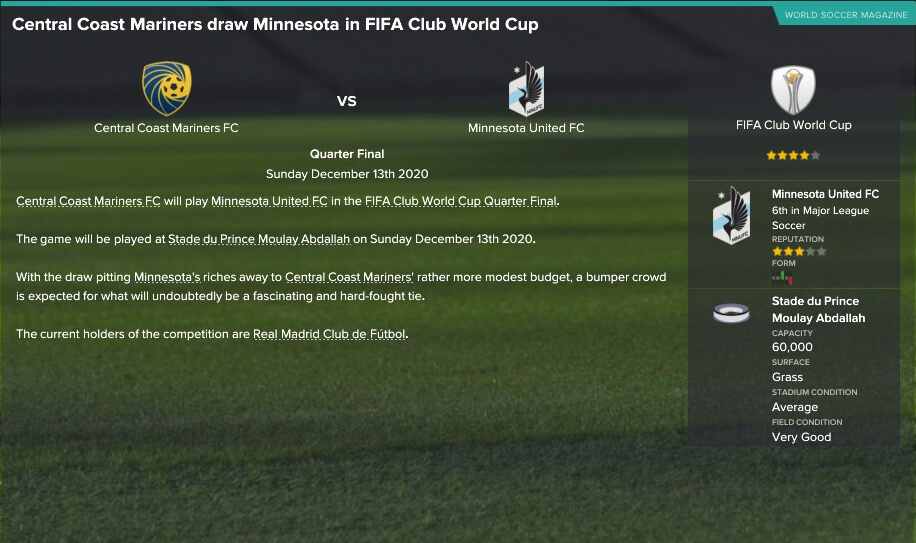 In our Club World Cup debut, we took the match 2-0 in front of 22,000 fans. Harry Ascroft, a younger defender from when I first came in was able to open proceedings for us at the 20th minute before Cameron Howieson doubled our lead and secured our victory in the second half.
A top notch performance, if I do say so myself! The next draw was not so kind to us, as we were put up against UEFA's Paris Saint-Germain. I know, right? The little ole Central Coast Mariners have been pitted up against the wealth and talent of the top French team.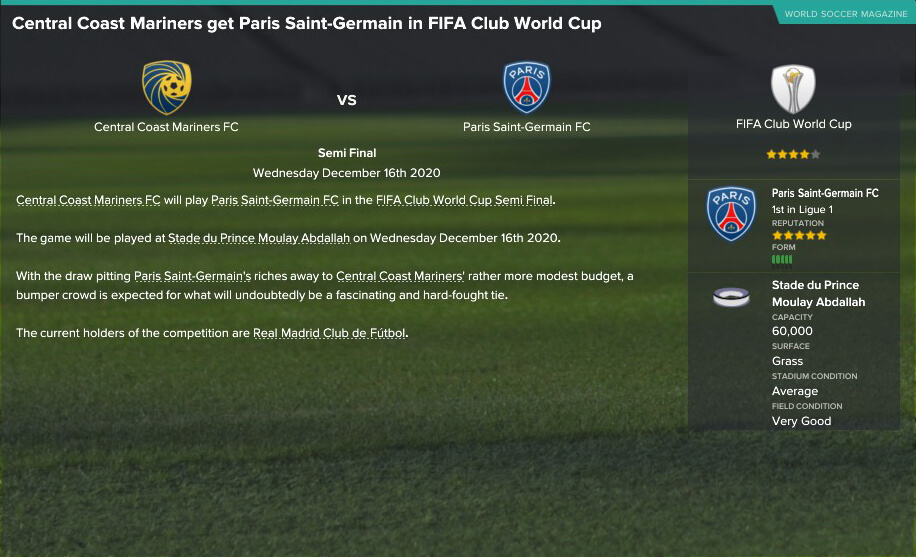 I'm not going to lie, I expected a hammering. Miracles happen, but I wasn't holding my breath for a win, so I just used the Tempo Skin's "Instant Result" button and simmed the match, willing to accept whatever horror result came up.
I guess I sold myself short because we came away with a win against PSG! The match ended 1-0 with Carlo Beaton, a first-year newgen backup taking the winning goal late in the match.
With the giants of the competition killed, we had to turn our focus towards the final against ATM from Brazil. I did actually watch this match since I had a renewed interest in this cup run. We're in the Club World Cup Final. One more win and the Central Coast Mariners will take home the most prestigious award we could possibly obtain – on our debut in the competition, no less!
This one was another close win. It was a goalless match through 90 minutes. We went into extra time with everyone holding their breath to see who would draw first blood. On the 120th minute, wingback Storm Roux tucked inside and fed the ball into Ivica Buric, who then skipped around a defender to feed the ball into Cameron Howieson for the winning goal!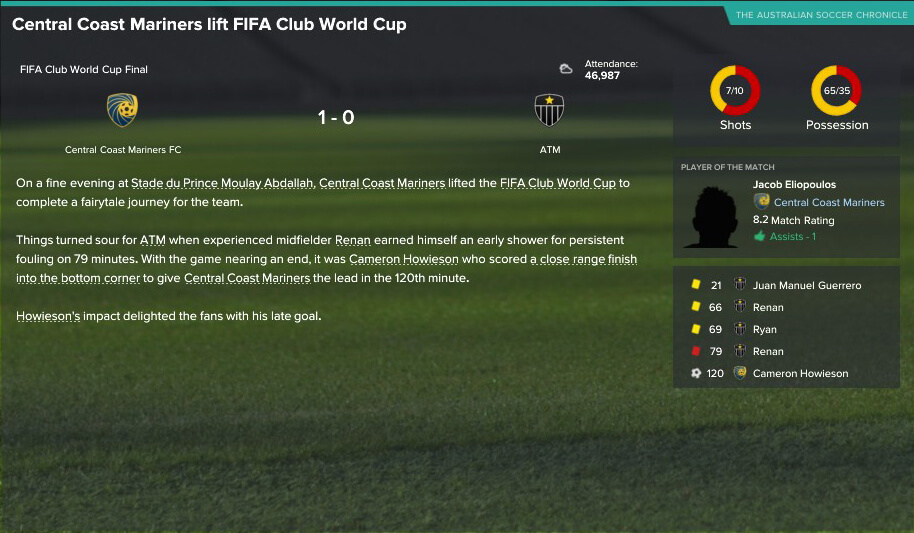 The fans will be celebrating this one for a long time yet! We're going to end this season with at minimum a Champions League/Club World Cup double. For the second time in Australian history (and CCM's first), an Australian club won the Asian Champions League. Following that, for the first time in history, an Asian club defeated the COMEBOL and UEFA teams to claim the Club World Cup trophy.
We've added several million to the bank completely recouping all of the money we spent on youth facilities, which is fantastic! Our club also sees a massive jump in reputation as we've gone from just being a nationally recognized team to a continentally recognized team.
I'm ecstatic that after four and a half seasons into my experiment to raise the stature of an Australian club, we've seen a Champions League victory and a Club World Cup victory. We are regularly winning the league and turning a profit, and of course, we're now trying to not lose our best and brightest academy players to European football!
I am under no illusions that I'll be able to defend the Club World Cup. We're a good team, but we're not good enough to be consistently the best in the world. As the Greek national team showed years ago, it's easy to cause an upset in short bursts to take shorter competitions, but it's going to be very hard to consistently win on the longer-term or in a longer campaign.
These are our fixtures since we last met to conclude the Champions League run. We've not lost a match yet, and we came back from the high of winning the world's most prestigious club trophy to take our rivals in Newcastle by storm.

On a personal note, I was recently peeved that the board refused to pay me a salary reflective of my achievements. Following the Club World Cup win, I went in to try asking for a new contract to hit my requested $6,000 p/w salary demands. Still, a modest figure considering the salaries some of the others make.
The Chairman of the board offered me a $6.5k p/w salary on his own. If I'm able to win the CWC and you're finally willing to open your checkbook, then how about a bit more of a raise?
Yes, I am worth it! I'm now making AU$7k p/w until 2024 to remain in charge of the club!

I'm enjoying my time in charge of the Mariners, and I don't know if I'm ready to leave this fairy tale save behind for good, but it's time to consider my end game for Tempo. I just won the Club World Cup, the Champions League, I'm four-time regular season premiers, and have two Grand Final championships. The only trophy I haven't yet won is the FFA Cup, but that means absolutely nothing in the footballing world. I am annoyed that I haven't yet won it, but I'm not crying over it. There's nothing left of note to win.
I'm the leading developer of current Australian national team players, and I've sold off one of my favorite players to Porto, and Dutch teams are interested in two of my other boys, so it's clear that people are watching the Australian underdogs to find talent to put in UEFA's elite training and match environments.
Now that I've accidentally won the Club World Cup, the 2022 World Cup almost doesn't matter to me from a writing perspective. The Australian national team is made of large numbers of players I haven't developed, so there's not the same sense of pride as there is being able to build up the last place Australian team to take it all.
We shall continue on with our 2020/21 campaign. We've just entered into 2021, and there is still half of a season to go through, and we'll evaluate our position at that time.
Things are going exceptionally well on the Central Coast, and long may it continue!