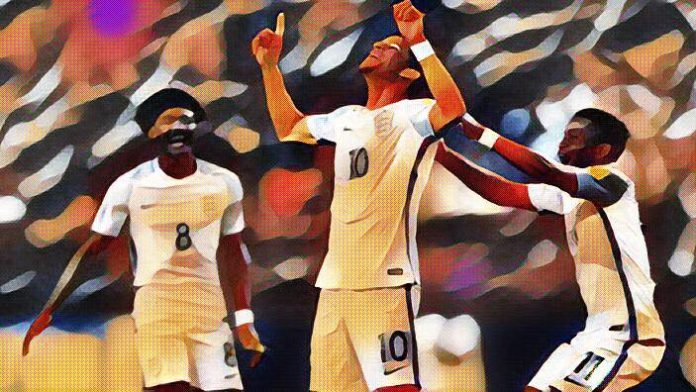 Can a man go from having heard the word tactic in passing, to being Marcelo Bielsa? All tacticians start somewhere, right? Honestly, I don't build tactics with a goal in mind. I can't translate an idea into practice. I can't even think of the movement needed by players in situations in most cases.
This is a side series from The Young Lions as this is the only save I am currently playing and what better place to experiment with tactics? The best English talent I can muster in one place. They will be continual underdogs in the higher leagues, and we will never be able to compete in terms of talent with the big clubs, so if we ever do well then it will be down to how well I do tactically.
So this blog post comes from the end of 2018, a year after our last post. This season we dominated the Championship, coming top with 94 points, losing 4 games all season.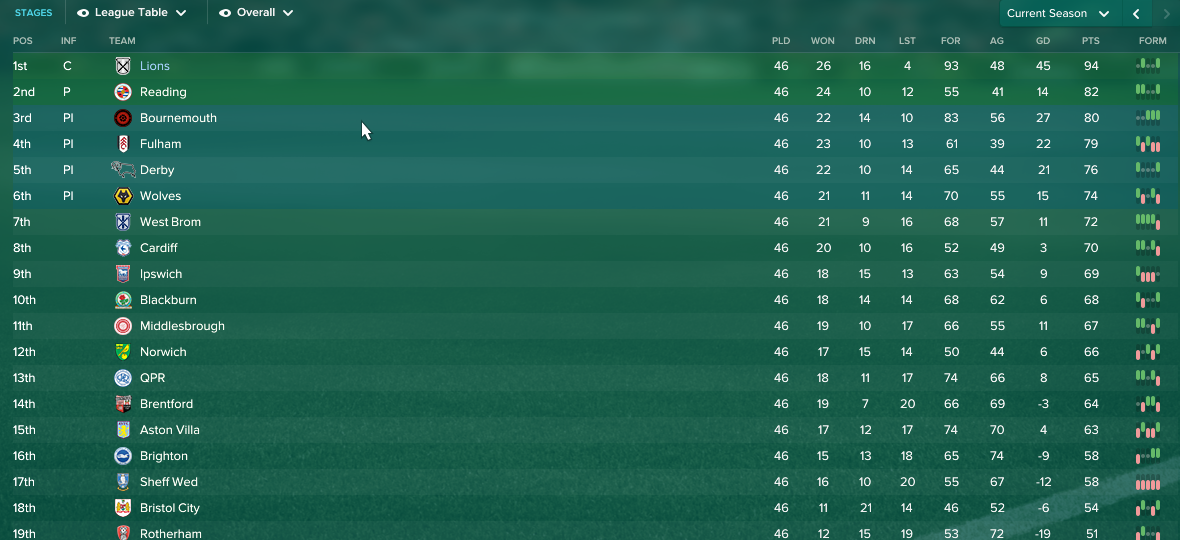 For right now I will focus on how we score goals. It is what we do best, and so it should be nice and easy.
Finding the Stats
Currently, our most consistent way to score is by crossing, followed by through balls. However, we finish mostly with placed shots. In the last 50 games, we have scored 11 headers, yet 70 placed shots. 32 goals have come from crosses, and 29 from through balls. This means that low crosses into the box are our best opportunity to score. We can't bully the defenders, so we won't try too.
This information comes from one small section. Tactics (Sidebar) -> Analysis (Dropdown) -> Goals. From here you can see goal times, goal types, goal assists types, goal locations and assist locations.
Ojo
Sheyi Ojo, from the left inside forward position, smashed home 25 goals and contributed 14 assists. This means he contributed to a goal every 83 minutes. The 20-year-old was prolific and very consistent in the process. Sheyi has two traits, both regarding the right flank which means if we keep him on the left wing they shouldn't affect him. Sheyi is quick, tricky and decent with the ball at his feet. Perfect for a winger. Left footed with 14 crossing he should thrive in a team that can isolate him 1v1 out wide.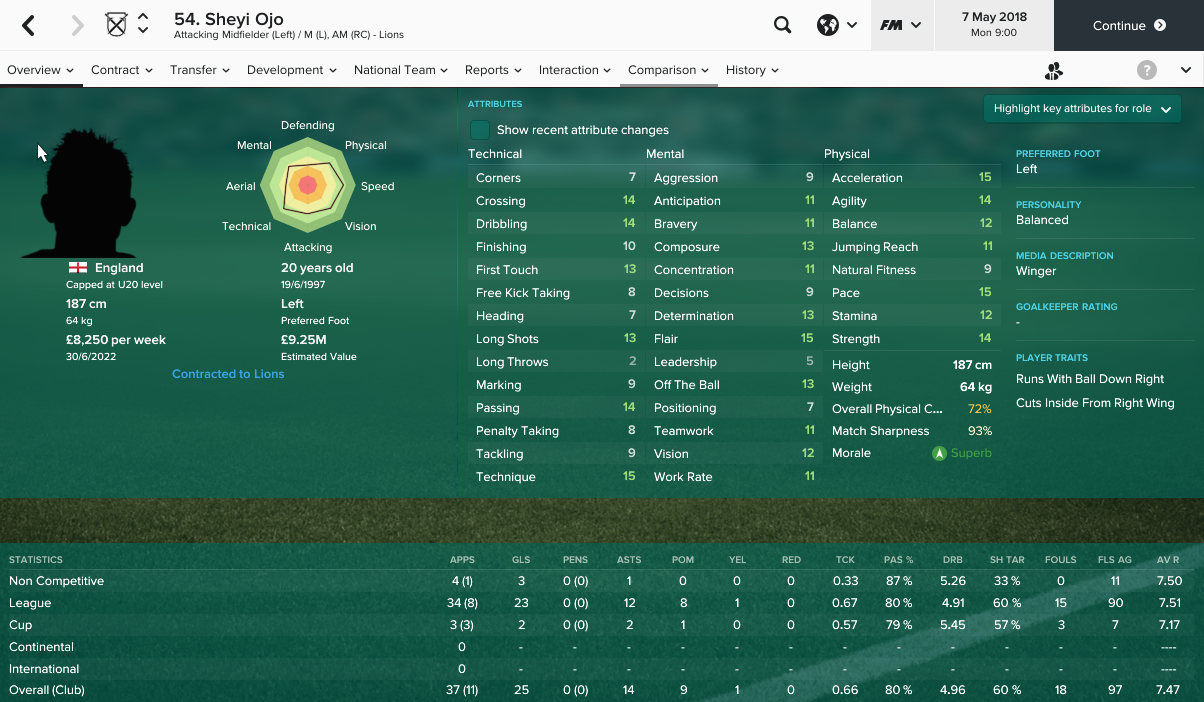 Bree
At the right back, we have Bree who has thrived with space in front of him. 14 Assists, 75% of passes completed and 10% of crosses completed. 10% of crosses completed is not great, and that is something we can work on. What I like about Bree is that he is actually quite versatile. He's stepped into midfield for me once or twice, and with inverted wing backs quite powerful in this edition I'm quite tempted by playing him as an IWB.
Looking at Bree, it's hard to see what makes him tick, but 14 assists is a good haul. What jumps out at me is his resolute personality and 15 determination. Aside from this, he is very… average. Yet he works hard and you cannot ask for much more. In the future, I will look to develop a more specialist right back. His personality will go a long way towards it though, and I hope to utilise him in the future as a tutor towards this end.
Henry
Jumping to the other flank is on paper our weak link, yet Henry seems to do the job. His flank saw the least amount of assists conceded in our own half which is impressive. Seven assists across the season is an okay total, though I would have liked to have seen similar numbers from him as Bree. Henry is quick and a decent dribbler of the ball, but he has no real defensive or attacking skills. He's just pace. In the Premier League I suspect he will get found out often, and so I will look to bring someone in for this position. Left back, as with right back, will be key next season as we look to continue the trend of crosses and through balls from wide areas as being our main source of goals.
A recap
So what have I learned thus far from looking at basic statistics and the "goals" screen? Crossing is vital. Most of our assists come from low crosses and through balls. It will be important we utilise our wide players to full effect. Ojo and Bree could dominate our flanks. Bree is a defensive option at right back but picked up 14 assists so I see no reason to change this. Ojo is bright and sparky, and his left foot is a wand at times.
Armstrong
35 goals and 18 assists across 48 starting XI appearances. 53 contributions in 4315 minutes means he scored or assisted once every 81 minutes. Adam Armstrong is well known in the community as a decent player, but given the time to play, he is fantastic. What I like about him is that he is no nonsense. If he gets a ball he always tries to create something. He has great speed and a good shot which makes him the perfect poacher. So many goals have come from his great movement in and around the box. He may find next season in the Premier League more challenging, but if we can get the ball up front fast then he should be able to continue finding the back of the net.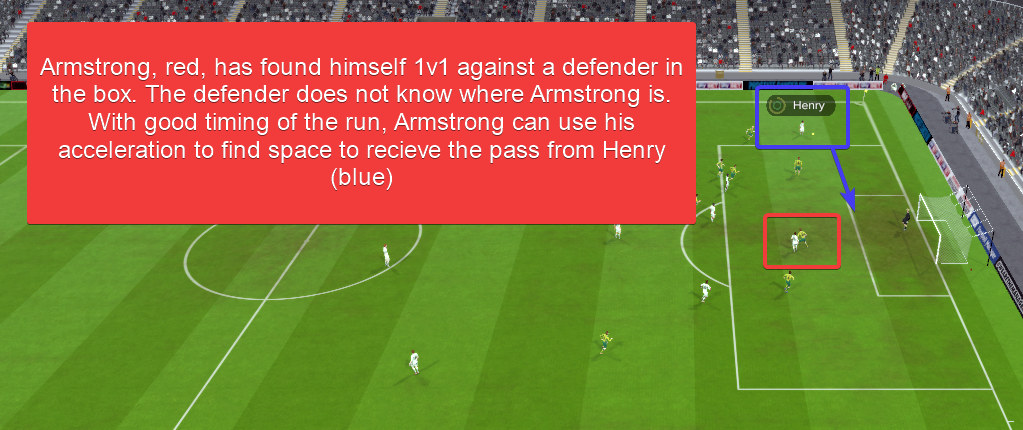 The above picture shows the type of goal we score a lot. We find some room out wide, if Armstrong can use good movement then we find easy opportunities to score. It doesn't matter how the opposition defence move from this point onwards as we will always be able to find room in a dangerous area. Finding the room out wide without the box being packed will be the tricky part.
We know how we want to score though. With this in mind, we can focus on how we want to defend.
Follow me on twitter @OffThePitchFM for further posts in this series.