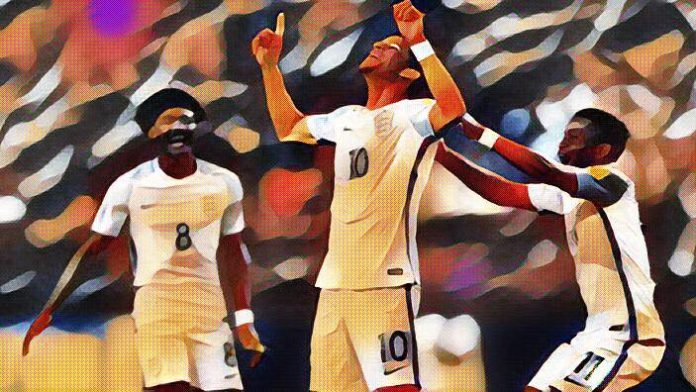 I like to think of myself as the curator of England's future in this save. I am managing tomorrow's England stars as The Lions boss, and today's current stars as England gaffer. Thanks to my position, I am playing God with the future of the England National Team. But, this puts me under the scrutiny of a national, and the world. I should be at my best because of this, and so I need to improve upon my own practice. I am not infallible, and I should humble. Not that humble mind, we did pretty well!
The Lions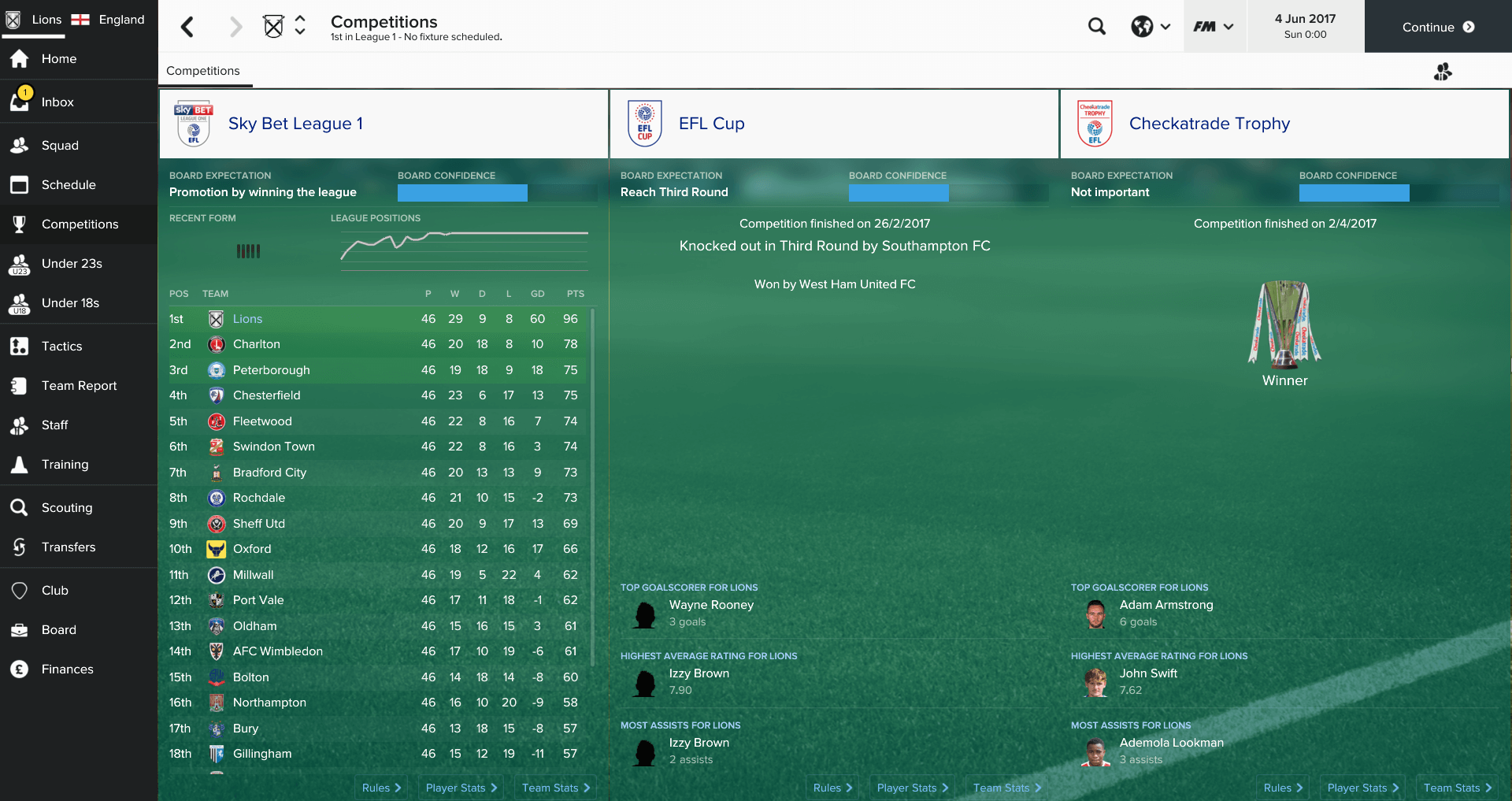 The Lions did very well, of course. We were in League One with some of the brightest talents around. We smashed the league with room to breath winning it with 96 points. 46 games, 29 wins, 9 draws and 8 losses. Our biggest losses were a 0-2 loss to Northampton. We played well, but they limited us well, with 7/16 shots being long shots. Yet we still created two clear-cut chances, compared to their one meaning we should have won and on another day we would have. I think with this game my attackers were not firing.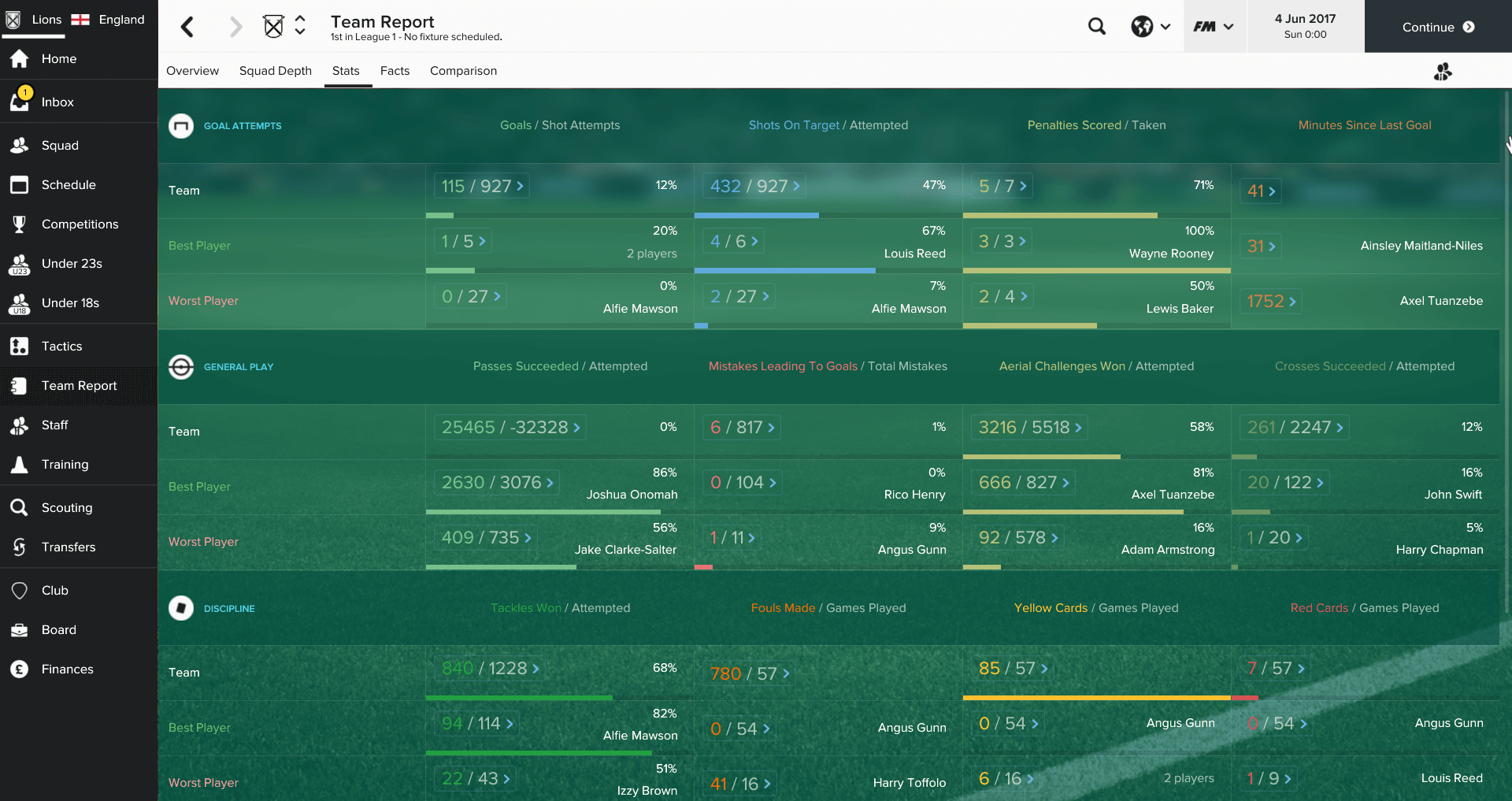 This was similar to my 3-1 loss to AFC Wimbledon. We created lots of clear-cut chances, but my attackers were not banging them home. If this was the case consistently then I would be worried, but it only happens in isolation. If it is happening inconsistently I won't change my tactic to solve a non-issue.
Average ratings are interesting. Take Adam Armstrong in the league only. When he had a bad game, he was very bad. Yet in 23(14) appearances he scored 22 goals and 9 goals. But he received a mere 3 Player of the Match and ended with an average rating of 7.11. This leaves a weird conundrum. How did he contribute so much yet be rated so low? Well, I'm not sure. His shots on target % scores him at 11th best in the league, and his passing was 80%, which is decent. He has the best minutes per goal time in the league at 103.77 minutes per goal. Nine assists is also a good return for a striker who is a poacher at heart. His contributions are fantastic to the team. If we can improve his consistency then he will be golden.
We can rely on others though if needed. Izzy Brown put home 17 goals, and Onomah contributed 14 from midfield. Ademola Lookman shone in our Asymmetrical 4-5-1 towards the end of the season chipping in with 12 goals and 10 assists. Football is a team game, and it is important you do not rely on one player. If they have a bad game, you need someone else to step up.
The top performer for me was Axel Tuanzebe in defence. 36(6) games in the league and a 7.37 average rating. The guy wasn't the best at passing with 58% but he rarely tackled because he intercepted everything. His best games came where he intercepted a load. The other pattern to spot is similar. The more headers attempted the higher his rating. This means the opposition got fewer chances and Axel could dominate his man. So many strikers got lost in his pockets, and most opposition chances came from a winger cutting in or a marauding midfielder.
England U19s
So I originally said that I would take control of the U19s. I didn't do that this time around to disastrous effect. England U19s did not qualify for the European U19 Championship. Sorting a league on "results between teams" is terrible and I hate it. England were better than Croatia, and yet Croatia qualified above us. Not much to say about this, but it is so frustrating.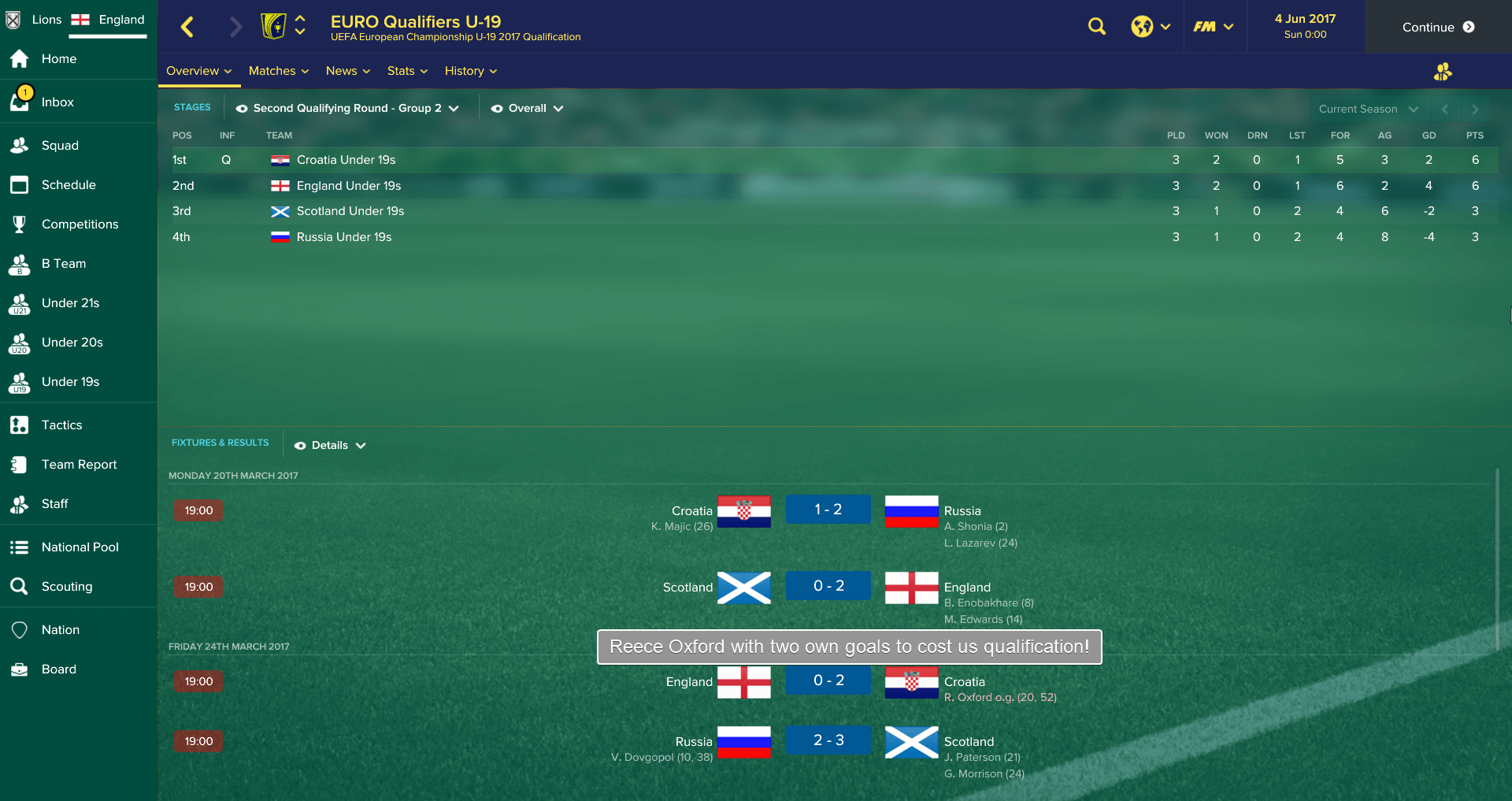 England U20s
I again did not control the U20s, but they fared much better. Playing in the U20s World Cup, we kicked off the group stages with a 3-1 win over Iran, with The Lions players Onomah and Cook getting on the scoresheet. Following this, we played Honduras who had no fitness, and it showed as they had the same amount of red cards as shots – two. We won 3-1. In the third group game, we again scored three, winning 3-0 versus Ecuador. Lookman scored 2.
Australia gave us a better game, holding us to only one goal scored by Kazaiah Sterling after 3 minutes. We dominated the game, but Jasko Keranovic in the Aussie goal performed well. In an unstereotypical Italian performance, we managed a 3-0 win, with less possession and fewer shots. Lookman again popped up with the opening goal. We dominated the Portugal game, but even with their counter-attacking flair, they couldn't score against us. A 1-0 win versus Portugal put us into the final against Argentina.
Argentina, with all their flair and fibra couldn't break us down. They had 12 shots, yet only one on target. We got lucky, with a stunning strike from Ademola Lookman but that is what counts. We actually created 3 clear cut chances and 2 half chances. Luckily for us, Argentina did not finish any of their chances or we would have been in trouble.
So the U20s won the World Cup – good effort from the guys, and they thoroughly deserved the win.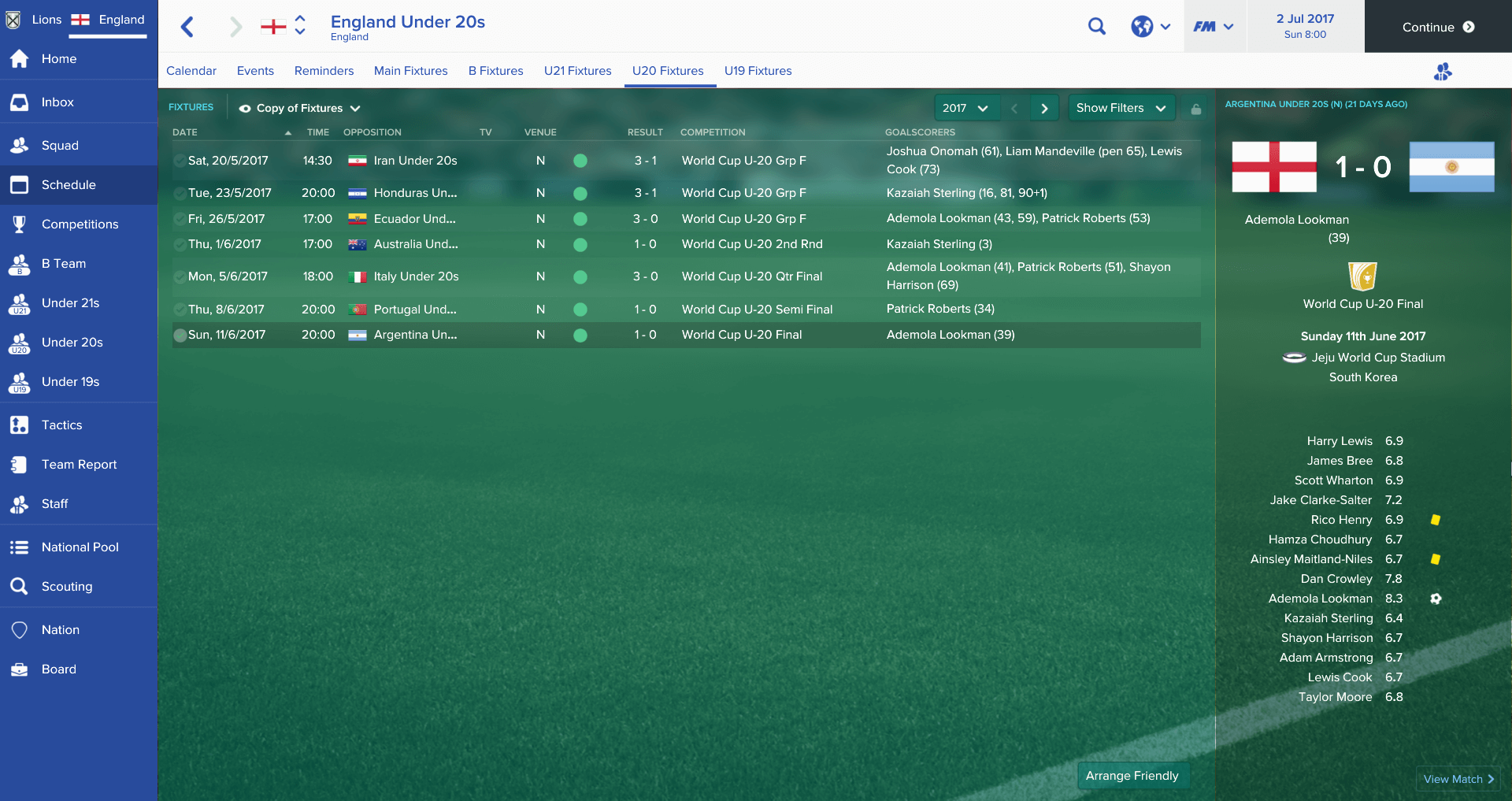 England U21s
The U21s also competed competitively this summer, this time in the European Championship. These guys got off to a great start, with Tammy Abraham scoring after one minute in the first game. Spain were not to be trifled with though and pegged us back and held up to a 1-1 draw. The group stages rounded off with a 2-1 win over Poland, with Izzy Brown scoring the winner.
The Czech Republic could not hold us back and we romped over them with a 4-0 win. The semi-final was a stunning game with it finishing 6-3 to England over Germany. We always looked in control in every game we played, which is part of the style we're building here for an English blueprint. English Deoxyribose Nucleic Acid we could call it, and yes I did spell that without the aid of google, sadly. We also controlled the final. A 4-1 win over
We always looked in control in every game we played, which is part of the style we're building here for an English blueprint. English Deoxyribose Nucleic Acid we could call it, and yes I did spell that without the aid of google, sadly. We also controlled the final. A 4-1 win over Portugal and that made England U21s European Champions! I'd like to write a game analysis at some point of important games, so expect those at some point.
So I managed the U21s this tournament. We didn't use any formation from The Lions FC, which is not ideal as the point is that we actually do have that continuity. It just didn't work. I didn't have the midfield I needed. We had so many creative midfielders, I figured it would be best to pack my midfield to counter our lack of "destroyers".
I'll do a full tactical piece another time – I've been trying to write one but it is difficult for me as I'm not a natural tactician!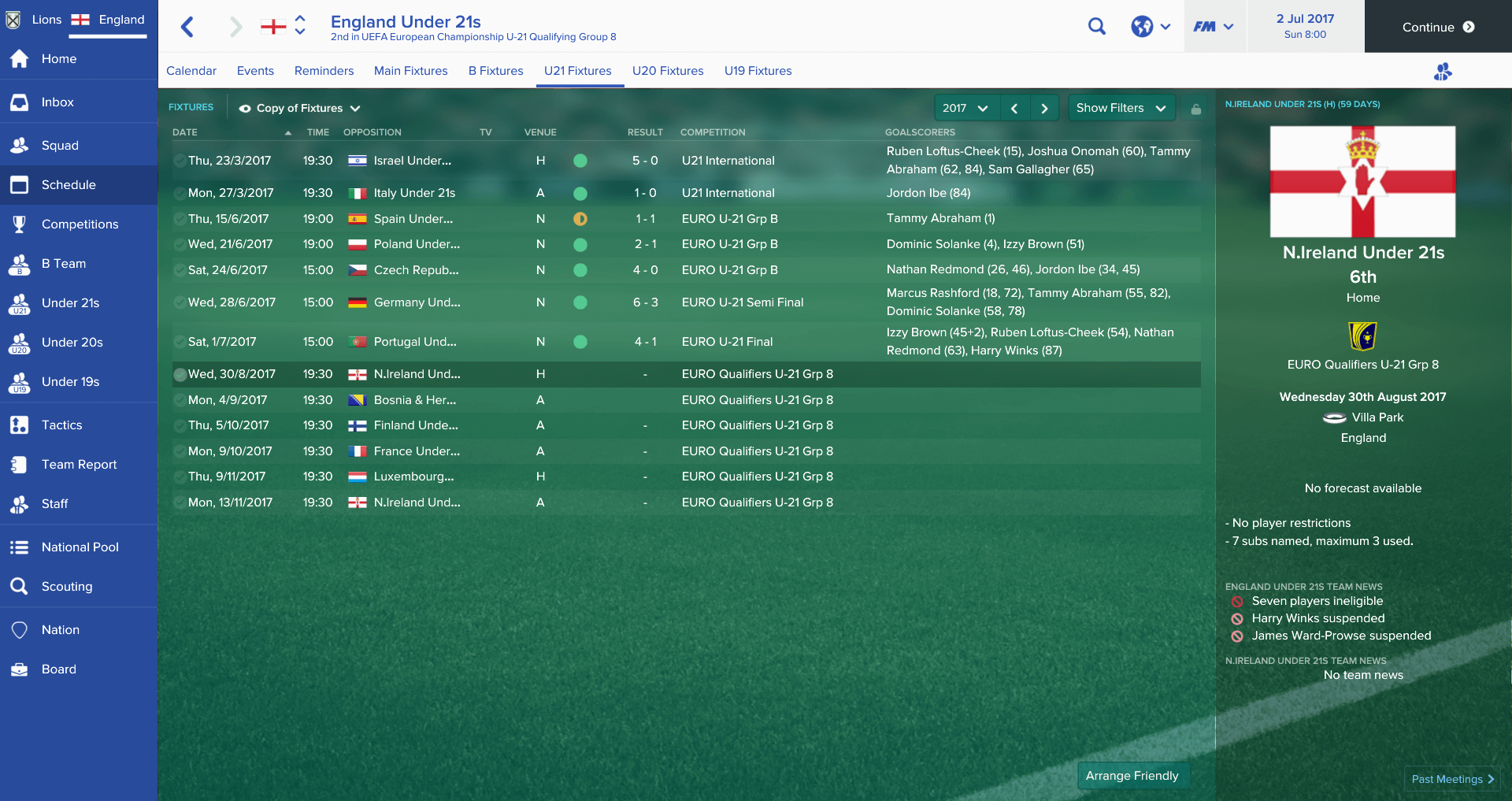 England First Team
The first team is pretty boring right now. No tournament going on, just World Cup Qualifying. Thus far we have not lost a game, scored 20 and conceded 2 in 6 games. The team has a good balance of youth and experience, but we have a new crop of players from the U21s coming through. With that in mind, I will have to evaluate whether they fit into my first team. The 2018 world cup is coming up, and that means a team rejig is absolutely in order for the 2017/18 season. We'll chop and change up through the rest of qualifying and I'll decide on who to take with us to Russia based on performances.