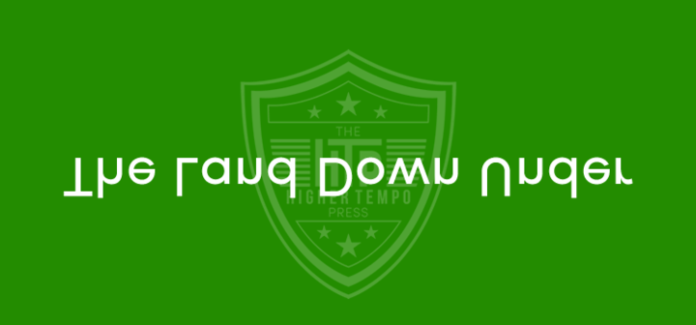 G'day mate! Welcome back to Central Coast Stadium! Interested in hearing what's been going on for the last month and a half down under? We've got some good news to talk about, some irritating news, and most importantly we have the new draw for the Champions League, which was why I came back to write an article so quickly!
To start things off, we continued our run of wins by defeating Adelaide United on January 1 and we took that form forward into the next two matches where we took up wins.
Unfortunately, one of our favoured strikers, Josh Bingham, tore a calf muscle during a match and he's out for 4-5 months. His season with us is over, which is a damn shame since he's a good man for us.
I hate having injuries, but with Bingham and Andy K both dealing with long-term injuries, I had to start Ivica Buric and Ozcan Gunes more regularly than I would have under normal circumstances. Normally with youth, I like to use the most promising ones as backup or rotation options. While they are being tutored and given the skill training I'd like them to have, I regularly sub them off the bench or start them on matches that aren't as important.
With Buric and Ozcan Gunes, two key injuries plus international call-ups meant that they got very regular playtime leading up to our mid-February update.
When you look at our squad when sorted by goals and assists, 16-year-old Ivica Buric has 8 goals and 2 assists after 13 starting appearances. 17-year-old Ozcan Gunes has 7 goals and 6 assists. They are performing at their ages as well as my AU$1.6m signing of Howieson is doing. Very pleasing stuff indeed, to see the Howieson-Buric-Ozcan Gunes lineup work so well.

In mid-February, I was notified that I was in the running for the vacancy at the Allianz Stadium. That's news to me since I didn't realise I was looking for a new job! The Sydney FC board has lost patience with Graham Arnold, and he's finally been let go. Who better to go to than the two-time A-League regular season winner that was leading the table for the third year in a row?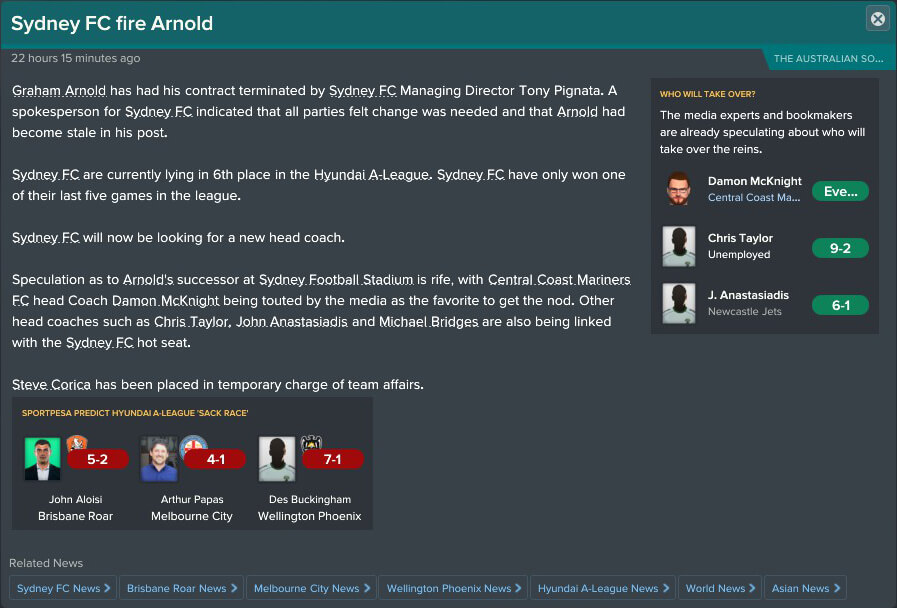 I may have a soft spot for Sydney FC, but unfortunately, I had to tell the press where to stick it, because I don't intend on leaving Central Coast Mariners on my own volition. I have put in too much effort to making a winning side here and beginning the development of youth players to want to give it up for a losing side. We're not done here until we win the AFC Champions League and I see that news article that says Central Coast Mariners were the team responsible for the training of most of the Socceroo players.
Speaking of the Socceroos, Ange Postecoglou was relieved of his duties as the Australian national team manager following a disappointing run in the AFC Asian Cup. Guess who was favoured to take the job? The two-time A-League regular season winner that was leading the table for the third year in a row.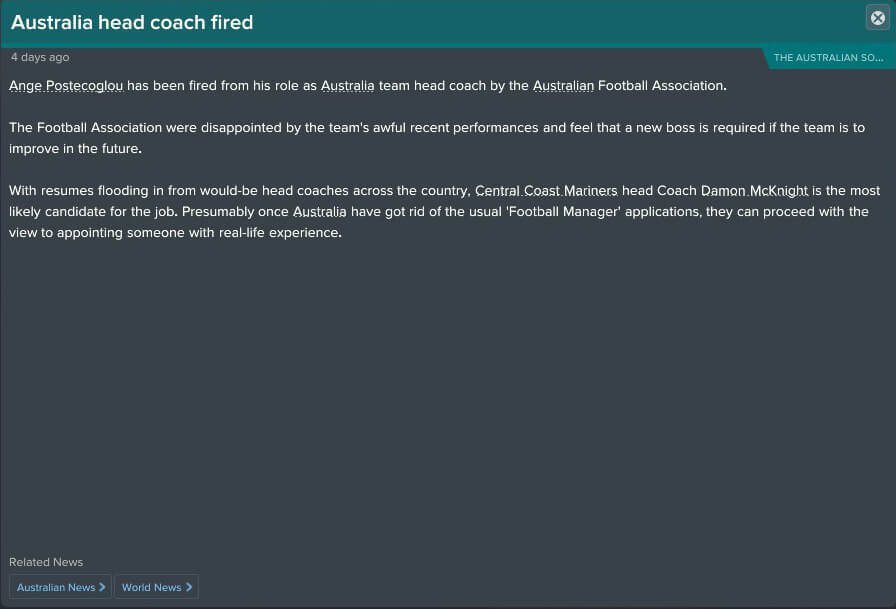 This is a job that I am actually interested in taking and have applied for. As I said in our very first post, the development of elite Australian footballers was one of my long-term goals for the save, so with a position in charge of the national team, I'll be working to pull the best players from the domestic league and build a team around Australians trained in Australia. I'll just have to not be too obvious about my bias towards Mariners players since I fully intend to abuse my role by capping Ivica Buric and Ozcan Gunes someday!
As of the time of this writing, I haven't gotten any news back regarding my application for the national team, but when I have news I'll be sharing it here.
On to the main reason I started this update, we have the draw for the Champions League group! We're drawn against Beijing, Saitama UTD, and Ulsan from China, Japan, and Korea respectively.
I can't say how difficult the group will be at this point. I know that the Chinese Super League always has quality players so Beijing should be a tough one, but historically I haven't had much trouble against Japanese or Korean teams. That's not to say I expect a cakewalk, though. They are still formidable opponents when they want to be, so we have to be ready for action against all of them, but I am cautiously optimistic about leaving this group for the next round.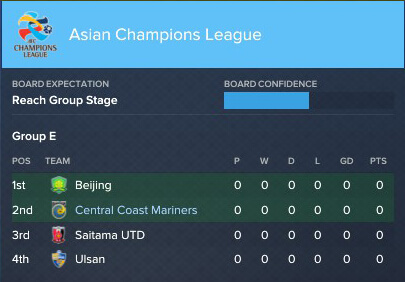 Here's our schedule following up from our 2-1 victory against Adelaide on the New Year. We continued our run of convincing wins, though we did have two annoying 0-1 defeats back to back. The Victory loss I would have expected, but the Newcastle one was a surprise since it was a derby against a fierce rival and we're usually the better team of the lot. C'est la vie, I guess. We're still leading the table at least!
As you can also see, we play Beijing in the first two weeks for the Champions League. Time to cross our fingers for a good result. We need a win against the tougher team of the lot to get us on the right foot going forward in the competition!
Here is the league table, as of February 15. We lead the table by ten points after eighteen matches. We also have a +34 goal difference, which is far beyond what the other teams have. The players are really tightly set up this time around and we've been all but unstoppable in the league. Long may it continue!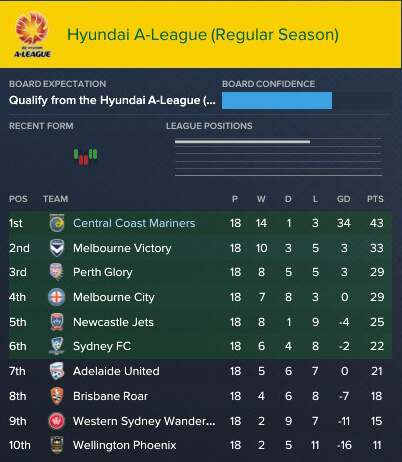 We have nine regular season matches to go, plus most of our Champions League draw. I expect to report back with a win on the homefront, so I likely won't touch on it so much. The next update will likely be focusing on the run in the Champions League and my expectations going into the Finals Series and into the off-season.