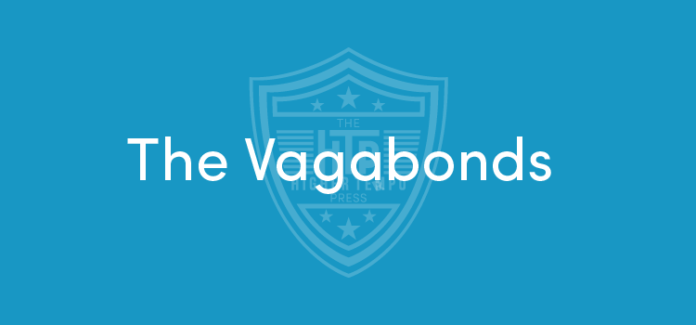 November is going to be the month it all clicks together. I can feel it.

Looking at that list, and with most of the teams we'll be playing sitting outside the top 8 at the start of the month, I think we can target 9 out of 12 points available.
With a modicum of respect the game against National League Solihull Moors represents the perfect opportunity to batter someone and get the team confident again. With this in mind, I decide to switch back to our 4-1-2-3, ratchet the mentality up to Control and let loose the Vagabonds. We're 2-0 up at halftime and with Kadlec once again on the scoresheet I allow myself a little sigh of relief that our main man appears to have found his scoring boots again, ignoring the fact he scored with his head. Who has time for details?
Kadlec turns provider in the 2nd half setting up a goal for Hippolyte in the 68th minute. Low cross, open net, thank you very much! Hippolyte pays it forward helping Jai Quitongo to make it 4-0 just minutes later with a belter hit first time down into the far corner. I was so impressed I took a screenshot of his celebration:
Zakaria Fdaouch makes it 5 just before the final whistle. It's an impressive victory only slightly tempered by the stature of the opposition. Hopefully we can take this into our next league game. Before that, however, we have Grimsby in the Checkatrade Trophy.
I told you this was going to be a good month. After 17 minutes we're 3 goals to the good, two of them scored by Kadlec and the other by Quitongo who is apparently eager to show I made the right choice in starting him over Kohlert. The rest of the game is rather uneventful in comparison until Kadlec, desperately seeking his hat-trick, leaves the crossbar ringing in the 85th minute. That result sees us 3 for 3 in the Checkatrade and heading into the next round. Which is great, I guess?
Onto the meat of November and we're up against Exeter in our first league game of the month. In another surprisingly eventful 18 minutes, we go one up through Fdaouch before immediately conceding an equaliser. 30 seconds from the resulting kick-off we're given a dodgy penalty and Kadlec puts us back in front from the spot. Exeter equalise in the 30th minute but it's not level for long as Fdaouch scores his 2nd and our 3rd on the 35th minute. I'll need a lie down at half-time. Straight after half-time Kadlec completes his hat-trick of assists with a beautiful pass through a crowd of players straight onto the laces of Mats Kohlert, who wastes no time in making it 4-2 to the Vagabonds. Diabolical defending lets Exeter close the difference to 1 goal and that's where it stays. Incredibly bonkers game. Looking at the results for the day there were goals flying in all over the place.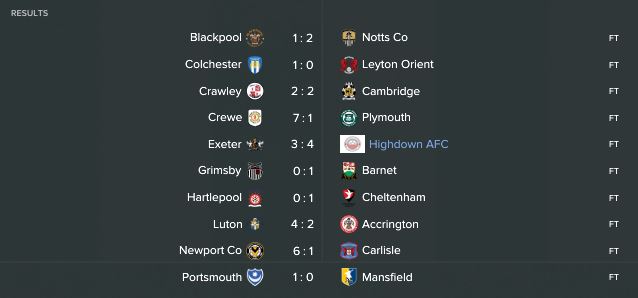 That win for Portsmouth over Mansfield is both a blessing and a curse. It opens up a five point gap between us and third place but we're sharing that gap with Portsmouth. Could do with them slipping up soon. With 17th place Hartlepool up next at Teville Gate we could open up a gap, finally, if results go our way.
Despite dominating possession and having the majority of the early chances it takes us 26 minutes to finally break down Hartlepool's defence with Ryan Tafazolli converting from a corner. Kadlec, bafflingly, seems to have one of his turns; at half time his performance rating is a lowly 6.3 which is enough for me to sub him off and bring in The Mandible for the 2nd half. The switch pays off 2 minutes from the restart when The Mandible slots a pass through for Fdaouch to run onto and pass the ball into the net. That's enough to secure the win and with Portsmouth losing to Cheltenham we've opened up that gap I was hoping for. It's only three points but it's a bit of breathing room for us. Just one more win and we've wrapped up our target of 9 points and we can do it at Stevenage away.
Stevenage are sitting in 14th and they've had a miserable November by all accounts. Lost to Charlton in the FA Cup, to Norwich U23's in the Checkatrade and to Accrington in the league, conceding 11 and scoring 0 in the process. Can you guess what happens shortly after kick-off? If you guessed that Stevenage opened the scoring with a jammy goal that bounced off the keeper's face on its way into the net then award yourself 10 points! Ten minutes later and they score again. This has Blackpool V2 written all over it. It's 3-0 shortly after when our defence is caught staring at the goddamn sky allowing Jobi McAnuff in to tap the ball past Frommann. Here are the ratings at halftime:

What the hell can you do with that? Unbelievable. We've had 4 shots, none of them on target and can't string two passes together. I make three changes before the restart mostly out of the idea that I need to look like I actually think we can turn this around and go to make a cup of tea. When I come back we've lost 3-1, Charlee Adams scored our consolation. I really despair at this lot sometimes. They just don't turn up sometimes and I have no idea why. It's especially annoying as Portsmouth lost as well. We had a perfect chance here to not only hit our target but to put more space between us and them and we couldn't manage it. The team bus on the ride back is uncharacteristically quiet.
Onto Leyton Orient at Teville Gate. They're 23rd. They haven't won in any competition since October 15th. What could possibly go wrong here? To do my best to avoid the obvious I tell the team, in no uncertain terms, that if they come off that pitch after 90 minutes without having given every single molecule of their ability that I will personally put them all in a freezer for an hour and when they're let out they will notice that I've hired Chris Eubank Jr to "Tango" each and every one of them.
I can only assume Kadlec wasn't up for that as he puts us ahead in the 11th minute. The fool misses a penalty shortly after and then gets himself injured. The Mandible is brought on in his place. And then nothing happens. At all. For 79 minutes neither team does anything of note and we win 1-0. We've hit our points target but I'm still hacked off at the performance and I'm straight on the phone to Eubank's people.
That's November done. We've definitely been better this month and I'm generally happy with the performances, Stevenage aside. It's been good to see some of the rotated players stake a claim for their spot. Zakaria Fdaouch, in particular, has been pleasing. He got a start early in the month against Solihull Moors and has played so well that I've not been able to drop him.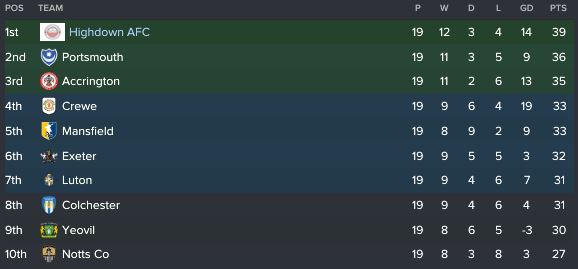 I just want to highlight Kadlec for a moment to see out this post. I gave him a lot of stick last time around because he hadn't scored but this month he has been really quite brilliant. In 18 appearances he's made 5 goals and scored 7 himself which means he's been directly involved in 38% of all of our goals. That's pretty impressive and he leads both our assists and scoring charts. If he can maintain this level of performance, allowing for the odd bad game, he could easily find himself in the 20's for goals scored and into double figures for assists.
Onto December then. Three of our four league games are away from home and winter is coming.