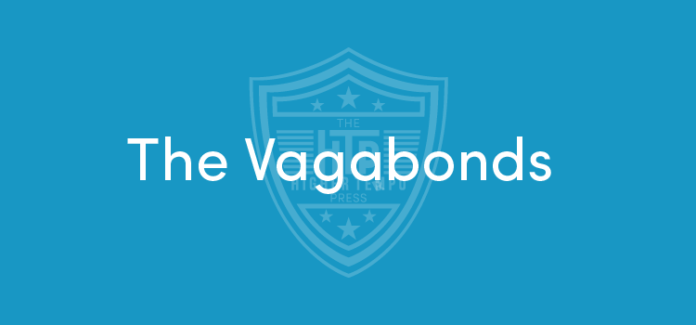 Firstly, allow me to apologise for the extreme tardiness of this post. A combination of festivals and summer colds have kept me in various states of knackered so I've been a bit lax with FM. Updates should resume at a regular tick from here. So, onto part three!
It's indicative, I feel, of my desire to succeed with this team that I'm slightly disappointed with how we've been doing so far. We're top of the table, have the highest goal difference and are playing good football. That said only taking 9 points from the 15 we could have won in September has left a weird taste in my mouth, like when you've realised far too late that you picked up the jar full of Green Tea instead of Tetley in the office kitchen; it's far from the worst thing in the world but it just ain't right.
What to do about it? I'm pinning this on our star striker Vaclav Kadlec who is going to be spending some time on the bench. His form has dropped right down and, to his credit, he at least acknowledges it when we have a chat about it. Of the 8 goals we scored in September he was responsible for exactly none of them. Who to come in though? Liam 'Mandible' Mandeville is the obvious choice but, one brilliant game aside, he has been bang average. I have four others to choose from and they're all pretty young. Two of them have only just about waved goodbye to puberty. Which leaves two: Anton Forrester and Scott Kashket. I'm going to give Forrester a go by virtue of his 'Key Player' squad status, which is only one step-up from how I pick which horse to pick at the Grand National: the funniest name.
Here's how October shapes up for us:

Two tough games in the shape of Portsmouth and Colchester. The Portsmouth game represents a good chance to put some air between us and the rest of the table. Barnet and Blackpool are propping up the table and Wycombe have spent most of the early stages of this season floating around midtable. Target: 13 points.
Off to Pompey we go then. Only one point separates us in the table so playing them right now is exactly what we didn't need. The squad is rotated and I've dropped down to 'Standard' for this one. We nearly take the lead in the 12th minute with Forrester laying a lovely through ball for Charlee Adams to run onto, and his shot forces a good save, and there's another fine save from their keeper five minutes later after Hippolyte is fed a weighted ball which he hits on the volley. And then, against the run of play, Portsmouth play the simplest of passes out wide followed by the simplest of low crosses into our box and boom, 1-0 Portsmouth. Another 'FM' style goal. The ones you can map out as soon as the highlight starts to play and that's it. For the next 65 minutes we do absolutely nothing and, to be fair, we deserve to lose.
I've decided a shake-up is required. We need another system and with our next fixture pitting us against League One Port Vale in the Checkatrade Trophy I'm going to try it out. I quite literally went back to the drawing board:
Yes, a return to the trusty 4-1-4-1 that worked so well with the Knuckers in my last CaC save. Two banks of four with a creative player in the pocket in the middle. Widemen bombing forward. Pressing together and controlling the middle of the pitch. It works well against Port Vale and we come away with a 3-2 victory. At least we're still top of one table. Interestingly, and I'm not sure if SI programmed this sneakily during an update or if it's a weird coincidence but the attendance for the game was just a shade over 1k. With real life attendances in the competition proving to be less than stellar, I was quite pleased that the fans digital counterparts seem to have their wits about them as well.
We beat Colchester 2-0 in our next game with The Mandible getting on the scoresheet and then missing a penalty. Again. It's particularly frustrating because attribute wise, he's the best penalty taker we've got. Hippolyte completes the scoring in the 89th minute, being the first to pounce on a spilt save. The new system is clicking it seems. We're controlling the ball and getting shots on target. Kadlec is still floating around in an abyss of form. It's so bad that I'd honestly take Leon Best over him at the moment. Let that sink in for a moment: I would rather have Leon Best than a misfiring Czech international in my team.
In the next game, we beat Barnet 1-0 sending us back to the top of the table. We're there by virtue of having the meanest defence in the league; we've conceded just 6 goals so defensively things are very much in a good spot. Kadlec again played poorly so it was down to The Mandible to grab us the decisive goal. Blackpool are up next and with all of the teams in the top 3 on 27 points it is imperative we keep our winning streak going. After 15 minutes we go a goal down to one of those screamers that come completely against the run of play. Yeah, one of those. It gets worse from there. Two minutes later Hugo Basto, channelling his inner Joey Barton, is sent off for elbowing someone. Five minutes after that Blackpool score again. To summarise: before the 25-minute mark we're a man down and two goals behind. I am fuming.
Not nearly as fuming as I am when five minutes after the second goal we concede another, this time one of our own players puts it into the back of the net, presumably fed up with not getting a chance to score at the other end. Half time comes and I rip into them as much as "Aggressively – Your pride is at stake" will allow me to. In my mind, however, I've sprouted 9 additional arms and I'm choking every single feckless one of them.
I don't even watch the 2nd half. When I check the end result I see that Kadlec finally scored but who cares, really? It is the glitter on the turd which is a 4-1 loss away to a Blackpool side we made look like Argentina. To cap it all off Mansfield manage a draw and Portsmouth win knocking us down into third. We have one game left in October in which to redeem ourselves.
Wycombe at Teville Gate. Home turf and a team, hopefully, itching to prove that Blackpool was just an off day, a hangover from going on too many rides at the Pleasure Beach. I did warn them to stay away from the Big Dipper but did they bleedin' listen?
Thankfully we're much better this time out, still not great, but we're not so dire I want to put my head through the screen. We take the lead through Amoros after Wycombe fail to clear a corner. Obviously two minutes later we give away a penalty. Halftime rolls around with the sides deadlocked and another bit of a screaming match ensues. It seems to sink into Kadlec at least who plays like a man possessed in the 2nd half and it is he, our miserly Czech, who scores what turns out to be the winner. With Mansfield and Portsmouth both losing we go back to the top of the league, albeit on goal difference.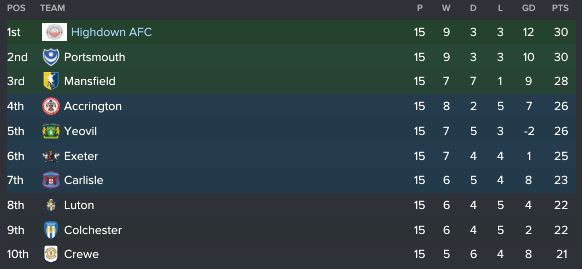 Much improvement is needed though. We're nowhere near the cohesive, confident unit I know we can be and we only got 9 points from our target of 13. Also, looking at those results, we're clearly in need of some results away from home. It is early days, system-wise, so hopefully November will be a better month performance-wise.