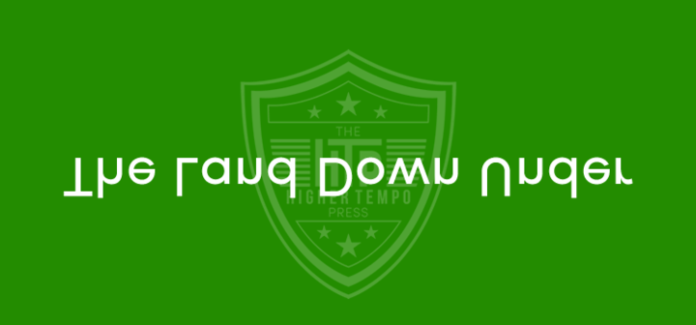 Welcome back to The Land Down Under. Last season we finished off in amazing form, coming back from dead last and two points after seven games to take the lead with three matches to go and ultimately win both the regular season and the playoff Finals Series.
Now that the season is over and a new one is almost upon us, it's time to get back to work.
I had a busy preseason with thirteen matches played and some signings, which will be covered, but are not what I'd consider the core of this post to be about. Before we get to that, I want to go over one of my favourite parts of the year – Youth Intake Day!
When you're managing in the land down under, the youth intake is in September. You won't see it during your first season, but in September 2017 you'll get your first intake. It's standard fare, really. A random assortment of local up and comers show up, and it's down to the usual motions of taking who your staff like and turning away the others.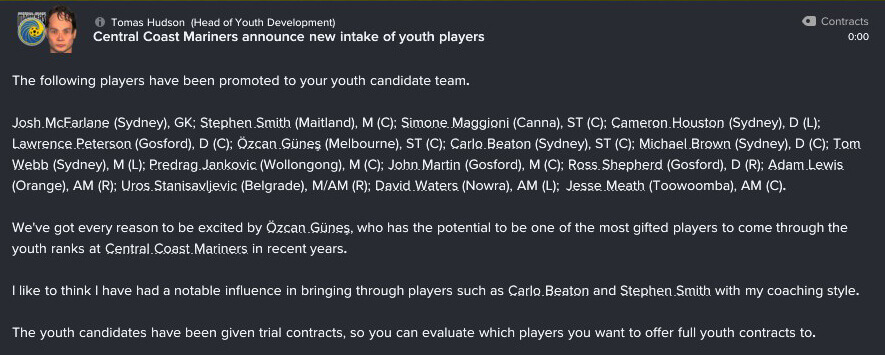 I won't bother with who went into the trash bin and didn't even get out of their trial days, but here are some of the players that I'm interested in. As usual with youth, it's hard to say who will break into the team and who will leave on a free in a couple of years. However, I wouldn't be doing my job of training elite Australians if I didn't keep a few a year and give them some honest effort.
I selected a handful – six or seven, I don't remember – of the best of the lot to take on board with the rest leaving on day one. They didn't even make it to the trial match.
First up is Tom Webb. He's a young winger with excellent crossing and dribbling, a great work rate, determination, and he's a team player. I don't use wingers under the current tactical arrangement, but he can play up and down the left flank to some degree, so I am going to set my coaches on giving him training as an inverted wingback. I reckon I can find some use in a really pacey winger-turned-wingback given the right training.

Next up is Ozcan Gunes, a striker that my head of youth singled out as his favourite. Again, not a position I would normally use, but he's got some potential in him and some beginning knowledge of the attacking midfield. Physicals are generally good, but a little polish couldn't hurt, and he's rated highly in finishing, heading, flair, teamwork, and work rate at the moment. His passing is a let-down, which could hurt us if he needs to get rid of the ball or sees a passing opportunity to make, and the mentals need improvement, but he's young. He's got time to improve if I give him the right motivation and experience.

Next in the keepers is Michael Brown. I'm not 100% convinced on him as a ball-playing defender, but he's worth giving a chance. He doesn't have as high of potential as the previous two do, but as far as a general central defender, he could definitely be worse. He's got a decent skill at heading, which is great, but at the same time he's only five-foot-five, so he may struggle against a taller set of players in an aerial battle, which could be an issue, assuming he doesn't grow a foot, which may happen for all I know, since I've never really tracked players by height.

Next up is Carlo Beaton, another striker who will get shadow striker training. He's got the least overall potential of the lot, according to the staff. I'm not expecting fireworks, but I think he could potentially do a job for us in some capacity, depending on how he develops… Hopefully. I'm not a youth expert, as much as I'd like to think it.

That was a small sample of the handful of young talents who will join the Central Coast Mariners youth squad. There are a few more who may someday be alright, but I'm not expecting anything amazing out of them. I certainly don't see my own Class of '92 in here, but this is what I've got to work with in my first youth intake with CCM.
As I've been saying, the training of elite-level youth is a long-term goal of mine, and my preference as a manager is to train for my first team specifically and for retail as a secondary option. These players will get some development for a couple of seasons, and if any of them look impressive I'll come back to them in the future for a comparison if it's worthwhile.
For transfers, I've spent a large amount of money on a small amount of talent. Unusual for me, but there was a player I've been eyeballing from New Zealand, and he looks like he could be worth the investment, and there were a couple of reserve signings and the addition of a marquee player for the squad.

Coming in for over AU$1.6m is New Zealand international player Cameron Howieson. He went to Burnley and didn't make much of an impression despite high hopes and he ended up at St. Mirren in Scotland for a season before moving back to New Zealand, where he was playing for Auckland City FC in their semi-professional top flight before I snapped him up.
With Kieran Dowell and Liam Walsh back off to Everton, I needed some good options of my own for the club, and while I could have gone cheaper on talent, I saw an opportunity with Cameron Howieson to see if I can do something to give him a bit of a career and maybe resell him in the future if the opportunity comes. In any case, he's a solid player and should have no problem fitting into the squad in Dowell's former shadow striker role.

Coming in on a free transfer is Portuguese international footballer Raul Meireles, whose history includes stints at Porto, Liverpool, and Chelsea. He's making a good paycheck at $11.5k per week for the next year as a marquee player, the Australian equivalent of a Major League Soccer designated player whose salary is not counted against our salary cap.
At 34 years old, his physicals are starting to dip a bit, but mentally and technically he's still as strong as ever. Hopefully, we can get a good season out of him. I see him as a good tutor for some younger players and with luck, we can seem some interest in our team or financials having such a high-profile name attached to the club. Meireles retiring to the A-League has got to be worth at least a couple of jersey sales, right?
The rest of the transfers aren't that interesting. Alistair Bray comes in to replace Ivan Necevski who retired at 37. With Paul Izzo so good in front of the goal, I don't see him getting much play time short of an Izzo injury, so he's being paid as cheaply as I could pay him to be a bench warmer. Same with the rest of the lot, really. Bench-warmers and rotation options who aren't noteworthy enough to mention.
Moving on from the player updates, we have the odds in from the press! The board expects us to qualify for the Finals Series this year and they still want us to try to hit the quarterfinals of the FFA Cup.
The press, on the other hand, is a  bit less optimistic about our odds, with us predicted to finish 8th place with 70-1 odds for the title. Might as well get ready to invest in us, gamblers. I plan on taking that title again. If we did it once at 1000-1 odds, we're doing it again with lower odds.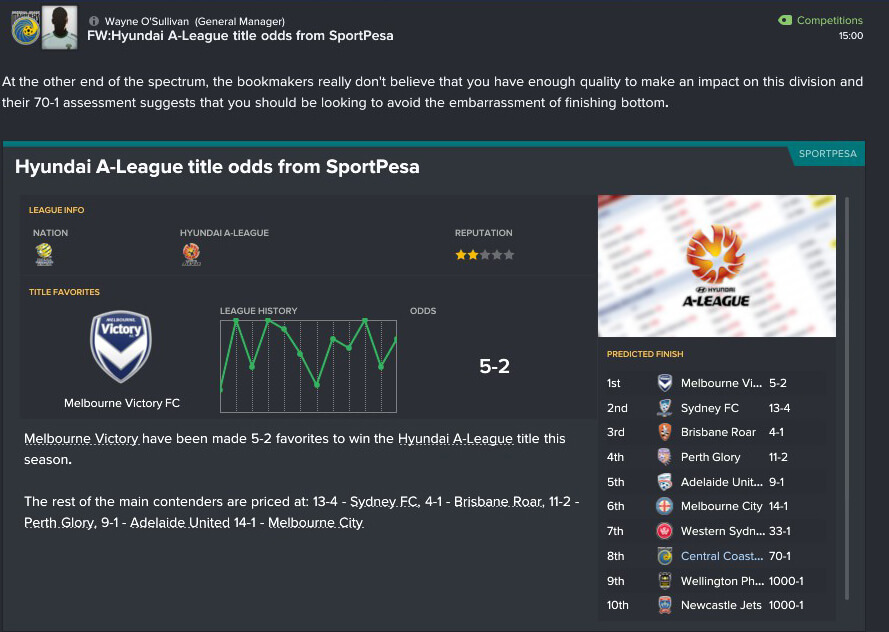 The preseason results I'll only barely touch. I can't speak for other players, but when I'm not making tactical changes or need to size up a new team I let the assistant handle friendlies. I knew this tactic and the core of the team worked, so I let Ivan Jolic take charge during them to raise the team's fitness.
The one match I personally watched over during the preseason was our ill-fated FFA Cup run. This time we didn't even make it past the first round. We went up against our big rivals, Newcastle Jets, and it took a penalty shootout to end the match with our loss. They were a pain during the regular season anyway and this match was before the new signings I made. I'm upset that this one cup we compete for still eludes me, but I'll live with it. The rest of the matches were basically fitness and morale boosters. I just wanted them to shake the rust off before the regular season.

Our season opener is against Wellington Phoenix. With the transfers I made, I'm crossing my fingers for the start of a strong season and hopefully a repeat of the trophy run we had last season.