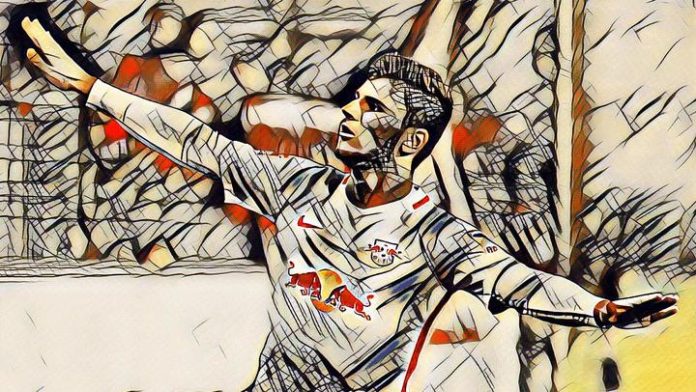 German football has a long and storied history of developing predatory goalscorers. From the penalty box brilliance of Gerd Muller to the strike partnership in the late 1980's and early 1990's of Rudi Voller and Jurgen Klinsmann through to the perhaps underappreciated tenure in recent years of Miroslav Klose and Mario Gomez.
However, for all the plaudits that the DFB has gained for their restructuring of the domestic game in the last decade there has been a definite shift away from the traditional predatory forwards being produced at the regional development centres. The likes of Marco Reus and Mario Gotze for example, are more mobile attacking players, more comfortable in deeper or wide roles, while Thomas Muller of Bayern Munich has a unique player profile within modern football but is not an out and out striker.
With the retirement of the aforementioned Klose and a sense that Mario Gomez no longer fits the player profile favoured by Joachim Low for the national team there is an opening for a player to make the forward role his own for the current world champions.
That opening seems likely to be filled by the excellent young forward Timo Werner of RB Leipzig.
Whilst the rise to second place and Champions League qualification of RB Leipzig was one of the main narratives of the Bundesliga season it was the performances of players like Emil Forsberg, Naby Keita and Timo Werner that really caught the eye. At 21 years of age Werner was entering an important period in his career where youthful promise would have to start translating to quality of performance. He came through the renowned academy at VFB Stuttgart, Werner made his debut for the first team at just 17 years and 4 months. His potential was immediately apparent although initially he was utilised as a second forward or even as a wide player where his pace and dynamism could be exploited in wide areas.
Despite a relatively sparse scoring record for Stuttgart (13 goals in 95 games) the young forward was seen by Ralf Ragnick and the RB Leipzig recruitment team as a key signing for their inaugural Bundesliga season and he was signed ostensibly to play as a forward as part of a front two in the preferred 4-4-2 system.
Werner exploded in to life this season with 21 goals in 31 appearances at club level and his season culminated in his full international debut and first goals for the German national team. Despite reports that the likes of Bayern Munich and Borussia Dortmund are monitoring his progress at RB Leipzig it is highly unlikely that Werner will leave the club any time soon.
In Football Manager 2017 Timo Werner is one of the most promising young forwards at the start of the game.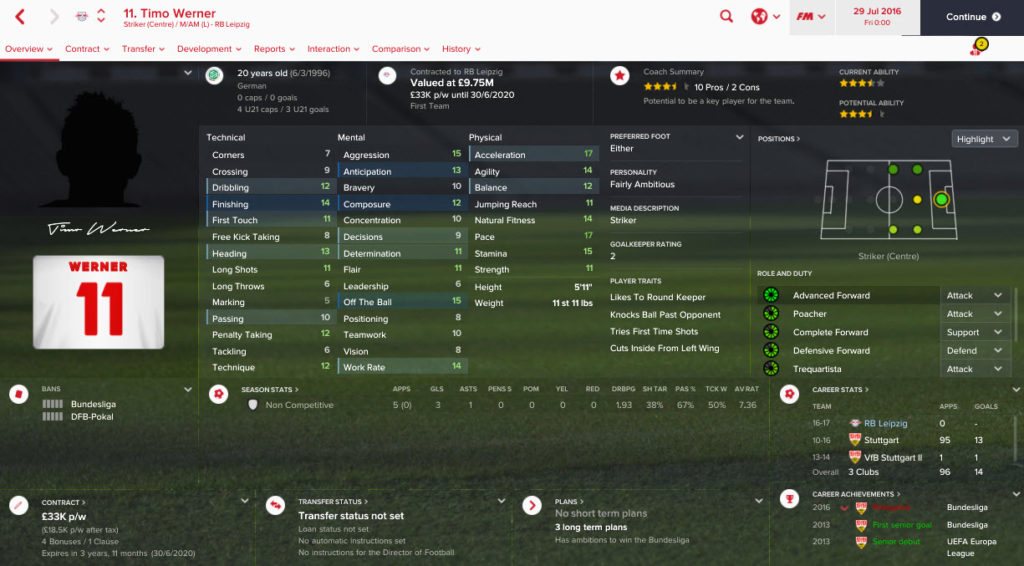 His physical attributes are the stand out, 17 for acceleration and pace 15 for stamina. There is definite room to grow in terms of mental and technical attributes although he already has an excellent base. He has 15 for aggression and for off the ball and 14 for work rate, his 13 for anticipation. His technical base is ideal for a young striker with 14 for finishing combined with 13 for heading and 12 for dribbling and technique.
Werner starts the game pre loaded with four player traits: likes to round keeper, knocks ball past opponent, tries first time shots and cuts inside from the left wing. These aren't necessarily ideal and if I was starting from scratch knocks the ball past opponent would be the only trait that I would choose to add.
What though can we expect to see from Werner going forward?
Versatility in front of goal
Whilst Miroslav Klose and Mario Gomez are without a doubt excellent goalscoring forwards they both struggle slightly in the fluid nature of the modern game with the forward being expected not only to come alive in the penalty area but to link up in the final third and contribute in the defensive phase of the game.
Timo Werner is very much a modern forward in that he combines all aspects of forward play in to a single package. As he has gained more experience and challenged himself with the move to Leipzig we have seen Werner add a ruthless streak to his obvious talent.
Equally comfortable with short sharp movements in the penalty area or when running from deep into space behind the defensive line we have seen Werner develop his instincts and decision making hugely this season, the same can be said on FM17 where Werner appears to be a natural finisher.
One of the keys to the effectiveness of Timo Werner in FM 17 is his ability to use clever pieces of movement to create goal scoring opportunities. In this example we see a relatively packed opposition penalty area following a set piece from RB Leipzig. As the ball was fed back out to Lukas Klostermann on the right hand side the right back drove into the penalty area, it was at this point that we see Werner move, he dropped off from his marker in to a small pocket of space, when Klostermann cuts the ball back it leads to an easy finish for Werner.
Here we see the important role played by Werner's pace and acceleration within the match engine. Once again the chance is created by the right back Klostermann but this time it comes in transition from defence to attack. Werner takes up a position that splits the centre back and the left back, when the ball is won and played over the top Werner is able to comfortably beat the defensive players and finish.
This time we see the quality of movement and extreme pace from Werner as he runs on to a direct through ball in to space behind the defensive line.
When in the immediate attacking transition we tend to see Werner look to position himself on the shoulder of defenders looking to move on to their blindside before starting an angled run forwards.
Here we see the ball slipped through in the channel between the two central defenders for Werner to run onto. His pace comfortably takes him away from the defenders but he still has to finish. In the early stages of his career we would see Werner snatch at these chances showing a lack of composure. Now we see him pause and wait for the goalkeeper to make the first move before calmly slotting the ball in to the corner of the goal.
Ability to link play
As previously mentioned there is a need for the lone striker in the system of the German national team to not only be a goalscorer but also to link in with the other multi functional attacking players that play in the midfield or wide areas.
This last season has seen Werner make huge strides in his ability to link play in the final third with his ability to hold up the ball with his back to goal being worked on throughout the season. Whilst Werner is willing to link in with teammates he still has that predatory instinct in looking to attacking the penalty area and the oppositions defensive structure when he plays the initial lay off.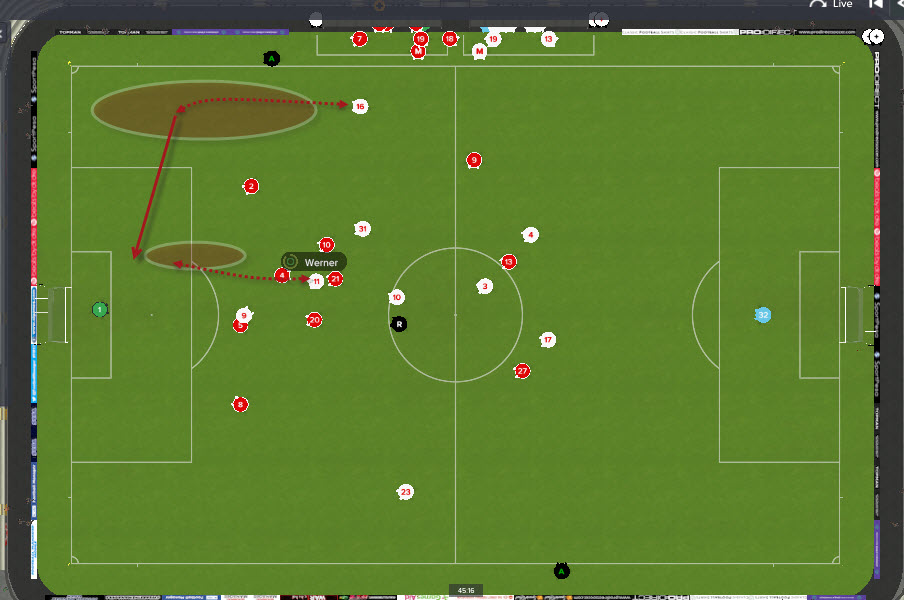 Here we see that Werner has the ball in the central area of the field, where he is all but surrounded by opposition players. Instead of attempting to charge forward into the defenders the forward instead chooses to switch the ball out to Klostermann on the right hand side, when he links in this area Werner then drives in to the penalty area and attacks the near post, as the ball is crossed in to this area we see Werner finish comfortably.
In this example we see RB Leipzig initially winning the ball back in the opponents half and stopping their attacking transition. As soon as the ball is won back Leipzig are in a highly favourable position with the opposition defensive structure extremely disorganised.
Werner has positioned himself in a pocket of space between the two centre backs and when the ball comes to him initially he has his back to goal. His awareness is developed enough that instead of trying to turn for goal with defenders on either shoulder he simply uses the momentum of the ball to flick it outside to the supporting player to run in and attack space.
This time I have chosen to highlight some intelligent play in the penalty area from Werner. As the ball is crossed in from the wide right area we see that Werner has peeled off to the back post anticipating the deep cross.
Instead of heading towards goal as many striker would, Werner is aware that he is not in a favourable position. He is intelligent enough to head the ball back in to the central area for a teammate to attack and goal.
Ability in one on one situations
As well as being capable of combining play in the final third Werner is also comfortable taking on opposition players in isolated one on one situations. As a younger player at Stuttgart, Werner operated in the wide left area where his ability to beat players saw him initially profiled as a wide player.
Even when lined up as a central striker Werner drifts off into wide areas in order to capitalise on spaces on the field when the opposition full backs push ahead. He will collect possession and then drive in to the central areas to take advantage of spaces that open up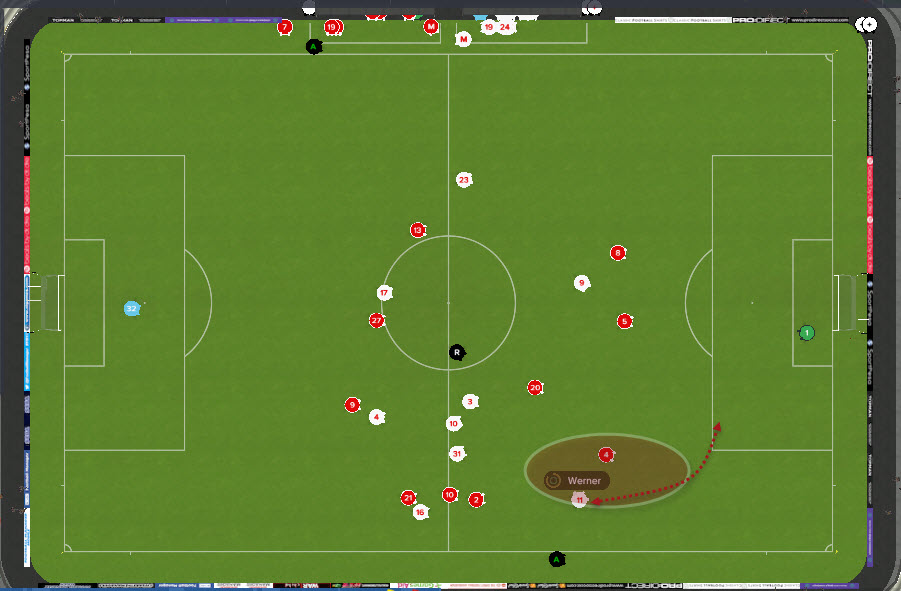 In this example Werner collects the ball out in the wide right area, he is isolated against a defensive player. His pace and aggressiveness make him the ideal player to beat defensive players in one on one situations like this. As he drives past the first man the more withdrawn defender is then forced to come across to cover, this in turn creates space for the other forward to attack the near post and look for a pass.
Here as Werner picks the ball up in the wide left area. He immediately turns and beats the first defender opening up the field and creating space for himself.
As he drives in to the central areas he creates space in the wide areas for his teammates and forces the opposition to reorganise themselves. As he feeds the ball out into the wide areas RB Leipzig are initially in an overload towards the central areas of the field. Unfortunately the play breaks down before they can take advantage.
This time Werner picks the ball up on the right hand side of the field against the touchline. He immediately beats the defensive player by cutting back and then inside, again this opens up space for Werner to attack the central areas.
As he moves centrally on the diagonal he is able to connect centrally with Naby Keita before moving on in to the penalty area to try to take the return pass.
A Case Study
For my own part I have not managed Timo Werner extensively on Football Manager 17, but I know a man that has.
I spoke to Chris from the fantastic Occasional FM blog about his experiences with the German forward. Chris has a long running save in which he controls both RB Leipzig and RB Salzburg. You can find updates on his progress on his blog or alternatively on the FM Slack channel.
"Managing Timo Werner on FM17 has been an absolute joy. I quickly identified how I wanted to set my side up, and Timo was a key component of that. It wasn't meant to resemble the exact way Leipzig were playing in the non-FM world, but with Poulsen and Timo as our forward-most options, it was similar at times. Playing off our targetman, Poulsen, as a shadow striker, Timo flourished. He was a constant thorn in the side of our opponents, hustling and bustling to win the ball back as well as driving forward, creating and scoring. 46 goals and 22 assists in my first two seasons in Leipzig was a great output. Particularly prolific in my second season, he won the European Golden Boy award and broke into Die Mannschaft. 
Despite a slight lull in his output midway through the save so far, he's still been a mainstay in the side, and didn't exactly stop scoring. After a shift in my tactical approach to a narrow 4-2-3-1 he became one of the two shadow strikers in the outer AMC slots. He scored a double as I secured my first piece of silverware in season three, bringing the DFB-Pokal home to Leipzig. He hit 15 goals as we finally managed to win our first Bundesliga title in season four. 
I think his attribute combination of acceleration, pace and off the ball is what makes him perform the way he does. Some of his other attributes would even warrant him a place in other FMers teams. His finishing or composure doesn't scream Champions League winning forward, but fast forward to season six and he's got two of those medals in his downstairs bathroom beside his framed photos of us holding that great trophy aloft each time. We've won it in consecutive years now, and Timo has just finished season six with the European Golden Shoe after a transition to playing as our deep lying forward on support saw him hit 31 goals in all competitions. The reigning Bundesliga player of the year is now the club's all-time record league goalscorer. Valued at £38.5m (up 913% from the beginning of the save) as a 26-year-old, has he even reached his peak yet?"
Conclusion
This will prove to be a very important season in the young career of Timo Werner. Another productive season for RB Leipzig could see the young forward cement his place as Germany's first choice forward for the World Cup.
His blend of pace and finishing combined with a high work rate make him the ideal forward to compliment the attacking pieces that the national team already have. Unfortunately for RB Leipzig if Werner continues to develop at the pace that he has been this season it is unlikely he will be at the club much longer.
He is also worth picking up as early as possible in your football manager career to ensure that you can develop him properly from the start. Do so and you may just have found your goalscorer for the next 10-12 years.