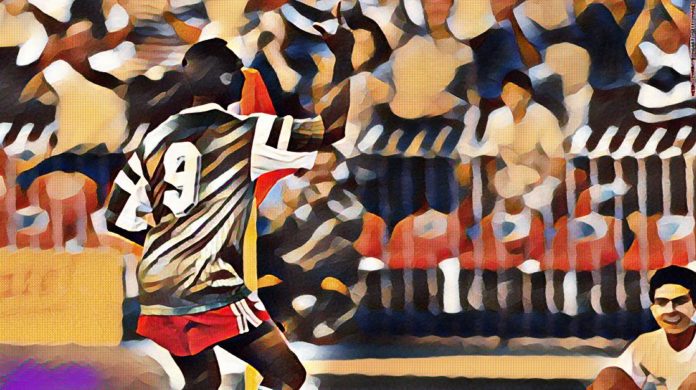 Well, after all the excitement of last season this preseason has been a little bit different. Muppet-pants here forgot that winning the CAF Champions League meant we'd be heading to Seoul for the FIFA Club World Cup!
That meant our preseason was all a bit upside down, with our first game after the short break being this…

Monterry pay their players something in the region of €15,000 per week on average. I pay mine about €150 per week on average. Yeah, this could be interesting!
My first obstacle to overcome was that the 2nd December came and went and there was no opportunity to register a squad, so when we came to kick off against Monterry, I wasn't even sure I'd be able to field a team.
Fortunately, some advice on Twitter informed me that all would be OK – just pick them team and hit continue as normal and nobody would notice. They were right, so we walked out in front of 77,000 people in South Korea.
The only thing hitting continue couldn't fix for me was the result – Monterry eventually broke us down and eased to a 3-0 win. Oh well, that'll be that then.
Except (spot the guy who didn't check the rules) we had a 5th place play-off match against Jeonbuk Hyundai Motors to look forward to – and regardless of the result we'd get a hefty cheque for taking part!
Super relaxed and a little more in shape, we strolled to a 5-0 win with Marcy getting himself another hat-trick.


So, all in all, that was slightly better than a couple of preseason games against some local boys! €1.6m in the bank and a chance to see how we rank against other continental winners. Not bad at all. Monterry went on to win it, just so you know…
Sticking with Tonnerre KC before we switch over to Cameroon – there has been the usual release of players not quite hitting the mark as Mark Monroe waved goodbye to nine who never really made the grade at the first team level, plus Karim Ndzana who decided we weren't good enough for him. I had foolishly forgotten to tie him down to a new contract earlier, and he ran it down and left.
But, guess what? Three weeks of being left on the shelf and Karim was back at the club, accepting a lesser deal than I would have offered him before he left! Result.
I was also able to get Mbeleg to commit to a new long-term deal, paying him €500 a week. I have no issue with that, that is the direction we are going in as a club now.
We've been doing in fine in our actual preseason, despite seven of the players being with me on Cameroon duty in the Total African Championship of Nations which is a tournament where only domestic-based players can play. I'm allegedly working with the best Cameroon players playing in the MTN Elite I, but I am wishing I'd called up all of the Tonnerre squad to be honest. We'll come on to more of that in a minute.
Tonnerre will be back in Champions League prelim round action in a couple of weeks, and then a fortnight later will travel to Casablanca to play Raja, winners of the Confederation Cup, in a African Super Cup. How exciting!
So, Cameroon. Firstly we learned our World Cup Qualifying Group where only the winners end up at the 2022 tournament.

That's not an easy group at all.
Right now we are doing our best to "be competitive" in this domestic based tournament.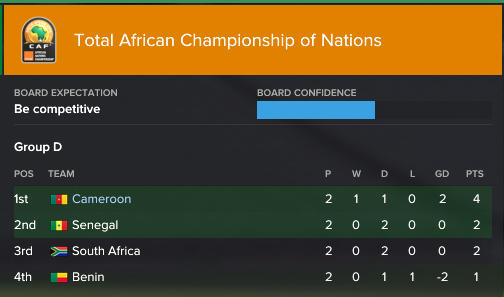 We beat Benin 2-0, should have beaten Senegal but let them off the hook with a point and now need a point against South Africa to make sure we qualify. We are playing well, we should do OK. Mbeleg, Ekané, Zeutsa, Ndzana and Ngongang are all heavily involved and doing well. Hopefully they won't come back too tired, as they've each played a lot of football in the last year.
So that's kinda it for this rundown. It's been an interesting preseason as I say, and once this international gig is over I can focus on getting Tonnerre into good enough shape to topple Coton Sport, win the Super Cup and defend the Champions League!
#LeTKC