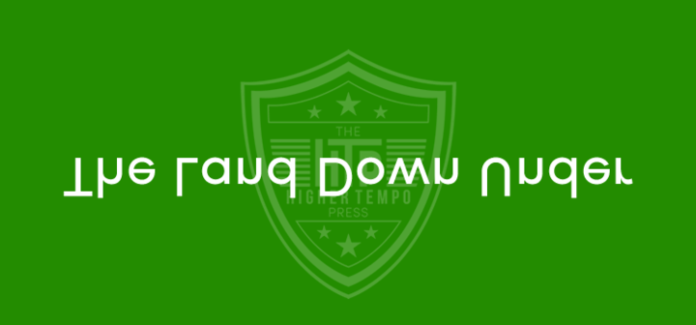 G'day, mate! It's been a nice couple of weeks off on holiday to watch the World Cup, as I mentioned in the last post, but we're back to business and it's time for the grind of a new season once again. Oh, and England won the World Cup for once, but that won't be covered in detail as it's not necessarily pertinent to the post to go into detail on.
During the off-season, the board called me to ask about improvements to the club, with the topic happening to be my contract that still had a year to run. Did I want a new contract and a raise? Of course!
It took some tough negotiation, but I managed to convince Mr. Charlesworth that I was worth AU$5,000 per week for the next three years. After all, I won the league twice in two years and the Grand Final once, so even if I can't hit the $7.5k that some of the more expensive managers make each week, I'm still not going to be working for cheap if I can help it! And, the Chairman threw in on his own a hefty bonus if I can make it to the end of the Champions League and take it all. Challenge accepted!
Not long after we wrapped up the contract details and I got back to assuming I was free to leave Australia for a couple of weeks, I got news on who the quarter-final draw would put us up against. None other than Shanghai, the two-time defending champions!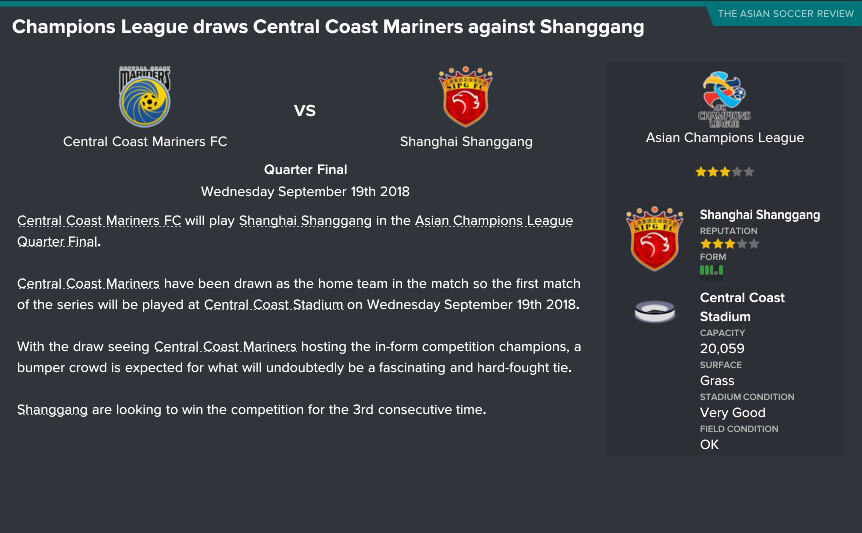 It's the first time that I am participating in the Champions League, so if you want to think we're humped, to use a nicer euphemism, you'd be right. That's exactly what I was thinking!
I called in Rodrigo Vargas, my new assistant that I was starting to get fond of. We had to get our heads together to come up with a game plan to find a way to make it through the two legs of the competition with a win or at least a convincing enough result to keep our pride.
The first thing we did was make the only real signing of note for the transfer window. Perth Glory had released on a free their central defender Rhys Williams. I had some good scout reports on my desk from my scouting of the Australian leagues, and I needed a replacement for Jacques Faty's role as a backup and fallback for Reece P, our still untested youngster that I wanted to try and debut.
Williams is a decent rotation defender for me, and while he's not exactly starting material for centre mid, he can take the role in a pinch as well if I need him to. I see a good insurance policy for both positions since I want to test my own academy's players in the first team before signing outsiders to the team.
I also brought in on a free a young Vietnamese-Australian midfielder. Martin Lo looks like he could develop into a pretty decent midfielder with experience. He was born in Sydney and spent some time with Western Sydney Wanderers a couple of years ago. Unfortunately, he's declared for Vietnam and has been capped several times already. He's not going to be one of my elite Australians that I want to see someday in the Socceroos, but he's a quality Australian signing for the team anyway. He won't be featuring in the first team for a while, and I forgot to take a screenshot anyway, so we're going to skip over him and move onto our youth intake that, as always, happens in September during our preseason.
This is my youth intake for this year. It's not quite as impressive as the previous season, and I only see three players I have a definite interest in developing and a couple of other "maybes". The rest are right to the trash bin to never get to experience their dreams of becoming professional footballers.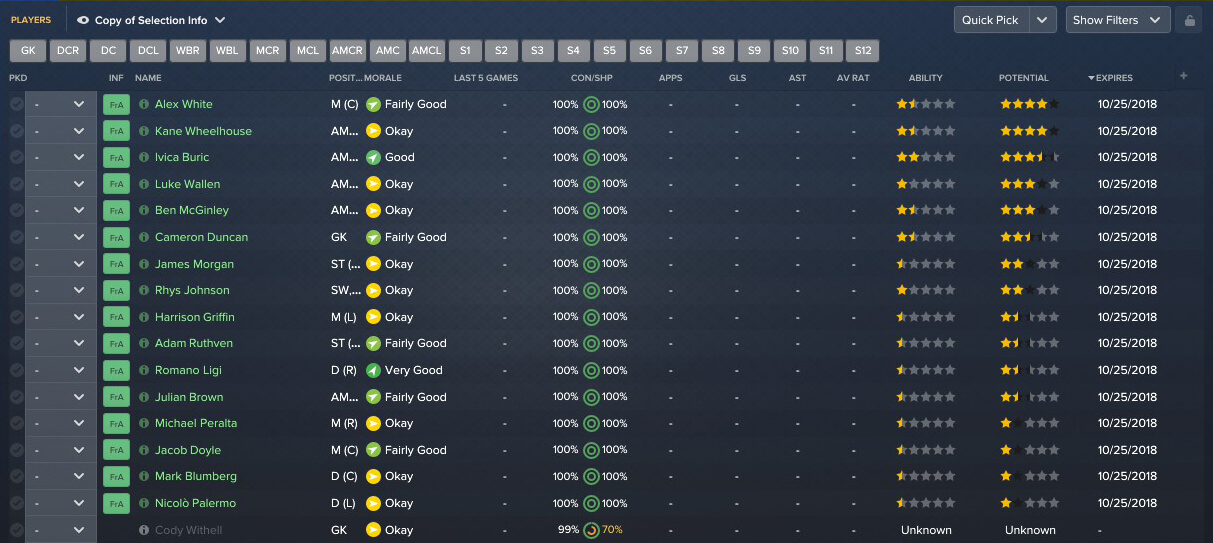 Onto the three I definitely like…
Top of the list of Alex White, a central midfielder that my staff was raving over. They claim he's going to be the best thing to come out of our youth system in the last many years. Hello? Anyone forget about good old Ozcan Gunes? The Turkish-Australian striker that I retrained at 16 into being a shadow striker that I will definitely be giving a first team spot to when he comes of age?
White has some alright physical attributes, and his work rate and vision aren't too bad, but there are a couple of mental attributes I'd like to see a bit better and he's technically not as great as he could be. I use two Roaming Playmakers in the central midfield, and I don't see him as RPM material. The staff likes him, so we'll keep him around, but I think I'm holding my judgment on the claim that he's the best thing in our youth system. Who knows, maybe in a few years the kid will be ready to impress.
Next up is Kane Wheelhouse, an attacking midfielder. I use my CAMs as shadow strikers, and he's looking decent enough in the attributes important to the role for his age. I wish his determination and his work rate were both better than they are, but there's time to get him a tutor and some match practice with the youth team.
I'm just a bit concerned for him that he's got all of this potential that I might not necessarily use. Howieson, Woodling, and Bingham have been great starting shadow strikers, and Ozcan Gunes isn't that far behind from the first team. There's a bit of a queue ahead of Wheelhouse for starting spots unless someone throws out some serious cash to take one of them off my hands.
Lastly, we have Croatian-Australian Ivica Buric. He turns 16 just a month after our intake, and he's not that bad for 15, in my opinion. There's time to work on him and see what I can do to him to get him going. Out of the development reports from the staff, at 2/5 stars, he's got the best current ability of the three intakes I kept, relative to the rest of the squad.
He's physically fit, and he's a decent finisher, has alright touch and passing skills, is a good decision-maker, and he's a team player. The low composure stands out a bit to me, so I hope it won't come back to be a problem in the future, but we'll wait and see.
He's my personal favourite of the set, so I can see him and Ozcan Gunes up front together if he develops right as he and the 17-year-old grow up.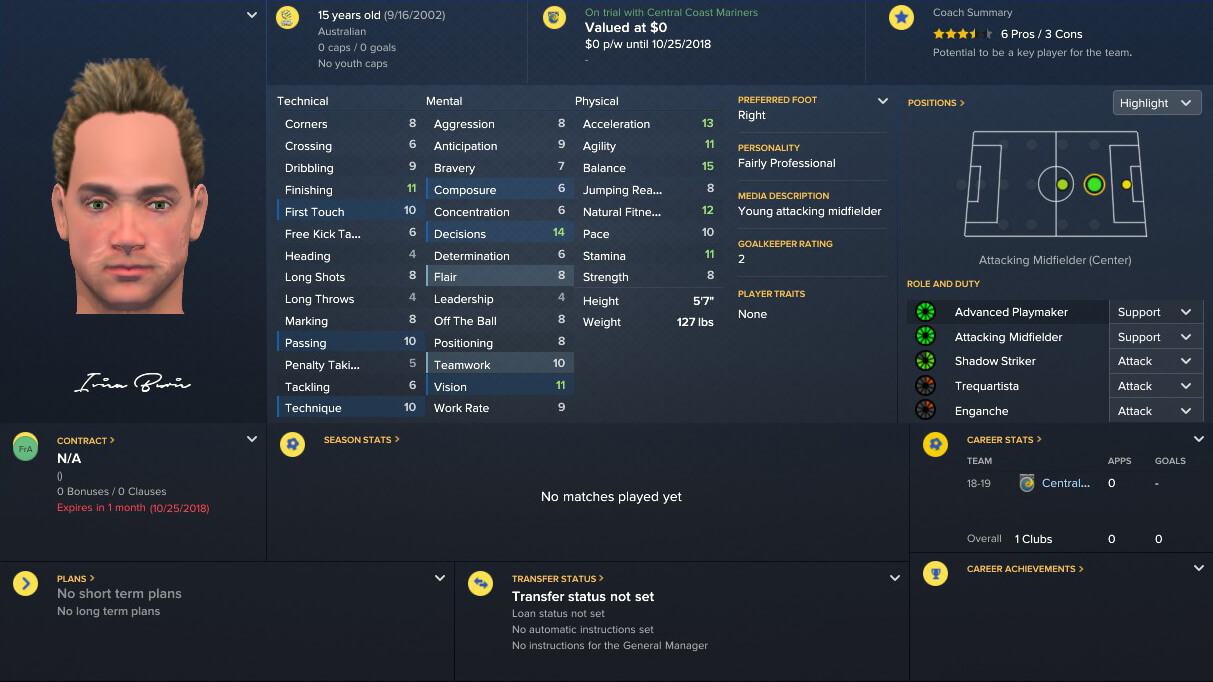 Now that the one noteworthy transfer and the youth intake is now out of the way, we need to touch on the matches we participated in during the preseason.
This season, the board expects us to again qualify for the Finals Series. I expect to win it for the third time in a row. The board does not consider the FFA Cup to be important. Well, good for me, because neither do I, but I still want to finally win that damn trophy! As for the continental competition, we're exceeding expectations. We were only expected to be in the group stage, so everything past this is just overachieving on our part.
The title odds are in from the press. I honestly have no idea why I look at this because it's never right. We are predicted to finish 8th place, same as last year. Perth Glory, Sydney, and Victory are expected to be the title challengers for the year.
When you look at the history of the modern A-League, since its inception no team has won the regular season twice in a row. I did! And, I have a team that could do it a third time! Go ahead, fans of the Mariners, invest as much as you can in the season with your bookie, because you'll get your returns, I guarantee it!
Whatever. Moving on to the results. I know I have a good team and a good tactic in place, so I didn't directly manage the friendlies. I just left the team in the hands of Rodrigo Vargas. It's his job to make sure the team is fit so I can focus on actual competitive matches!
We had our Champions League run first. We took on Shanghai, and it worked out far better than expected, with another very solid win to advance us into the Semi-Finals against Jiangsu Sunning FC, also from China.
I say each time I advance that a challenging matchup is coming, but I really expect a struggle this time. Jiangsu has a lot of money, and they are able to bring in just about whoever they want. The most notable of the players I saw was Ramires from Chelsea! I have a good team, but I don't think it's Chelsea good.
I say each time I advance that a challenging matchup is coming, but I really expect a struggle this time. Jiangsu has a lot of money, and they are able to bring in just about whoever they want. The most notable of the players I saw was Ramires from Chelsea! I have a good team, but I don't think it's Chelsea good, so I hope our containing, defending mentality that works so well can hold up to the likes of Ramires and the other players that Jiangsu has brought in.
The Jiangsu matches are during the regular season, so I'll come back to those later on, but moving onto the FFA Cup, how did we do? I'm going to cut to the chase and say we still haven't won it. We made it a bit further this time, but the annual international call-ups during my preseason and FFA Cup run still seems to hurt me more than the others, and I always end up losing the FFA Cup before getting the team ready to win the league.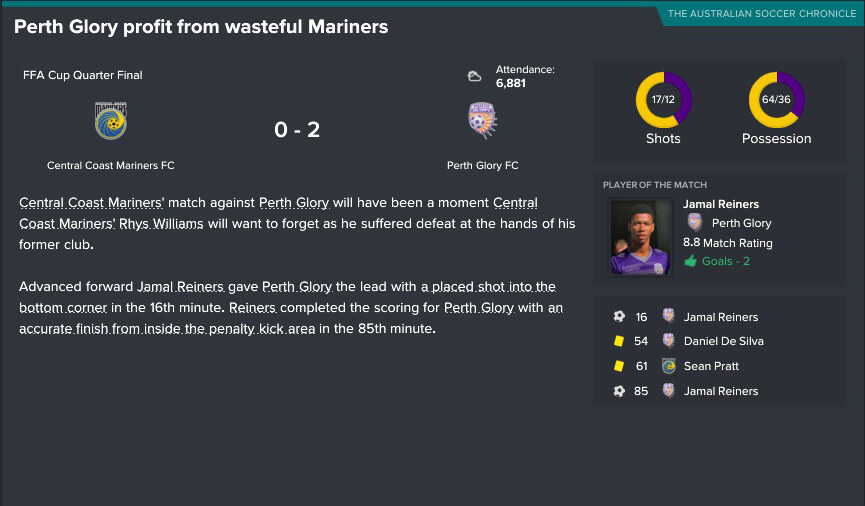 The regular season is upon us again, and we had a good preseason getting our players up and going, minus the annual failure at the FFA Cup. Here's the fixture list, for those interested.

I'll be back in a couple of months to provide an update on the first half of the season and cover the conclusion of our Champions League run. Win or lose, it will be a momentous occasion for us to go as far as we have. We're the last surviving Australian team in the competition, and we've got two stages left to try and win Australia's second ever Champions League trophy since the move to the AFC.