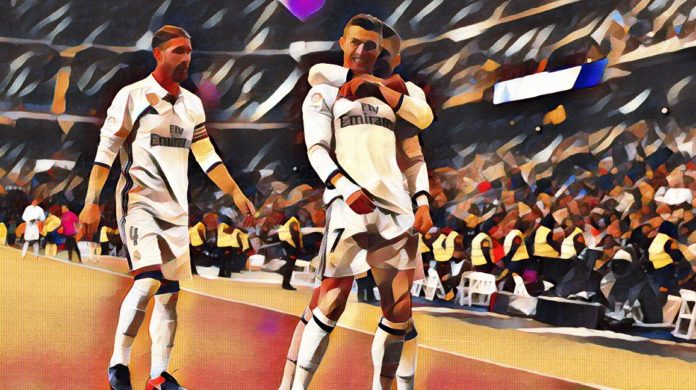 "We must not let ourselves get driven off course, no matter what happens we must stick to our natural game." Zinedine Zidane
Plaudits given to Zinedine Zidane focus on his personal skills – his ego management if you will – and that's not just the players we're talking about. This club in particular has many "personalities" within its organisation chart. However it is very rarely said that Zidane is a tactical genius. But hey he has just won 4 out of the 5 competitions including their first La Liga since 2011/12 season.
Since Mourinho's side won the championship, Real have seen that task defeat top quality managers including Mourinho's final 12/13 season followed by Carlo Ancelotti and half a Rafa Benitez. Zidane also pocketed the Champions League twice – back to back. I don't know if anyone has noticed this before but that's the first time that's ever happened. AC Milan did something similar in 1988/89 & 1989/90 seasons but that was only the European Cup – we're talking about the CHAMPIONS LEAGUE now, fella.
So is there more to Zidane's Real Madrid than just telling Ronaldo to sit out a game? Here I look at how his team is set up, how you can recreate it in FM17 and whether it's any good.
Zidane's Basic Setup
The basic shape is a 4-4-2 narrow diamond with a typical player line up as shown.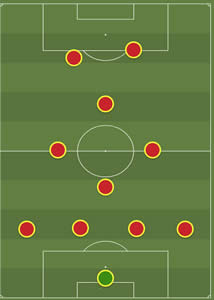 One of the biggest talking points of this season has been the emergence of Isco as starter a the tip of the diamond. Injury to Gareth Bale made the decision easier for Zidane but choosing the young Spaniard ahead of Bale in the Champions League final was reward for Isco's performances and maybe a sign of things to come next season.
Defending
The Real defensive line is slightly deeper as the team prefer to defend in a low block – as a team they do not press the ball preferring to drop back into two defensive banks – one line of 4 defenders, and one line of 3 midfielders.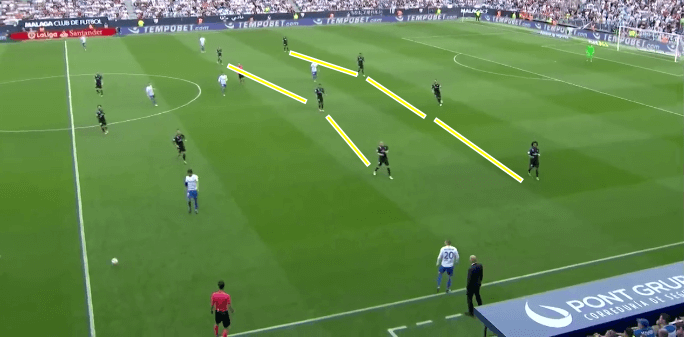 If ball is out wide, the wing backs will engage but only in the team's defensive third to try to block crosses. Support comes from near side midfielder as the team shifts over towards the ball.
If the ball is passed into the central AM strata, the ball is quickly pressed – almost always by Casemiro – as Real look to protect their Golden Zone.
The 3 attacking players do close down the ball sometimes but not aggressively nor do they actively track back to cover passing lanes.
The aim is to let the opposition make a mistake with players looking to pounce on even the slightest error to win the ball back.
This strategy relies on their players having high concentration and determination.
You know the kid at 5-asides that is that level above everyone else – he's brilliant attacking and impossible to get past? That's Real Madrid. We are talking about World-class footballers here.
Defence to Attacking Transition
Controlled Build-up
Real have a real fondness to pass the ball in a U-shape from WB to WB via the CBs as their teammates look for space and the team moves up the pitch.
Passes are made to feet – even more direct passes – taking advantage of the higher technical skills of the players.
The WBs move very high up the pitch offering passing triangles CM-WB-AM – especially down the left where Marcelo links with Kroos and Isco.
The nearside CF will make runs wide into the channels behind fullbacks, while his forward partner moves to across looking to exploit any stretched space. This movement opens up more passing triangles between WB-AM-CF and WB-CM-CF giving Real lots of options. It also creates the option to switch to the opposite flank.
It is worth noting that the two CFs will swap places with each other often throughout the game to confuse defenders and disrupt marking instructions.
The aim of this play is to overload the half spaces between FB and CB of opposition on one side – usually Real's left. As the defence is pulled over to cover the threats down one side, we see runs forward from the AM and far-side CM into the gaps through centre and opposite half space. If attack is coming down the right wing, Marcelo at Left WB will also make runs to the back post.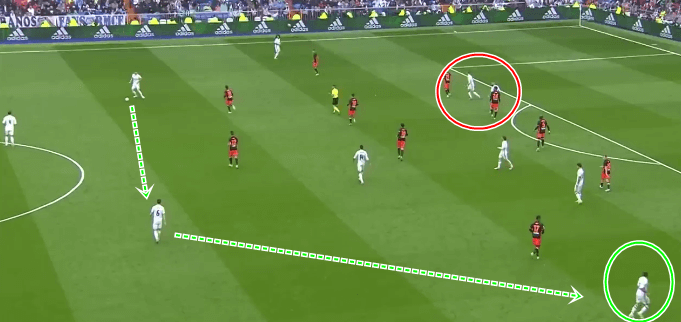 In this image note CFs (red circle) both attack left half-space creating space for RWB (green circle). The ball follows typical U (minus one CB – green line) before Carvajal, in space, has time to pick out Ronaldo with a cross. CR7 running from deeper position to head home.

Fast Counter
When Madrid break down attacks and launch counter attacks these are done with great speed. The first lines in the counter are usually broken by a dribble – often from Modric, Isco, Ronaldo, Bale and Marcelo. These players have dribbling skills, determination and pace to get clear of the initial pressure.
The team will break forward in support with 5 players joining attack – 2 CFs, AMC, CM, LWB – if break down right, the RWB will also attack.
Whoever breaks first carries the ball through the centre before looking to feed the ball into teammate with runs from CFs into channels occupy defenders. Modric and Isco are both very comfortable carrying the ball at pace.

Key Players
Kroos – a deep lying playmaker who can dictates play from wherever he can get space. In the recent Champions League final it was not uncommon to see the German dropping in to the left back position to start attacks.
Isco – offers a different form of pivot in the AMC position – more subtle and creative than the directness and physicality of Gareth Bale.
Casemiro – the main man for protecting the CBs and winning the ball back. Essential when you have both WBs pushing high up.
Set up In FM
Team Tactics & Instructions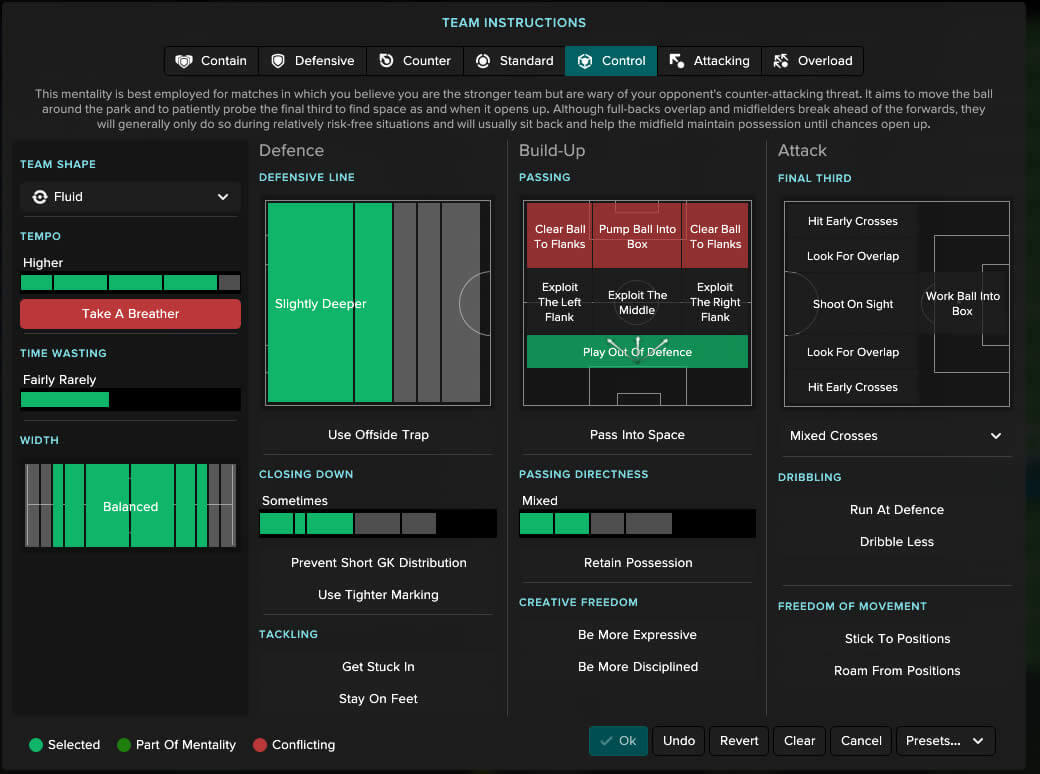 Mentality – Control was made for Real Madrid. It's conservative attacking football for a team that is too big to sit back and defend. The flair comes from the individuals.
Shape – this is an in-game call but it's somewhere between Structured and Fluid. I start Fluid to get the CMs properly set up beside DM when defending.
Slightly Deeper Defensive Line – for low block defending and for drawing out stubborn, defensive opposition.
Play out of Defence – it's how Real build up attacks.
Fairly Wide – utilise the Wing Backs
Player Roles & Instructions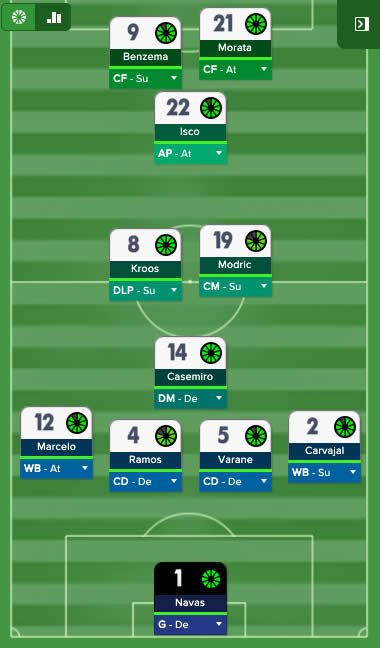 GK – Navas is a good solid standard GK. Player Instructions(PIs) set to roll ball out to defence otherwise he's default.
Desired attributes – eh goalie ones. I'm not fussed – can you tell? Just buy De Gea.
CBd – Ramos see's himself as a ball playing defender but we want Kroos to dictate play so both are set to short passing with fewer riskier passes. Both on Defend duty as they hold their line, using Casemiro as their shield in the centre forcing opposition wider.
Desired Attributes – Tck, Mrk, Head, Conc, Ant, Det, Bra, Acc, Pass
Left WBa – How do you solve a problem like Marcelo? You don't. Yes. He'll get caught out of position. Yes. You will lose goals from this side. Yes. You will fly by the seat of your pants. His attacking contributions and the excitement/confusion he can create makes this position a key one. Given Close Down Much Less PI.
Desired Attributes – Pac, Acc, 1st T, Pass, Cross, Drib, Det, Ant, Pos, Sta
Right WBs – Marcelo isn't the weak spot in this team but it's here in the shape of Carvajal. The goals that real Real tend to concede typically involve this man losing concentration or positioning or both. PIs to fewer risky passes, shoot less often, close down less. He still needs to get up the pitch and be a threat but with curbed enthusiasm.
Desired Attributes – Pac, Acc, 1st T, Pass, Cross, Det, Ant, Pos, Sta
DMd – It is interesting watching the ball being played into a #10 or a striker who's dropped deep into the hole against Real this season. As soon as the pass is a twinkle in its daddy's eye, Casemiro is on it like a midge to a scotsman. If he doesn't intercept the pass then he is so aggressive in his press and tackling the usual outcome is a successful tackle or a mistake and Madrid have possession again. At first glance the Anchor role seemed a good fit but this was too timid in its closing down. DMd with closing down set to more seems to match real life better. Note in my game, Casemiro is a bit undercooked compared to how he has played this year. FM18 though…
Desired Attributes – Ant, Tck, Det, Work, Sta, Pas, Acc, Bra
DLPs/d – This was a tough one to recreate in FM although it is a role that seemed to scream out Deep Lying Playmaker. I used DLPs in Mid strata but Kroos wasn't dropping back enough to get dictate play. Regista according to FM's description seems to match how Kroos is in the team but he needs to drop back to DM strata to the left of Casemiro which meant his positioning was not quite right. DLPd has the movement and with a few tweaks with PIs More Riskier Passes, I believe he plays more like the real thing. The option to switch to Support duty is there if you need to commit more players to the attack.
Desired Attributes – Pass, 1st, Comp, Ant, Vision, Sta, Det, Dec
CMs – I toyed with idea of also making Modric a playmaker of some strain but watching his play I felt this could be recreated with PIs added to the base CM support. Dribble More – for starting those counter attacks. Get further forward & Move into channels – he's one of the attacking pack after all. More riskier passes – look to set up CFs with longer through balls. Also More Direct passing can be set depending on opposition set up to get those Modric long, pin-point accurate diagonals going.
Desired Attributes – Pass, 1st, Comp, Ant, Drib, Vision, Sta, Det, Dec
APa – FM gives you a few options for this role but Advanced Playmaker on Attack is the best fit for matching Zidane's team. It makes him a pivot in the attacking third but it's far from a static role. The Attack duty gives the player license to dribble at the defence and drive into the box as Isco does to great effect. Also given PI roam from position.
Desired Attributes – Pass, 1st, Comp, Drib, Vision, Det, Dec, Pac, Acc, Agi
CFs / CFa – In my other saves on FM17 I have dreamed about one day having a player that is described as a Poacher, Target Man and Deep Lying Forward all rolled into one. I call it the Ultimate Striker but they've gone for the more tame Complete Forward. It's a dream for my Scottish League One save but with Zidane's team I get to play with two. The movement and play of Benzema and Ronaldo are best replicated with these two roles. They will run into the channels – both wide, half spaces and through centre, can hold the ball up, make chances for teammates or carve chances for themselves. They act like poachers in the box if WBs are wide – often finding space via quick movements. The split between Support and Attack duties keeps giving the opposition defence decisions to make. They CFs are set up to swap position with each other throughout the game to aid in this confusion. Both asked to Close Down More to try to nick the ball high up the pitch.
Desired Attributes – 1st, Comp, Drib, Vision, Det, Dec, Acc, Ant, Fin, OtB, Head/Jumping
Opposition Instructions
To recreate the low block that Real use – see Defending section above – you can set Closing Down Always onto the most attacking strata of players including the wide positions as well as the AMC slot. It is Casemiro's role to aggressively press anyone in this central zone.
Corner Kicks
It's hardly surprising given his own talent in this area that set pieces seem a valued tool for Zidane. In 16/17 season, his team have scored 22 goals (21% of total) and conceded only 5 (12% of total).
Attacking corners resemble a melee in real life as a 5-strong horde of Madrilenos loiter with intent just inside the centre of the penalty box before springing forward all at once towards Kroos' delivery. They split – 1 to the front post, 2 to centre, 2 to far post. Outside the box, 3 players wait for any loose balls or short clearances ready to get another bite of the cherry.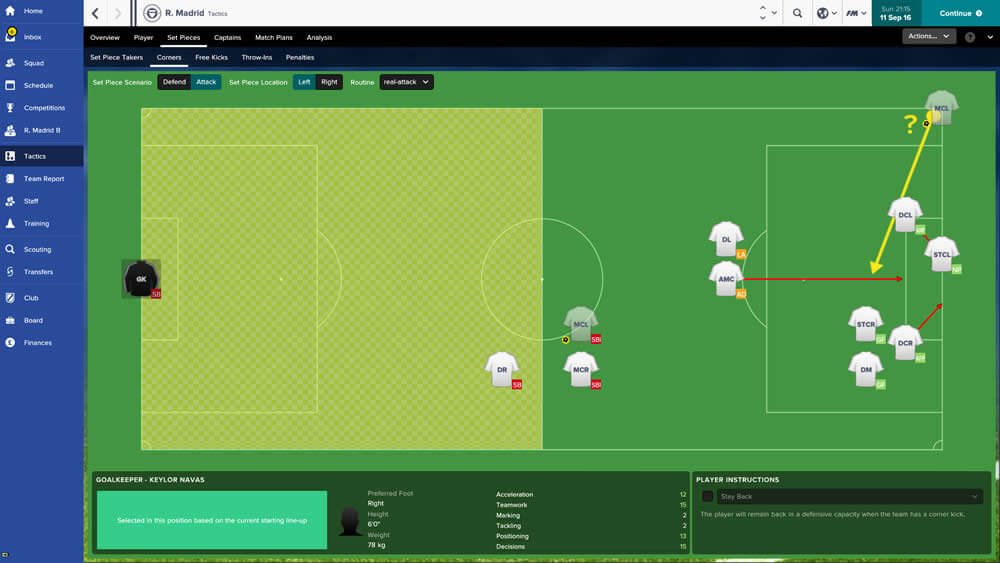 FM doesn't allow you to recreate that bunched pack so to compromise I have stuck the five in the box using up all available instructions. You are also restricted with setting up your players outside the box so Isco is given Attacks Ball From Deep instruction but what harm one more into the stramash?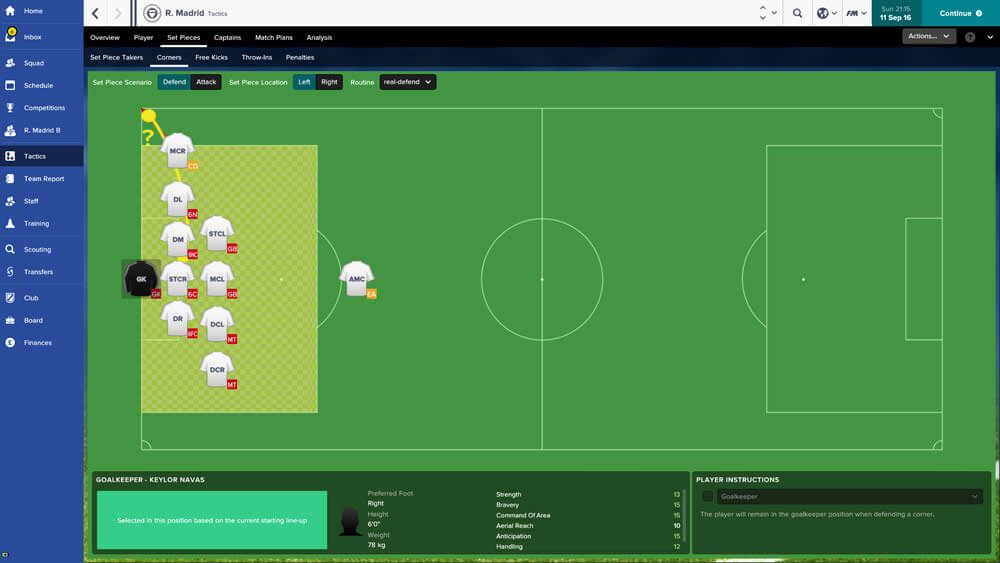 For defending corners Zidane has chosen not to put anyone on the posts but does bring every outfield player back into the defensive third. The team are blessed with attackers who are tall with good aerial ability so the shorter players – Isco, Modric – are usually furthest from their goal ready to launch counter attacks.
The Results
Let's look at the first game of the season.
Home Win 4-1 to Espanyol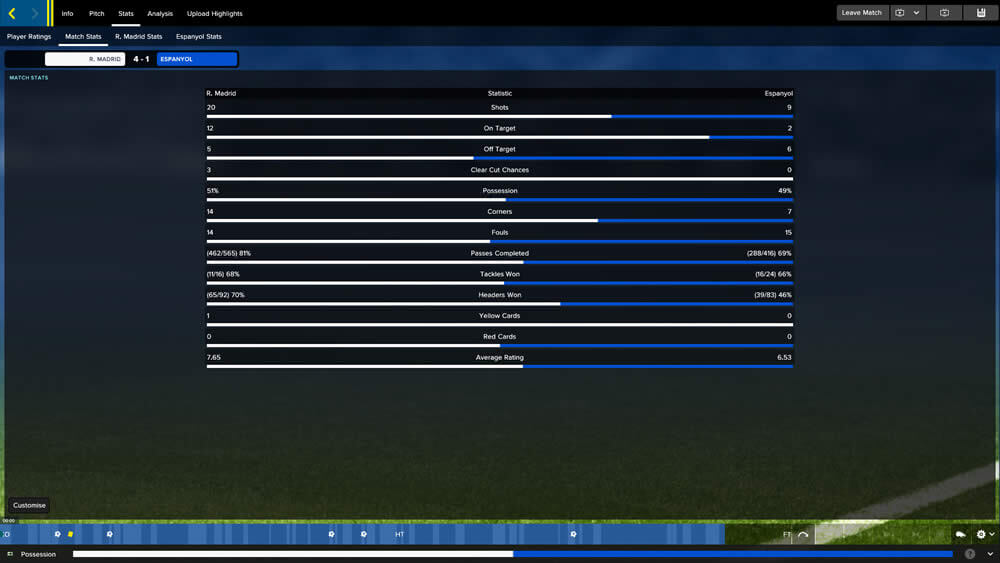 Heat Maps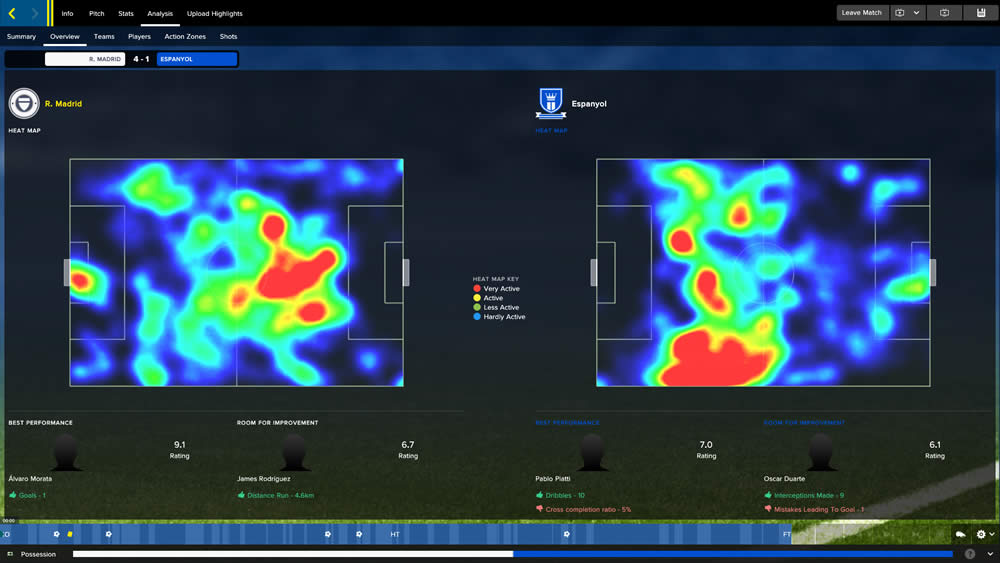 I personally don't like these heat maps – I prefer to see my team dominate that central golden zone of my opponent's box more. Real don't faff around outside the box though – they are incisive and ruthless in attacks preferring to work chances starting out wide to open teams. They do show shepherding the opposition down the flanks more.
Passing Maps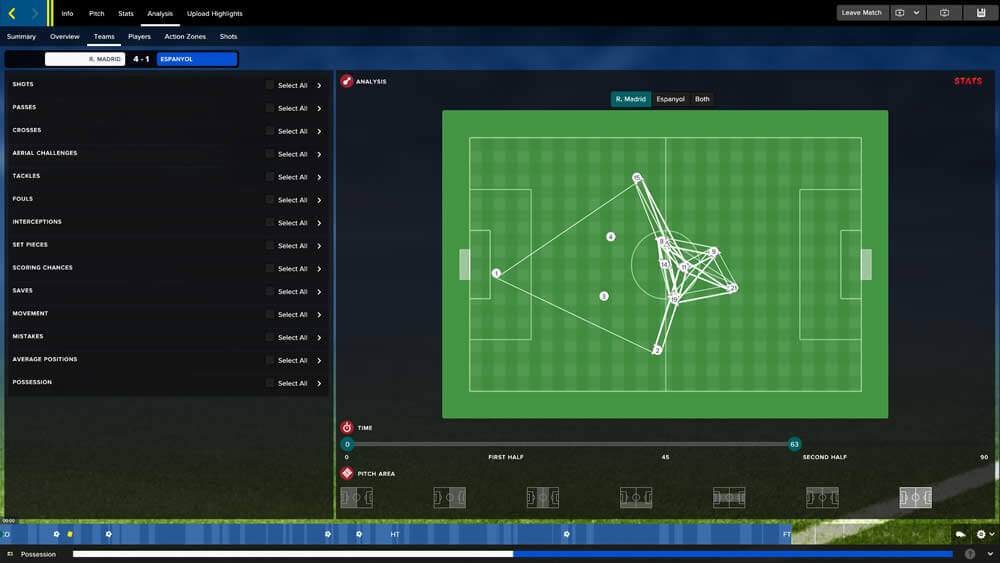 You can see some triangles available especially around APa (#11, Bale I think) but I'd prefer to see Marcelo(#15, WBL) higher up the pitch, Casemiro (#14, DMC) deeper and more passes to the CBs.
After a Season
Oh dear. The season's expectations were to win the league and reach the final of the Champions League. As you can see – that didn't happen. I suspect because in my absence, the AssMan – David Bettoni – decided to play the first eleven into the ground.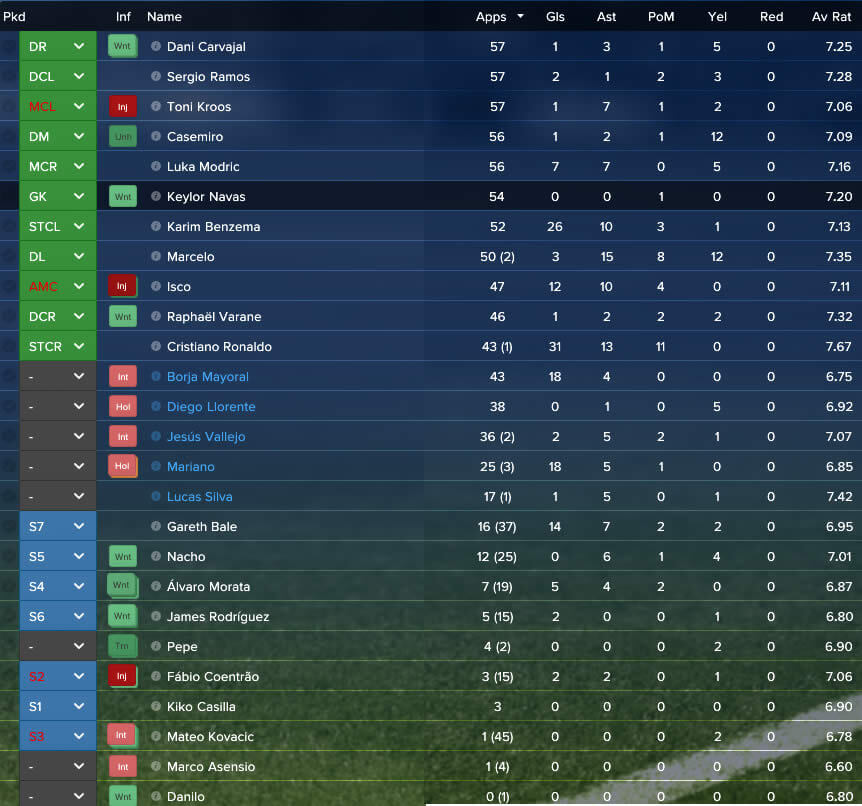 Look at the rotation there!
Take for example the CL, we got knocked out by Roma in the 1st knockout phase. After a decent 1-1 draw away in the first leg, at half-time in the Bernabeu with the scoreline 0-0, he withdrew Marcelo and Casemiro (the only DMC in the squad). Cue a 3-0 defeat! Tres bon monsieur.
Following the inevitable drop in league position whilst away winning the World Club Cup, Madrid clawed their way to the top of the Primera Division in March after a 4-3 against Atleti. A good time to hit form but a slump of 3 defeats in 7 games saw Valencia(!) take the championship.
Heartening that we were undefeated against Barcelona and Atletico Madrid in the league.
Season Highlight
The standout result was 3-0 away win at the Camp Nou versus Barca on the last game of the season. Not enough to win the title but enough to prevent them winning it!

Some other Stats comparisons
In this season's real life La Liga, Real Madrid averaged:
17.4 shots per game
40% shots on target
55% possession
87% Pass Completion Rate
In FM17, over 60 games:
19.2 shots per game
45% shots on target
Toni Kroos completed 90% of passes made – 3784/4227 – avg 74 per game
Some Highlights
My Verdict
This is a fun tactic to play with but not one I'd be looking to run a long career save on FM. It doesn't control the game enough for me and I found it defensively unstable. If you are looking for a pre-FM18 game, this is a save to treat yourself with.
Zidane has built a tactic around the strengths of his players which is the correct way to manage in any industry. But is this Zidane's preferred formation or style or does he hanker after another, more alluring style. For all the transfer rumours, I can't see where Eden Hazard would fit into this team for example.
Therefore, whilst enjoyable my quest to determine if the Frenchman is a tactical genius has failed, Zidane as a manager, as he was a player, remains an enigma.
Download
Of course, you'll want to try this for yourself so the tactic is here for you to download.
Still reading?
Ok thanks and well done – you made it to the very end. To follow me on social media, check out my pro᷀file at the end of this post and to see what else I have written click on my name.