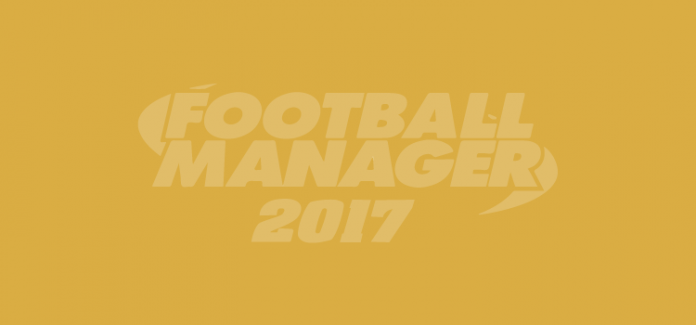 We're back in Berlin after last week's detour into the realms of FM17 Guides. If you missed the last part of our spin-off adventure – Gwen Stefani title puns and all – then click here.
Last time I left you we'd done some transfer business, smashed some semi-pro side in the Cup and had a wonderfully inconsistent start in the league. We'd also seen Christian Stendel (our main striker and product of Hertha's academy) kick up a fuss because apparently moving to a mid-table Bundesliga side is furthering your career.
No matter though. We had an international break after the transfer window closed to let young Chris think about what he'd done on the naughty step. That meant he missed our first game back against Borussia Dortmund and a chance for Johannes Eggestein to stake his claim. Well, as best he could against one of the top two.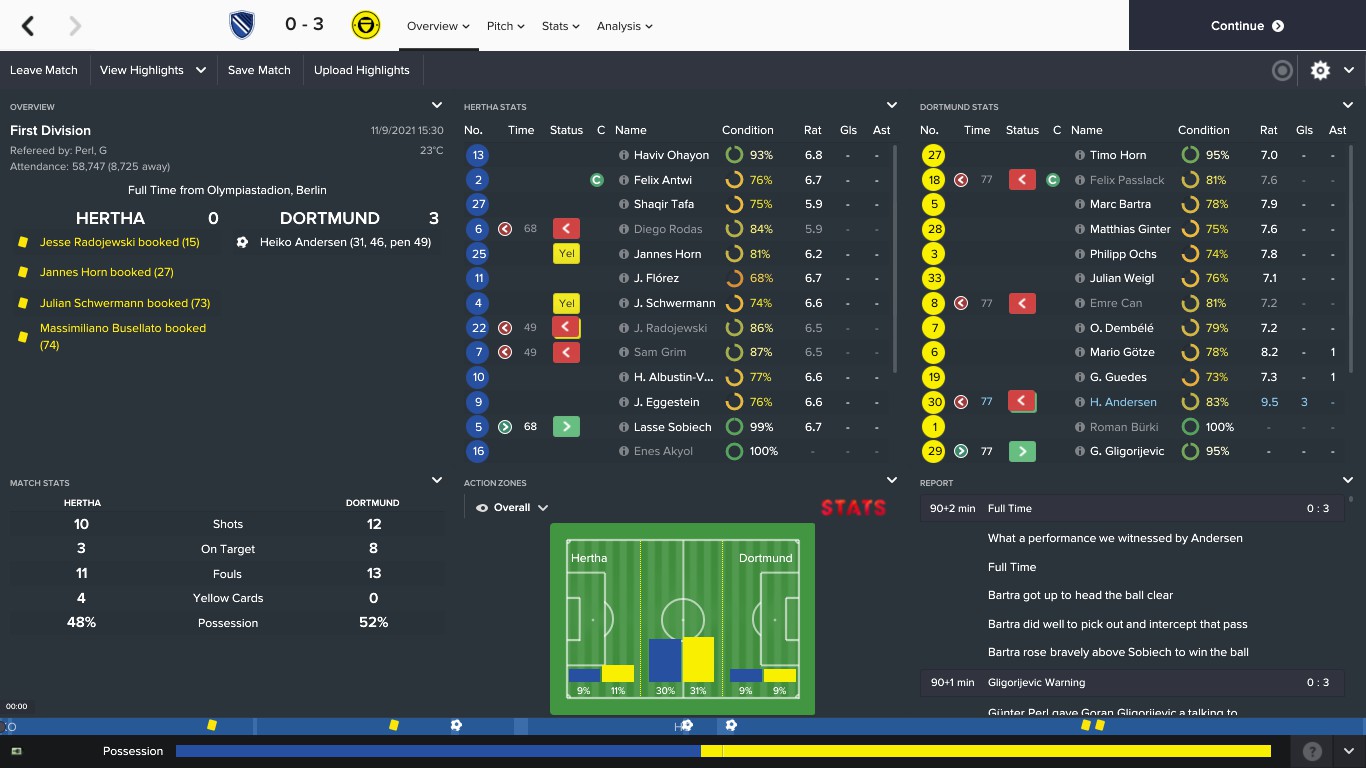 OK, it's not as bad as it looks. We weren't horrible but individual errors and the fact that Heiko Andersen is a bit of a good regen hardly helped. Still, it could have been worse and we were somewhat competitive.
Now, what would be the perfect game to bounce back from that defeat? How about an away tie against a fellow promoted side? Funnily enough we went to Bremen with Stendel still pouting on the naughty step.
See? Perfect. It wasn't convincing but who needs convincing when your aim is just to stay up. A win's a win, three points are three points and, no, I didn't nearly have a heart attack during this. I'm also considering renaming Heiner Albustin-Voge HAV because I HAV a sneaking suspicion he's going to become a favourite. That pun's going to die a death.
We hosted Hamburg next in a game that would test our mid-table credentials. I really am aiming high this season.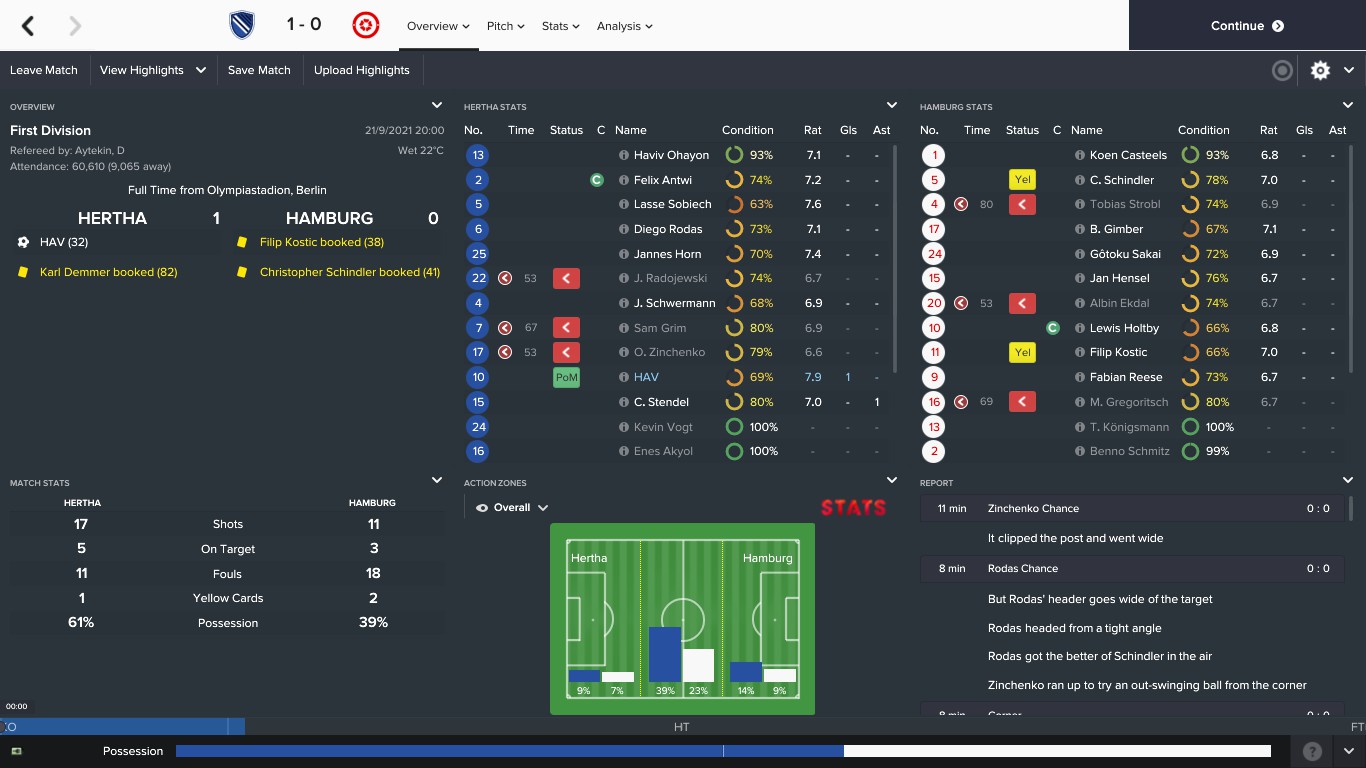 You HAV got to be kidding me. We did it again and that boy HAV was at it again. We were fairly comfortable in this one though with Chris climbing off the naughty step after he stopped pouting when he realised nobody wanted him anymore.
So, we're on a bit of a roll. Where we heading next? RB Leipzig away? Oh fu…
Oh FM, you cruel, cruel bugger you. RBL's expensively assembled squad were far superior on the day but they couldn't account for Johannes Eggestein deciding to finally show up and get a hat trick off the bench. We were all set for a famous win then FM decided otherwise and we had to settle for a draw.
And at this point, I would have continued on talking about how bad Stuttgart are and so on but my FM decided that in the middle of writing this to give me a lovely crash dump. Naturally, the genius typing this hadn't saved so let's go all way back to before the Dortmund game.
[Side note: I'd done some transfer business and scouting which I've redone pretty much the same as before]
So, take two and this time I was determined not to let Heiko Anderson run wild like Hulk Hogan in the 80s. Shaqir Tafa was dropped and replaced by big Lasse Sobiech while Chris Stendel returned back to the naughty step.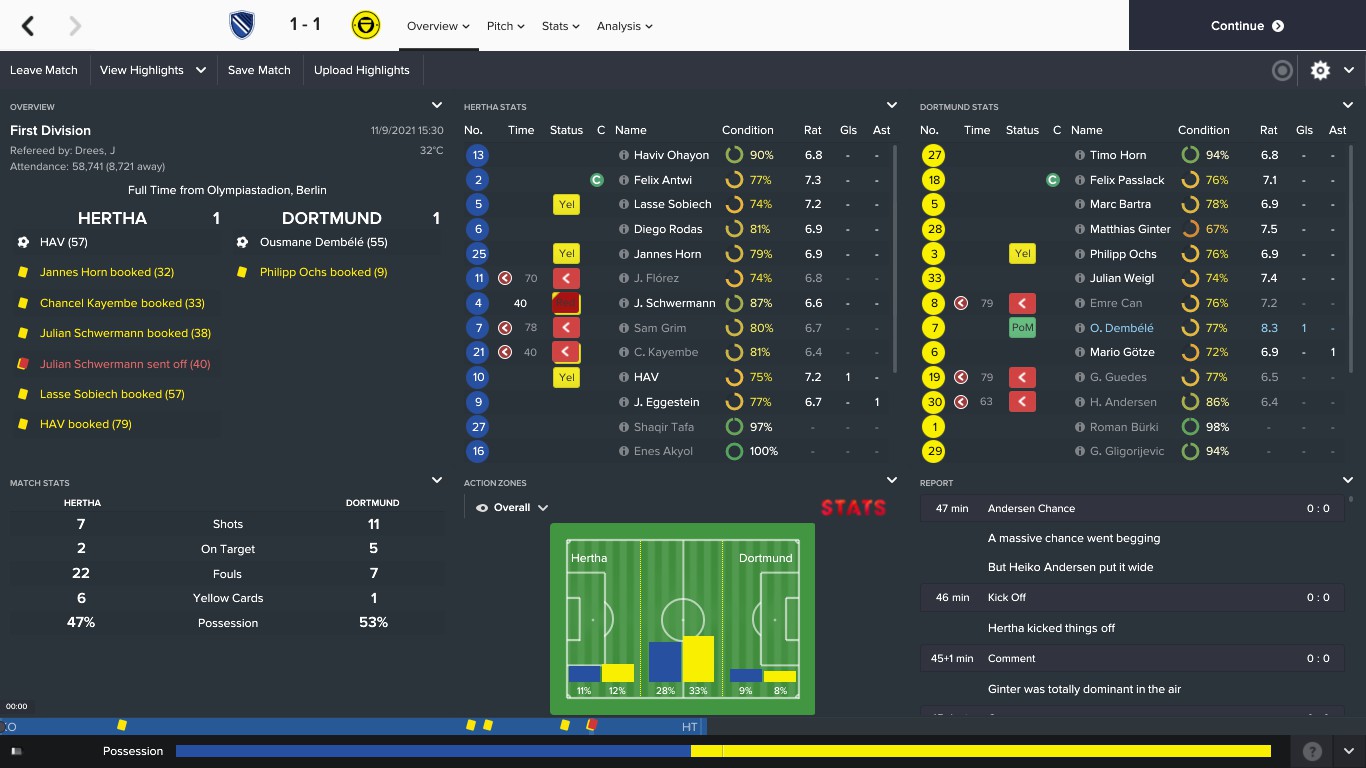 Points change since crash dump: +1
Ha ha! I am a managerial genius clearly. Julian Schwermann's red card was a bit annoying but expected when I told everyone to get after Weigl and Can. Dembele's goal was also annoying but Lasse Sobiech is a hero. He got booked and gave away a free kick on the wing; Dortmund went quick and kicked the ball at Lasse who took it and booted it long and basically made our goal. Incredible.
So, surely we'd be able to hammer Bremen right? RIGHT?!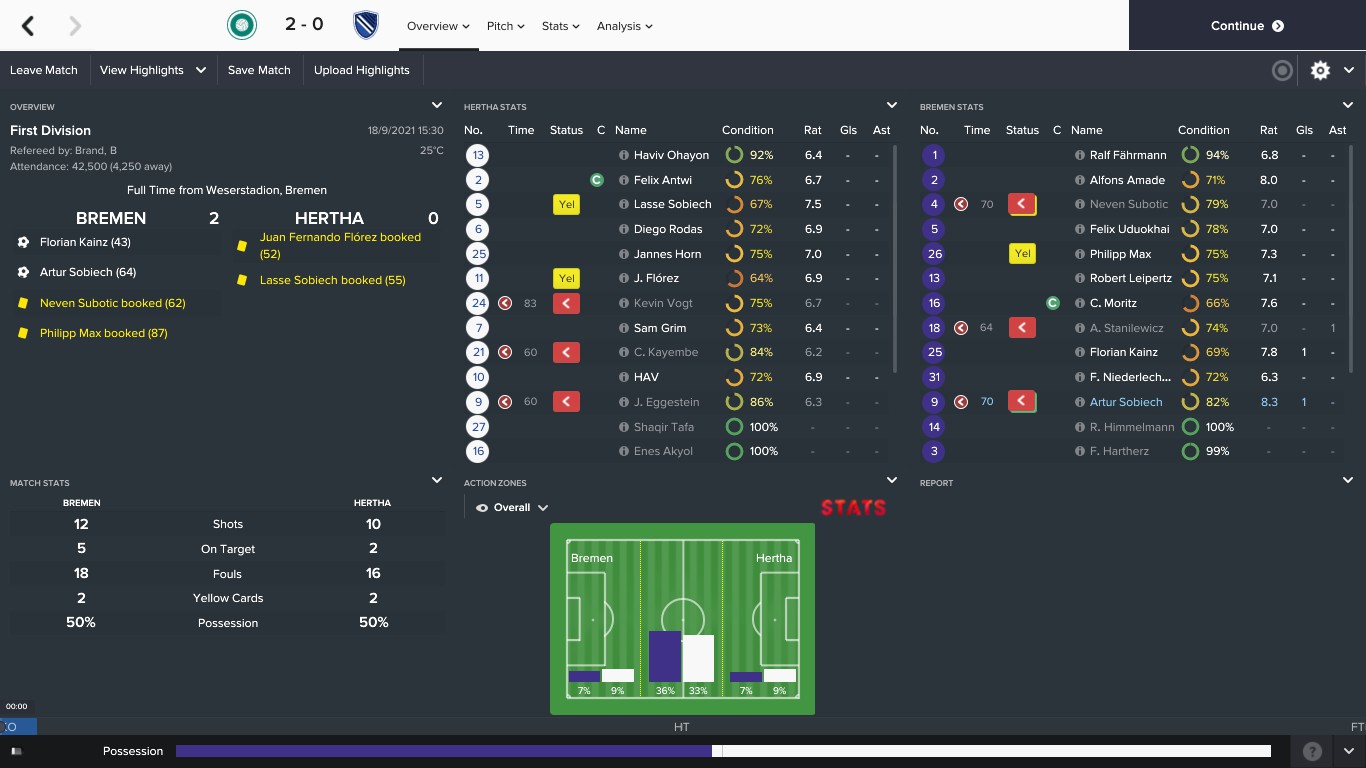 Points change: -2
YOU HAV GOT TO BE KIDDING ME! Just how did we manage that? Oh yeah, we were crap. Still, it was only Hamburg next. That'll end well.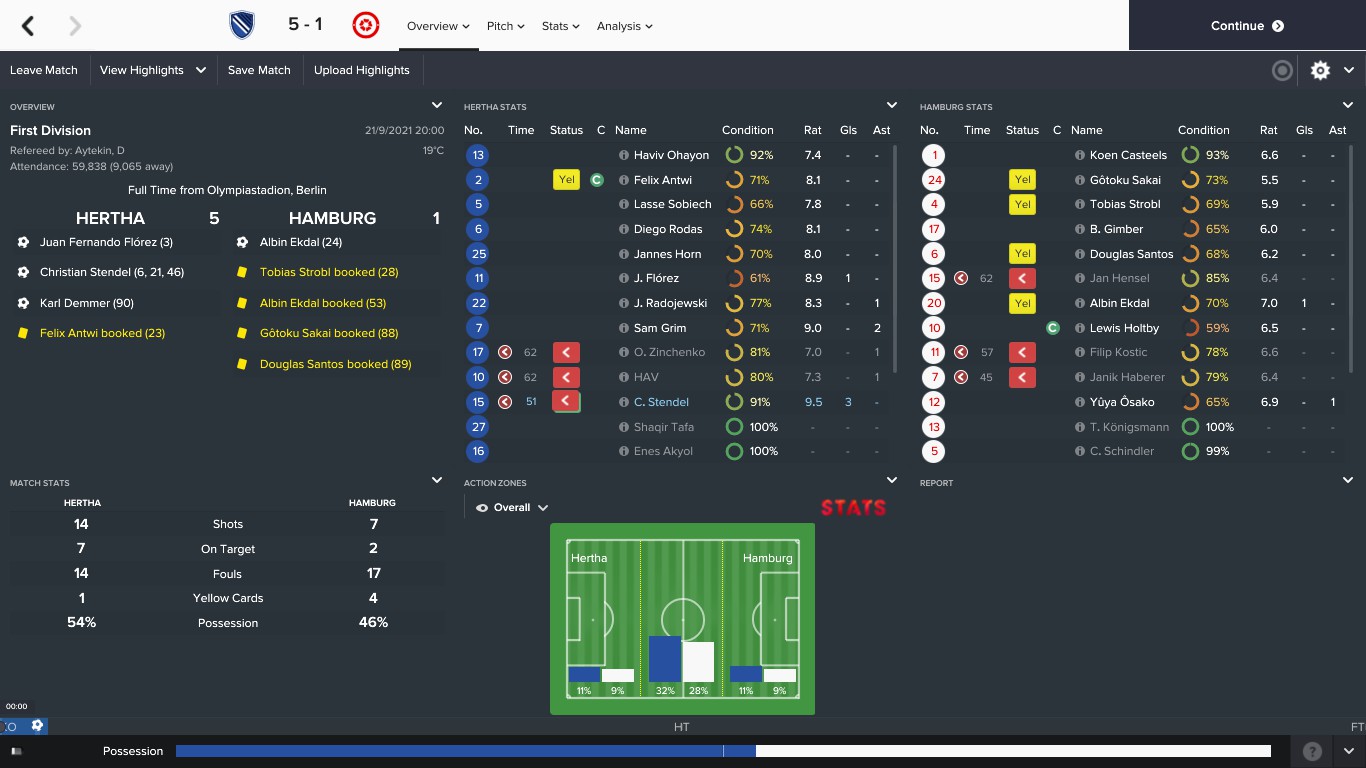 Points change: -2
That's one way to stay off the naughty step I suppose. Juan Florez also managed a peach from 25 yards or so having been given a second chance at life having broken his ankle pre-crash dump.
We'll finish in Leipzig at the end of September as opposed to the end of October in Cologne. Thanks laptop [insert smiling emoji]. We drew here last time with Eggman getting a hat trick so can we just please have something similar.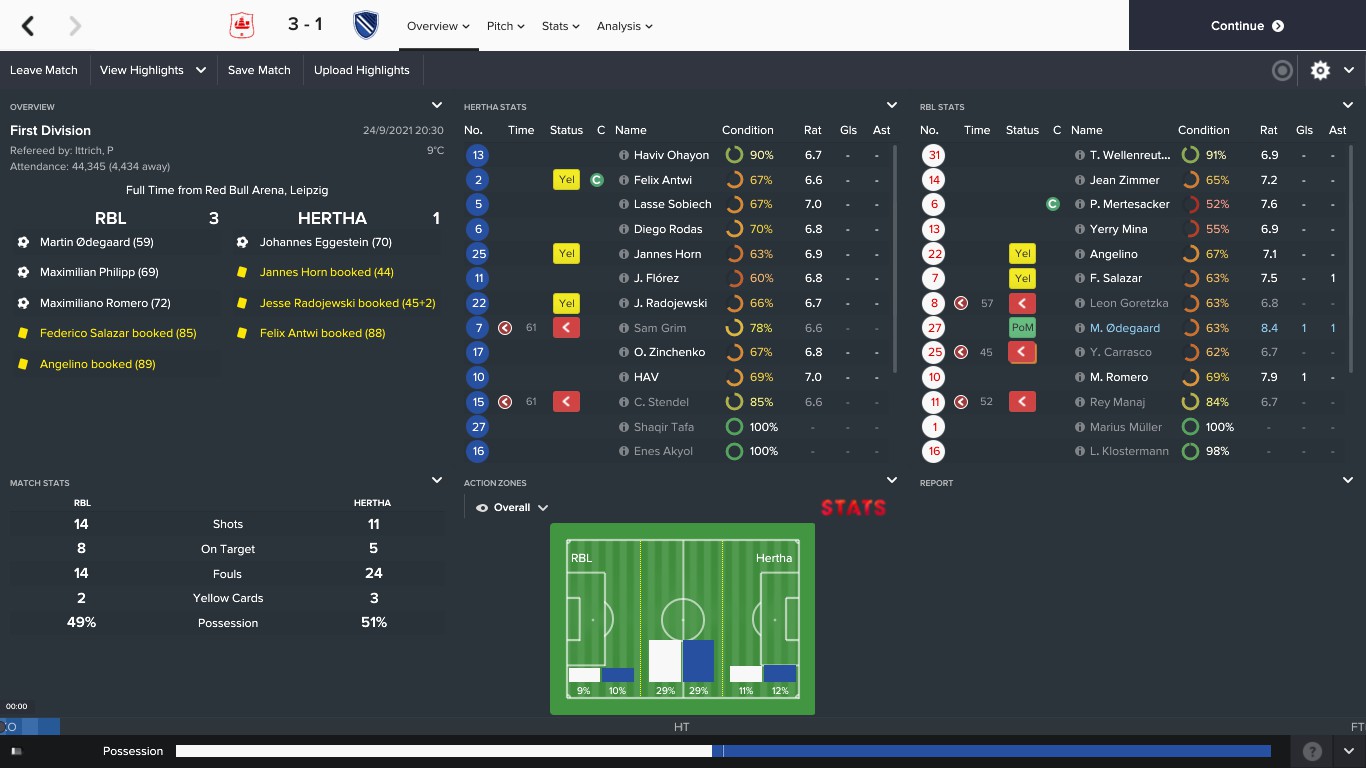 Points change: -3
Well at least Eggman scored.
I've also signed another player. He's young(ish) and, for the first time ever at Hertha, German. I truly am a revolutionary. Here he is.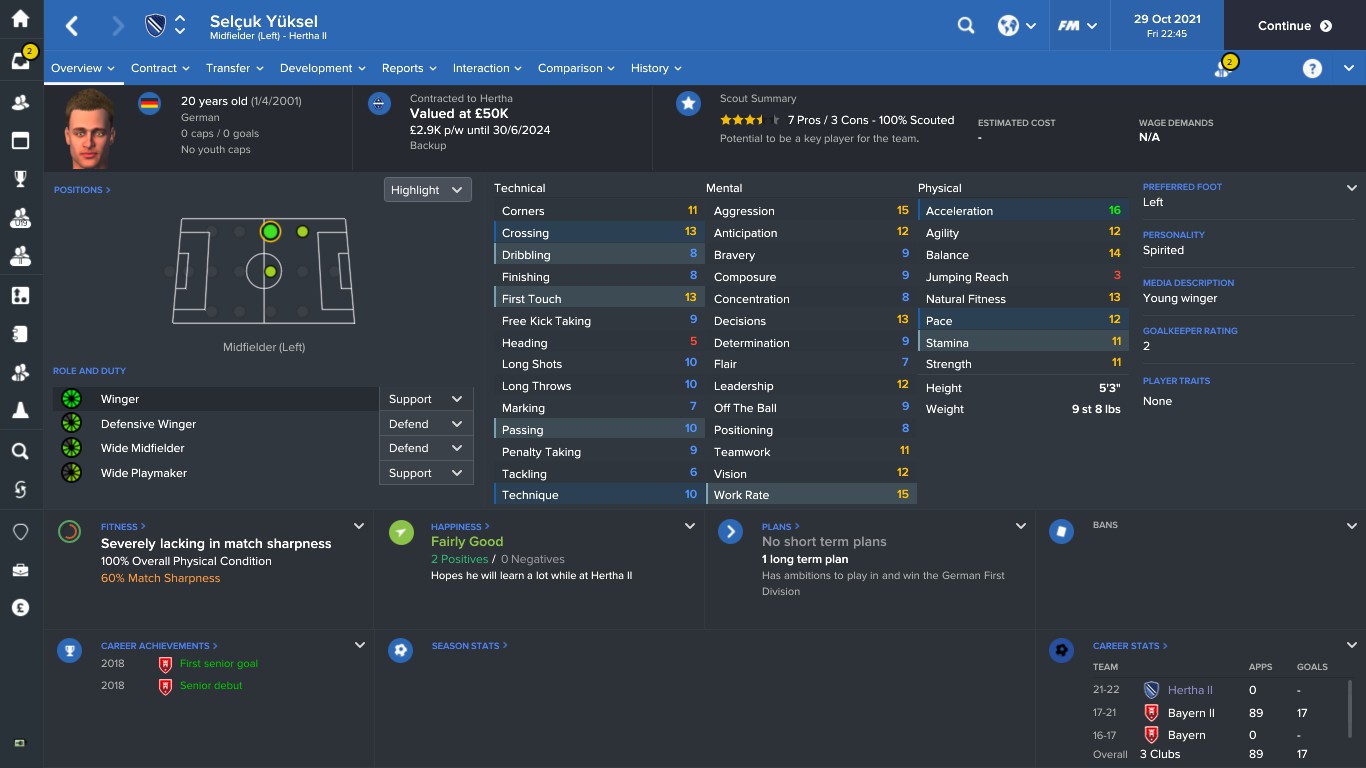 Selcuk Yuksel. He definitely needs a nickname because I cba typing that anytime he does something good (in the future). Nicknames on a postcard and sent to @LongBallFoot or @thehighertempo on Twitter. Better yet, leave a comment.
Now please pray for no more crash dumps and point losses.
Until next time.