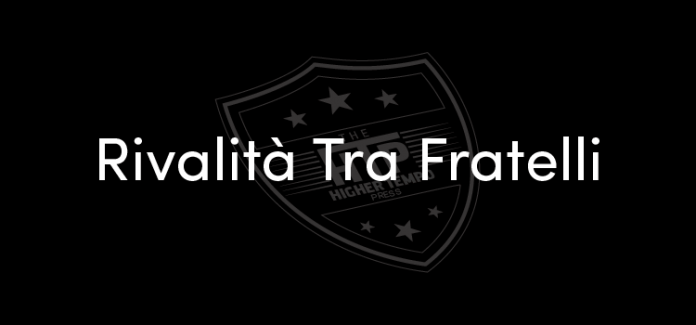 This is the story of two brothers, a modern-day Cain versus Abel if you will, based in the northern powerhouse Italian city of Milan. If you'd like to replicate this challenge, we're using the updated medium database with the following leagues: England (Premier League, Championship, League One & League Two), Italy (Serie A & Serie B), Spain (La Liga & Segunda División), France (Ligue 1 & Ligue 2) and Germany (Bundesliga & 2. Bundesliga).
Rivalità Tra Fratelli – #WeAreTheRivals, Episode 13
MIKE: It's the morning after the night before. I don't want to talk to anybody, I don't want to make eye contact with anybody. I arrive at 8am, before the players arrive but crucially after the cleaners have left. All I need to do is forget it happened and then it will cease to be a problem. After all, if a tree falls in the woods and nobody is around to hear it…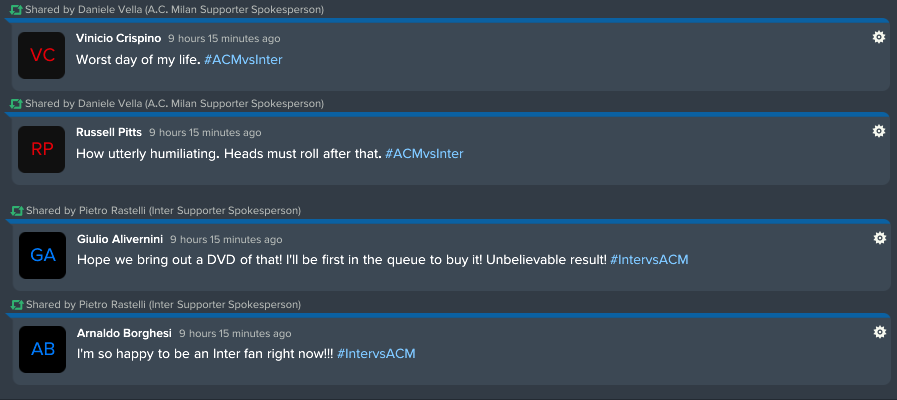 I'm sorry Vinicio and I'm sorry Russell (a well-known Italian name if ever I've heard one) but there's one important thing to remember. IT DIDN'T HAPPEN TO YOU. IT HAPPENED TO ME. The players will understand. They know how it feels. They are hurting just like I am. They'll keep everything in-house.
Okay, that's fine. At least we can all agree never to mention it again, right?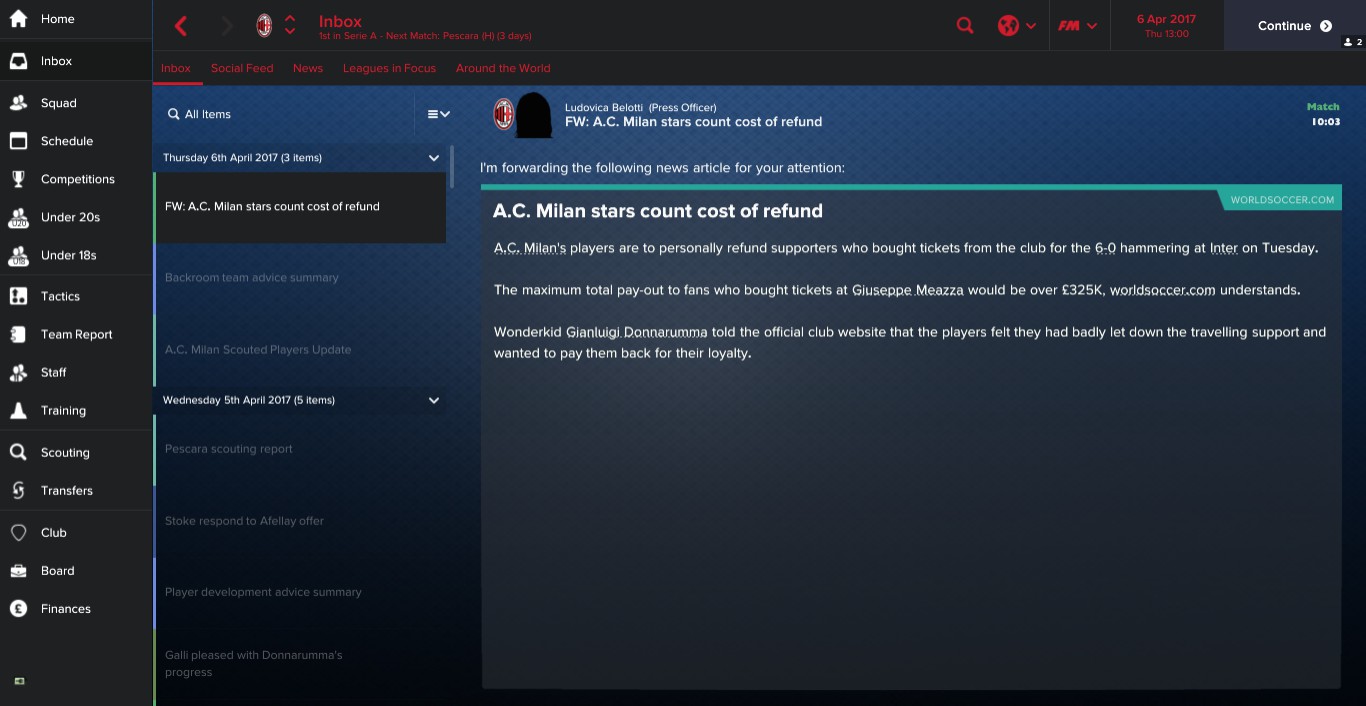 You bastards.
I then spend the morning in Starbucks at Charnock Richard services scouring the jobs available list so that I can abandon them as they have abandoned me. I quite fancy Villarreal, I bet the weather is lovely in Castellón this time of year.
Of course, I haven't been searching out other jobs. I've been trying to figure out what happened. 6 – 0 isn't so much a defeat as a brutal execution of all my football ideals. It's like the FM Gods are punishing me for my 'How hard can it be?' attitude. The TV Gods punished Clarkson and now their Football Manager counterparts have come for me. The board aren't happy, the fans aren't happy, the players are out of pocket and our greatest rival moved three points closer to us. Other than Charlie being offered that Barcelona job, things probably can't get much worse.
I know what you're thinking, aren't you top of the league? And the answer is yes, we are, thanks to beating every other team in the league…just not Inter Milan. I won't admit this to him until this episode is released and I've snuck this part in (my draft version ends with the Villarreal comment), that I've spent the last hour and a half figuring things out, committing to some analysis completely alien to me and against all my FM principles. I'm plug-and-play, I'm off-the-cuff, just do it and other similar sentiments. In truth, I'm going to go all Charlie.
The obvious school of thought is that I did this, chopping and changing formation in REACTIVE and not PROACTIVE methods. Was there anything more? Here are my findings…
Pass completion was generally 70-80%. Compared to Inter, whose was 80-90% and crucially over 90% in the forward positions. Candreva particularly and half-time substitute Palacio absolutely bossed proceedings. Palacio isn't even that good.
The style of play might have been a problem. We attempted no less than 43 crosses and 4 made it through. Inter only attempted 4 the whole game. Against Miranda and Wesley Hoedt (not Kortney Hause as I had predicted), crosses were always going to be food and drink. They have high jumping, strength and heading stats.
Their formation was new, I missed that he played strikerless against Lazio because when I looked at the formation used, it was the 'Skewer' that he has operated all season. Half-time changes don't show up I guess.
Carlos Bacca looked isolated, his average position ended up well ahead of anybody else. In contrast, the Inter team looked compact and you could throw a child's blanket over them in the middle of the park.
I'm not quite willing to throw Donnarumma under the bus just yet, although his passing stat of 36% is woeful – Carrizo in the Inter goal successfully found a teammate 77% of the time. In fairness that is consistent with his stats against Juventus and Crotone. Even letting in six to Inter, he has only conceded 15 in 29 games.
IN CONCLUSION!! Donnarumma should look to retain his position with short balls, Bacca either needs somebody to join him or he needs to slightly drop back, wider play and less floated crosses. In truth, that is how our Dogs of War formation is set up so that's put the nail in the coffin of the Vintage AC Milan formation (along with the resurgence of Deulofeu and purchase of Downing). We can toggle the Dogs of War from control to standard depending on the situation with #weareacmilan as our attacking intent, the Macintosh kept in reserve to protect our lead.
I wish we had the next game for me to implement these changes immediately but sadly, that privilege falls to Inter Milan.
CHARLIE: Curiously, our goals scored column in the last six games reads 1, 2, 3, 4, 5, 6. That's just weird but nicely symmetrical.
While Mike, I assume, renews his war of words with Pescara's manager Zdenék Zeman, we follow up our Milan Derby triumph with a visit to Palermo. The Aquile's are one of those hard to describe sides, traditionally hard to beat too. You know you're never in for an easy game, although on this version of FM they have generally been the Milan clubs' whipping boys.
In the real life Serie A, Palermo along with Pescara were relegated. Palermo actually went on a losing streak of nine games and Pescara were without a win in 22 (!) at one point. That surely means three safe points to the Milan clubs, if only Football Manager were so simple.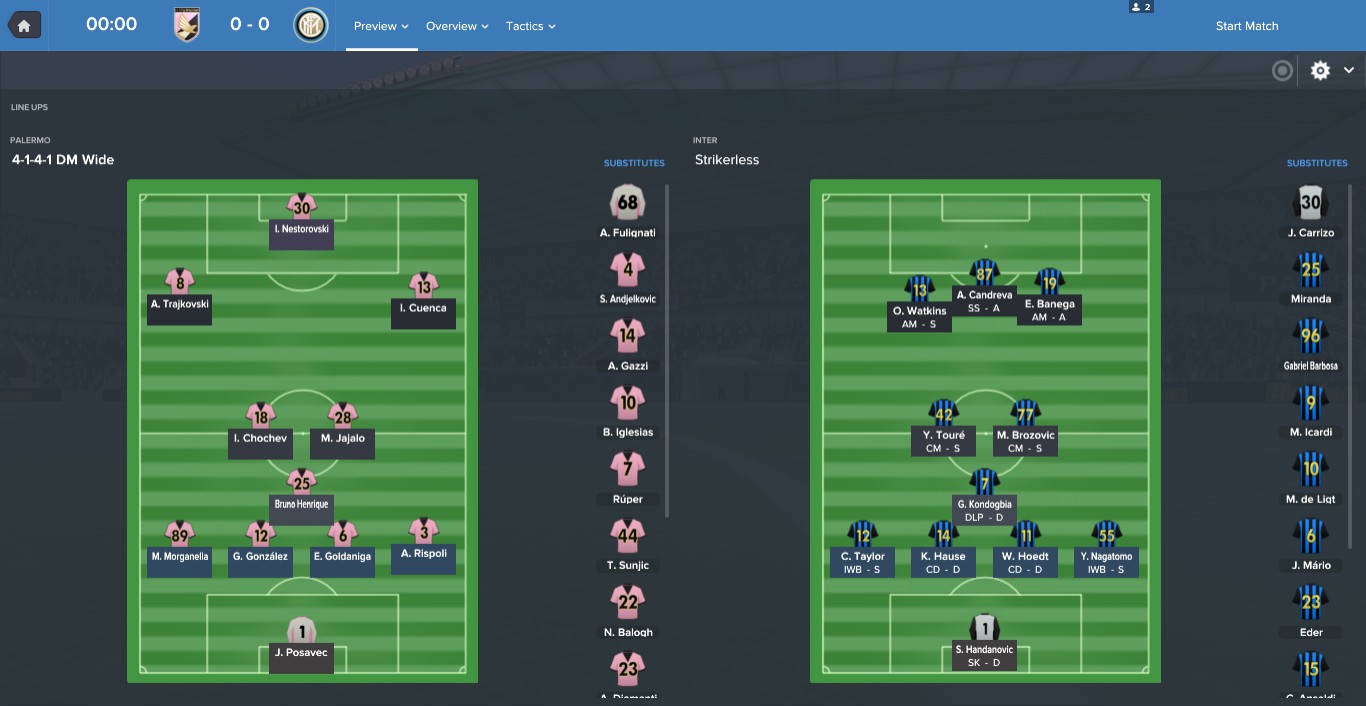 Such sweeping passing moves result from this strikerless formation it's like watching poetry in motion. I'm not sure it promotes defensive stability although that may be a consequence of playing Hoedt instead of Miranda alongside Kortney Hause.
It's Palermo who take the lead, bullying our defenders at a corner before Ever Banega cracks one in from outside the area. At the break, I could easily switch to inverted wing-backs or the Skewer but I show faith and my faith is rewarded as Banega notches his (and our) second after the restart.
It's the first time I've really been impressed with Ever Banega, he's been too many times a decent but not spectacular player. Along with Icardi he probably has been a major disappointment, his two goals today only take him to six all season. More was expected.
As a result, we have now qualified for the Champions League, which is what we all want at the end of the day…Clive.
MIKE: Zdenék Zeman has been surprisingly quiet in the build up to our match with Pescara at the San Siro, perhaps he knows just how he'll be taken to by our rabid support after trying the mind games last time.
I'll be unleashing #weareacmilan on Zeman and his team of chancers, the more we smash them by the better. I feel Charlie's hot breath on the back of my neck with Inter now only two points behind us and I do not like it.
Not quite the dominant victory I imagined, at half time we were 2 – 1 to the good and Charlie sat over my shoulder purring about a "great half for the neutral", like I give a flying f***. Fair play to Gustavo Gómez getting his first goal of the season but Cerri scored a lucky goal (off the post, crossbar and post before trickling over the line) to level before Ocampus nodded in Wazza Rooney's lofted ball.
Ocampus is the man to make the three points as safe as houses and back we go five points clear of our city rivals, albeit with a game in hand. Got to win that game, though, doesn't he?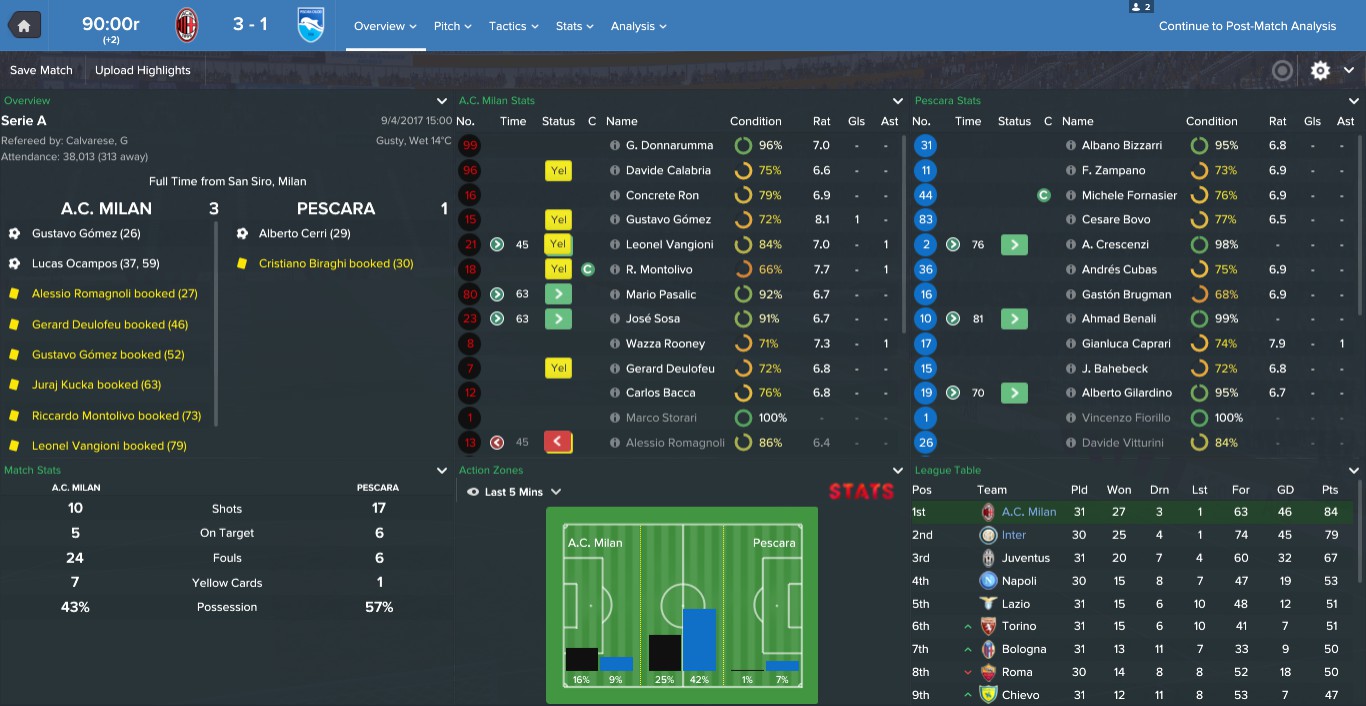 Zeman has been talking again. Change the record, mate.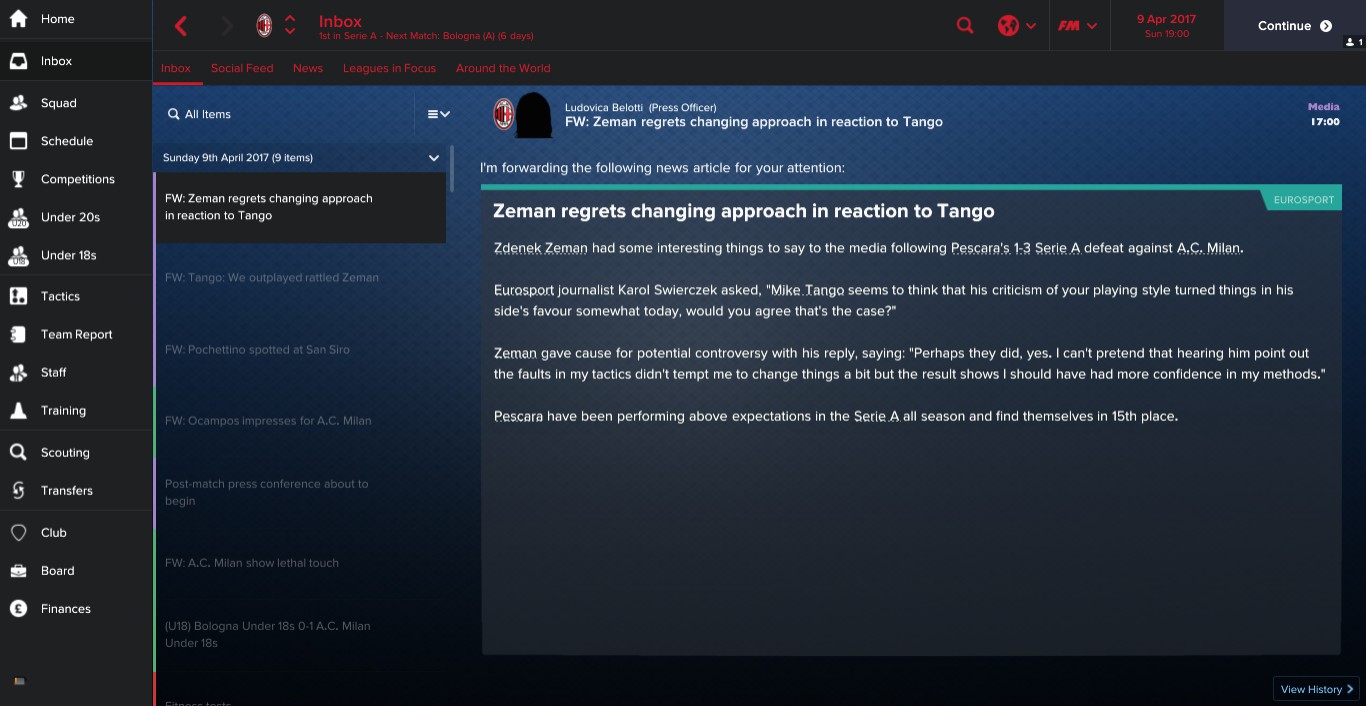 And the hits keep on coming…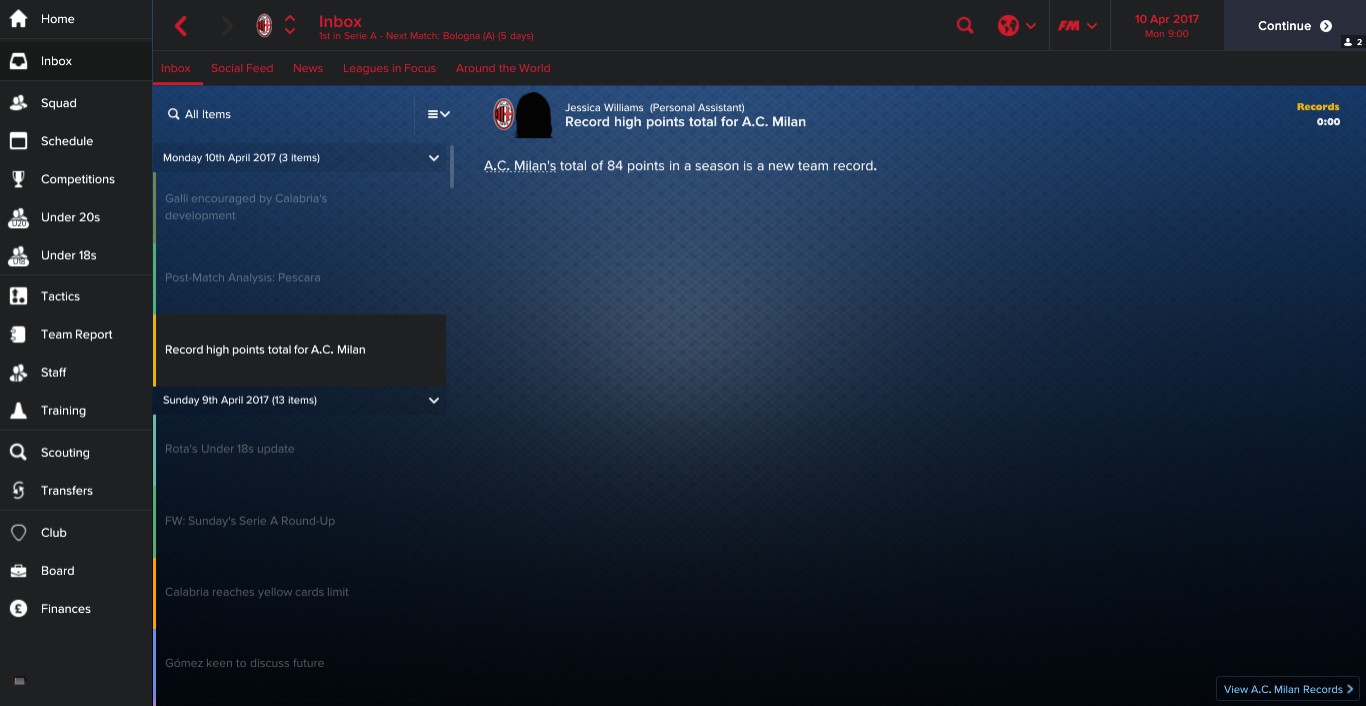 CHARLIE: The press and the fans are up in arms that Matthijs de Ligt is injured and will miss the Europa League quarter-final first leg against Celta Vigo.
Or at least Ettore Grosso is, fortunately for me Ettore doesn't understand the Europa League registration rules and De Ligt remains ineligible thanks to his performances for Ajax earlier in the season.
The selection for the first leg is crucial, it's at the San Siro and that means the second leg is away in Spain. We need a lead to defend. The likes of Rodrigo Palacio and Éder are the experienced hands, they should be able to come in for the second leg and keep us on the right track. Gabriel Barbosa plays on the right wing, Candreva on the left and Icardi restored as our talisman. It's make or break for him. A bad performance here and I can't see a way back.
It can't be denied, Mauro Icardi turned up. Well, he tucked away a penalty. Rating wise, he was again our worst player but goals win games.
Our second was another Candreva masterpiece, he has become known for his trademark free-kicks this season and this wasn't one of those but was a fantastic hit from well outside the box. Little back-lift but a big swing, I'm not even sure how that is possible.
The upshot is, a 2 – 0 lead to defend in Spain and no away goal conceded. A good day all round.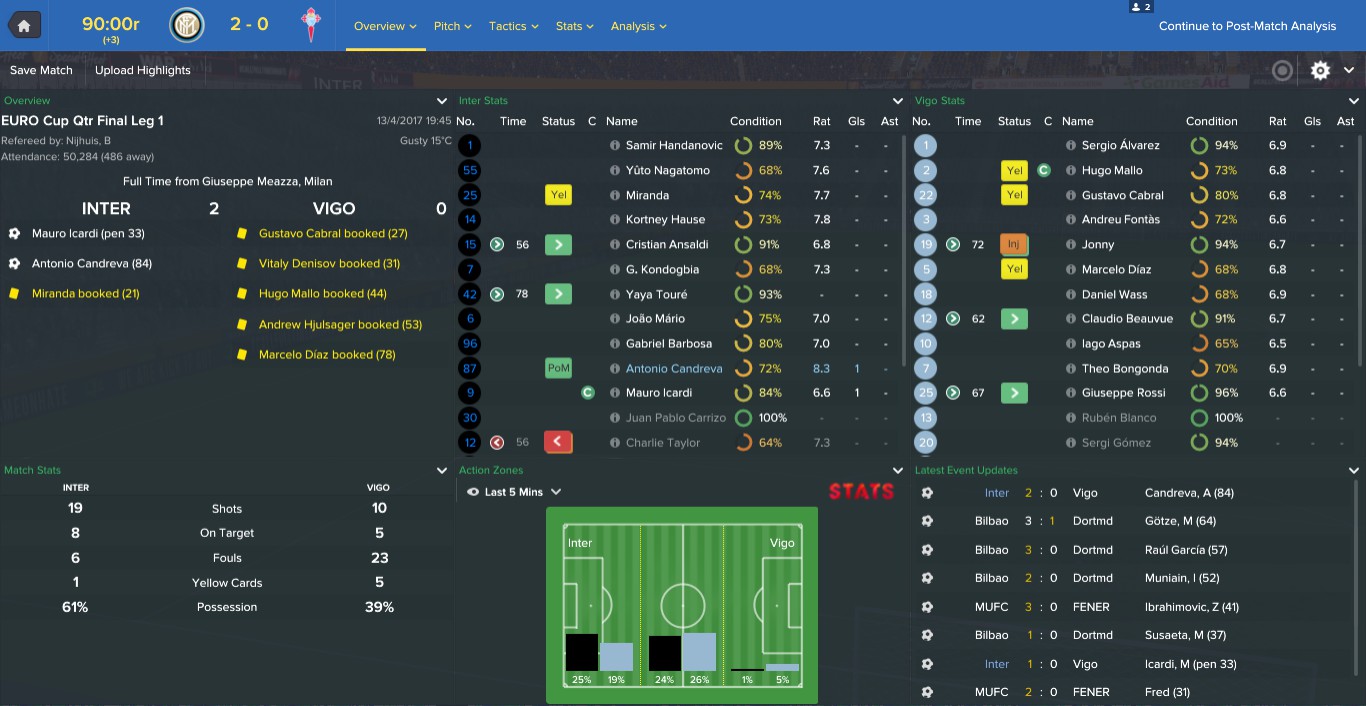 MIKE: Our lack of right full backs prompts a shift to three central defenders. It worked for Conte and Wenger, so why not us? Ignazio Abate is injured, Calabria suspended following an accumulation of yellow card.
Everything else remains the usual Dogs of War format and team instructions. Wazza Rooney is pushed up behind Carlos Bacca with the Colombian's position against Inter in mind.
Nothing to see here. A fairly quiet game is brought to life by Concrete Ron Vlaar heading the ball so hard from a corner into the goal that the back of the net nearly burst.
We dominated possession (65%), had more shots on goal and on target but it was fairly drab. Three points are three points after all.
CHARLIE: Due to way the scheduling is worked out, I've been trying to put a date on the moment I expect us to streak past AC Milan… by a single point. We currently sit eight points behind Mike's team in the league table but we have two games in hand. One is against Empoli at the San Siro today, the second is against Cagliari but that follows another Milan Derby. If we get the maximum nine points from those games, we move ahead. If we drop any and especially the game against Mike's AC Milan, it could be all over for our chances of winning Serie A.
For what I think is the first time, I've made changes to the Pep G Inverted Wing-Backs tactic. Both Candreva and Gabriel Barbosa on the wings prefer to be inside forwards, so they fulfil that role with the out of form Icardi now a complete forward to bring them into play. Marauding out wide are the full-backs, no longer inverted they are complete wing-backs on an attacking setting. Brozovic will sit in front of Miranda and Kortney Hause with the Englishman asked to cover in behind if necessary accompanied by a team instruction of a slightly shallower (but still high) line. Let's find out how that does against the team bottom of the league who will have come to park the bus.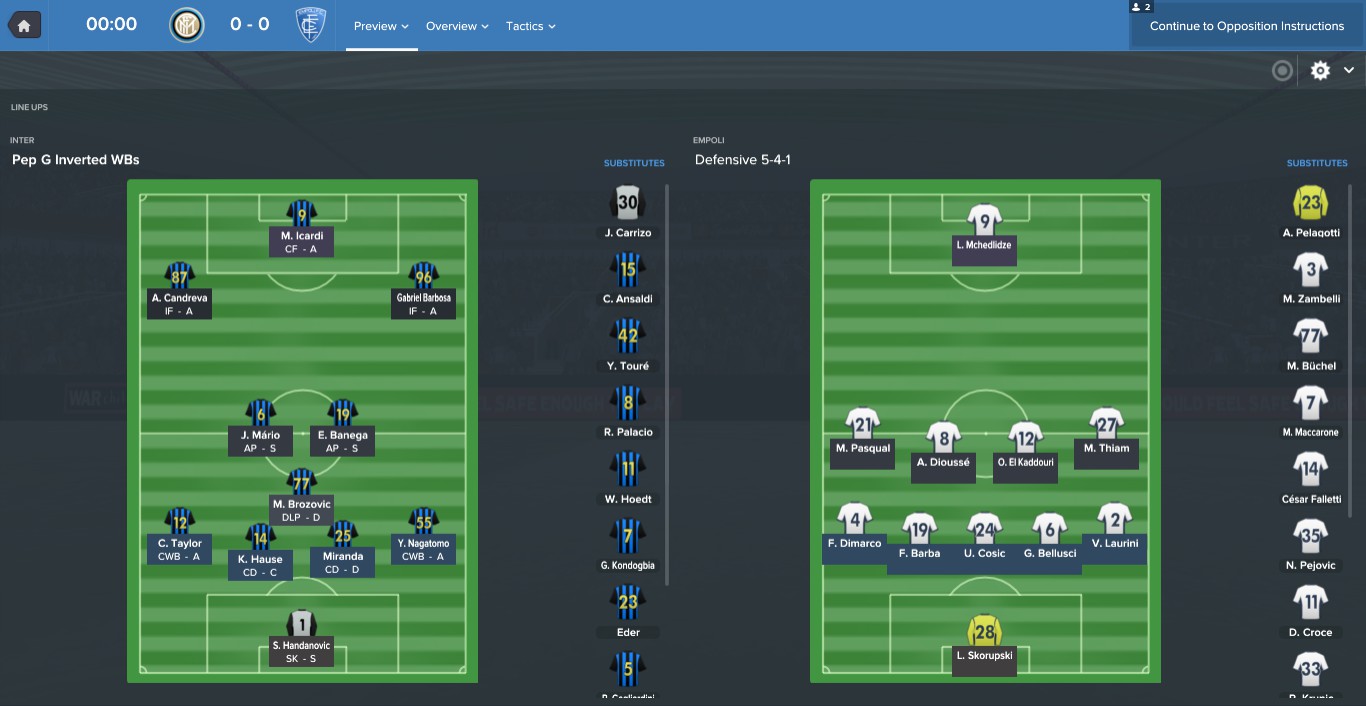 Empoli clearly are here to park the bus with a very defensive 5-4-1, I'll have to check but I think this is the first time I've come up against that sort of formation in Serie A. Clearly a point would be a good result but thankfully João Mário steps up, unleashing a long-range strike with just 5 minutes on the clock for his tenth goal of the campaign.
Mauro Icardi scores a header towards the end of the first half, converting Nagamoto's delivery. His rating still wasn't brilliant (6.9) but at least he's scoring. Like me, he may have noticed that Higuaín has now joined him on twenty league goals.
A word for Marcelo Brozovic playing as a defensive midfield deep lying playmaker, he was excellent. He didn't receive the highest rating but his work breaking up attacks was highly appreciated and noticed.
We end this episode with our trip to Celta Vigo for the second leg of the Europa League quarter-final. We earned a 2 – 0 lead at the San Siro and since I'm planning on playing Gabriel Barbosa up front in a competition he has shone in, Mauro Icardi played for the U20 side the day before. It was suggested in response to a tweet I made, although that response has curiously now been deleted so I can't give the proper credit. I say that and he wasn't picked to play. Eh? I make Mauro Icardi, top scorer in Serie A available, and our Under 20's manager Giuseppe Angelini didn't pick him? I can't get my head around that.
As promised, rotation is in full effect. Experienced campaigners like Rodrigo Palacio, Ansaldi and Yaya Touré come in just to make sure that there's no comeback for the Spaniards. We have a strong bench but I'd rather not use any of them.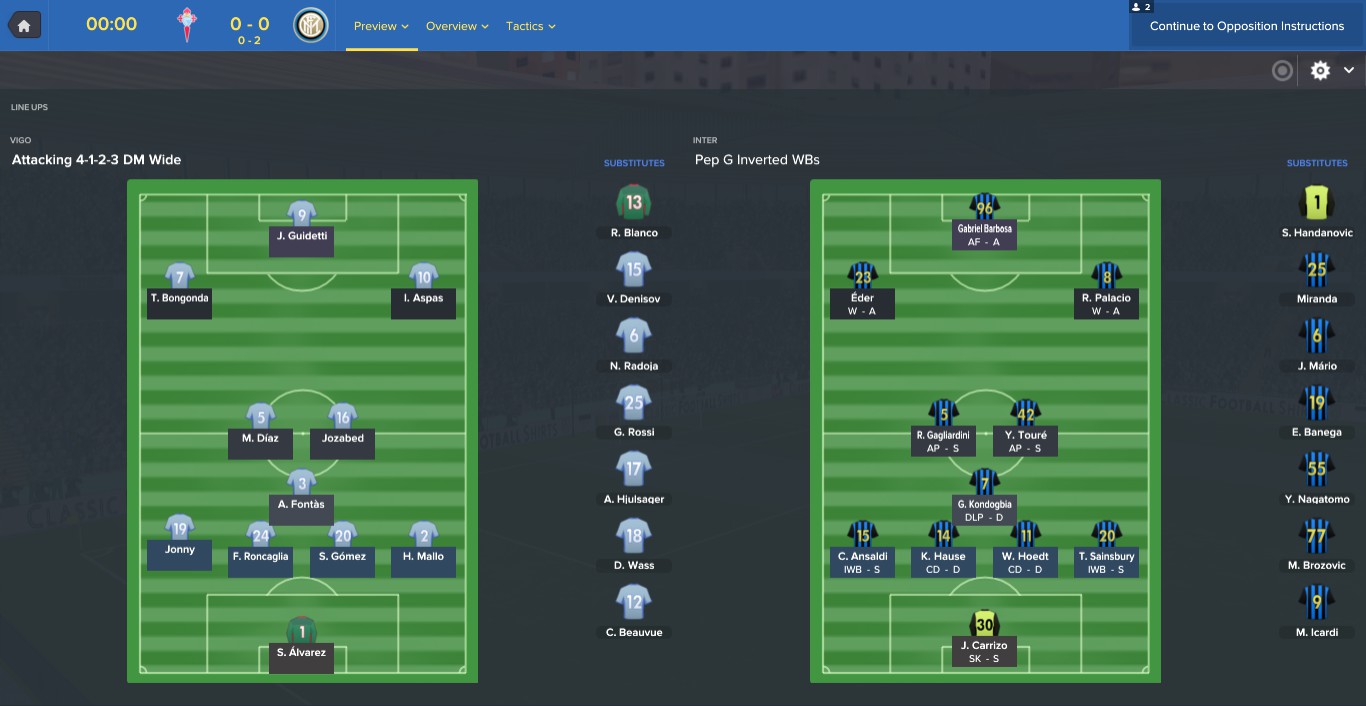 Despite reservations from the other half of Milan that this could be 'another Zenit', it actually proved to be one of the most exciting games of the season. Vigo's Bongonda opened the scoring with a lovely chip over our goalkeeper Carrizo before Wesley Hoedt and Sainsbury opened their goalscoring accounts for the Nerazzurri to give us a lead into halftime.
After the break, that man Gabriel Barbosa scored his customary goal in the Europa League before Claudio Beauvue scrambled in Vigo's second on the night. Ansaldi laid one on a plate for Geoffrey Kondogbia as we secured a 6 – 2 aggregate scoreline, 4 – 2 on the night, to progress to the semi-finals of a competition that I think we have a good chance of winning.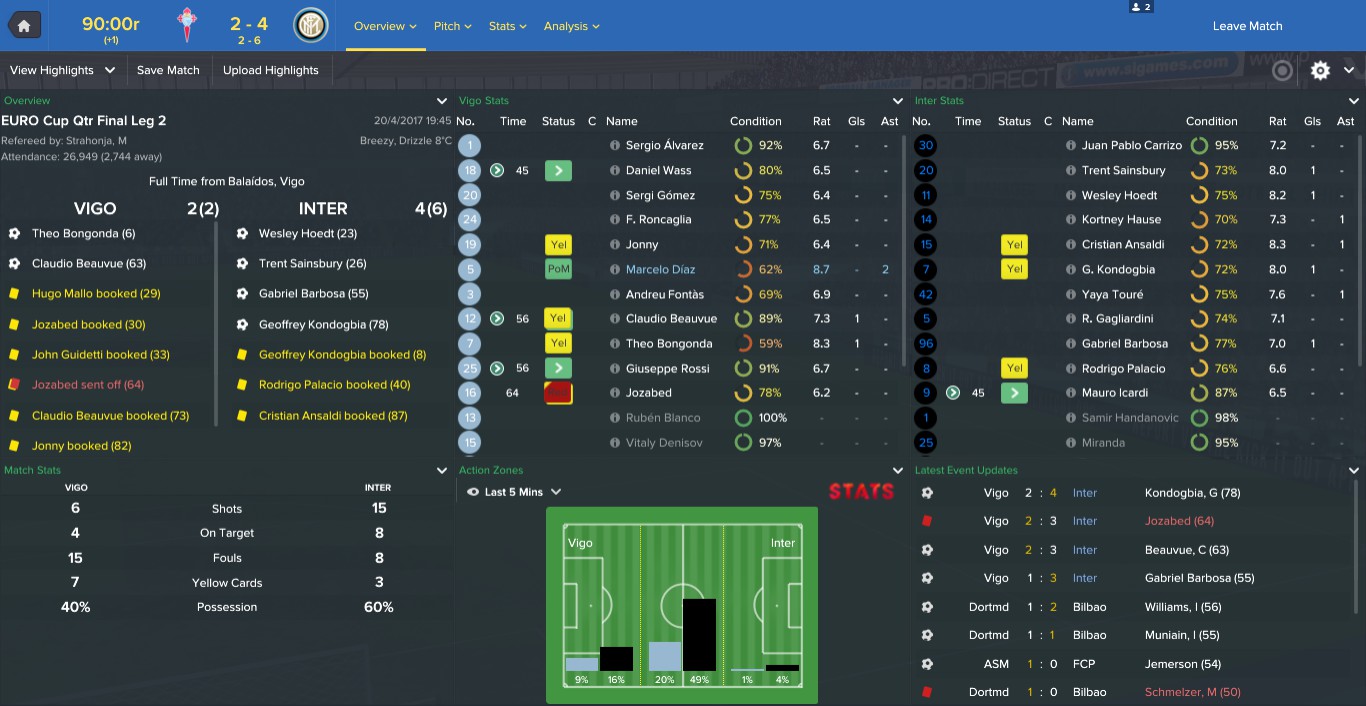 Left in the competition are ourselves, Athletic Bilbao, Manchester United and Monaco. I know what you're thinking, hope for Bilbao and then take on whichever of United and Monaco are left in the final. I don't really have a preference considering that Bilbao just knocked out Dortmund 5 – 2 on aggregate and boast the competition's highest rated player; Aritz Aduriz. We have though, reached the expectations of the board as set at the start of the season.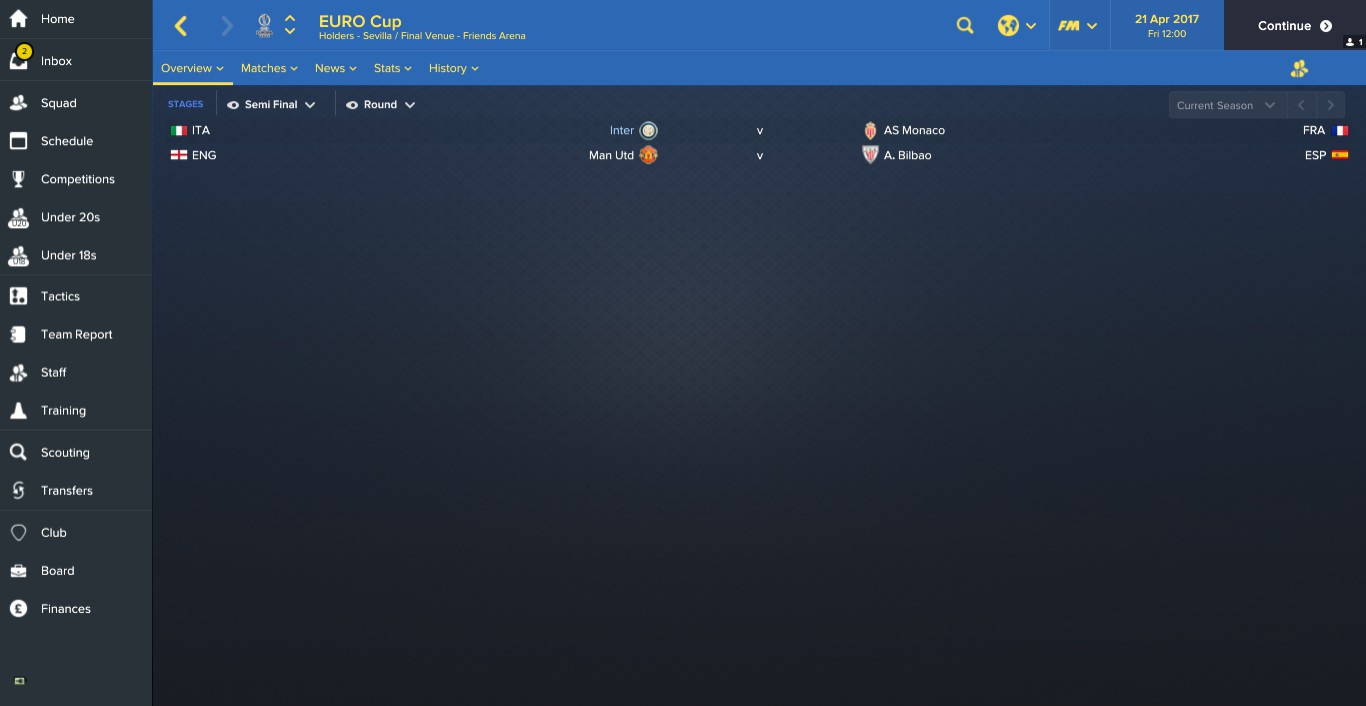 Can't wait, let's go to work. Fighting on three fronts.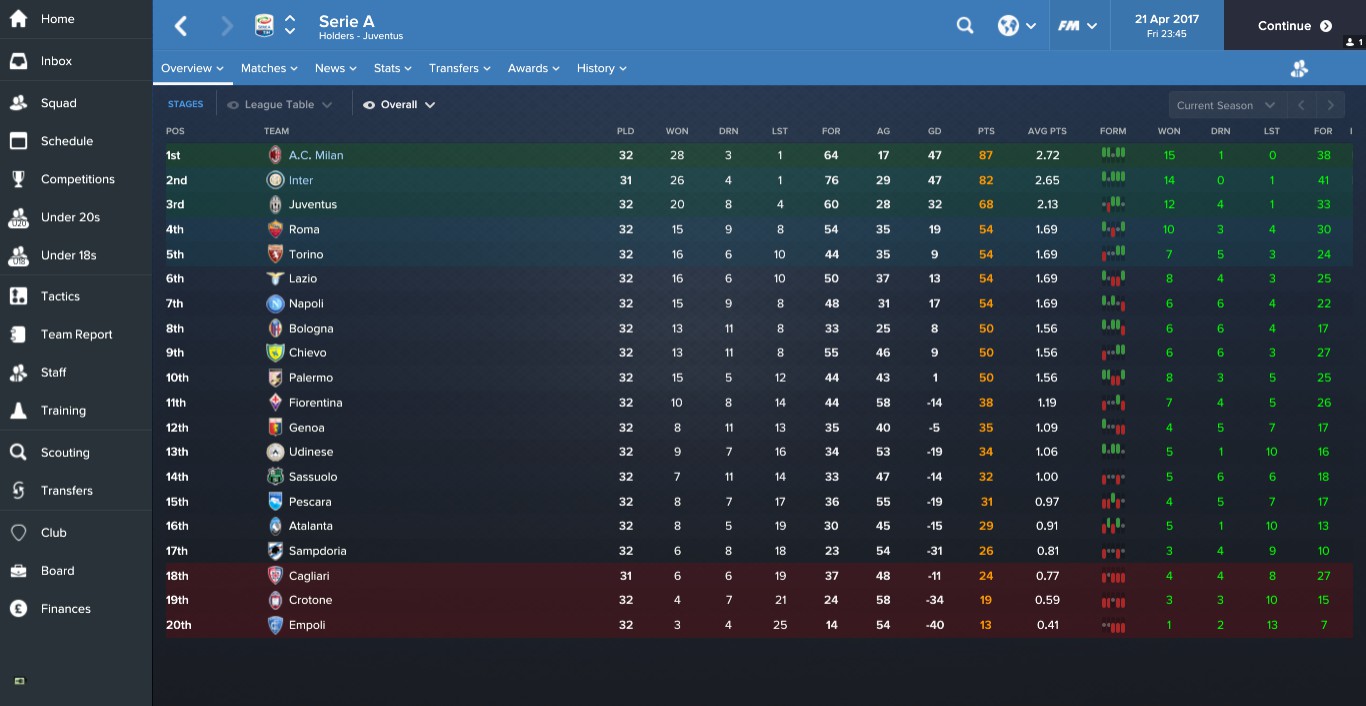 Thank you for reading, join us on Twitter at @FM17Challenge, @CharlieTangoFM & @MikeTangoFM for exclusive comments, developments prior to episodes and reaction afterwards. Continued thanks to Chris and everyone at Tempo for the opportunity to share this with the readers.