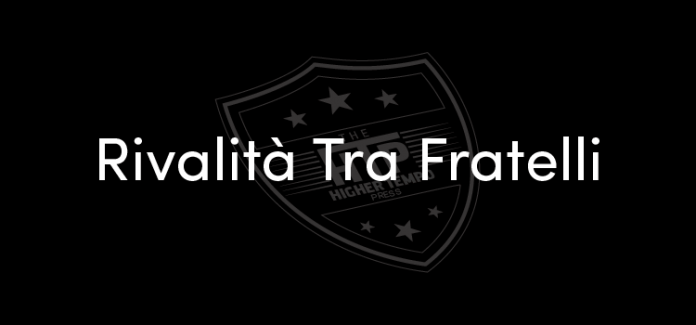 This is the story of two brothers, a modern-day Cain versus Abel if you will, based in the northern powerhouse Italian city of Milan. If you'd like to replicate this challenge, we're using the updated medium database with the following leagues: England (Premier League, Championship, League One & League Two), Italy (Serie A & Serie B), Spain (La Liga & Segunda División), France (Ligue 1 & Ligue 2) and Germany (Bundesliga & 2. Bundesliga).
Rivalità Tra Fratelli – #WeAreTheRivals, Episode 16
CHARLIE: It wasn't supposed to be this way.
I was supposed to prove that spending hundreds of hours, scouring the internet for niche tactics and wasting countless nights analysing matches was the correct way to play Football Manager. I've nurtured young talent like Barbosa and Ollie Watkins, signed players based on potential like Charlie Taylor and Kortney Hause, I've stood firm in meetings against Handanovic and Mauro Icardi. If I've learnt anything from this save it's that there is no right way to play FM. My previous dissatisfaction with Mike's style of play has been long extinguished. Yes, there are different pressures managing Auxerre to Barcelona but there is pressure all the same. The fact he coped with injuries to Carlos Bacca and Aogo, even bringing in Didier Drogba as his main striker (although judging on a recent free-kick for Phoenix Rising which Mike retweeted, he does still have it) and switching his tactics to accommodate the likes of Deulofeu are all impressive feats. Of everything, I'll take a newfound respect away from this shared experience.
I also want to take away some silverware. Realistically, the two cup competitions are more likely than the league since AC Milan have a two-point lead with a game against Torino to come while my Inter side host the mighty Juventus. Of those two cup competitions, the Italian Cup is the one I'd bet the house on.
First up we have the trip to Stockholm in Sweden for a visit to the Friends Arena, where this season's Europa League final will be housed. Looking at Manchester United's results of late, they've been chopping and changing formation. Mostly it's been the classic 4-3-3 but not always. For several in-game days, I've been steadfast that we'll begin with the Classic José and attempt to out-José José… if that makes any sense. Now it's game time and I want to be more positive. I rate our chances low to win this one so f**k it let's go for it. Kondogbia remains out injured along with Ever Banega, meaning Gagliardini comes in alongside Brozovic and big Yaya Touré to make his most notable start of the season. Barbosa is one side of Icardi with Candreva the other. Barbosa has scored 11 in the competition so far and is one behind the top scorers.
Looking at Man Utd, my scouts say that Herrera, Pogba and Carrick will form the midfield with Henrikh Mkhitaryan on the left wing, Mata on the right and Rashford up front. Effectively, we're matching up.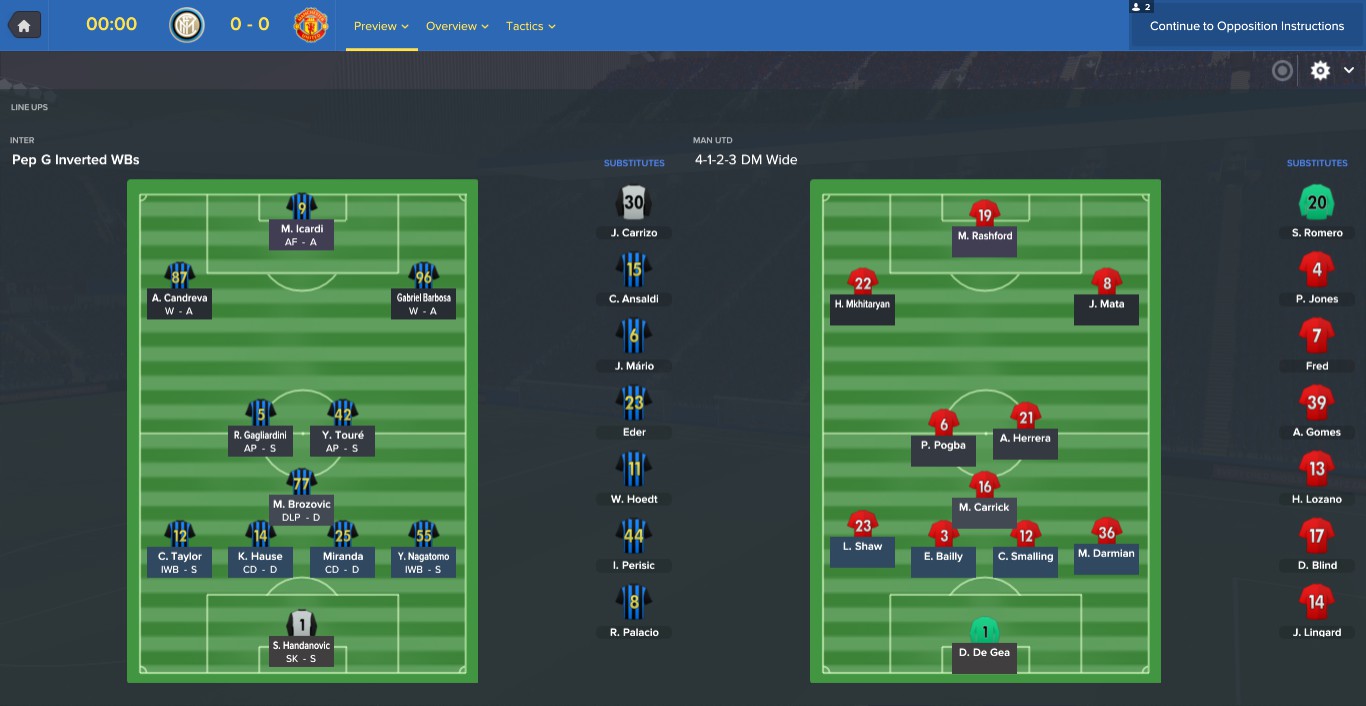 I've tweaked the Pep G tactic with Marcus Rashford particularly in mind. He's too quick to close down, even with Miranda man-marking him, I want to eliminate playing the offside trap and drop our back line to the normal setting. Kortney Hause partners Miranda and Hause will move to cover, in the event Rashford wriggles free too many times. The tempo is higher than usual but we won't get stuck in this time.
I just want to cut away from the norm to show you the half time statistics, which I don't think either of us has ever done before.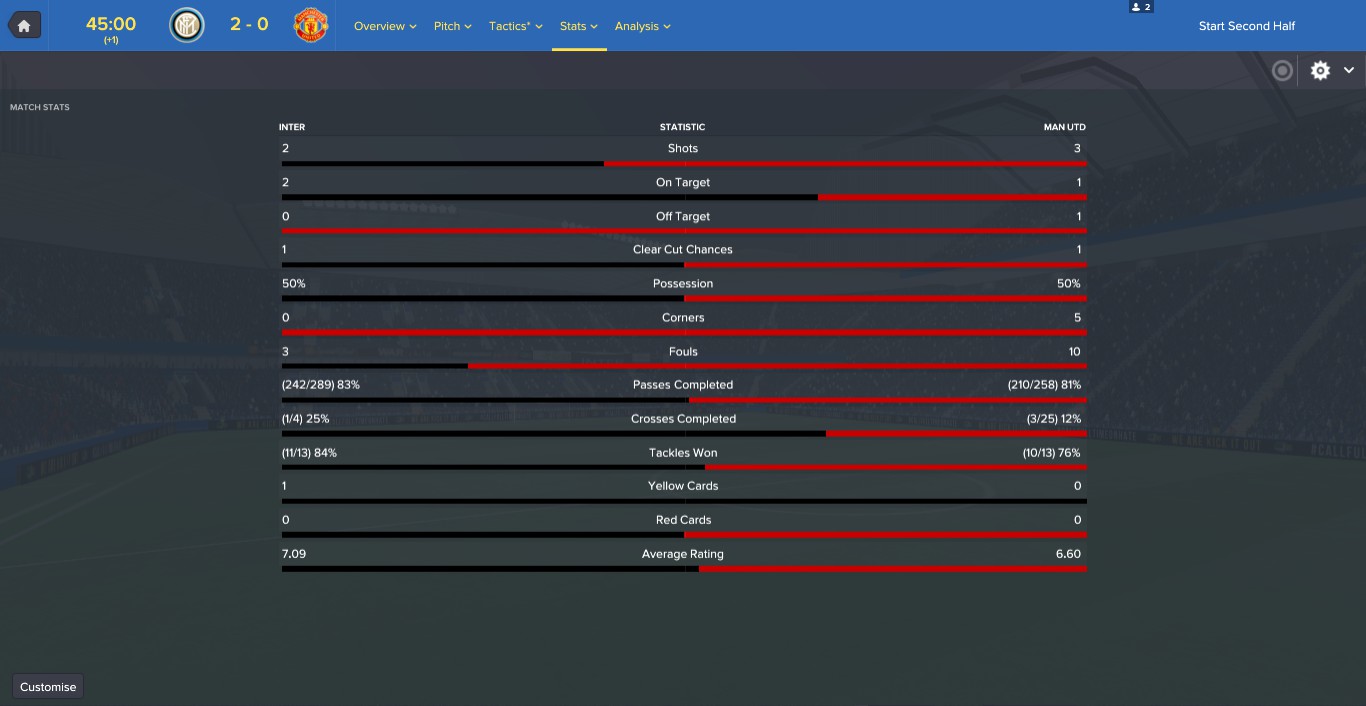 Two shots on goal and two goals. That never happens, not to me anyway. Gagliardini, on his big start, taps the ball to Candreva and the Italian is so adept at just cracking them in. He slams the ball home as he has done so many times, Icardi may be the top scorer but Candreva's contribution has been infinitely more important.
Our second was, of course, Gabriel Barbosa in a competition he has pretty much made his own. Despite a team talk consisting of all green aside from Icardi, who was unmoved, Manchester United get back into the game through Rashford from what I consider a Kortney Hause mistake as he blocked the view of our goalkeeper and the real life inspiration for FIFA's Alex Hunter grabs Mourinho's men a way back.
In the aftermath of that goal, Hause is hooked for Wesley Hoedt. I can't help but feel like freshening up the defence would be a good idea, shortly after João Mário enters the fray in place of Yaya Touré. With half a minute remaining on the clock, Candreva caps off a tremendous performance with a goal from a direct free kick.
We are Europa League Champions!!!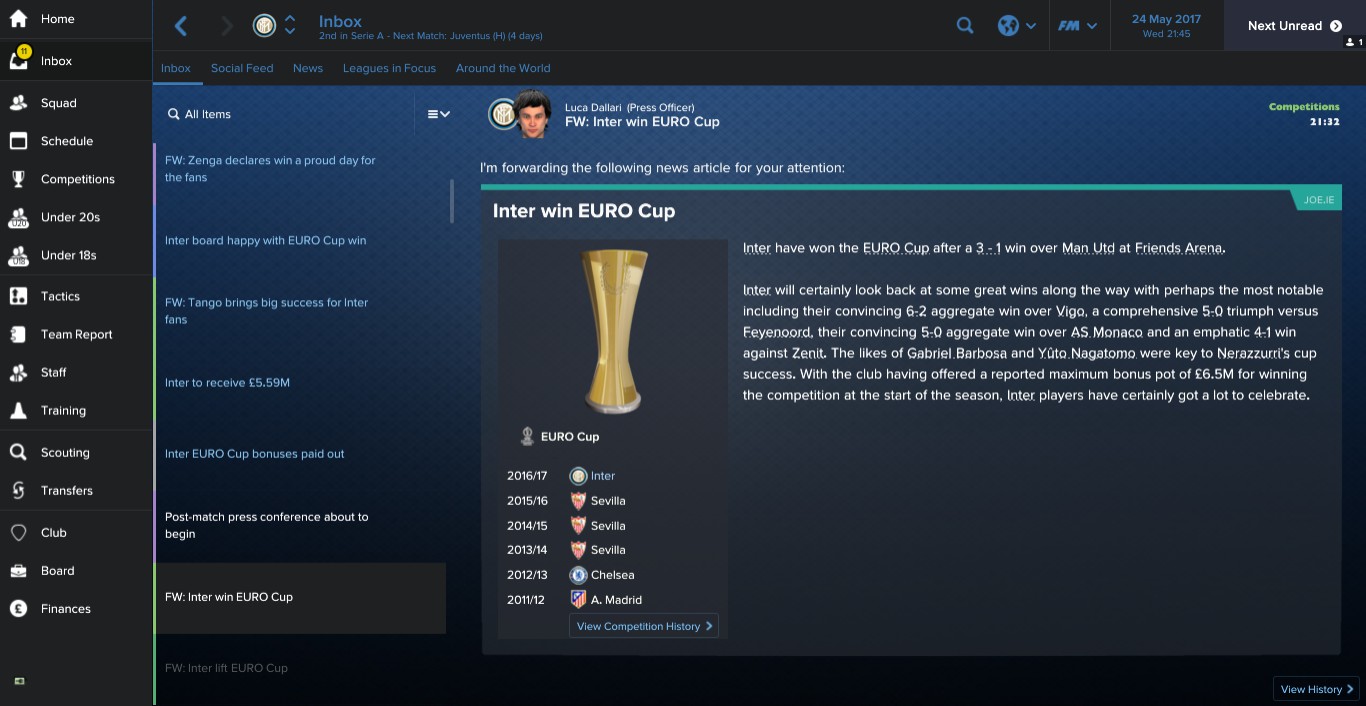 As a result of our success Wolves (Kortney Hause) and Leeds (Charlie Taylor) are a cool £1 million better off thanks to their transfer clauses. The post-match analysis from Michele Salzarulo reminds me that Mauro Icardi was anonymous in the big game, a 6.5 rating is described as 'quiet' and 'ineffective' particularly in the air. Apparently Manchester United didn't even bother marking him at set pieces.
MIKE: Oh, well done. Won a trophy? Yeah, done that already. Now it's time to settle Serie A. Preparations haven't gone exactly well, Donnarumma is out injured thanks to a pulled hamstring. Players are deservedly receiving awards; Davide Calabria takes the LGI U19 Best Defender, Axel Campeol claims LGI U17 Best Defender and Donnarumma, of course, is LGI U17 Best Goalkeeper. I say deserving, they're just distractions. This is where we are.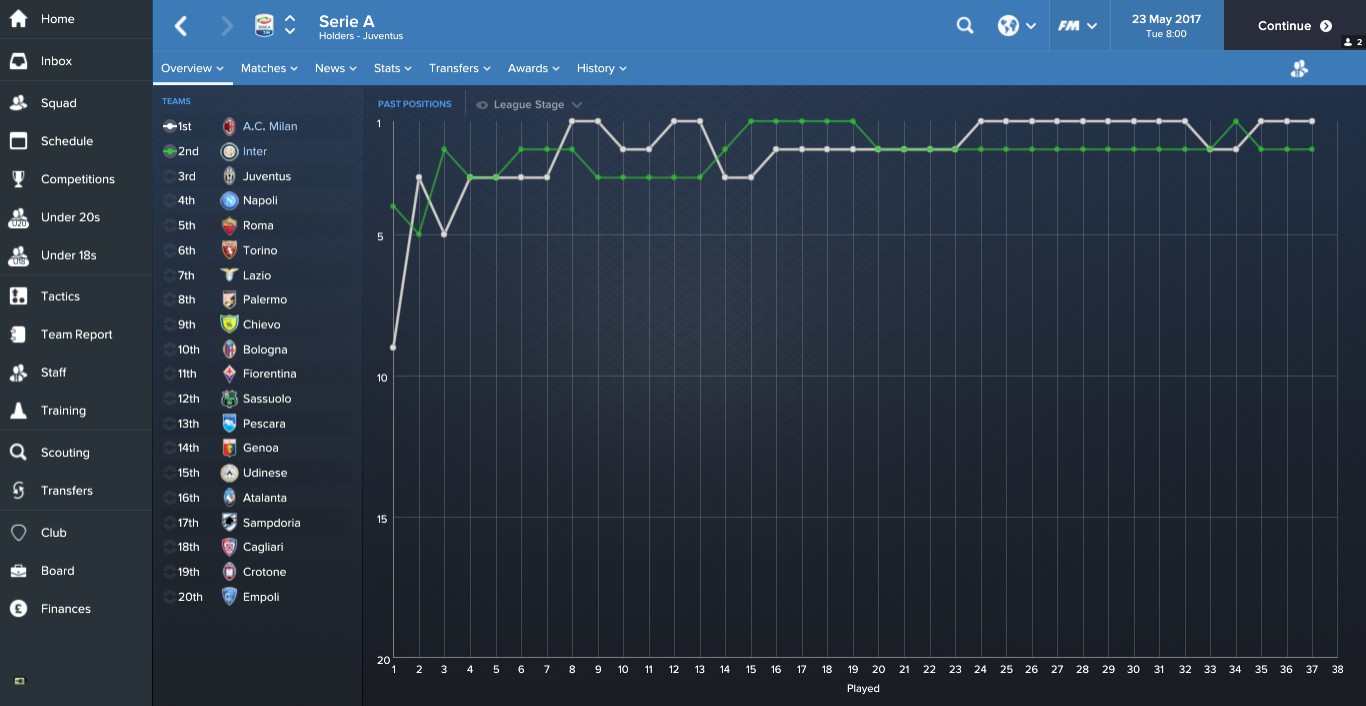 The connotations are simple. Anything less than an AC Milan win opens the door for Inter Milan and because of the head-to-head record, we'll lose the title to our rivals. Dogs of War continues with Gustavo Gómez suspended, Vangioni returns to the left-back berth with Romagnoli moving across to partner Concrete Ron at centre-half.
Shine a light.
Andrea Belotti sets the tone by hitting the post early doors and it's a tremendously awkward game to watch. Bookings are picked up like sweets, punctuated by Concrete Ron having what is described as a 'coming together' with Torino's Falqué. Just three minutes later Torino launch a counter attack from a blocked shot. Juan Iturbe hits a 30-yard ball ahead of Belotti and the in-form striker is hauled down by Ron Vlaar. A second flash of yellow sees him taking an early shower and we have NO other defenders available on the bench!
Gerard Gumbau comes on to do a job and he lasts just two minutes before receiving a caution. What do we do now? Pray. Wave a white flag and find a fat lady, tell her she's on shortly.
Nothing went for us but crucially nothing went for them either. A couple of tame shots warranted highlights but Donnarumma's replacement Storari, in what could be his last appearance, was relatively untroubled.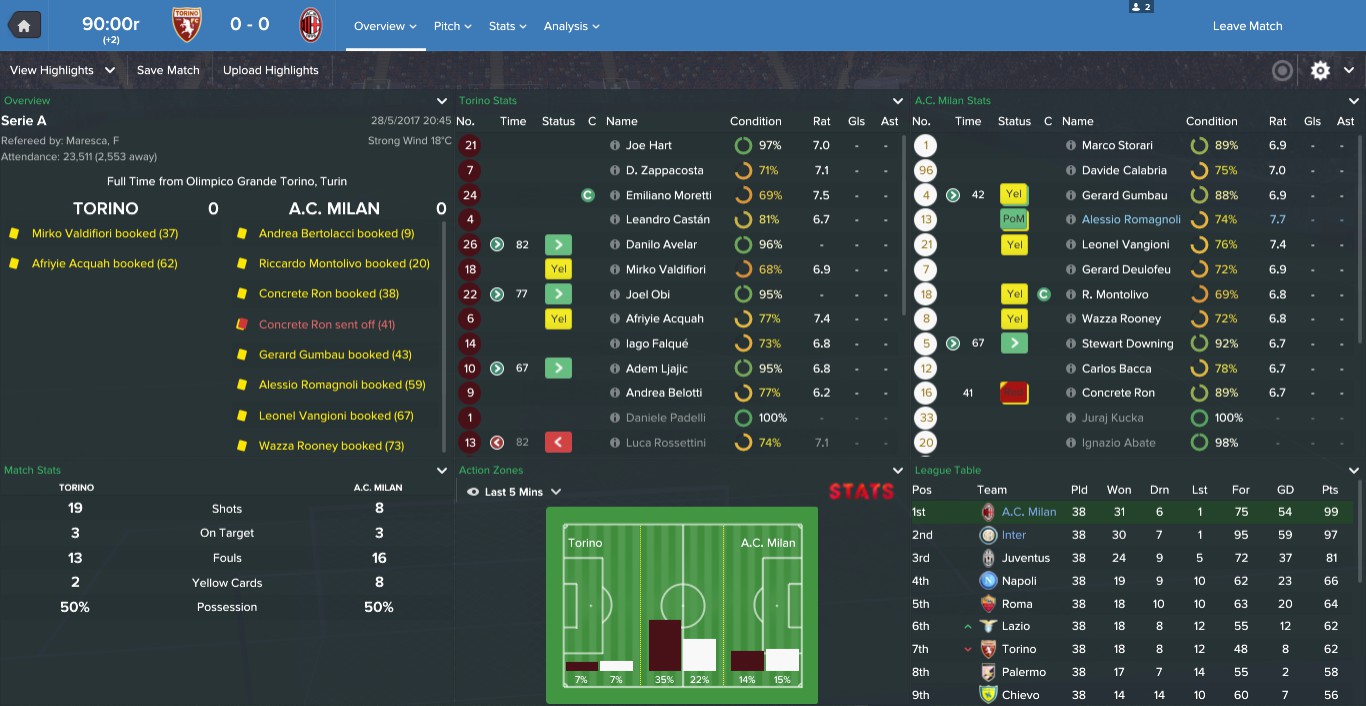 The simple truth is, if Inter Milan win against Juventus, they are Champions.
CHARLIE: Finally, our fate is our own hands. The red card for Ron Vlaar might have been cruel and AC Milan dug in but the fact is, Joe Hart kept his clean sheet intact. I'm retaining the changes I made to the inverted wing-backs system in the hope that the result is repeated. De Ligt starts in place of Hause for nothing more than fitness after he was ineligible to face Manchester United.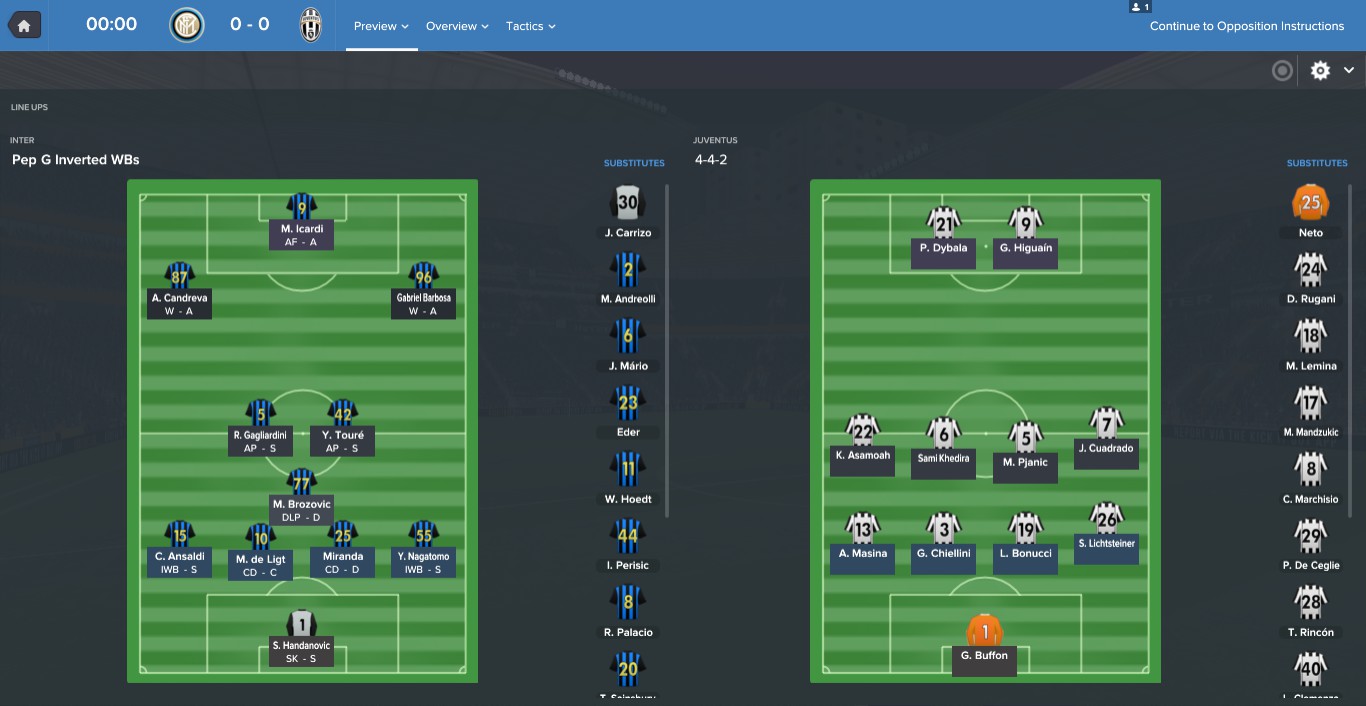 I forgot to mention, Ansaldi comes in for Charlie Taylor as he is suspended due to an accumulation of yellow cards. And would you credit it, it's Ansaldi who gives the ball away leading to Juventus' opening goal, the ball being worked across the pitch at pace for Dybala to finish.
We equalise, thankfully, through Barbosa after a lay off from Yaya. If I'm not saying much it's because this is the most important game of Football Manager I've ever played. I'm also holding my breath because breathing might be unlucky and Mike is nervously fidgeting behind me. I've only ever seen him toil like this once and that was at a relatives' funeral after I made a rather inopportune joke and he spent the entire service attempting to stifle laughter. In the end, his shoulders were shaking like a rickety old bicycle.
Shots are coming in on both goals. Masina blocks an effort from Icardi, a low cross to Barbosa at the back post is claimed by a sprawling Buffon and Dybala puts a shot wide after good work to find space.
Dybala then gets a second to break Inter hearts. All the intricate play in the world and it's one long ball hoofed over the top for him to run onto, Miranda is left in the weeds and he slots home. Half time comes. De Ligt is on a booking and replaced, Perisic and our lucky shadow striker Ollie Watkins come on as I switch to the 'Skewer' formation which has served us so well all season. I then stress Watkins out with my team talk. F**k.
If you'd like to know how well that change in formation went, this is a one sentence summary of the second half: NOT ONE HIGHLIGHT.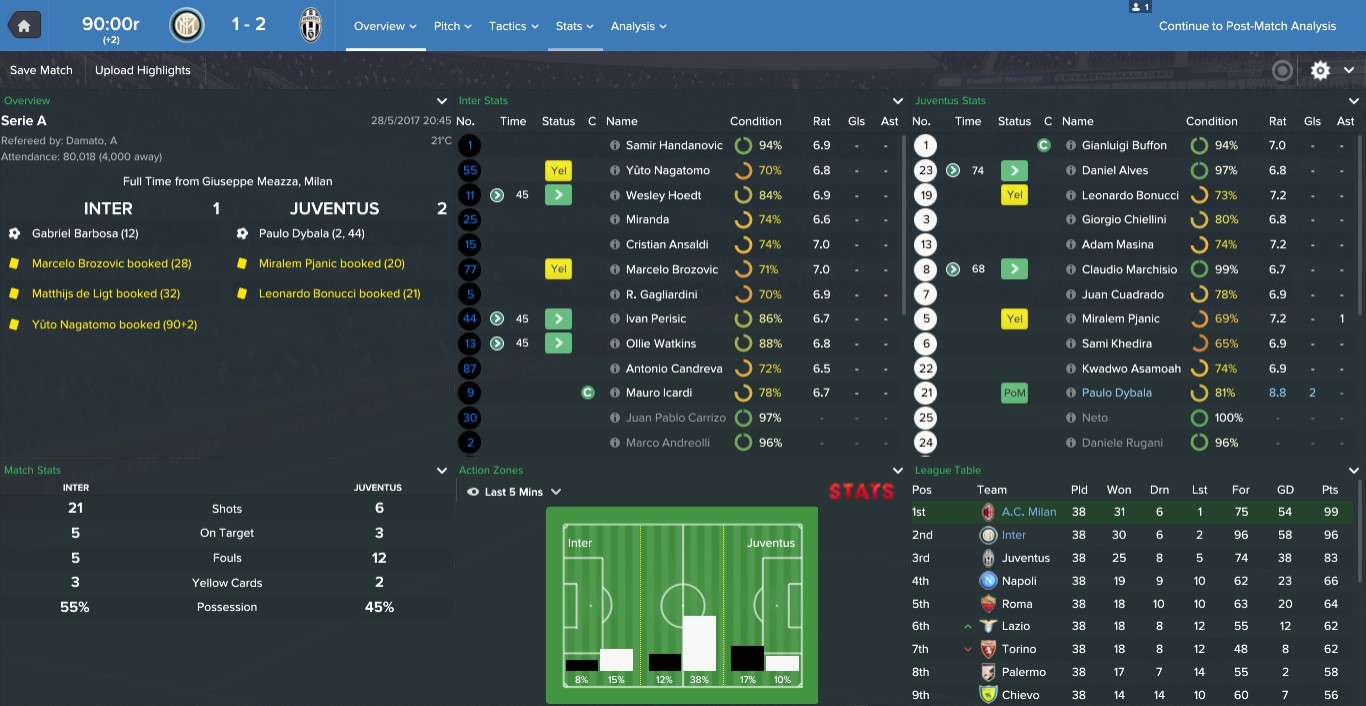 It's over. It's all over. The title belongs to AC Milan.
For the first time Candreva didn't show up, Miranda was poor and Brozovic useless. We've lost it by three points. These three points. Twenty-one shots on goal. Five on target. We enjoyed more possession, a better crossing and tackling percentage.
MIKE: Campeones! Campeones! Olé! Olé! Olé! After a titanic tussle at the top, we triumph and yes, smugness has set in. Two trophies in the cabinet, Charlie may have one but he's got to beat Lazio to draw level and even then we all know that the league is worth more. We set out to do this and we've done it, beating Juventus so badly they needed a change of manager and having enough over Inter to win by three points. Wait, who's 'we'? I did it! I am Serie A Champion!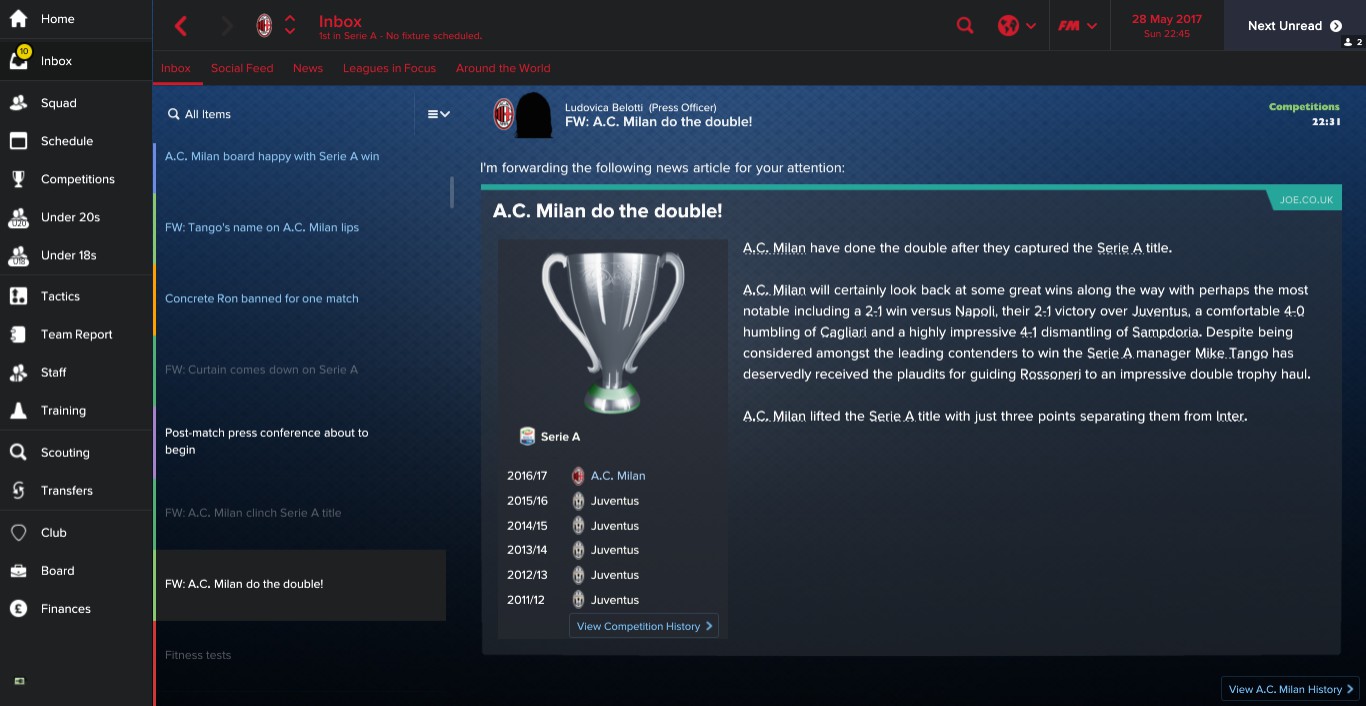 The moment is somewhat ruined by Calabria's agent demanding an improved deal for the defender, I had to be held back from hurling my medal into his head like a frisbee in what can only be described as a homage to the Pascal Chimbonda-Wigan moment.
I'm told there will be a special review edition next week of the Rivalità Tra Fratelli season so I won't take up too much space before the Italian Cup final. Just do one thing for me, smile. Now try smiling really hard. Harder? Put your fingers on your cheeks and push them up. Grin the widest grin you can possibly grin. That's what I look like right now.
CHARLIE: Prior to the cup final, things are not rosy in the world of the Nerazzurri. Our preparations take a hit when both Miranda and Mauro Icardi (in an all too regular occurrence) tell me that they want to leave and play at a higher level. Miranda has heard of interest from Manchester United and Icardi has Manchester City back on the agenda. I try to reassure them that we're a bigger club than either Manchester outfits but they don't believe me and to be honest, I wouldn't respect them if they did.
As I fix my team in the 'Skewer' formation, my world is rocked by explicit shouts from behind me. Somebody has noticed that a certain Charlie Tango, Inter Milan manager, has been named Serie A Manager of the Year and not the title winner. I won't delve into the specifics but suffice it to say that swearing and making crude hand gestures are not big and not clever. Nor is attempting to hurl a laptop out of a window when one is preparing for a cup final. I haven't even had a chance to look for my suit and tie yet.
What of Lazio? We beat them across the season by an aggregate scoreline of 7 – 2, they ended up sixth level on points with Torino but crucially behind rivals Roma. In terms of the team, Charlie Taylor celebrates his England call up with a return, Hause partners Hoedt following Miranda's interest in pitching his tent in Old Trafford and Icardi is dropped for Gabriel Barbosa. Rodrigo Palacio is due to retire after this game, I hope to bring him on for his farewell. I've also only just realised that I've been referring to him as 'Roger' Palacio for this entire save. And set nickname.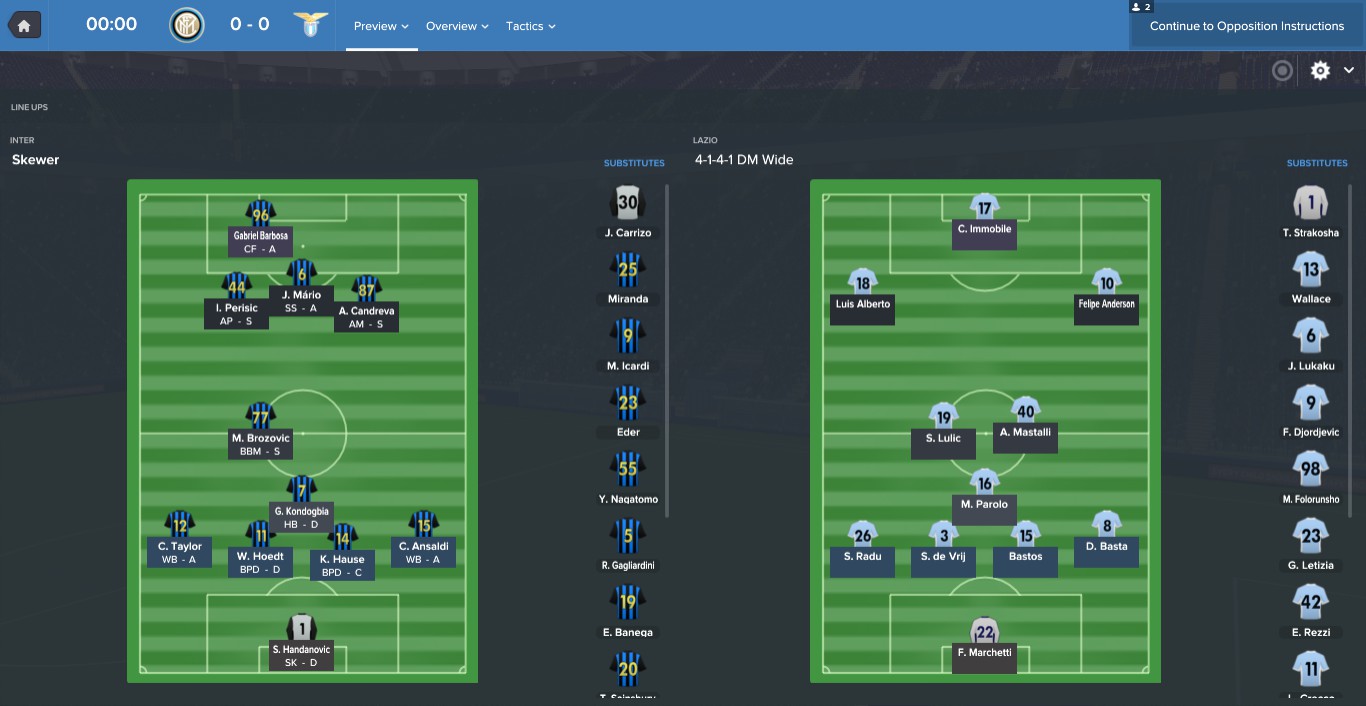 If we don't win this, I can't claim any equal success. Luckily Marcelo Brozovic wants to get his hands on a winners' medal, Ansaldi plays the ball in from the touchline to just outside the 'D' and Brozovic cracks in an unstoppable strike on 5 minutes. Just as celebrations are taking place, Lazio come back immediately from the kick-off, Immobile beating Hoedt at the near post to level matters.
We move into the lead thanks to some fast passes in the Lazio third, Gabriel Barbosa releases João Mário and the midfielder has acres of space just to crunch the ball low and hard into the goal. On the hour 2 – 1 becomes 3 – 1, this time Mário returns the favour to Barbosa and he slots in his 20th goal of the season.
Following a foul by Letizia on Trent Sainsbury in the box, we have a penalty and I scramble to make a change. Rodrigo/Roger Palacio scores the resulting pen and he celebrates his retirement with the last goal of the 2016/17 season.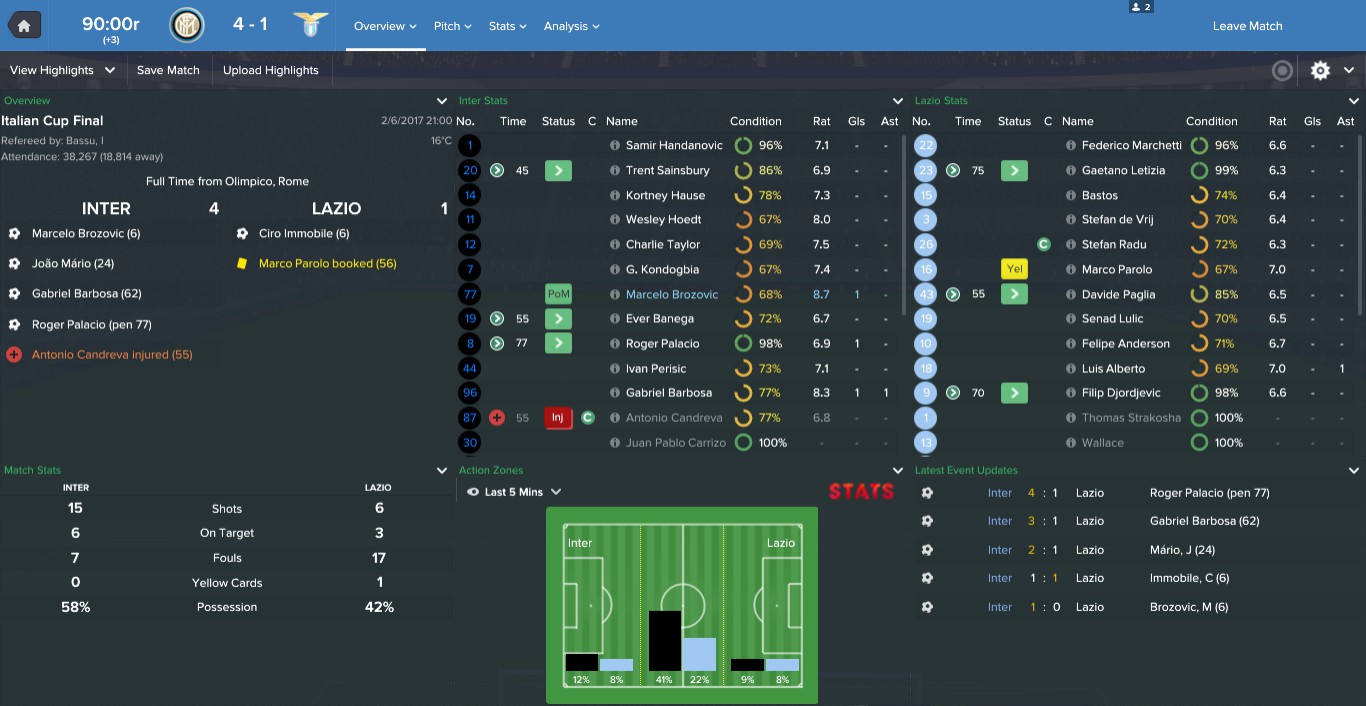 So there you have it. Rivalità Tra Fratelli ends in a dead heat. Mike Tango's AC Milan with his experienced internationals and off-the-cuff style of management earned the Italian Super Cup with an impressive win over Juventus and the coveted Serie A crown after final day results went his way. My own analytical and prepared method of Football Management secured the Europa League and Italian Cup. Two-two, I think we'll both settle for a Desmond.
A special and huge thank you to Chris and everyone at Tempo for the opportunity to share this save, for Mike's support with scheduling and everybody who has interacted with us on Twitter at @FM17Challenge, @CharlieTangoFM & @MikeTangoFM. Next time we'll review the season overall and maybe we'll even play on separately to see how either of us do in the Champion's League.