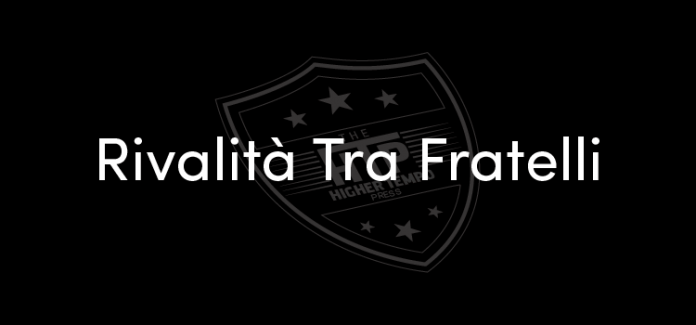 This is the story of two brothers, a modern-day Cain versus Abel if you will, based in the northern powerhouse Italian city of Milan. If you'd like to replicate this challenge, we're using the updated medium database with the following leagues: England (Premier League, Championship, League One & League Two), Italy (Serie A & Serie B), Spain (La Liga & Segunda División), France (Ligue 1 & Ligue 2) and Germany (Bundesliga & 2. Bundesliga).
Rivalità Tra Fratelli – #WeAreTheRivals, Episode 15
CHARLIE: We begin with news that Charlie Taylor may soon be recognised in the international scene, which is actually fully deserved and I couldn't be happier for him. In real life, his stock has somewhat taken a nosedive after reportedly refusing to play for Leeds on the last day of the season but Burnley have taken a punt on him.
We open this episode with our away fixture at Monaco, the second leg of the Europa League semi-final. We triumphed 2 – 0 at the San Siro to give us a lead and we'll defend it with the return of the Classic José. Mauro Icardi's red hot form is left in Italy, Barbosa has done so well in Europe that he deserves this start. Sentiments usually mean losses in FM but if it's a 1 – 0 then I'll be happy.
Kortney Hause is back in central defence alongside his mentor Miranda and Brozovic is unlucky to miss out.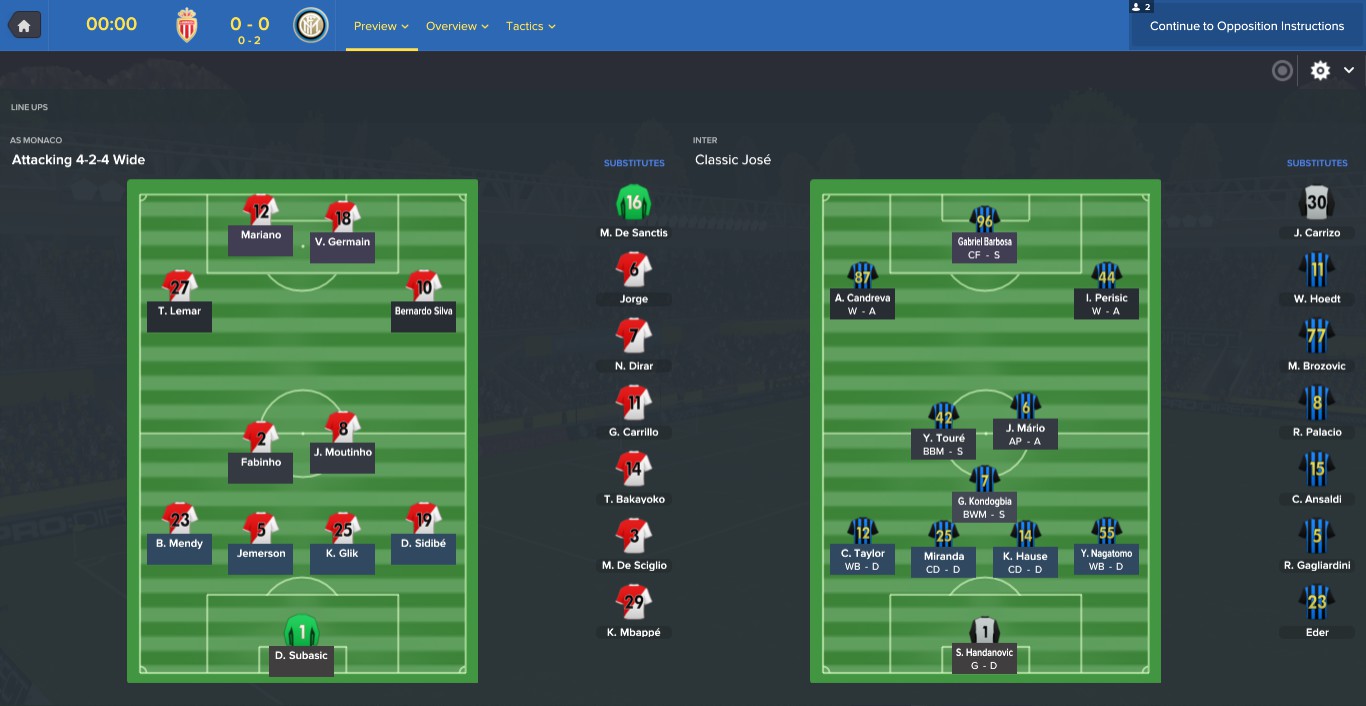 I'm racking my brain to find a better performance this season. Yes, we've had bigger wins. The destruction of AC Milan was mostly caused by Mike's panicking, Cagliari was a one off with seven goals and that 5 – 1 win over Lazio came as a result of the strikerless experiment. Each had a reason. Even Juventus 4 – 2 was a madcap game.
This was just awesome from start to finish, Mike has graciously and somewhat grudgingly accepted that the boring draw with Zenit was an aberration as this game contained 45 shots on goal in an advertisement for attacking, penetrative football. Mario gets to the byline and crosses the ball back for Yaya Touré on the edge of the area to hit an absolutely spectacular volley. His second is another peach, a banana shot from outside the area hit first time and Danijel Subasic in the Monaco goal has no chance.
Into the second half the ball gets laid back by Eder, the Portuguese international then ducks out of the way as Kondogbia curls one in from all of 30 yards into the top corner. It caps off a beautiful move and secures our place in the Europa League final.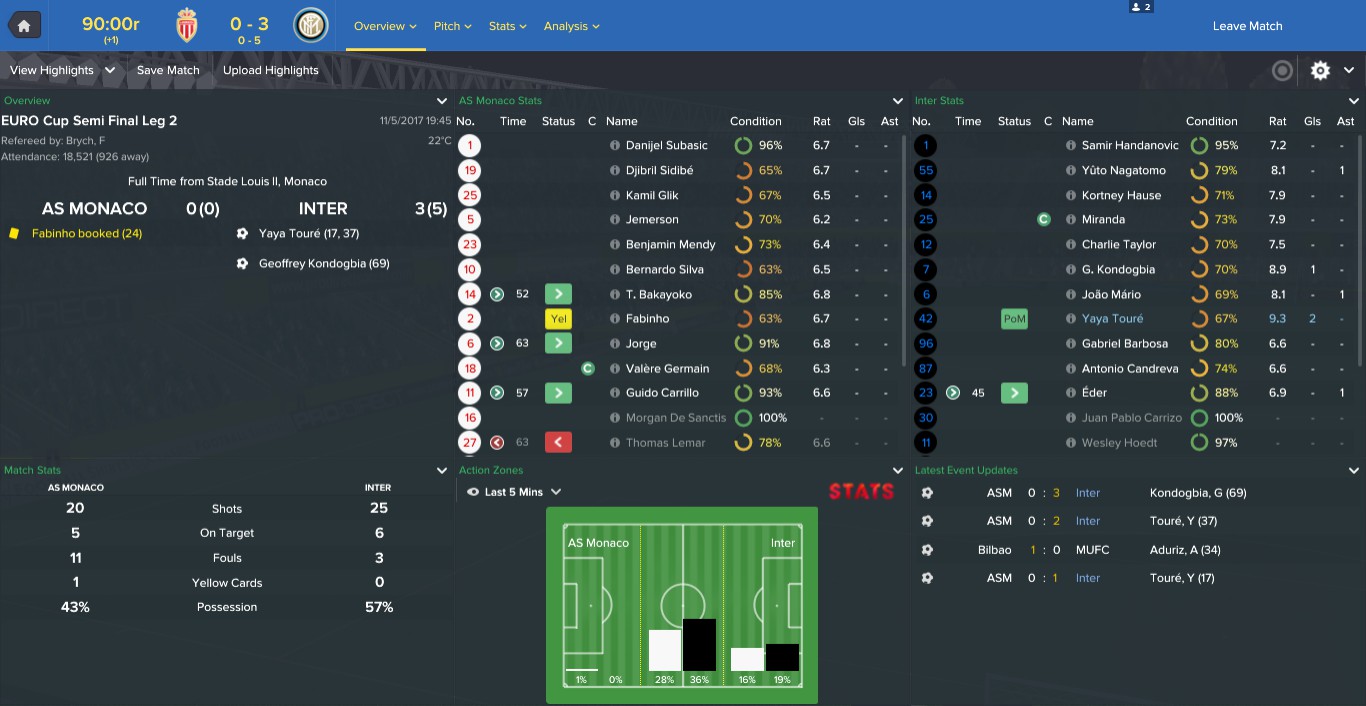 Pinch yourself boys, we're going to Sweden!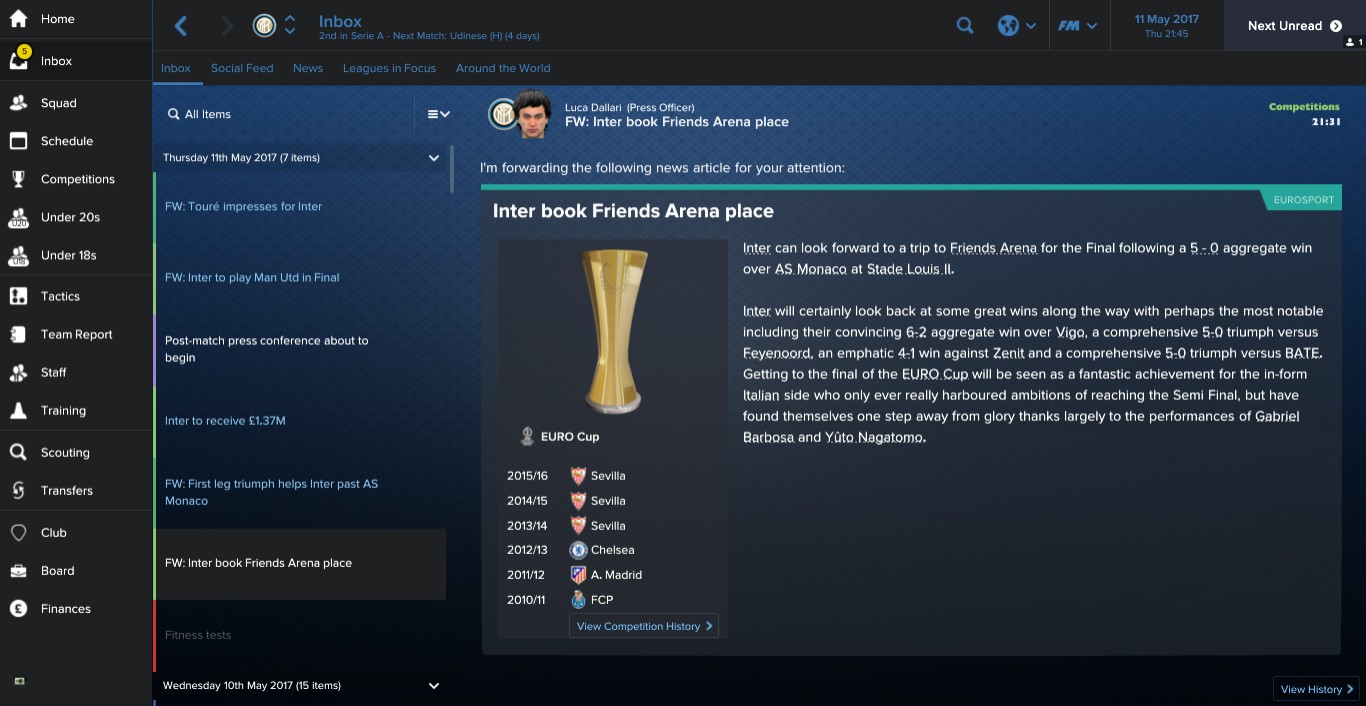 MIKE: There's supposedly much to celebrate for the red and black half of Milan as our Under 20's managed by Stefano Nava won the Under 20's Cup. Not that I really care about the youth teams. I care about Cagliari, our next opponent. The very team who conceded seven against Charlie. Forget about matching that, all I want is three points. I don't want friends, I don't want plaudits for our attacking style and I don't want Stefano Nava parading a tinpot trophy around my pitch.
Fresh impetus comes from Montolivo's return and Bertolacci makes his first start of the entire season. We start with #weareacmilan but if things aren't going well at half time, Dogs of War will be let off the leash.
With Charlie crowing about Ollie Watkins (who?) and Mauro Icardi working together as a partnership, we don't need to rely on some youngster nobody has heard of. We have England international and record goalscorer Wazza Rooney providing the ammunition for Carlos Bacca. It's that very partnership which opens the scoring, Rooney laying a goal on a plate for Bacca.
The Columbian international misses a penalty after a push on Bertolacci but he makes up for it with his second prior to 20 minutes. His hat-trick is complete before the hour thanks to a pass inside the area from Deulofeu but as I look to substitute him, the lack of alternative strikers is exposed. Only Rooney can really play up top. That's something to worry about in the summer. Wazza celebrates by sticking away a penalty, showing Bacca how it's done.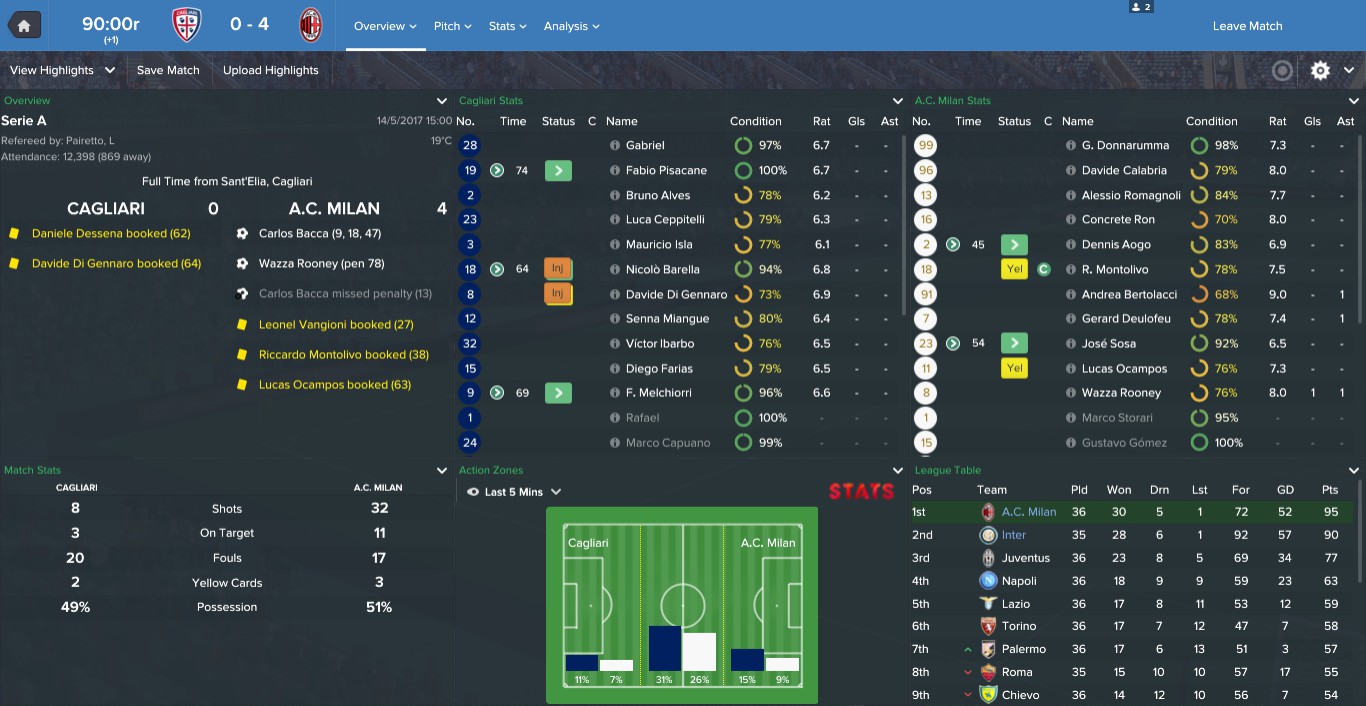 CHARLIE: The baton is handed back over and it's still win every game or bust. Charlie Taylor is rested despite his links with the national side, he's played more games than anybody over the season with 44 starts and in a move designed to protect out back line, De Ligt takes up a position in defensive midfield. Our lucky charm Ollie Watkins is back in the side as Icardi's shadow striker and the experienced Éder starts.
A frustrating first half is put to bed as De Ligt wins a penalty but, just like Carlos Bacca in AC Milan's game earlier, Icardi misses. Thankfully Candreva doesn't as he fires in a trademark free-kick from outside the penalty box. Udinese's Séko Fofana assists the cause by earning himself a red card for two silly yellows.
I feel like Mike here, I'll take a 1 – 0 victory for the valuable three points but I take little pleasure in it. I'm just so irked that we drew against Sampdoria. I've been a Samp fan for many a year but if they cost us the title, that's it. I will renounce my supporter-ship of them and claim that I followed… um… Lazio for all those Gazzetta Football Italia years.
What I do take pleasure in is the news that Zlatan Ibrahimović has picked up a broken foot and Martial is out for Manchester United. On the flip side, Kondogbia has suffered a damaged neck and will be out for nine days, which includes the Europa League final.
With one game to go in this episode, it seems to be a good time to take a look around the leagues to see how other teams have fared this season.
In England, Arsenal have dominated the Premier League with 97 points currently and one game to play. Chelsea and Manchester United are in second and third respectively. League cup winners Tottenham and Manchester City are locked on 68 points in the race for fourth. Put your money on City as they play relegated Boro at home on the last day of the season while Tottenham host Liverpool. Joining Middlesbrough in the relegation places are currently Swansea (three points shy of Palace and Everton but with a better goal difference) and rather surprisingly, Southampton. Harry Kane is by far and away the top scorer with 30 goals, Sanchez and Troy Deeney have 19. Liverpool and Arsenal will contest the FA Cup Final.
Over in Spain, Real Madrid have secured La Liga with Barcelona in second despite Messi and Luis Suárez being the top scorers in the division. Cristiano Ronaldo will be disappointed to have only 35 goals in 52 games (all comps). It's a Madrid derby in the Spanish Cup.
Dortmund are German Champions, Bayern second and Leverkusen in third. Red Bull Leipzig's real life is somewhat mirrored with a fourth place finish. Gelsenkirchen and Hamburg will be disappointed to be fifth and sixth. The German Cup final is an unlikely pairing, Mainz vs. relegation candidates Darmstadt.
Retaining Ligue 1 are Paris Saint-Germain with Monaco not yet safe in second place with Toulouse breathing down their necks. Predictably Cavani and Lacazette are top scorers. PSG also have the opportunity to retain the French Cup as they take on Stade Rennes. Monaco do have silverware, having triumphed over Lille in the Coupe de la Ligue earlier in the campaign.
In terms of Europe, we know all about the Europa League from Inter's exploits but in the Champion's League, it is an all-English affair in the final. Arsenal will play Tottenham in Cardiff. Spurs overcame Real Madrid on penalties in the semi's, Arsenal won out 4 – 1 on aggregate against Leicester City as they ended the English Champions' venture in Europe. In the Europa, we obviously play Jose's Manchester United in the final as they beat Bilbao 5 – 1 across two legs, meaning they actually lost the second leg 1 – 0.
MIKE: I wish I was better at this game. I wish I was more committed. It's at times like this Charlie harks back to his Lewes save on FM07, his Newcastle/Schalke/Real Madrid on FM15 and his Bolton save on FM16. I have none of this. I genuinely have never had a titanic tussle for the league title. I don't know what motivates the players, except for knowing that any mention of giving the fans their money's worth draws a negative reaction.
I'm distracted for a moment by news that Cagliari have officially joined Crotone and Empoli in being condemned to Serie B for next season. I'm interested in the two remaining fixtures for both teams. AC Milan host Napoli before travelling to Joe Hart's Torino in the last game of the campaign. Charlie's Inter have relegated Crotone away, then Juventus back at the San Siro. He needs two wins and for us to slip up. If he gets those two wins then an AC Milan win and a draw will hand him the title based apparently on our record against each other, as he has explained at great lengths.
I think everything hinges on this game against Napoli. If we pick up three points then it's over. It's a good omen that now the U18's have won their league, matching the achievement of the U20's.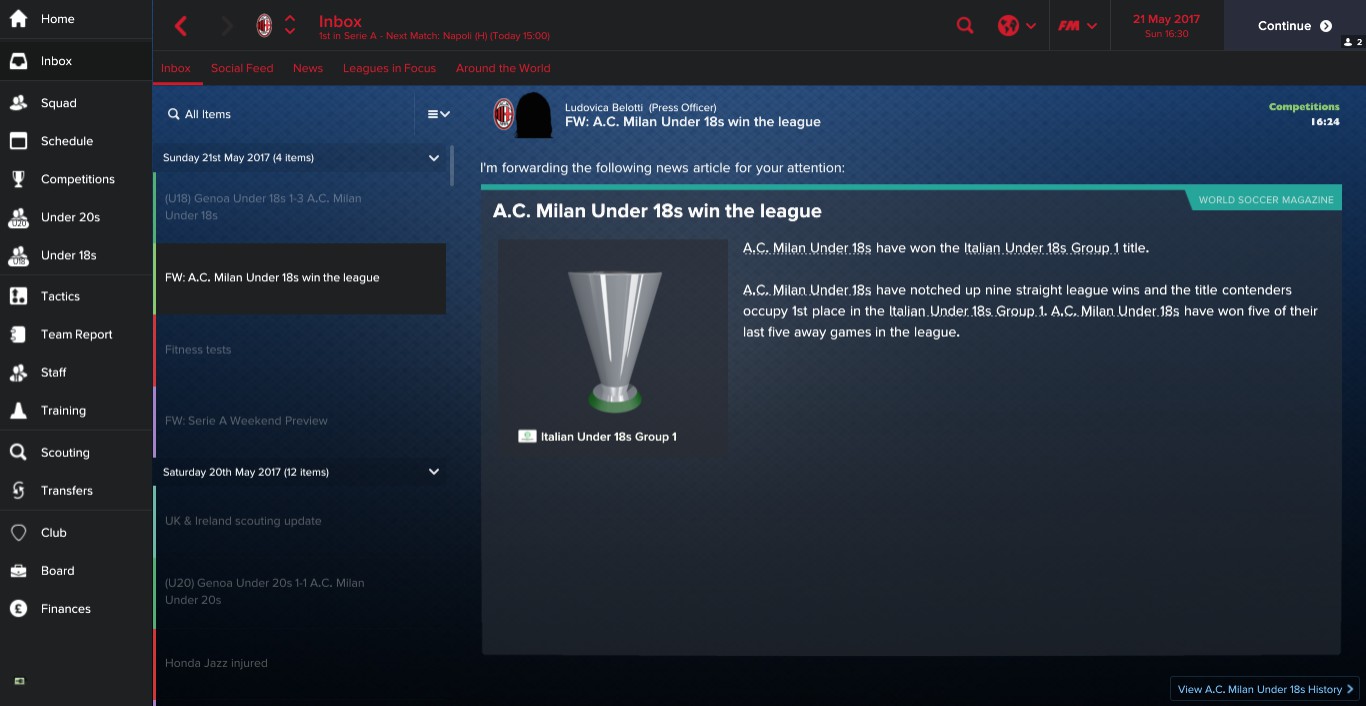 We take on Napoli first. With all the media attention on the Rome Derby, I prepare to let slip the Dogs of War. Aogo's red card still occupies my mind so Romagnoli plays left-back. Vangioni is unlucky to miss out but I want a more defensive focused player in there. Sosa partners Rooney in the middle of midfield, Downing is chosen over Ocampos.
Everybody calm? Good. With much trepidation lingering in the air I hit continue.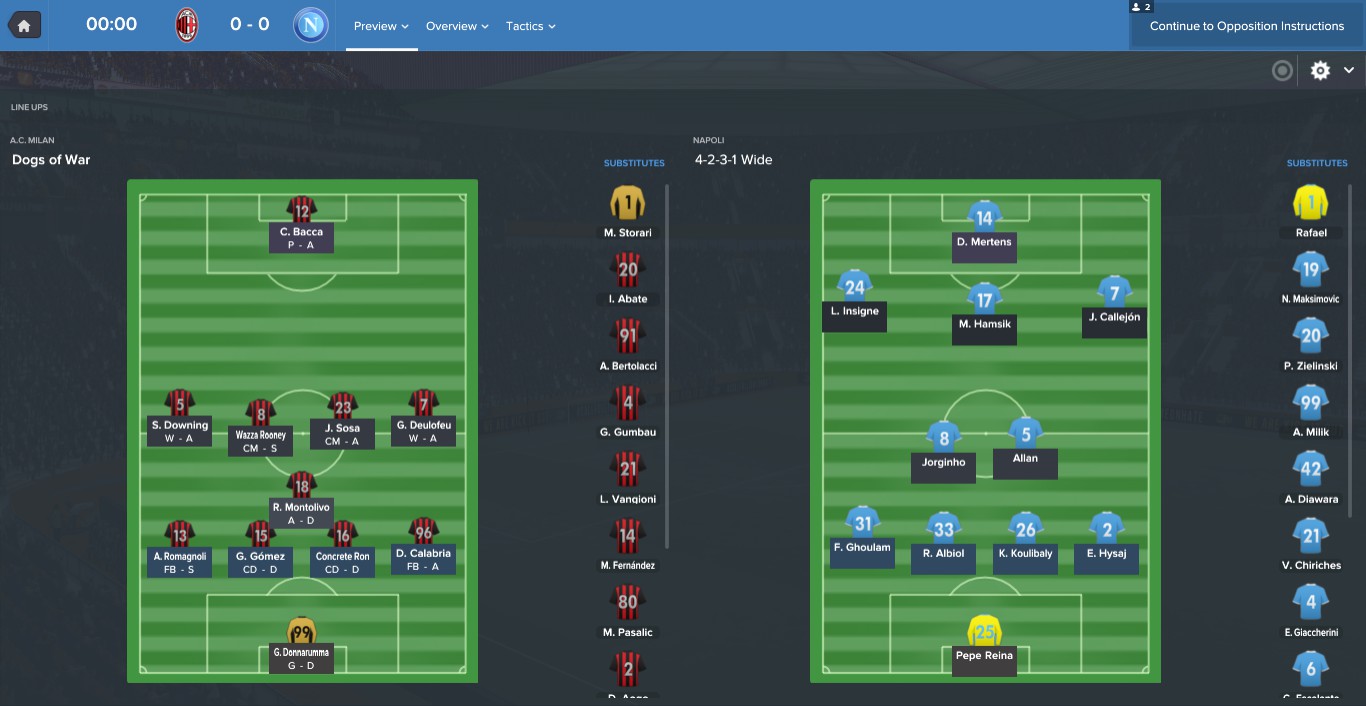 There was a time at the start of the season when I couldn't find a place in the team for Gerard Deulofeu, thank the good Lord that I have as part of the Dogs of War system because he crashes in the opener on 16 minutes thanks to a quick one-two with Sosa.
I expected us to shoot ourselves in the foot with a rifle and of course, we did. Gustavo Gómez gives away a penalty for one of those cross comes in-innocuous challenge causes penalty FM17 moments. Donnarumma will save us. He doesn't get beaten by penalties. He does get beat by this Mertens penalty. Low and to his right, too close to his body to save it.
The score may be 1 – 1 but that doesn't stop Napoli knocking the ball about like cocky bastards. Hamsik, Mertens and Insigne just taunting our lads. All that changes at a corner with seconds to go before half time when Mike Tango signing CONCRETE RON powers in a header. F***ing get in, you beauty!
There's a chance in the second half with Napoli cranking up the pressure for Pepe Reina to shower himself in embarrassment, just the way I like it, as he spills Sosa's tame shot… behind the line. Seriously, it hit his hands and went over the line.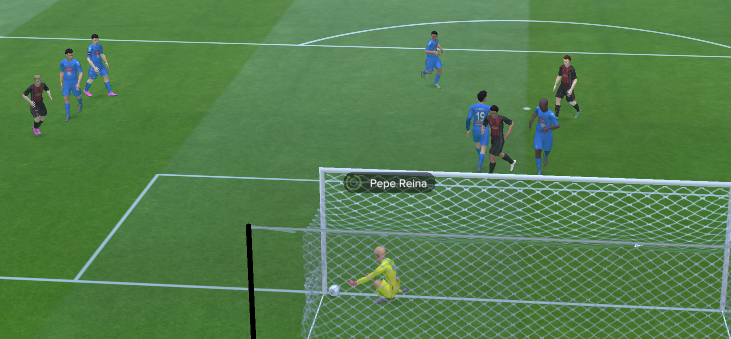 Four points separate us from Inter Milan. If Inter don't win against Crotone, the title is ours.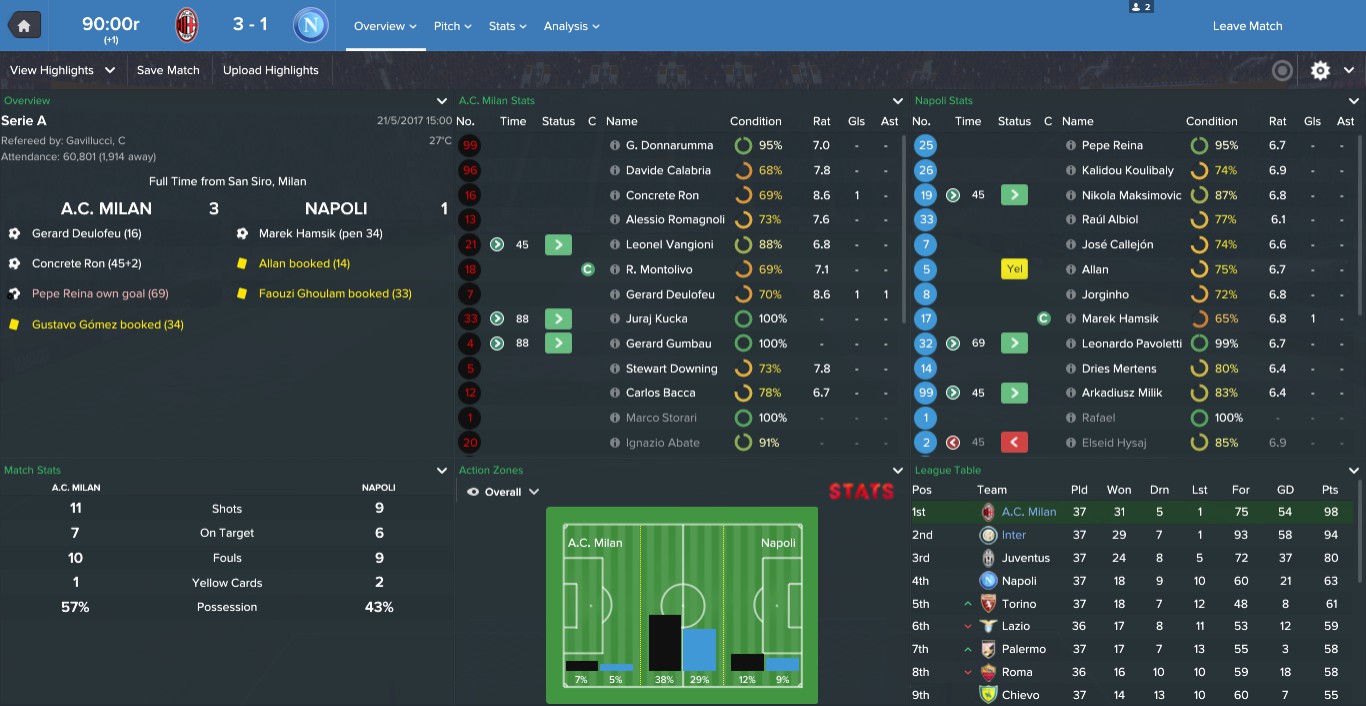 CHARLIE: With the title hanging precariously in the balance, we make the visit Crotone. They should be the ideal opposition for us, a team shorn of confidence and have achieved two wins in their last sixteen league fixtures. On paper this should be a one-sided result, even the bookies have us down as 1-3 on. But this game will not be played on paper, it will be at the Ezio Scida and you can guarantee Crotone want to end our hopes. I could hardly watch AC Milan's game against Napoli, I thought when they equalised through Mertens' penalty they would go on to win but no, FM is a cruel and unforgiving mistress.
Kondogbia has joined Ever Banega on the sidelines, Miranda is suspended. The plan is to start with the Classic Jose counter formation based on Mourinho's Chelsea in his original spell that I've been using all year and then progress to the inverted wing-back system which came in mid-way through the season.
Yaya Touré starts as a deep lying playmaker with an eye behind him, Hause is partnered by Wesley Hoedt in defence. Other than that, we are as you would expect. We HAVE to win. I may not breathe for several minutes.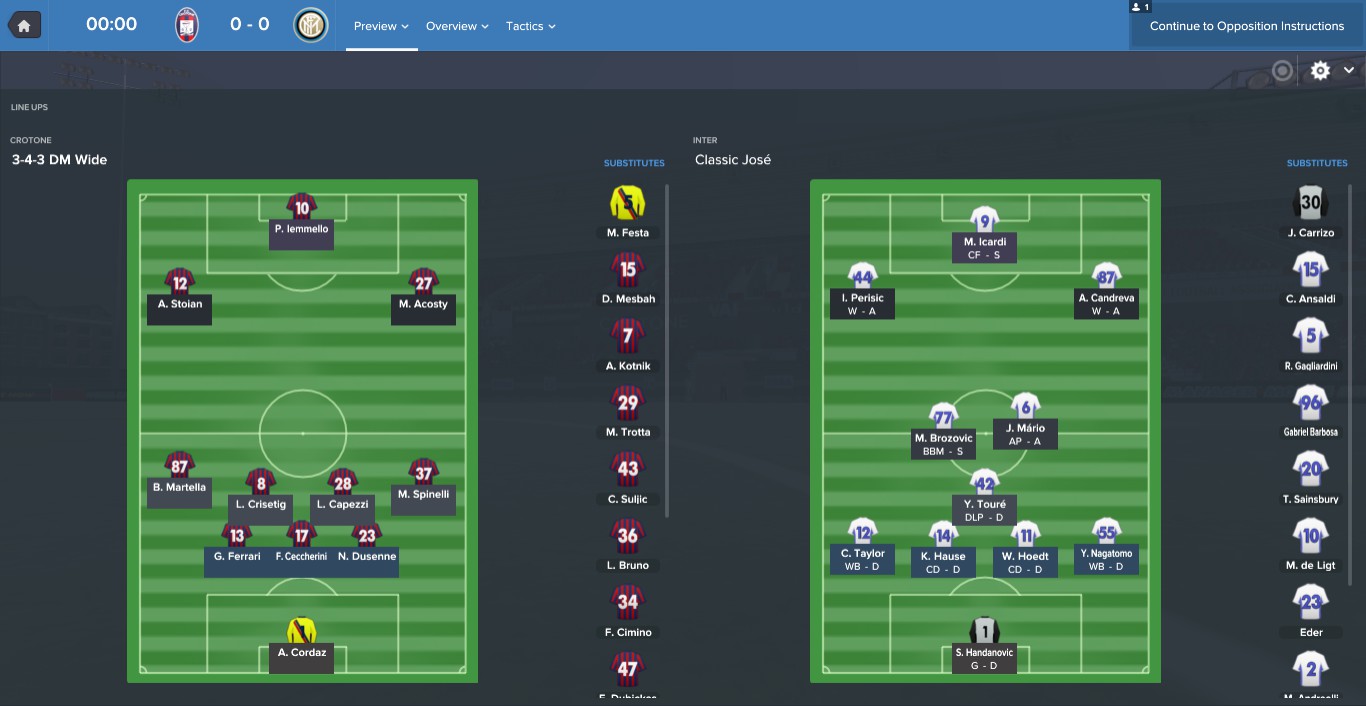 Words can't describe how deeply uncomfortable that was. An own goal donated by Crotone's Federico Ceccherini seems to have us in command and we have a goal by Kortney Hause disallowed for a marginal offside… then Iemmello pops up with the leveller. A cross came into the box and the flight of the ball sent Handanovic for a paella. Iemmello nods the ball into an unguarded net.
Despite electing to invoke the wing-back tactic, no highlights came in the second half for half an hour. Nothing. Not for us or Crotone. It felt like the inevitability and hurt of a Billy Bowden 'slow death'. I finally made a change on 77 minutes. Barbosa and Eder on for Icardi and Perisic. Five minutes later Ferrari trips Eder and there's a horrible pause as Candreva steps up.
Candreva doesn't miss. Thank Christ, I can breathe again.
Episode 16 will feature two cup finals as Inter play Manchester United in the Europa League and Lazio in the Italian Cup. Sandwiched between will be the last league games of the season. AC Milan already have the Super Cup under lock and key but there are three more trophies on offer.
Who will be the villains and who will be the heroes?
Thank you for reading, join us on Twitter at @FM17Challenge, @CharlieTangoFM & @MikeTangoFM for exclusive comments, developments prior to episodes and reaction afterwards. Continued thanks to Chris and everyone at Tempo for the opportunity to share this with the readers.