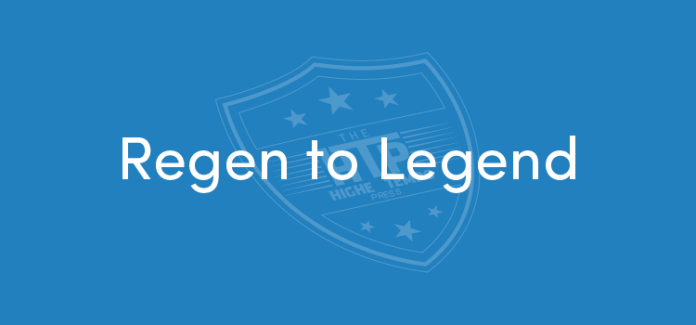 With just one game remaining in the Portuguese second division season long time leaders Leiria have slipped two second place in the table. That comes courtesy of a 0-1 home defeat to second place Benfica B. The evenly fought contest was settled by a late Nuno Gomes strike to give Benfica the win to move them to the top of the league. Both sides are now level on points but Leiria sit second due to head to head record.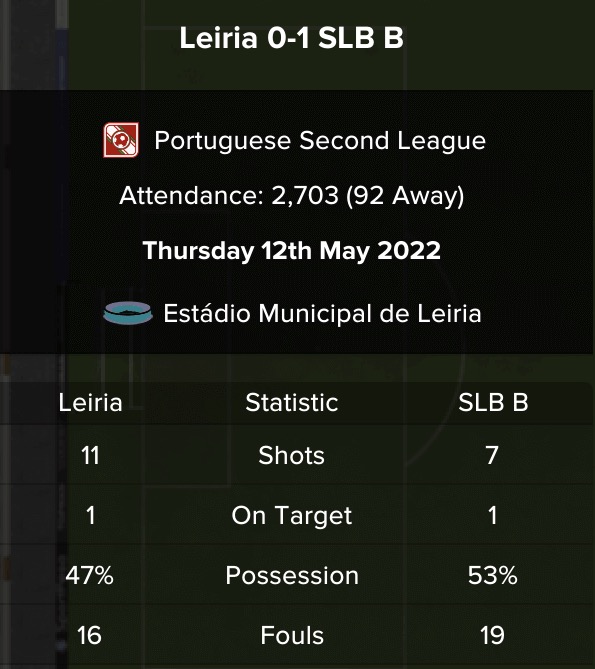 With just a point needed to seal the title for Leiria they had a cautious approach to the game. This allowed Benfica's wingers to attack with gusto down the flanks and looked dangerous all game. Felix Solomon caused the right side of the Leiria defence problems since the off and it was his cross in the 78th minute which was not dealt with. Brazilian centre back Wellington Lucas could only clear as far as Gomes who had space to find the top corner. Leiria tried to increase the pressure in the latter stages but to no avail. The victory gives Benfica a home and away double over Leiria and puts them in the driving seat heading into the final weekend.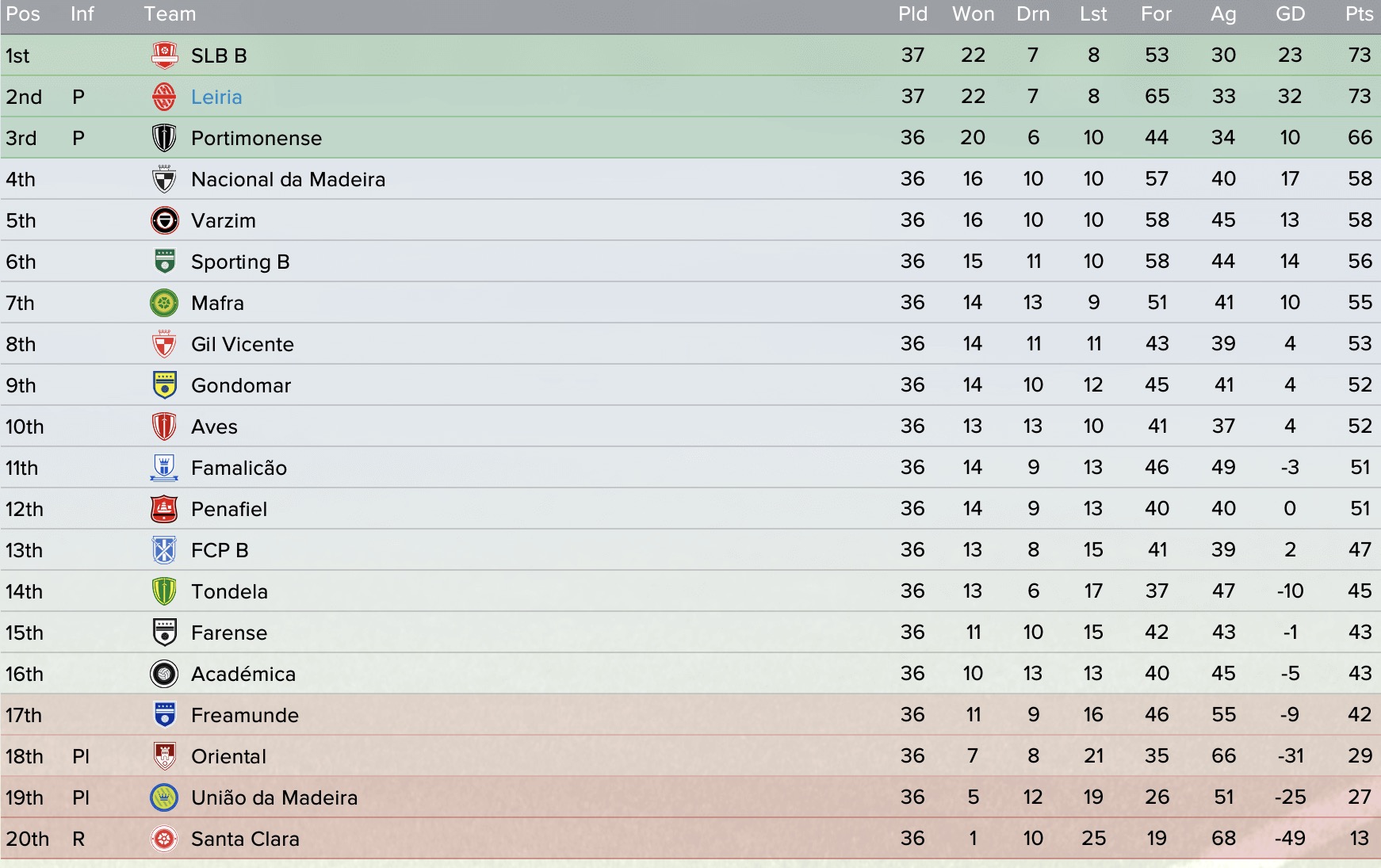 Benfica B have never won the second league but finished second for the past two seasons, missing out by one point in 2019/20. Leiria had lead the rest of the pack for much of the season and to miss out on the title so late on would be a cruel blow. Although their fans may not see it now it is however mission accomplished. They comfortably sealed promotion this season after an impressive run of 10 wins in 15 league games since February. Only Benfica B could keep up with this kind of form and Leiria can now plan for next season in the top league. Former Leiria boss Jose Mourinho had high praise for the current manager. After almost 20 years out of the top flight it is a good achievement to win promotion.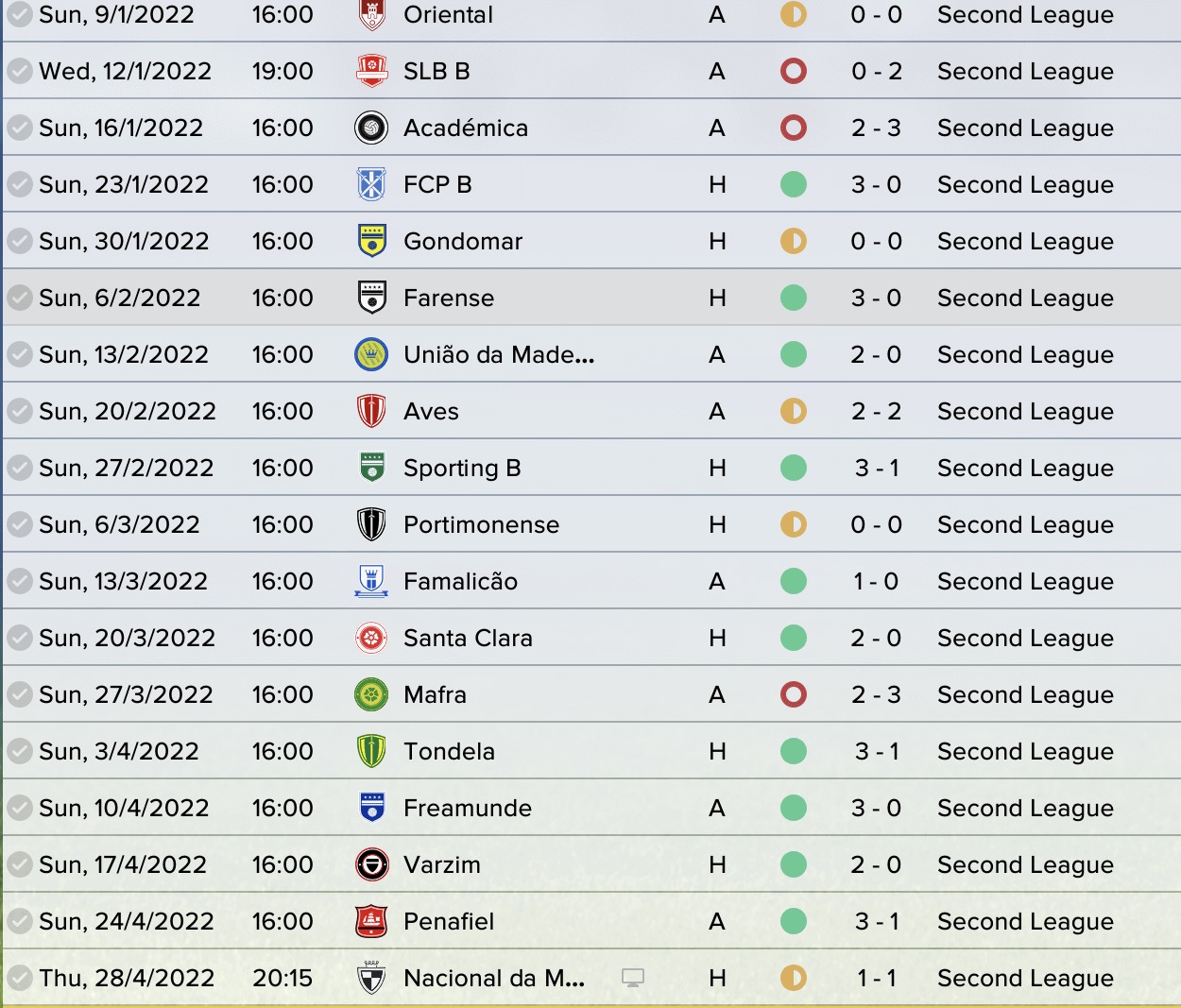 It was a turbulent January for Leiria as they had to try to appease want-away players who were looking to move clubs. As usual the winter transfer window caused some issues as bids came in for their top performers. Leading scorer Ivan Saponjic was subject to several bids from Liga NOS side Boavista but they didn't match the valuation set by his club.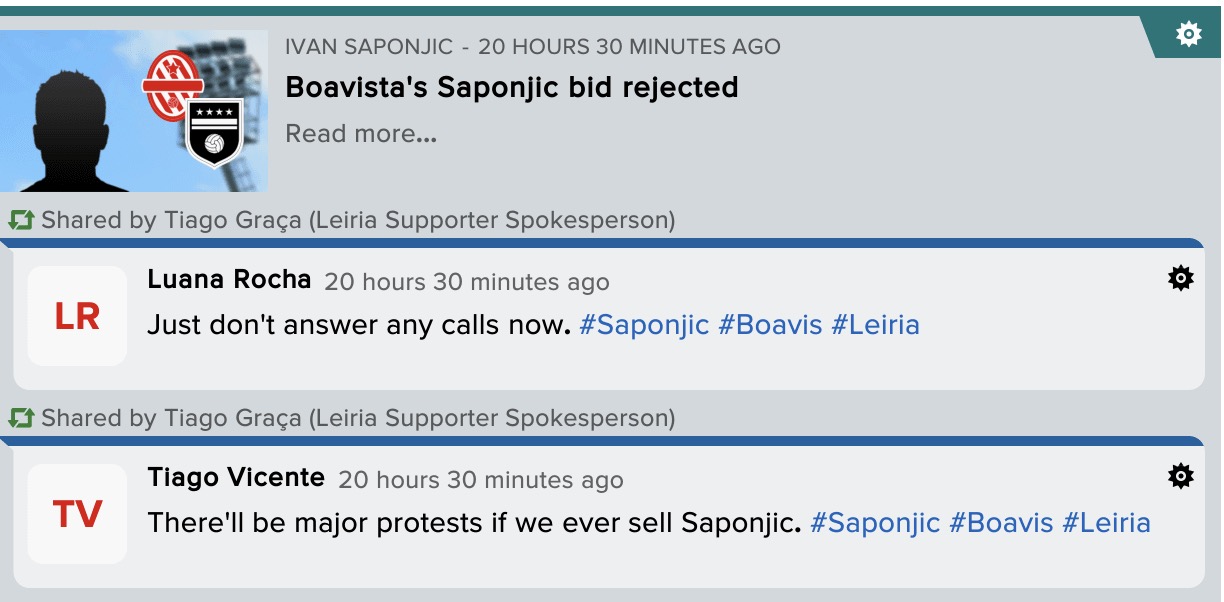 Three first team players did leave in January but two agreed to return on loan until the end of the season to help secure promotion. Centre back Silas will move to Brazilian side SPT in the summer having agreed a 175k deal. Joining him in leaving at the end of the season is powerful defensive midfielder Bubacar Djaló. Since joining on a free two seasons ago Djaló has been a star performer for Leiria. He has shielded the back line and broken up play in the midfield. He will be sorely missed as Leiria try to compete at the top level but at least he returned on loan to help them get there. Bismarck Silva returned to Brazil in a 300k deal taking him to FLU. The attacking midfielder who joined on a free in the summer was thought to be the stand out player after an impressive preseason, however he failed to impact on the league. He would have gotten more chances as the season progressed but a club of Leiria's size cannot reject that level of profit. The final major sale was a new record income for the club as playmaker Fernando Nogueira left to Rio Ave for £400,000. Valued at less than half that figure it is understood that Leiria did not think the counter bid would be accepted, however once it came through it was too good to turn away. Nogueira has been missed but Pires and April's player of the month Festius have both covered his role fantastically.

January saw no major purchases, only the two players returning on loan and Jack Ward from Newcastle to cover for a goalkeeper injury crisis. He has not featured much this season. The final player to come into the club was former Leiria man Rochinha. Having left Leiria for P. Ferreira at the end of the 2019/20 season for £190k he failed to make an impact playing only 8 games. Leiria struggled to replace the playmaker who was a star in Bruce Parker's first season but he is now back after being released and has finally helped them win promotion.
Having not played for six months Rochinha was seriously lacking match fitness and so began in the Leiria reserves. It was an impressive season for the reserve side who, like their senior counterparts, topped the table for much of the season. That was however until a final game draw left the door open for Boavista reserves to take the title on goal difference.

A cruel blow for the reserves but one which the senior side will be looking to avoid. The league title is no longer in their hands, all they can do is try to better Benfica B's result and hope for a favour. Leiria face a tricky away trip to Gil Vincente while Benfica face Familicao at home.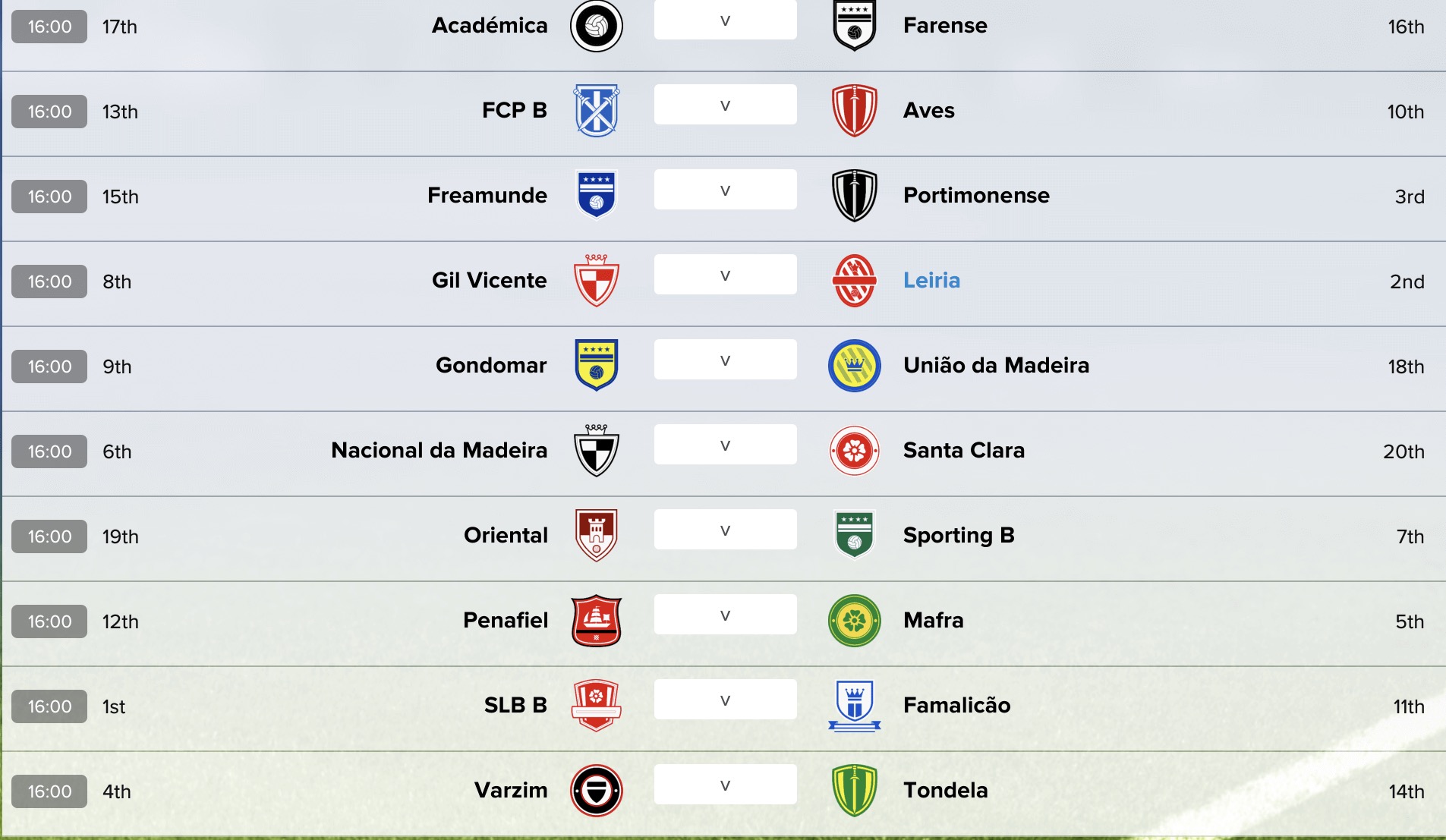 One thing for the manager to consider after the game is his future. Leiria will be preparing for a new season in one of Europes top leagues but he has had offers to join other sides. Granada and Eibar are both interested in the Dutch boss but will he really want to move to another relegation battle in Spain? Only time will tell where the manager will start next season