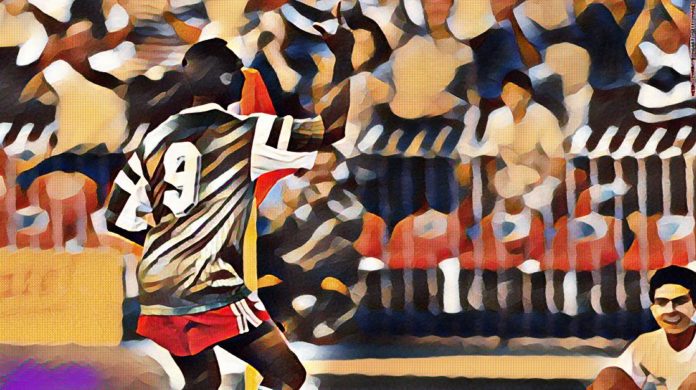 Welcome back to my African adventure! For fairly new readers, I am in Cameroon managing the club that gave the world the legendary Roger Milla (he of Italia 90 fame), Rigobert Song (he of bad hair at Liverpool fame) and George Weah (he of probably being the greatest African footballer of all time fame). Tonnerre KC were where each of these boys played their first professional football and I decided to venture to the continent for the first time to revive the club and their youth policy.
It's going alright – we've just started season five and we've added the African Super Cup to the CAF Champions League, Coupé de Cameroon, two runners up finishes in the MTN Elite I and, of course, the original promotion from the MTN Elite II.
But have we found the next Roger Milla yet? Not quite, but our goalkeeper Franck Mbeleg is getting some interest from European clubs so that is a big step forward. Marcelin Zeutsa has now scored 100 goals in all competitions for us, but will never be the global superstar that Milla became after shaking those hips in Italy, even if he plays for 50.
The interest in Mbeleg has reminded me of the core aim of this save – to make Tonnerre KC an African version of Ajax Amsterdam or AS Monaco, say. That is to develop some brilliant young talent at the club, win things domestically, challenge at a continental level, sell the best players on, make a profit and repeat time and time again. Except, for Tonnerre KC, we can go one better – we can sell our best players into Europe which will, hopefully, further their development as players.
Now, the added bonus to the save is that I (or Mark Monroe really) also manage Cameroon now, so there is a real incentive to get players to Europe as quickly as possible so they can become strong international players. We'll have a bit of a Cameroon update here today as well.
So, Mbeleg attracting interest is a good thing. Hopefully he will be the first of many.
Having won the Super Cup on penalties, we returned to league action with a comfortable 3-0 win over Fovu Club. We then went to Petite Riveire Noire and saw them off 4-0, a 12-0 aggregate win – meaning we were to face Club Africain in the the second round. Jesus, what a draw. As I mentioned in a previous post, there is no seeding in Africa, so even as defending champions we entered the competition at the ground level and could draw anyone, anytime. Club Africain are 4th on the "major clubs" list for Africa. There is not a single club from Cameroon on that list, yet.
Needless to say, the sensible money was on the Tunisian giants to put us back in our box. We travelled there full of hope, but I was prepared to admit I could see our title defence coming to an early end. A full-house of 57,000 at the Stade Olympique were baying for our blood, the atmosphere was intense to say the least. However, they could not get near our goal and I was becoming quietly confident as the minutes ticked by. If I'd been offered 0-0 at the start, I'd have taken it for sure. Then, a decisive moment. Thierry Tchuenté was picked out by Marcy and he shot hard and low. The ball nestled in the far corner and we had the away goal, which became a 1-0 away win. The tie was far from done, but we now had a fighting chance.
Marcy netted another double in a match against highly rated Union Doula in between the two legs, and we beat them 3-0 at our place. But, all minds were really on Club Africain coming to Yaounde.
Marcy scored a wordly volley after 23 minutes to put us ahead on the night and 2-0 up on aggregate. I leaped from my seat, we were going through. Again Club Africain could not get near Mbeleg's goal, and by the hour mark Judy had added a brace and we were home and very much dry. A fourth from Ngongang was the icing on the cake but, annoyingly, we conceded our first goal in seven games right at the end. But hey, beating them 5-1 on aggregate is a watershed moment. The Champions League win was not a fluke, we are a very dangerous side now.
To be fair, we are also showing that in the league. We've played six, won six and trail the leaders by two points. But, and I know we were here last season, we have three games in hand. If we can push on now, we can own this title race.
We play the leaders Unisport next, so we will see where we are really at as we haven't played any of the really big sides in the league yet.
Then we are off to Algeria to play JS Béjaia who have pretty much secured their league title for the second year running. After beating Club Africain, it would be a shame to go out at this stage and these boys will be proper tough to beat.
Internationally, we had a friendly against Italy which we lost 2-0 having gone down to ten men. This was merely the warm to the first African Cup of Nations qualifier against Uganda which we won easily, 4-0. It was great to manage real competitive football for my adopted country and I really hope I can lead them to the tournament. The qualifying schedule seems weird, as the World Cup Qualifiers kick in towards the end of the AFCON campaign, but hey learning as we go.
So I think that's it for today, some big matches coming up!
#LeTKC