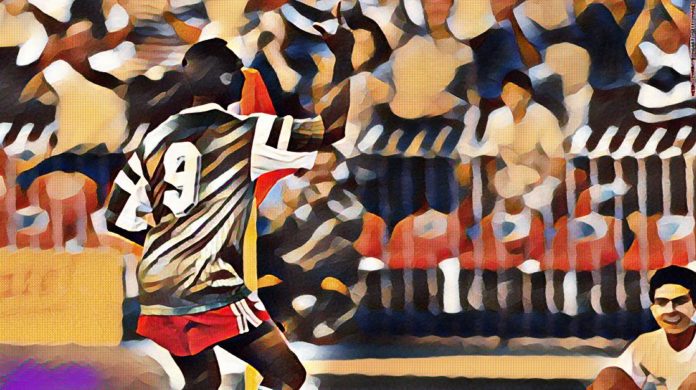 Four years ago, Mark Monroe strode into Tonnerre KC determined to change the direction of this once great club. Tonnerre had given the world Roger Milla, Rigobert Song and George Weah in years gone by but were at rock bottom. Relegated from the MTN Elite I, just four players at the club all of whom wanted to leave and no staff, Monroe's task would not be easy, especially not speaking a word of French. Yet he accepted the challenge, and four complete seasons later was holding aloft the CAF Champions League trophy having beaten the current holders of the title in an epic final. Just days later, his team would go on to win the Coupe de Cameroon, completing a double that was a single goal away from being the perfect treble. What a season for Mark Monroe and Tonnerre KC.
Holy amazeballs. What a day. Possibly the finest FM day of my life. It beat the last few moments of my first season with Johnny Cooper, it beat anything I achieved at Wolves and Boca and is by far the most amazing playing session I've had on FM17. Sure, we missed out on the league title by a single goal that would have turned a 0-0 draw into a win but we still had two big titles to play for. And play for them we did.
Yesterday I somewhat unfairly picked apart Marcelin Zeutsa for not scoring enough league goals, goals that would have won the title. He must have read the piece as he was playing like a man with a point to prove, from the moment his deflected shot saw us knock out Al-Ahly and take us into the two-legged final with Asante Kotoko.
The first leg was away in Ghana in front of 52,000 fans desperate to see their boys win back to back Champions League titles. Injuries and suspensions depleted our troops – we were without Yvan Ekané at right back, two central defenders in Obama and Frejus were either banned, Peter Sohna was also suspended. That meant we went to battle with a very weak defence, with 18-year-old Herve Kalla (a 5ft 10 defensive midfielder) having to drop into centre half to make his Champions League debut in a position he was barely competent at.
Somehow, despite barely seeing the ball, we took the lead through Marcy after a delightful little through ball by Ilouga, as you can see below.
That rattle Asante, and they kept dominating the game leading to Wambou giving away a soft penalty which the scored. Three minutes later we were 2-1 down, heading into the break and Wambou and Kalla were struggling big time. If we stayed as we were, we were going to be chasing a huge deficit at half time.
Monroe got brave. He hooked Wambou, and threw Abdel Latif on up front to play to the left of Marcy centrally. Tegemo dropped a little deeper from his WM/A position to play as a WB/A meaning we were slightly lopsided but hoping an extra man up top might cause them problems.
Asante scored again after 66 minutes, we were 3-1 down and the gamble at half time was not working. Until…
ABDEL LATIF!!!!
He was very much on my list of players to release at the end of the season, but the lad had just bought us a ticket to the lottery. We held on for a 3-2 loss, but two away goals plus plenty of reinforcements being available for the second leg at home, I knew we had a chance!
We knew a 1-0 win at the Stade Omnisports Ahmadou Ahidjo, or the SOAA as I shall now call it for ever, would be enough. We beat them at our place in the group stages and we could do it again.
44,865 turned up to see history in the making.
Remember how I was thinking Marcelin Zeutsa didn't score enough of the big chances?
I am chewing on my words. If it stayed 1-0, we'd lift the trophy.
Incredibly, shifting Francis Awono to left back saw us become a more attacking force towards the end of the season, without losing too much of our defensive abilities. He also was on the verge of having the best average rating in the CAF Champions League if he didn't have a second leg stinker.
2-0. Job done. Asante folded, their heads were down and they knew they'd been hit by a clap of THUNDER!!

I accept, this isn't Reading winning the UEFA Champions League ten times in a row (still the greatest achievement I've ever seen Keysi) but this is special for us and the country of Cameroon.

The money wasn't too bad either, and I persuaded the board to invest it wisely immediately.

Naturally, the bottom one is the best news and work has now officially started on both this and the youth facilities.
So that's the season done, right?
Not at all.
Having smashed Coton Sport 5-1 in the first leg of the Coupé de Cameroon Quarter Final, we had the second leg to coast through.

Given the league champions' ability to score goals by the bucket load, I was mildly concerned at 1-0 down. But Tchuenté sorted it out for us.
The semi-final gave us Unisport, the first leg at home. We eased through the first part 3-0, Marcy scoring again. The second leg was a 2-1 defeat, but after Tegs had scored the away goal our minds had shifted to the Champions League Final.
So, we had our second final in less than a week – this time a one-off shoot out with Union Douala.
Less than a minute in, this happened…
Yeah, I'm still chewing them Marcy.
And just to make sure I like the taste..
Two big fat pots for us to put in the trophy cabinet and what a season!


It really has been a historic season for us.
But now the hard work really starts. We are now there to be shot at. We have money in our pocket, so we can start really developing the club. We are already improving the facilities, so the next stage is to increase the number of coaches. Jobs have already been offered.
It is now vital I tie the key men down to as long a contract as I can. I dropped the ball on this initially, and Ndanza is not willing to renew and he probably would have done earlier in the year – so one of our most highly rated talents will probably walk away for free.
Mbeleg and Ngongang both have deals expiring next season, but don't want a new deal. Hopefully that will change, but the lesson has been learned.
In terms of recruitment, well Marcelin Zeutsa has shown me he is ready to remain the main man next season and Abdel Latif is still a fine back-up. I might still look to bring in another front man though, to keep them honest. I just wish I'd kept Fopossi, but hey.
I'm bringing in a 22-year-old former Cameroon U20 left back called Moussa Bana on a free after his contract expires at Young Sport. He was at Coton, they let him go and he averaged over 7.3 for Young Sport this season. And I will keep my eyes open for more young talent.
There will be the usual end of season assessment of players that will be let go – as ever, I will look at their age, their development in their team, their average rating, their personality type and their star rating before deciding who stays and who goes – but we have another decent intake who need some chances to play football next season.
Naturally, the main aim will be to win the league and retain both the trophies we won this season. Easy, right?
On the international stage, Cameroon have drawn Namibia in the 2nd Round of the FIFA World Cup 2022 Qualification. I am guessing, as I haven't researched it yet, that the winners in this round go into groups. We shall soon find out, as it kicks off shortly…
What a season!
#LeTKC